Kali Orexi! Bon Appétit! Welcome to the Greek Grandeur Promotion for May 2014 (1-31 May 2014) at Swez Brasserie @ Eastin Hotel, Penang. Jr. Sous Chef, Chef Mohamad Bakri with the help of his team members. The Greek cuisine has a history of thousands of years with the usage of fresh ingredients from the land and sea from the Mediterraneans.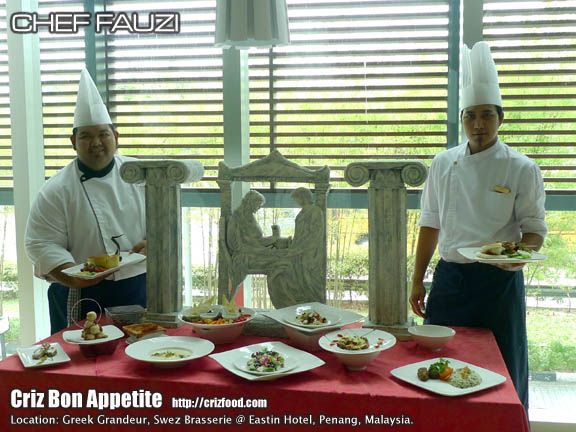 We started with some appetizers namely the Greek Mezze Platter (希腊小吃拼盘) which consists of assorted vegetables, risotto and minced lamb wraps, crispy tortilla and three type of dipping sauces, namely tuna yoghurt, cheesy dressing and Madras curry mayo. It was a total experience for many as we hardly had this type of almost similar middle-east appetizer.
We also had the Classic Greek Salad (传统希腊沙拉), a basic salad with olives, capsicum, tomatoes zucchini and feta cheese dressed in olive oil, herbs and a light sprinkles of salt. It was simple but yet refreshing. Sometimes, this dish is also known as Horiatiki Salata.
We were also served with the Garides Saganaki (虾仁与番茄羊乳酪), another variant of Greek salad with added shrimps and a heavier usage of tomatoes. However, it was a bit different compared to the ones I had taken as ripened tomatoes were used instead to give the dish a more puree tomato like sweetness.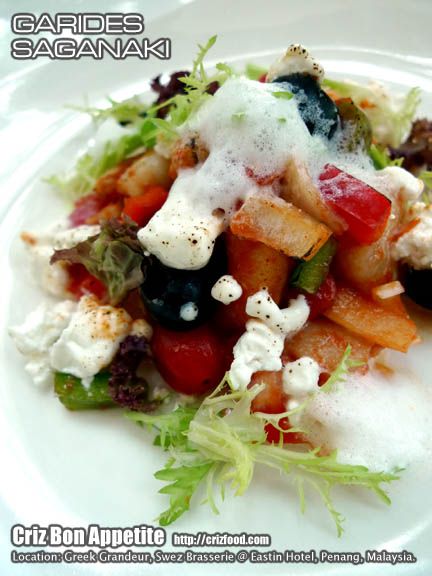 Next on the list was the Avgolemono (希腊鸡汤与蛋), a Greek Chicken Soup with Egg Lemon Sauce. As for taste, it really has the flavors those Campbell's canned chicken mushroom soup. The soup somehow lacked the sweetness from the added vegetables and some fragrant from the usage of more bay leaves. By right there should be some risotto like rice texture in the soup but they could have been blended and mixed into the soup. Though it's just a simple soup to cook, some adjustments are needed to perfect this soup.
Basically, the Greek Beef Bifteki (希腊铁板牛肉) tasted like the beef burger but a roll-up version. It had more herbs infused in it with a mild cheesy flavor from the added feta cheese. This dish was served together with the Spanakorizo. The Spanakorizo (Traditional Spinach and Rice/传统菠菜与米) on the other hand is a Greek vegetarian dish which has a Risotto creamy and al dente type of texture. As for an Asian who's so used to consume a softer texture of steamed rice, you may need some time to get use to this dish.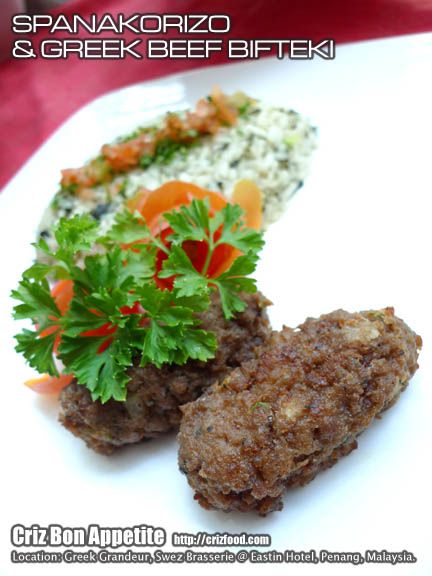 The main dish of Classic Greek Moussaka with Eggplant (希腊慕沙卡茄) is the Greek version of Lasagna-like dish with added eggplant. If you are a fan of lamb, you would surely like the strong flavors in the dish.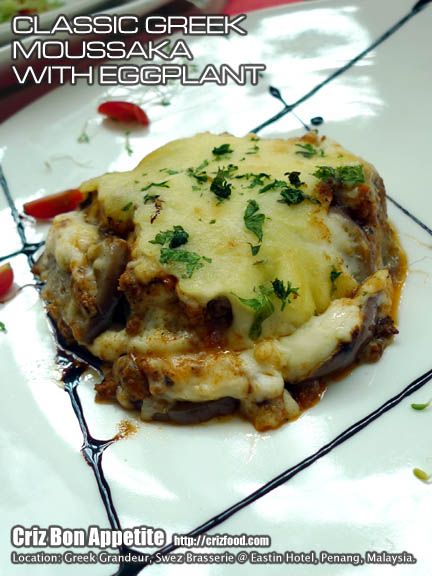 For pie lovers, you would surely like the Spanakopita (Spinach Pie/菠菜馅饼). It was filled with spinach and flavored with some eggs and feta cheese. Combined with the buttery crust, it was one dish I would love to have while watching movies. Haha~ 😛
Who said the Greeks never skew grill their dishes? One lovely dish would be their Greek Chicken Souvlaki (希腊鸡肉蔬菜串). The skews had small chunks of well marinated chicken pieces and vegetables and grilled to perfection. These were served with a condiment of sour mint sauce.
As for dessert, we were served with Baklava (果仁蜜饼), a nice flaky textured dessert made from layers of phyllo sheets and chopped nuts plus some honey.
There was also the Amygdalota (Almond Cookies/杏仁曲奇). However, all of us found them to be of a harder texture which made biting a bit tough without dipping in a cup of hot beverage.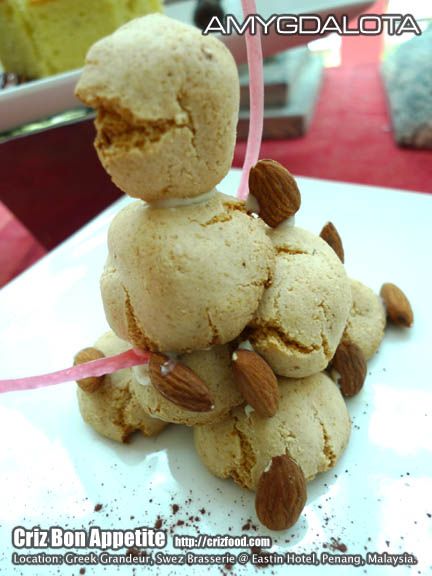 The Galaktoboureko (Greek Custard Pie/希腊蛋奶饼) on the other hand tasted like a grainy and soaked up butter cake without the presence of added phyllo sheets for that crispiness. Though it was not the perfect dessert to my liking, it had a zesty flavor with a very light touch of added spices.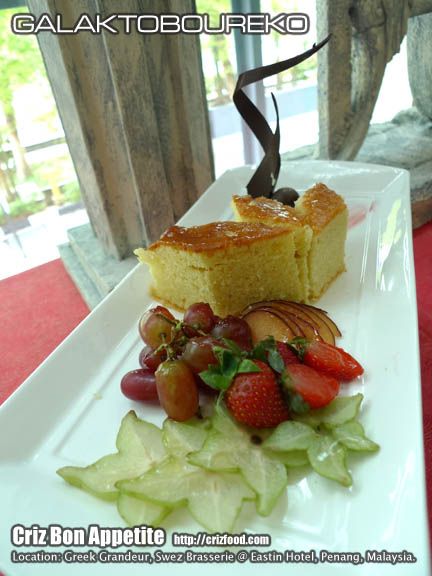 Overall, the dishes served in the Greek Grandeur Promotion 2014 would suit those cheese lovers more as Greek cuisine utilized quite a lot of cheeses, olives, olive oil, eggplant, zucchini, yoghurt, mixed herbs, etc.
Here's the summary of the promotion.
GREEK GRANDEUR PROMOTION 2014 (1-31 MAY 2014)
Lunch (12.00 noon – 2.30pm): Monday – Friday
RM50++ (adult), RM25++ (child)
Hi-Tea (12.00 noon – 4.00pm): Saturday, Sunday & Public Holidays
Normal weekend: RM68++ (adult), RM34++ (child)
Festive Occasion: RM78++ (adult), RM39++ (child)
Weekend Buffet Dinner (6.30pm – 10.00pm): Friday & Saturday
Friday (Free Flow Friday with Wine): RM128++ (adult), RM48++ (child)
Saturday (Pirate Seafood Night): RM80++ (adult), RM48++ (child)
Semi Buffet Dinner (6.30pm – 10.00pm):
Sunday – Tuesday & ThursdayRM50++ per pax
Wednesday (Wine & Dine)RM95++ per pax
For American Express, CIMB Bank, OCBC Bank, Standard Chartered Bank, MasterCard Worldwide, Maybank and UOB Bank card members, you can enjoy 15% discount for the Semi Buffet Dinner (Sunday to Tuesday & Thursday) and Weekend Buffet Dinner (Saturday) from 6.30pm-10.00pm.
The Swez Brasserie is located at the ring wing of Eastin Hotel, Penang (next to Queensbay Mall). If you are coming from Georgetown towards Bayan Lepas Free Trade Zone via Bayan Lepas Expressway, do watch out for the Pulau Jerejak signboard (leading to Pulau Jerejak jetty). Ignore the turning and drive on to the next left junction. Turn left into Jalan Aziz Ibrahim and drive on until you a roundabout. Turn 3 o' clock and drive on until you see a big Eastin Hotel signboard at the first right junction. Turn right and drive on. Park your car at the basement car park. Take a lift to the first floor lobby and you would see the restaurant there.
Name: SWEZ BRASSERIE @ EASTIN HOTEL
Address: 1 Solok Bayan Indah, Queens Bay, 11900 Bayan Lepas, Penang, Malaysia.
Contact: 604-612 1128, 604-612 1138
Business Hours: 12.00pm-2.30pm (Lunch), 6.30pm-10.00pm (Dinner)
GPS: 5.33643, 100.306345
RATING:
Ambience: 8/10 (1-4 cheap, 5-7 average, 8-10 classy)
Food Choices: 8/10 (1-4 limited, 5-7 average, 8-10 many choices)
Taste: 7/10 (1-4 tasteless, 5-7 average, 8-10 excellent)
Pricing: 8/10 (1-4 cheap, 5-7 average, 8-10 expensive)
Service: 8/10 (1-4 bad, 5-7 average, 8-10 excellent)