Swez Brasserie @ Eastin Hotel, Penang, would be having its Chinese New Year's Buffet and Chinese Odyssey Promotion for the month of February 2013 (1-28 February 2013). This promotion would be under the skillful hands of the Jr. Sous Chef, Chef Ong Chin Hock and Chinese Chef, Chef Cheah Teik Huat. You would be offered a variety of Chinese cuisine such as roasted duck spring rolls, braised black chicken with snow pear soup, steamed sea bass with superior sauce and many more to tempt your appetite.
Of course, each Chinese New Year it's a must to have Yee Sang. Normally, Yee Sang is to be taken on the 7th day of Chinese New Year to celebrate Ren Ri (人日), the Day of Humankind, when according to the Chinese legend, Goddess Nu Wa created humanity on this day. But today, it's taken just any day as the act of tossing the mixed ingredients in the air symbolizes "moving upwards" with the wish for our fortune to rise even more during the forthcoming year. The Fresh Salmon Yee Sang (鮮鮭魚撈魚生) would also available for take away from 4-23 February 2013 at RM68++ (4-6 persons) or RM88++ (8-10 persons).
Another appetizer would be their Marinated Jellyfish with Shredded Chicken (海蜇凉拌雞絲). I quite like this dish as the jellyfish had that crunchiness, pepped up with a light spicy sweet sauce. However, the shredded chicken was a bit too dry to my liking due to the lack of dressing sauce. The dish would be better if a bit of coriander leaves being added in.
The Roasted Duck with Mix Vegetables Spring Rolls (脆皮燒鴨春卷) was actually a disastrous dish for me. The usage of poh piah (spring roll) skin was just not right. The rolls tend to get rather soggy after awhile. I wondered why they did not use those egg crepes as served with Peking Duck.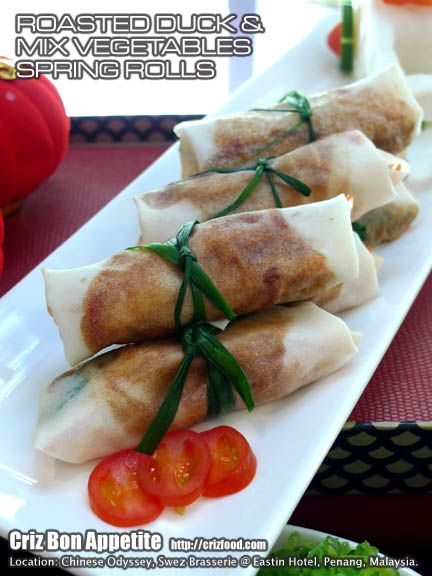 We were also served Double Boiled Black Chicken with Snow Pears Soup (雪梨燉黑雞湯). I must admit that the soup was filled with flavors with strong hints of sweetness from the pears and dates plus some usage of dong quai (當歸/Angelica sinensis).
The Steamed Sea Bass with Superior Sauce (清蒸鱸魚配上等醬油) was simple but yet delicious. On top of the superior sauce being use, some slices of mushroom boosted up the flavor more. It would be great to have some sliced red dates added in too for some extra sweetness.
The Braised Chinese Cabbage with Black Moss & Dried Oysters (燉白菜髮菜蠔乾) was somewhat different compared to how I would cook it. This dish has more gravy just like the banquet style of dishes. There were some added dried scallops. The dried oysters basically lost all the flavors into the gravy. It would be best if they were pan seared to lock in the flavors.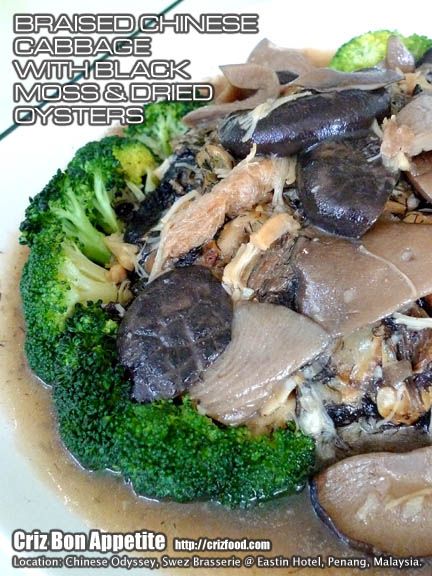 Somehow the Stir Fried Tiger Prawns with Golden Pumpkin Sauce (南瓜醬炒大蝦) did not capture the appetite of most of us as the pumpkin sauce was too overpowering and hid the true flavors of the prawns. It would be better to just cook it the Kam Heong (Fragrant Fry) or Har Lok (Sweet Spicy) style where we get to taste the freshness of the prawns. Anyway, I don't fancy tiger prawns being cooked this way too.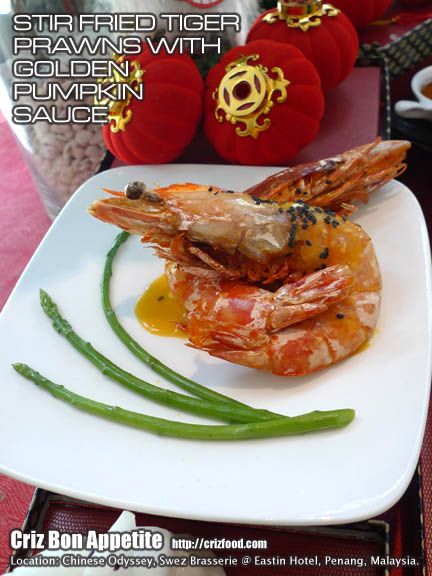 As for dessert, we had Double Boiled Papaya with Fresh Milk (鮮牛奶燉木瓜). To some, it had a tad of bitterness but it was fine for me. However, I personally felt that the papaya used was rather too ripe. The whole concoction was like missing a bit of bites. Moreover, the dessert tasted rather mushy with traces of coagulated milk.
Lastly, Baked Mandarin Orange Cheese Cake (烤橘子奶酪蛋糕) was served. Without knowing the name for the cake, I would have praised it heavenly for the balance in the usage of lemon zest was perfect. However, knowing that it was supposed to be mandarin orange flavor, I found it to lack that distinctive mandarin orange flavor. Moreover, only a small amount of orange flesh was noticeable.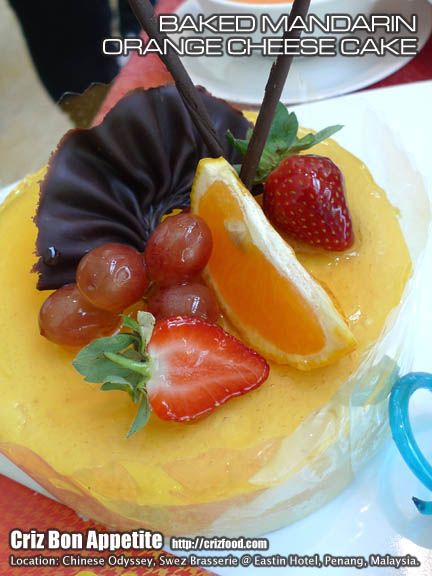 Overall, some of the dishes to be served during the Chinese New Year as well as during the Chinese Odyssey can be rather unique on its own. No doubt a bit of fusion can be quite good for a change but it defeated the purpose of celebrating the festive season with the taste of yesteryears since some of the dishes would only be cooked once a year during this season by many families. Other than that, it's still a nice spread to welcome in the joyous Snake year.
Chinese New Year's buffets and performances are listed as below:
Chinese New Year's eve auspicious reunion buffet dinner with Yee Sang
9 Feb 2013, 6.30pm-10.00pm
RM98++ (adult), RM52++ (child)
Chinese New Year prosperity buffet dinner with Yee Sang
10 & 11 Feb 2013, 6.30pm-10.00pm
RM88++ (adult), RM44++ (child)
Chinese New Year special dynasty Hi-Tea with Yee Sang
10 & 11 Feb 2013, 12.00pm-3.00pm
RM68++ (adult), RM34++ (child)
Performances:
Meet & Greet the "Fok Lok Sau": 9 Feb 2013, 8.00pm-9.00pm
Chinese Orchestra Performance: 9, 10 & 11 Feb 2013, 8.00pm-9.00pm
Meet & Greet the God of Prosperity: 10 & 11 Feb 2013, 12.30pm-1.30pm
Lion Dance performance: 11 Feb 2013, 10.00am
Fresh Salmon Yee Sang is also available for take away from 4-23 February 2013
Price: RM68++ (4-6 persons) or RM88++ (8-10 persons).
Here's the summary of the Chinese Odyssey Promotion.
CHINESE ODYSSEY PROMOTION (1-28 FEBRUARY 2013)
Lunch (12.00 noon – 2.30pm): Monday – Friday
RM48++ (adult), RM24++ (child)
Hi-Tea (12.00 noon – 3.00pm): Saturday, Sunday & Public Holidays
Normal weekend: RM55++ (adult), RM28++ (child)
Festive Occasion: RM68++ (adult), RM34++ (child)
Semi Buffet Dinner (6.30pm – 10.00pm): Monday – ThursdayRM48++ per pax
For MAYBANKARD, Standard Chartered Bank and VISA card members, you can enjoy 15% discount for the Chinese Odyssey Semi Buffet Dinner (Monday to Thursday) and Weekend Buffet Dinner (Friday to Sunday) from 6.30pm – 10.00pm.
The Swez Brasserie is located at the ring wing of Eastin Hotel, Penang (next to Queensbay Mall). If you are coming from Georgetown towards Bayan Lepas Free Trade Zone via Bayan Lepas Expressway, do watch out for the Pulau Jerejak signboard (leading to Pulau Jerejak jetty). Ignore the turning and drive on to the next left junction. Turn left into Jalan Aziz Ibrahim and drive on until you a roundabout. Turn 3 o' clock and drive on until you see a big Eastin Hotel signboard at the first right junction. Turn right and drive on. Park your car at the basement car park. Take a lift to the first floor lobby and you would see the restaurant there.
Name: SWEZ BRASSERIE @ EASTIN HOTEL
Address: 1 Solok Bayan Indah, Queens Bay, 11900 Bayan Lepas, Penang, Malaysia.
Contact: 604-612 1128, 604-612 1138
Business Hours: 12.00pm-2.30pm (Lunch), 6.30pm-10.00pm (Dinner)
GPS: 5.33643, 100.306345
RATING:
Ambience: 8/10 (1-4 cheap, 5-7 average, 8-10 classy)
Food Choices: 8/10 (1-4 limited, 5-7 average, 8-10 many choices)
Taste: 7/10 (1-4 tasteless, 5-7 average, 8-10 excellent)
Pricing: 8/10 (1-4 cheap, 5-7 average, 8-10 expensive)
Service: 8/10 (1-4 bad, 5-7 average, 8-10 excellent)