Let's start the coming Chinese New Year in welcoming the Year of the Boar by having some great spreads with family and friends. This year, Swez Brasserie at Eastin Hotel, Penang, would be offering various dinner packages for your reunions. For more information and reservations, please contact Eastin Hotel Penang at 04-612 1111 or email info.pg@eastin.com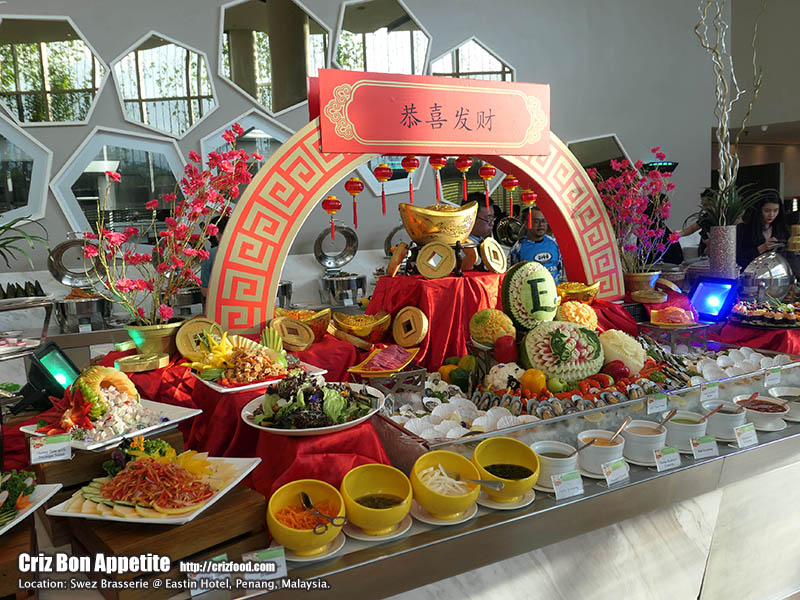 Here are the promotions available: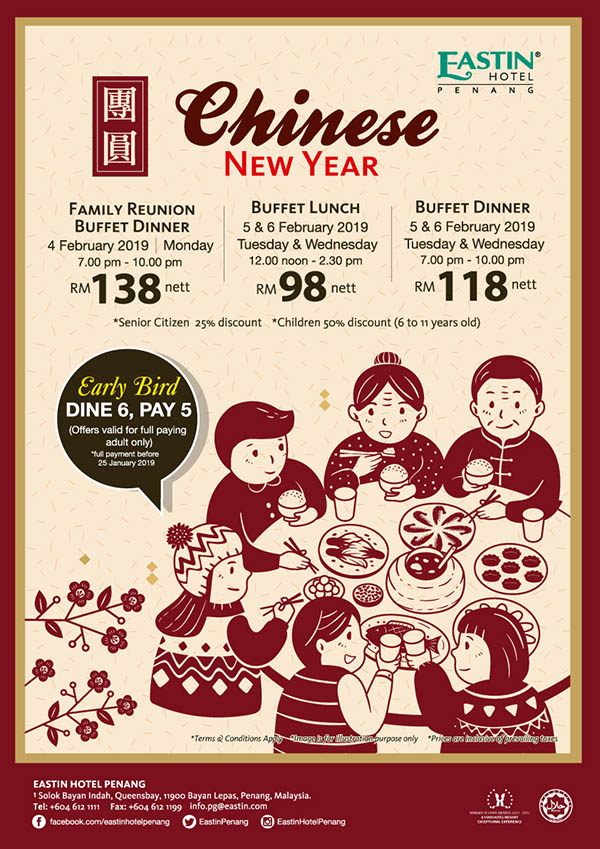 Family Reunion Buffet Dinner
Date: 4 February 2019 | 7.00pm – 10.00pm
Price: RM138nett for adult
Chinese New Year Buffet Lunch
Date: 5 & 6 February 2019 | 12.00noon – 2.30pm
Price: RM98nett for adult
Chinese New Year Buffet Dinner
Date: 5 & 6 February 2019 | 7.00pm – 10.00pm
Price: RM118nett for adult
Senior citizens get a 25% discount each and children get a 50% discount per child (6 to 11 years old). An early bird promotion of dine 6 pay 5 applies for full paying adults only and this offer is valid with full payment before 25 January 2019.
The program for the coming Reunion Dinner includes a mask changing show, warrior drums, and clown appearance for the kids. Our hotel's Lion Dance Performance will be held at the lobby area on 11 February 2019 (Monday) at 9.30am.
You could also purchase their various concoction of Yee Sang as takeaways from 22 January 2019 until 19 February 2019.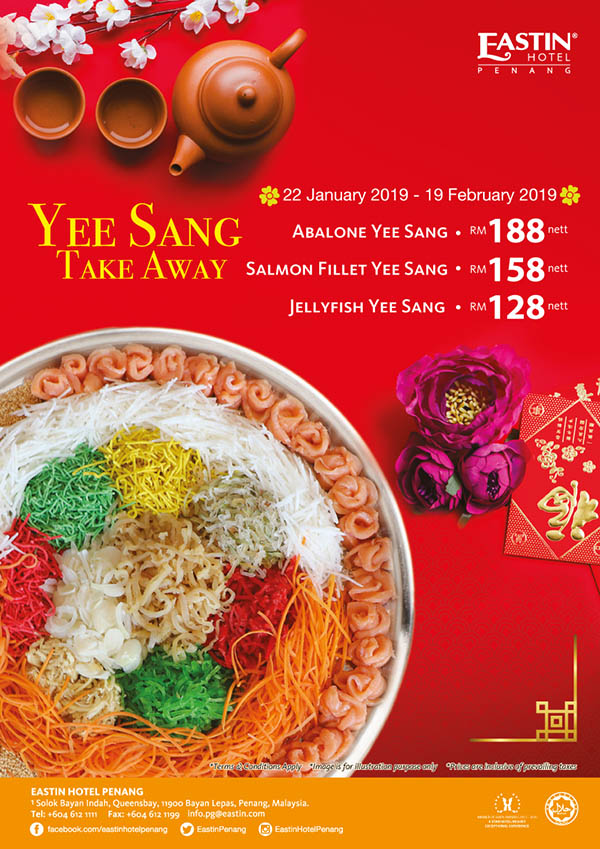 Let's take a look at some of the items available during the coming Chinese New Year Reunion Buffet Dinner 2019 on the eve, 4 February 2019. Of course the main attractions would be their Signature Fortune Yee Sang at the Huat Ah Giant Yee Sang Table, Poon Choi, Yook Poon and other delectable dishes such as the Salad Bar and Chilled Table (Assorted Lettuce with Condiments, Choices of Dressing and Condiments, Honey Dew with Sausage Salad, Thai Spicy Grilled Chicken Salad, Baby Octopus Salad, Thai Young Papaya Salad, Homemade Seafood Terrine, Smoked Salmon Platter, Assorted Sushi with Condiments, Assorted Sashimi with Condiments, Assorted Pickles and Kimchi), Soup (Cream of Asparagus Soup With Croutons, Double Boiled Chicken Broth with Red Dates and Herbs), Hot Dishes (Steamed White Rice, Lotus Leaf Fried Rice with Smoked Turkey & Dried Shrimp, Teochew Mee Teow, Green Mussels with Hot Bean Sauce, Steamed Broccoli with Fatt Choy & Dried Oysters, Sautéed Prawn Meat, Pacific Clam and Cashew Nuts, Fried Chicken with Tonkatsu Sauce, Baked Salmon Fillet with Garlic Herbs Butter, Baked Lamb Chop Provençale, Braised Herbal Duck, Steamed Seabass Fillet "Teochew Style"), Seafood on Ice (Cold Tiger Prawns, Scallops, N.Z Half Shell Mussels, Half Shell Oysters with Condiments, and Cold Snow Crab Legs to be served on platter on each table by their service staff), Action Counter (Roasted Leg of Lamb with Condiments and Black Pepper Sauce and Mint Gravy,Homemade Salmon Gravlax with Condiment) and Desserts (Assorted Fruit Platter, Chocolate Walnut Cheese Cake, French Pastries, Local Kuih, Sesame Balls, Assorted Chinese New Year Cookies, Glutinous Rice Balls, Tao Fu Fa with Brown Sugar, Almond Beancurd & Longans, Chocolate Bread and Butter Pudding, Sliced Moist Chocolate Cake, Tiramisu in Cup, Assorted Macaroons, Cold Lin Chee Kang, 3 Types of Ice Cream and Condiments)
Here's a glimpse at all the delicious items for the night:
You can also check out the other promotions available below:
Thank you to the management of Eastin Hotel Penang for the preview. I would like to take this opportunity to wish everyone a Happy & Prosperous Chinese New Year!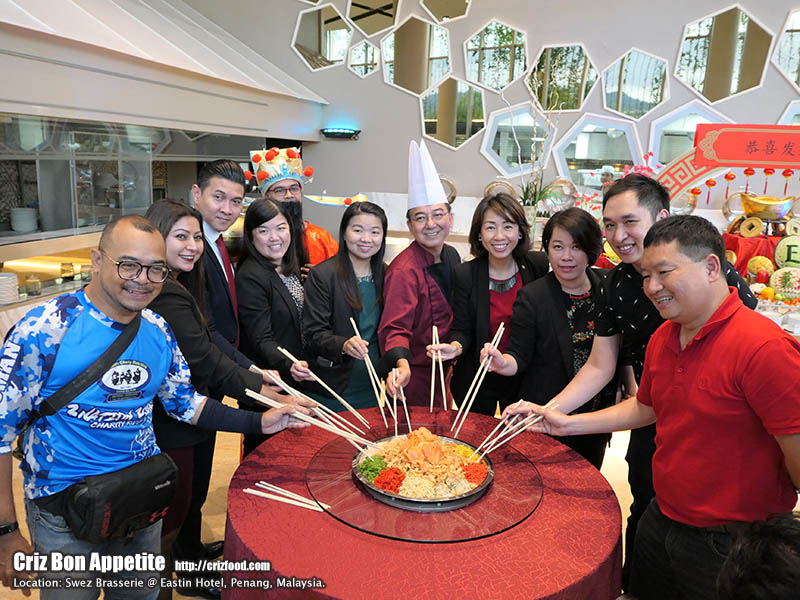 The Swez Brasserie is located at the ring wing of Eastin Hotel, Penang (next to Queensbay Mall). If you are coming from Georgetown towards Bayan Lepas Free Trade Zone via Bayan Lepas Expressway, do watch out for the Pulau Jerejak signboard (leading to Pulau Jerejak jetty). Ignore the turning and drive on to the next left junction. Turn left into Jalan Aziz Ibrahim and drive on until you a roundabout. Turn 3 o'clock and drive on until you see a big Eastin Hotel signboard at the first right junction. Turn right and drive on. Park your car at the basement car park. Take a lift to the first floor lobby and you would see the restaurant there.
Name: SWEZ BRASSERIE @ EASTIN HOTEL
Address: 1 Solok Bayan Indah, Queens Bay, 11900 Bayan Lepas, Penang, Malaysia.
Contact: 604-612 1128
Business Hours: 12.00pm-2.30pm (Lunch), 6.30pm-10.00pm (Dinner)
GPS: 5.33643, 100.306345
RATING:
Ambience: 8/10 (1-4 cheap, 5-7 average, 8-10 classy)
Food Choices: 8/10 (1-4 limited, 5-7 average, 8-10 many choices)
Taste: 8/10 (1-4 tasteless, 5-7 average, 8-10 excellent)
Pricing: 8/10 (1-4 cheap, 5-7 average, 8-10 expensive)
Service: 8/10 (1-4 bad, 5-7 average, 8-10 excellent)
About Eastin Hotel Penang

: Eastin Hotel Penang is a contemporary International business class hotel. Strategically located within the integrated waterfront development of Queensbay, Eastin Penang is adjacent to Queensbay Mall. Its superb location is minutes' drive away from the Penang International Airport and the iconic Penang Bridges as well as in the vicinity of the Bayan Lepas Free Industrial Zone. It features 328 meticulously decorated guest rooms and suites, facing the shimmering blue sea and the verdant green hills of Pulau Jerejak, home to tropical rainforest that is over 130 million years old. For more information, please visit www.eastin.com