Many people would have passed through the stretch of Jalan Kelawei without noticing that there's this little cozy yet simple setting restaurant just two doors away from Meijiya, a Japanese products crockery store. Named Eighty Eight Restaurant, after the birth year of the chef-cum-owner, Chef Danny Ng (center in photo below), the restaurant has proven to be one of the best of the best in Penang. Trained at the reputable At-Sunrice GlobalChef Academy in Singapore, Chef Danny Ng has brought home many international style of cooking techniques that not many restaurants in Penang are executing as it involved humongous investment and is rather time consuming. To the chef, getting a dish done perfectly in taste and texture to the fulfillment of a diner is what he's passionate about and time is another matter. Sous-vide, a vacuum cooking technique, is regularly practiced in this restaurant. We were glad to be invited to try out their ala carte dinner menu for the month. Set lunch would also be available at RM30+ daily, except for their off day on Tuesday.
As the meal starter, we were served with hot Muffin Bread with Burned Butter. The clean sliced homemade muffin bread had the texture which I like as it has a bit chewy consistency. It went well with the chef's burned butter, a browning process of unsalted butter until the required almost nutty flavor. Everyone was pleased with this starter and was eagerly waiting for the chef's next surprise.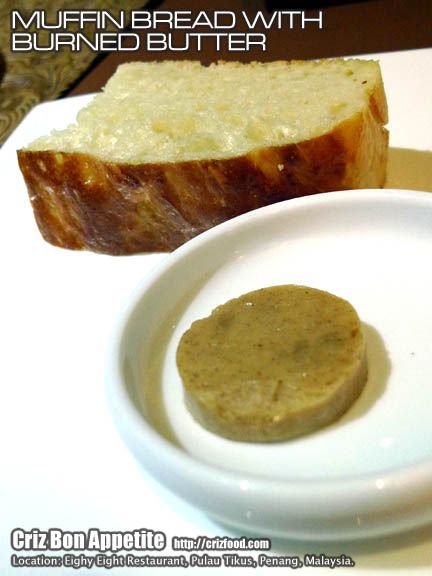 The chef's version of Caesar Salad (RM20+) was served. Though simple as it may look, the cold starter was indeed a master piece by itself. It had sliced crispy baby romaine lettuce, confit cherry tomatoes, anchovies, shredded egg white and yolk, dressed in their homemade caesar dressing, garnished with a sprinkle of Parmigiano-Reggiano and some thinly sliced muffin bread crouton. It was perfect for any occasion.
In case you might want to try a different cold starter, I would strongly recommend the Jamón Ibérico (RM30+). The cold starter came with some paper thin slices of Spanish Cured (Black Iberian Pig) Ham, drizzled with balsamic reduction, Spain imported extra virgin olive oil, garnished with some leafy baby rockets and served with their homemade fried dough, Gnocco Fritto, little pillows as they have been known.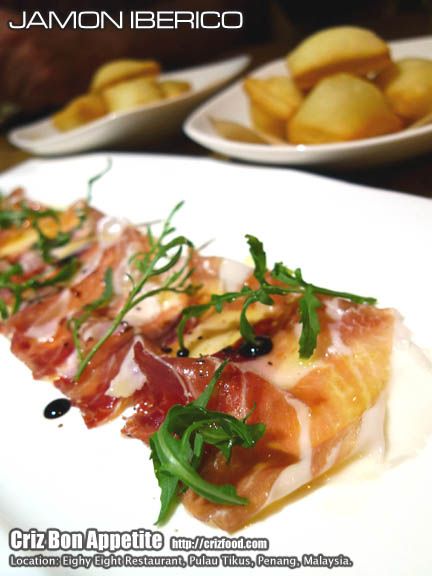 The crispy surface of the fried dough, wrapped with a slice of the cured ham, combined with a leaf of baby rocket was amazing. I could have this starter all night long without any main course~ LOL~ 😛
As for hot starter, we tried out their Saute Clams (RM20+). It was a totally new experience at all compared to the Vongole in White Wine Sauce I had tried elsewhere. The clams here were cooked differently as in prawn stock, fresh tomatoes, oven dried tomatoes, basil and parsley with a light touch of brandy. The light bitter sweetness sauce was heavenly. How I wished I could dip some toasted bread in it and drained up any remaining of the sauce. Of course, the clams were super fresh and cooked with just the right texture.
We were also served with bowls of Prawn Bisque (RM26+), a soup that was milder than the Lobster Bisque I had in another restaurant. Though it had a quite intrusive roasted white prawn shells flavor which some might not be used to, I found the soup to be quite interesting. It had chunks of squids and clam meats added in on top of halved big prawn, some diced tomatoes and chopped parsley plus sprinkles of grounded black pepper with a light pep up in taste from some parsley oil. The whole concoction was very flavorful, though I quite like it to have some additional white wine and cognac flavors in it for some extra boosts~ 😛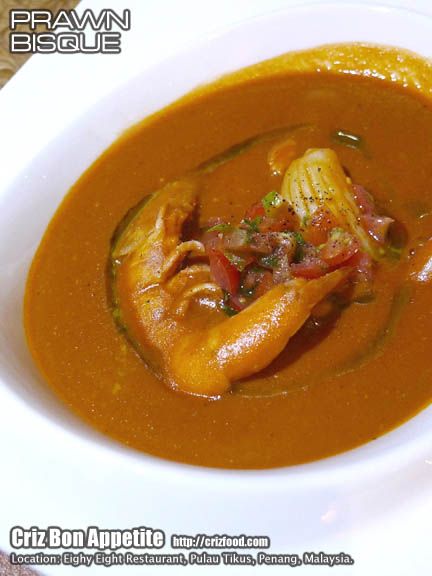 The restaurant was kind enough to compliment us with their homemade Strawberry Sorbet (normal price for a larger scoop is RM8+) for clearing off the lingering seafood after taste. The sorbet had some light sprinkles of fleur de sel, a hand harvested and expensive salt to pep up the flavors.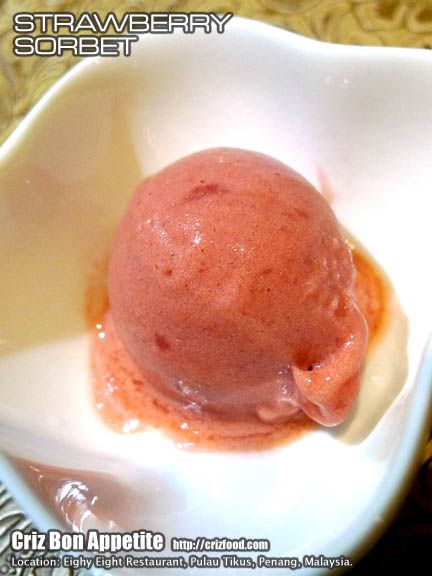 We also had their signature Seafood Linguine (RM45+) next. Instead of the usual pasta which consisted of basically tomato puree, the version here had the pure flavors from the fish broth used. The ala-minute pasta came with some sundried tomatoes, black olives, cherry tomatoes, capers, clams and prawns with a mild touch of fresh herbs. Though it was a bit pricey for most of us, the contentment was until the extreme. It was the best pasta I had tasted for ages and every bite was worth the value paid.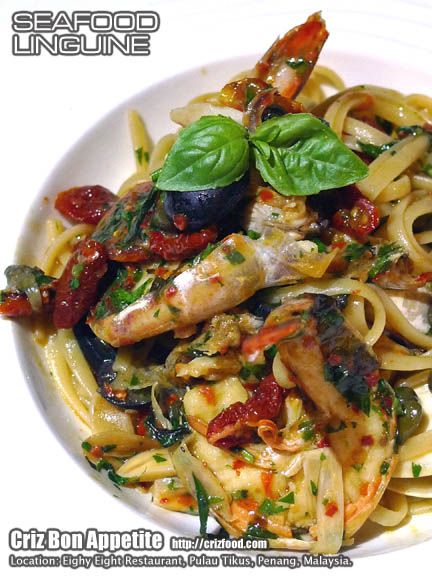 As for main, we were served with a fish dish of the month – France imported Whole Baked Sea Bream (RM75+), which was air-flown directly from France with the best care to ensure its freshness. The fish was marinated simple with just some chopped parsley, salt and lemon zest, to ensure that we get the best natural sweetness from the fish. The oven-roasted fish was served with some mashed potatoes, white wine sauce and rocket salad. The texture of the fish was lean and coarse-grained, almost similar to that of the sea bass but thinner. I personally find the price for the barely 400g sea bream to be rather costly. Even though the chef was rather selective in his fish choices, there are still options for other fish species in the local market for self caught fish other than those reared ones. At least, it would enable more diners to savor his skills in preparing his fish dish.
Another great main dish would be their Oven Roasted Baby Lamb Rumps (RM68+). The Australian imported lamb rumps had gone through many stages of herbs infused pan searing to seal in the flavors prior to being oven roasted until perfection. I would say this dish was the best ever with my experiences in consuming lamb dishes. The tenderness of the lamb pieces were just right without the oozing blood as you would get from most restaurant. The evenly coated charcoal powder added some smoke flavors which complemented the meat real well. The skillfully prepared lamb rumps came served with some Japanese pumpkin pureé, mint jus and baby rocket.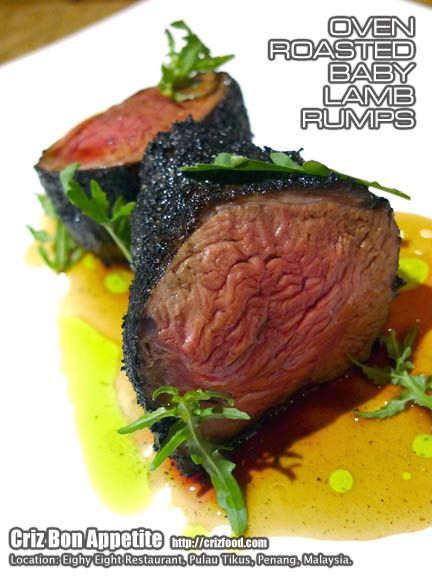 Finally, desserts were served. We were served one of their signature desserts which was their "Chocolate & Banana" 2012 (RM22+). The dessert had a combination of some frozen Varlhona chocolate mousse with some banana mousse, sprinkled with some chocolate & coffee crumbles and served with their homemade banana ice cream. This was so far one of the most luxurious desserts I have taken, considering that the Varlhona brand is a high-grade luxury chocolate marketed and this choice had 50% dark chocolate content.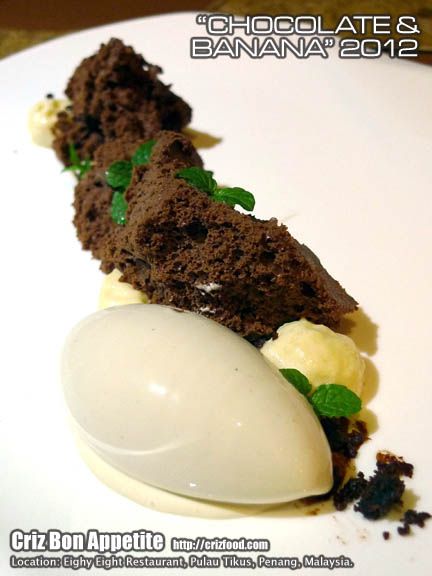 Another of my award winning choice would be their Gratin Sabayone (RM18+). I would anytime choose this dessert over Crème Brulee as the flavors were spectacularly undeniable over the latter. It had some fresh strawberry cuts, dressed with some fortified Marsala wine infused egg based custard prior to being torch burned. This dessert was served with their homemade and non-stabilizer used vanilla ice cream. Be sure to consume the ice cream as it would melt fast.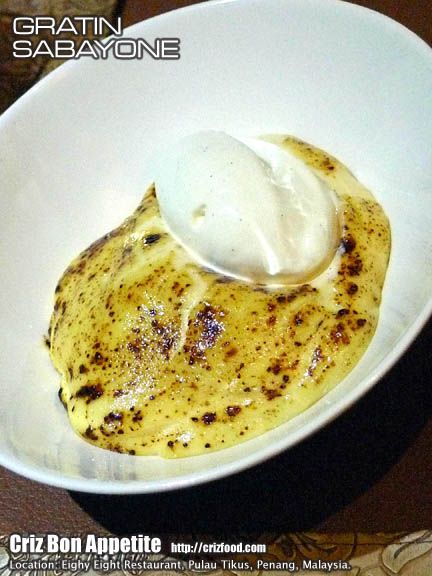 We also had a try out on their Vanilla Panna Cotta (RM20+). This Italian style pudding had the natural usage of fresh Vanilla pods as you can clearly see the seed at the base of the pudding. The taste of the Vanilla Panna Cotta served here was way more superior in quality than those served elsewhere with the usage of Vanilla Essence. It was served with mixed berries compote which gave the dessert an extra fruity flavor.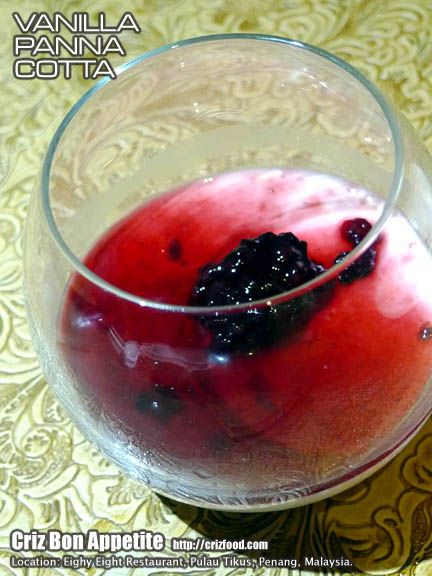 Overall, I personally felt that this is one of the best fine food restaurants in Penang, considering that all the dishes served here were of fresh ingredients and homemade with the strictest possible discipline to ensure that diners get the best in freshness, taste and presentation. No doubt some of the dishes may look rather simple, you could sense that each dish had the heart of the chef in it, ensuring that every single detail in the dish has the right balance in taste right from the basic stock alone. The creativity of the young chef is beyond his age through his knowledge and experiences throughout his overseas culinary journey. In short, he knows his stuff all too well~ 🙂
If you are coming from George Town towards Tanjung Bungah/Batu Ferringhi along Jalan Kelawei, just watch out for a tall orange flat (Pulau Tikus UDA Flats) at the junction of Jalan Jones/Jalan Kelawei on your left. Slow down and switch on your left indicator, Eighty Eight Restaurant is just right after Kitchen Shop on your left. There would be ample parking spaces right in front of the restaurant.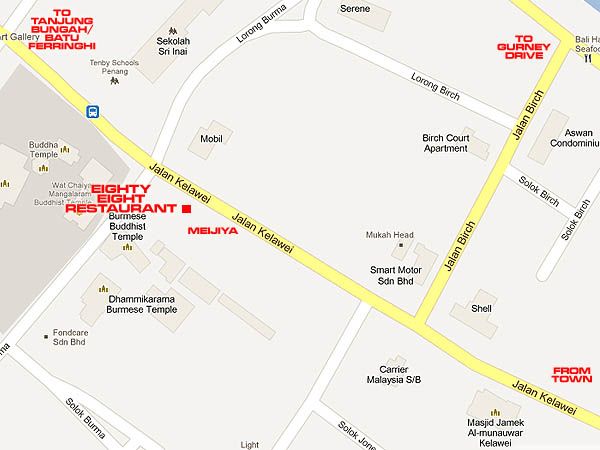 Name: THE EIGHTY EIGHT RESTAURANT
Address: 49-A Jalan Kelawei, 10250 Penang, Malaysia.
Contact: 604-226 2821
Business Hours: 12.00noon-2.30pm, 6.30pm-10.00pm (Closed Tuesday)
GPS: 5.431671, 100.314493
RATING:
Ambience: 7/10 (1-4 cheap, 5-7 average, 8-10 classy)
Food Choices: 7/10 (1-4 limited, 5-7 average, 8-10 many choices)
Taste: 9/10 (1-4 tasteless, 5-7 average, 8-10 excellent)
Pricing: 8/10 (1-4 cheap, 5-7 average, 8-10 expensive)
Service: 7/10 (1-4 bad, 5-7 average, 8-10 excellent)