The Tiger STREATS 2017, the unique street food experience from Tiger Beer, recently arrive at the shore of Penang at Hin Bus Depot, enabling Penang foodies to enjoy Malaysian cuisine with some twists. It was indeed a new experience for many non-muslim party-goers to wash down the food with ice cold Tiger brews throughout the night.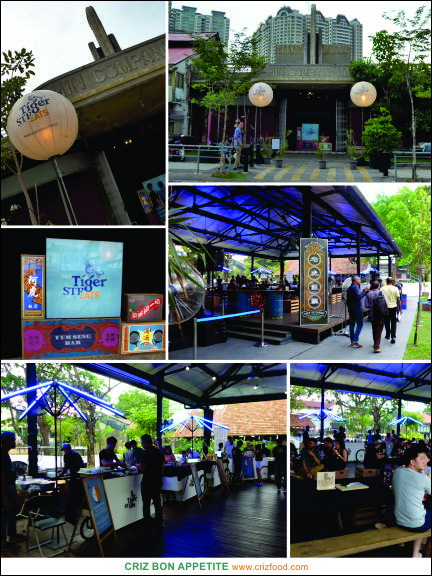 With more than 14 types of one-of-a-kind takes on local favorites, Tiger STREATS will be more than enough to satisfy anyone's taste buds. Let's look at the "specials" available during the eventful night.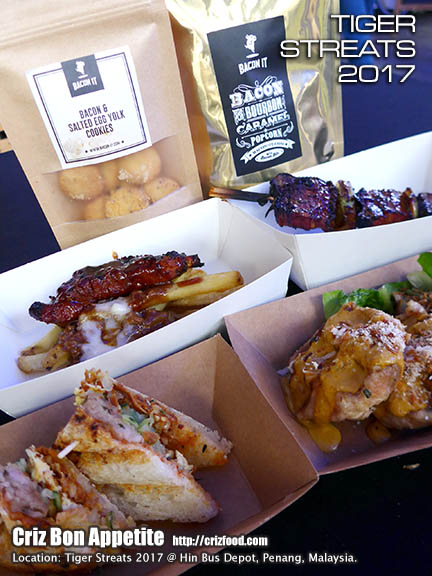 BBQ Ribs with Sambal Sloppy Fries – Tender on the inside, crackly on the outside! The signature BBQ ribs marinated with own secret recipe, paired with in-house famous Sambal Sloppy Fries on the side.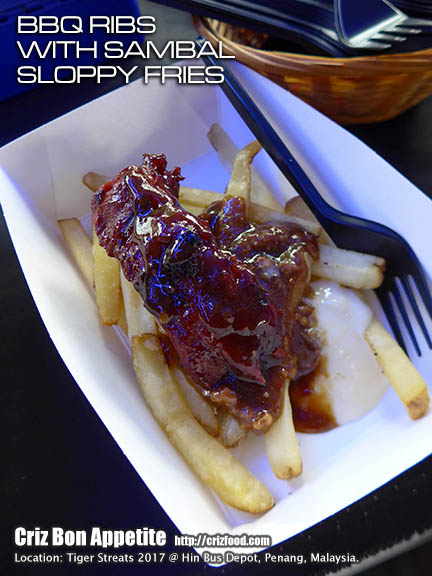 Yummitori – A new age 'satay' pork slice skewers, grilled perfectly with crunchy greens in between. You can choose from 4 different types of flavors, namely 'Sambal Hainanese' Pork, 'Chewbakwa' Pork, 'Caramelized Roast' Pork and 'Once You Go Black' Pork.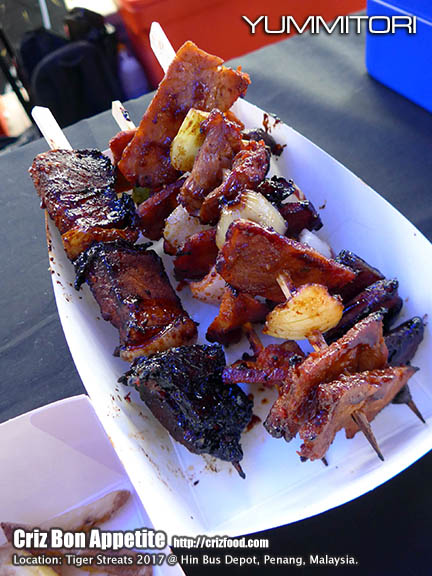 K-Pop Maggi Goreng – 'Wok Hei' filled Maggi Goreng ala Chili Pan Mee twist. Served with stirred fried instant noodle, accompanied with minced chicken, crunchy ikan bilis and a fried egg.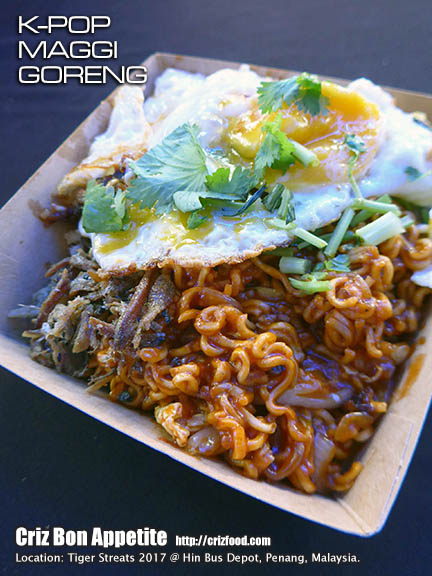 Pisang Goreng with Lemon Curd – Fried banana fritters with coconut milk and honey drizzle, topped with lemon curd and toasted sesame.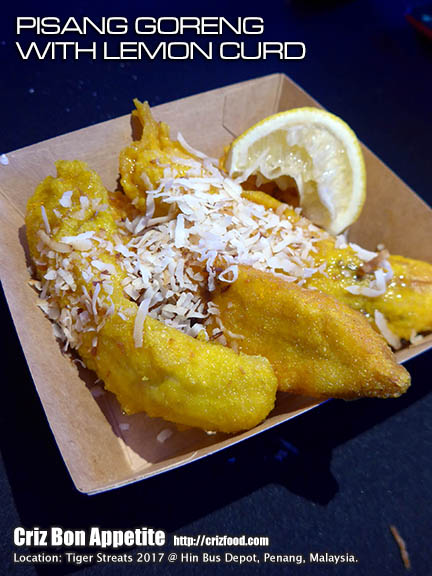 Bacon & Gula Melaka Popcorn – Rich, dark and mysterious Gula Melaka (palm sugar) caramelized over low fire and then drizzled over freshly popped corn and salty homemade bacon. This "Asian-inspired" popcorn is then sprinkled with desiccated coconut before they are slow baked to little precious, crackling Krakens! Whatever that means!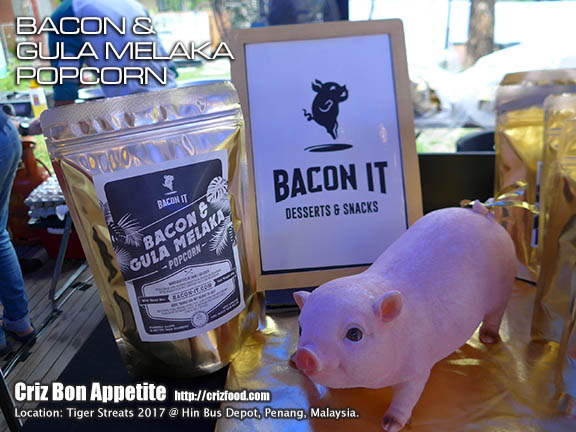 Bacon & Sambal Ikan Bilis Popcorn – Light buttery popcorn tossed with sambal, crispy salty bacon and toasted whole anchovies.
Bacon & Bourbon Caramel Popcorn – Freshly popped corns are drizzled with hot bourbon caramel. They are then tossed with our homemade salty bacon and slow baked to crunchy perfection.
Bacon & Run Butterscotch Popcorn – Light buttery popcorn tossed with our homemade rum butterscotch, crispy salty bacon and toasted whole almonds. Take a bite of these little babies and feel the paper-thin crispy coating explode in your mouth.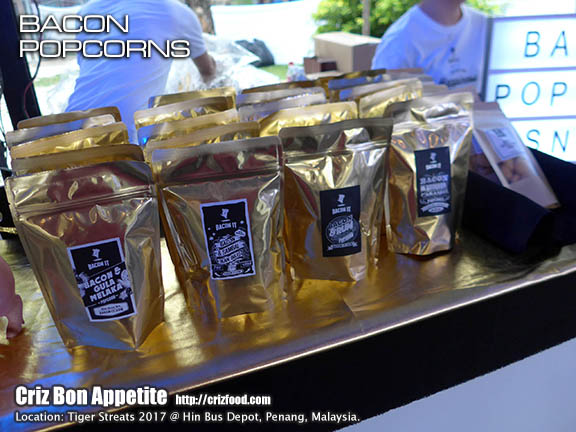 Bacon & Salted Egg Yolk Cookies – Crispy homemade bacon bits and salted egg yolk in this traditional cookie batter.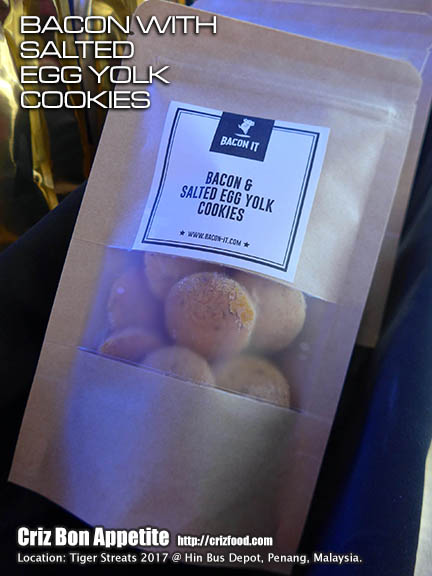 Roti Aiskrim – Ondeh-ondeh and Teh Tarik flavoured ice cream sandwiched in between fluffy Hainanese bread, adding a little twist on the classic Roti Aiskrim, topped it off with homemade kaya drizzle.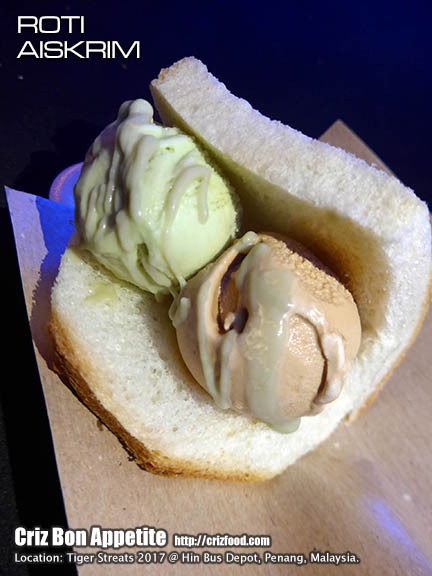 Fried Cempedak Ice Cream – Inside Scoop's bestselling Cempedak Ice Cream fried in a secret coating for that local twist and of course, absolute enjoyment.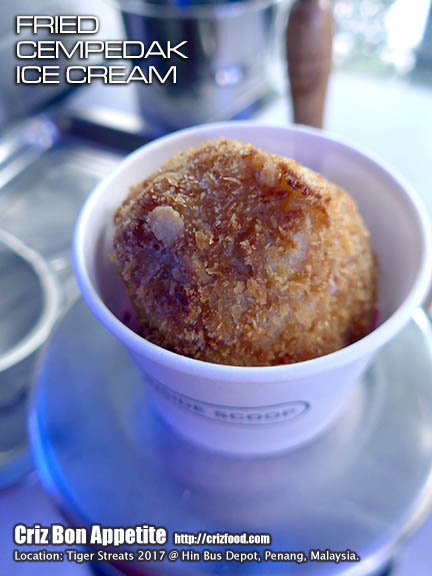 Lo Mai Kai with a Twist – Indulge in this contemporary Lo Mai Kai with sautéed button and Portobello mushroom, smoked duck breast, fried shallots, micro herbs, dried shrimps, and accompany the chewy and fragrant glutinous rice.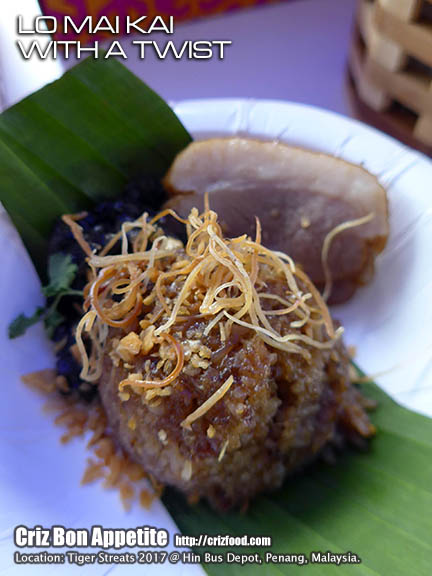 Creamy Butter Chicken Nachos – Crunchy tortilla chips with Chinese restaurants go-to-dish, minced creamy butter chicken topped with Japanese nori, sesame seeds and chilies.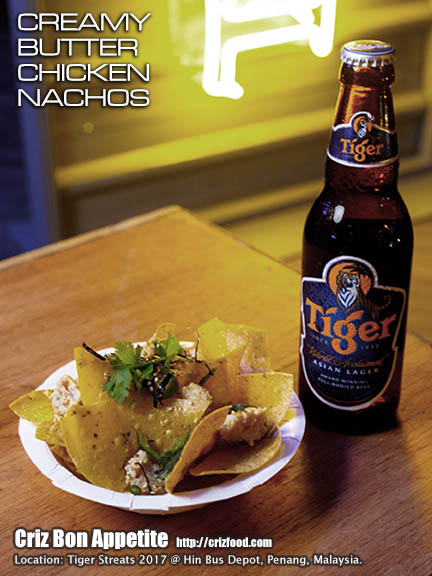 Curry Flavor Waffles – A savory twist of well flavored dessert – minced chicken waffles with onions, and served on a bed of citrus romaine with curry sauce drizzle.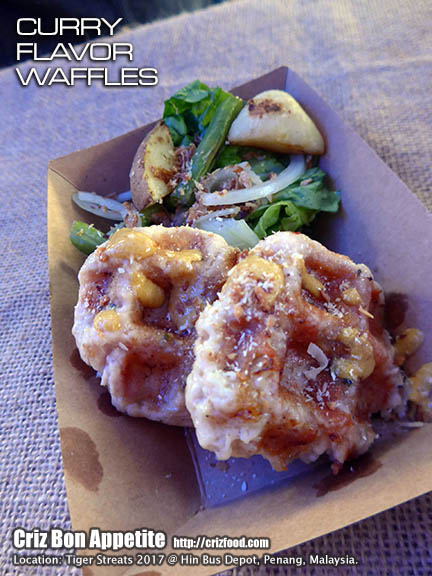 Lemak Chicken Sandwich – The signature Malaysian dish where rice replaced with sourdough bread, ikan bilis, peanut, homemade sambal, toasted coconuts, and a chicken waffle.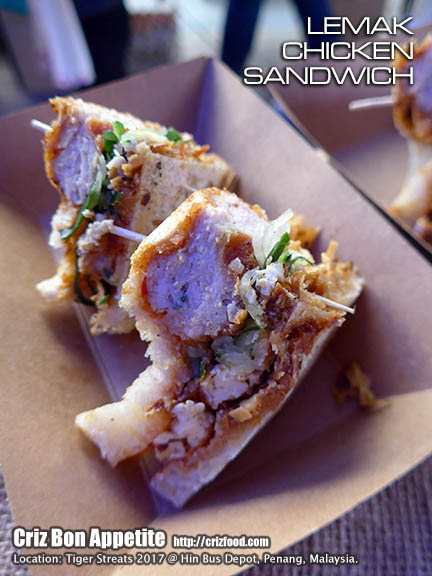 Mr. Bao – Soy-sauced braised pork belly sandwiched in between slider buns, alongside coriander, fermented vegetable, fried shallot, peanut powder and pork sauce.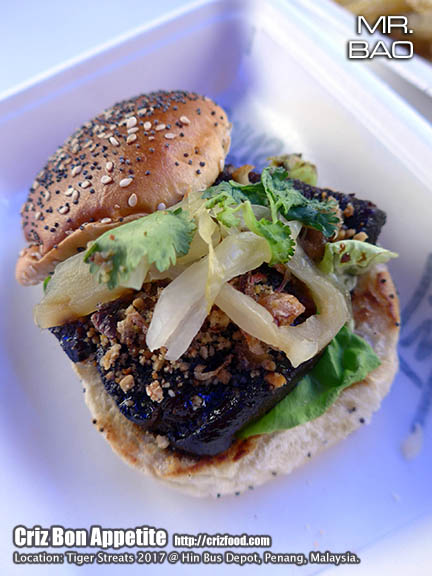 Mamak Fries – Crispy shoestring fries served with the nation's staple Nasi Lemak sambal sauce and seasoning, garnished with parsley flakes.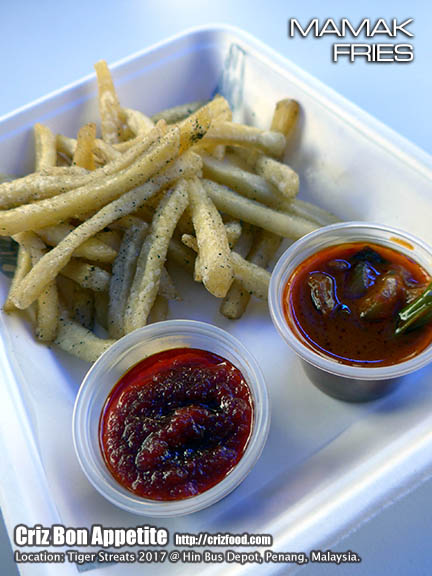 In addition to the amazing array of dishes to sample, Tiger fans were kept entertained throughout the events with retro-inspired games, experiential activities, and performances from great local artistes, Color Noise.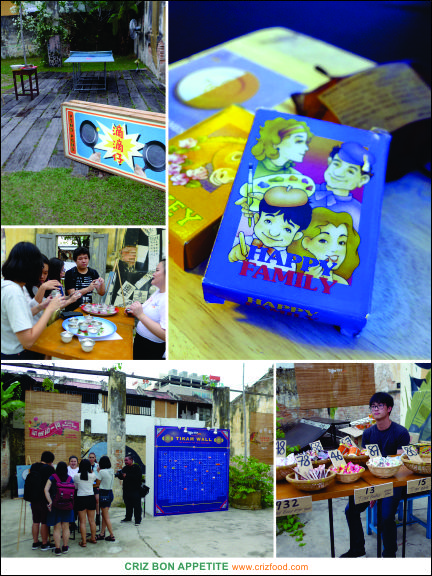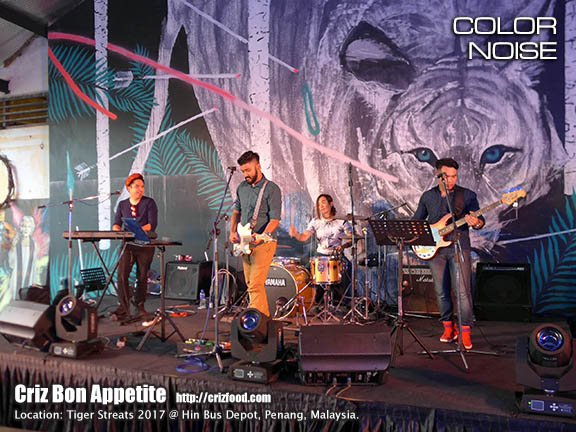 To pair with all that delicious food, ice cold Tiger brews were sold at a special price throughout the evening.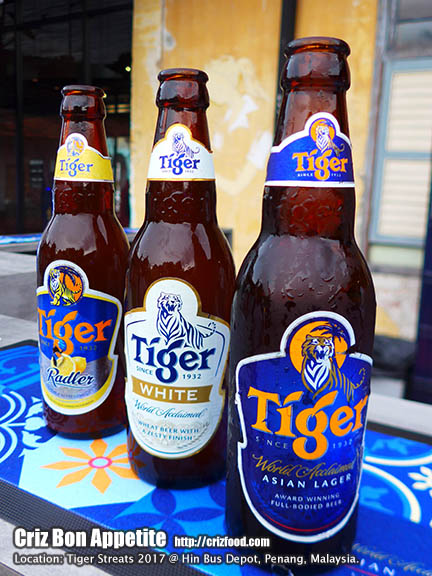 Tiger STREATS launched in December in Kuala Lumpur, where 700 guests sat down together to feast on array of treats prepared by two chefs from very different worlds, but who shared the honour of Michelin Star fame. Hawker Chan, the owner of the first hawker stand to win the prestigious award, and Chef Ramsey, owner of progressive modernist restaurant Babe KL combined their culinary talents to craft an extraordinary dining experience with a unique collection of fusion dishes merging traditional Asian street food and contemporary fine dining cuisine.
Jessie Chuah, Marketing Manager of Tiger Beer said, "The response to Tiger STREATS so far has been incredible, and we're thrilled to bring this unique culinary experience to even more Tiger Beer fans in Penang and Johor."
A big thank you to Heineken Malaysia Berhad for the great experiences in the recent Tiger STREATS Party in Penang. It was truly an enjoyable event with memorable games of the past.
About Tiger STREATS

: Tiger STREATS, by Tiger Beer, is the world's first 'street food meets fine dining' culinary collaboration. Featuring a unique culinary mash-up between chef Hawker Chan, owner of world's first Michelin-starred hawker stall and top fine dining chefs from around the world, the series of Tiger STREATS events, taking place in Sydney, Auckland, New York and Kuala Lumpur, aims to bring people from different backgrounds together to share a Tiger Beer and a memorable meal at the street food table.
About Tiger Beer

: ROARING SINCE 1932 – A bold lager, born and brewed in the heart of Asia through our tropical lagering process. Tiger's uniquely refreshing and full-bodied flavor is enjoyed in more than 70 countries, winning us friends and awards the world over. The brand received its first award in 1939, beginning its journey as an Award Winning beer on an international stage. The recognition of its product excellence catapulted Tiger's internationalization in the early 1990s, with over 50 international awards and accolades to date. It is now known as a symbol of contemporary international Asia, enjoyed by discerning drinkers in every corner of the globe spanning across Asia with growing popularity in western markets such as, Europe, USA and Australasia amongst others. A true Asian beer at heart, the brand wants to show the world what Asia has to offer. Over the years, Tiger has received more acclaim from the world's leading newspapers and journals than most other beers. For example, the Washington Magazine, in a blind taste-test involving several hundred brands, unreservedly voted Tiger "positively the best beer in the world". Tiger has also accumulated over 50 accolades, awards and distinctions. Some of the more notable awards include a Gold medal in the International-Style Lager at the World Beer Cup 2010 and a Gold Medal for the International Golden Lagers category at the Brew NZ Awards in 2011. Each year from 2004 to 2006, Tiger was named a UK Cool Brand Leader. The recognition reaffirmed Tiger's popularity and was given only to the coolest brands in the UK.
About Heineken Malaysia Berhad (formerly Guinness Anchor Berhad)

: HEINEKEN Malaysia with its portfolio of iconic international brands is the leading brewer in the country. The Company brews, markets and distributes:

• The World's No. 1 international premium beer Heineken® ;
• The World-acclaimed iconic Asian beer Tiger Beer, and its doubly refreshing variant Tiger Radler and its other innovative brew Tiger White – Asia's Wheat Beer;
• The World's No. 1 stout Guinness;
• The all-time local favourite Anchor Smooth and its strong beer variant Anchor Strong;
• The premium Irish ale Kilkenny;
• The real shandy Anglia
HEINEKEN Malaysia also produces the wholesome, premium quality non-alcoholic Malta. HEINEKEN Malaysia's brand portfolio also includes the World's No. 1 cider Strongbow, the No. 1 German wheat beer Paulaner, Japan's No. 1 100% malt beer Kirin Ichiban and the World's No. 1 ready-to-drink alcoholic beverage Smirnoff Ice. The Company continues to lead the responsible drinking agenda through its Drink Sensibly campaign. Listed on the Main Market of Bursa Malaysia, HEINEKEN Malaysia's principal shareholder is GAPL Pte Ltd based in Singapore. GAPL Pte Ltd is 100% owned by Heineken N.V. Heineken Malaysia Berhad officially changed its name on 21 April 2016 following Heineken N.V.'s acquisition of GAPL Pte Ltd on 7 October in 2015. For more information please visit: www.heinekenmalaysia.com