If you are driving into Farlim, Penang, via Lebuhraya Thean Teik, you would notice that there's a premier lifestyle destination known as the All Seasons Place built by Belleview Group, where they promised that the whole family would get to enjoy the best shopping, dining and entertainment experiences all year round. I would say there are quite a number of eateries over there ranging from fruit tea, desserts to many overseas franchised cafes and restaurants. What caught my attention was the café named Who's Bryan, which has another two outlets in Butterworth as well as in the heart of George Town, Penang. Food choices would range from breakfast/brunch, afternoon tea (1 pax: RM21+, 2 pax: RM38+ with 8 different types of cakes & snacks), salad, soup, chicken, fish, red meat, sandwiches, burger, croissant, tortilla wrap, pasta cheese bake, pizza, pasta, local cuisine and light bites.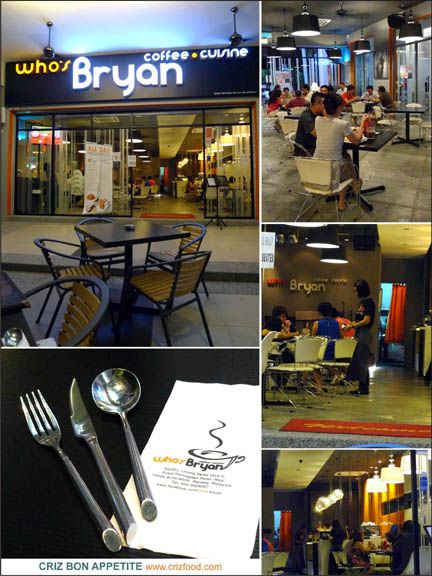 To start off the meal, we had Pumpkin Cappuccino Soup (RM8.90+). Who said we can't have pumpkin soup the cappuccino style? Of course, surely there won't be any espresso added into the soup but it's the frothing of the added milk as in cappuccino that had the soup named this way. The serving came with a deep fried mantou rather than croutons as shown in their menu. Frankly speaking, I would rather have some croutons in my soup than a quite dry and chewy mantou. Moreover, it would be great if they had garnished the soup with some chopped spring onions and/or toasted pumpkin seeds or pine nuts. Overall, the soup was reasonably nice to my liking.
Next we had their much recommended Who's Crumbly Chicken. It was a piece of well marinated boneless chicken drumstick plus thigh coated with some batter and lots of cornflakes prior to deep frying. It came served with some fries, fresh greens salad and mushroom gravy. Taste wise, it was fine except that I personally felt that they used too thick a batter in order to get such a thick coat of cornflakes. Moreover, the cornflakes were a bit too hard to munch. They should consider another brand with thinner flakes.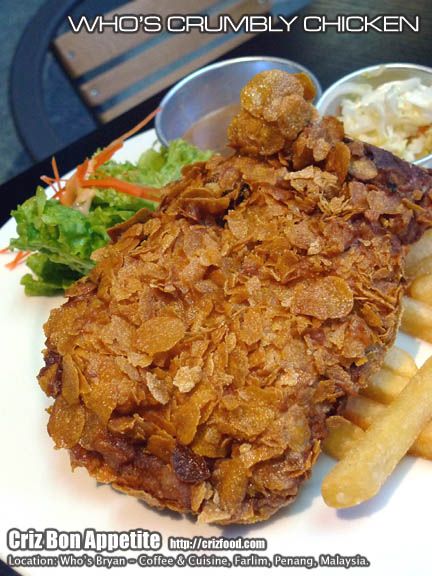 They also do serve pasta. We tried out their Carbonara Seafood (4 choices: Vegetables–RM13.90+, Turkey Ham–RM15.90+, Chicken–RM15.90+, Beef Bacon–RM15.90+ and Seafood – RM16.90+). I guessed I made the right choice as they dish was remarkably delicious for the price paid. It was creamy and the seafood (scallop, mussel, fish, squids & octopus tentacles) was rather fresh and there was a large amount of added Parmesan cheese. Yummy! However, they only use carrots, onions and celery to sweeten the sauce. I would have expected some sprinkles of mixed herbs on the dish.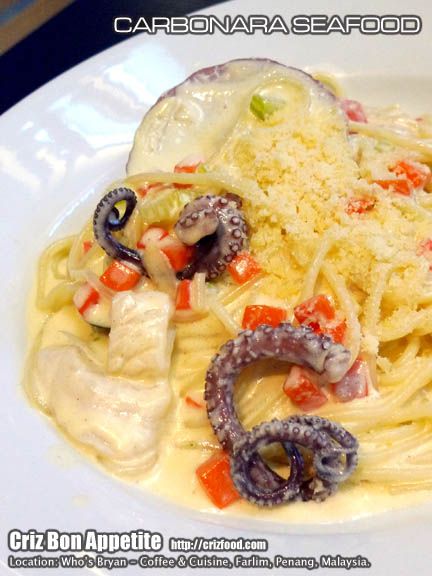 For lighter bites, you could always order their Mushroom Chicken Bruchetta (RM10+). The dish would come with 5 thin slices of toasted baguette, some fresh greens salad and a container of mushrooms and chicken chunks in cheesy sauce. I quite like the flavor of cheese. However, I found the sauce to be a bit too salty to my liking. Moreover, the sauce lacked the flavors from some black pepper and herbs.
Finally, it was dessert time. Currently, they have a promotion for two pieces of cakes from their chiller at only RM13+. The Green Tea Marble Cheese Cake (RM9.90+) looked impressive but it was one of the most disappointing cakes I ever had. How could they use sponge cake as the base? With such a heavy based cream cheese, the cake would have been squashed flat. Moreover, the moist within the cream was drained by the sponge cake until it was so dry and thus having the sandy texture from the green tea powder used. Whoever produced this cake was a total failure. The cake was not fit for consumption at all.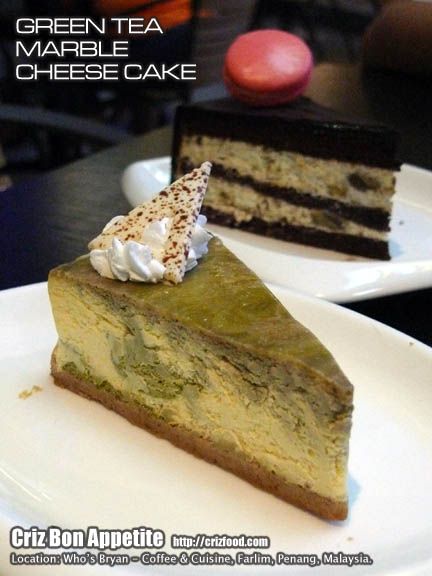 The second cake which I ordered was the Chocolate Banana Cake (RM10.90+). This was again another miserable product. I did not expect the banana used to be so limited and filled with sap taste from what I suspected to be unripe banana being used. On top of that, the cream was filled with an overpowering taste from added banana essence. The ganache was still fine but the decorated macaron was really soiled. This is another flopped dessert.
As for beverages, we had an Iced Peach Tea (RM6.50+) which was a bit overpriced for a sachet made version. However, I should give compliment to their Bee's Latte (RM8.90+). It had added honey and the espresso flavor was really distinctive. It came served with a slice of biscotti which was just average tasting.
Overall, this café would still be a great place to hang out over some cups of coffee and some light snacks. They do have some in-house bands to entertain you but the music could be quite loud to the ears at times. However, from my point of view, the desserts were totally not presentable and not up to par if you are looking for something to tempt your sweet tooth. They were rather cheap looking but would come with a high price tag.
Who's Bryan is located at the center span of All Seasons Place, Farlim, Penang. If you are coming from Penang Bridge along Jalan Mesjid Negeri, keep a look out for the traffic lights at the flyover next to Convent Green Lane. Turn left into Lorong Batu Lanchang and drive on while keeping left until you reach another traffic lights T-junction. Turn left into Lebuhraya Thean Teik and drive on for about 600m and you would see the mall on your left. The entrance to the mall would be near the Giant Supermarket. There would be ample parking space there, provided it's not a weekend when shoppers would do their weekly groceries intake.
Name: WHO'S BRYAN @ ALL SEASONS PLACE
Address: 6H-1-1, All Seasons Place, Lebuhraya Thean Teik, 11500 Farlim, Penang, Malaysia.
Contact: 604-826 9951
Business Hours: 11.00am-11.00pm (Weekdays), 10.00am-11.00pm (Weekends)
GPS: 5.397044, 100.290785
RATING:
Ambience: 7/10 (1-4 cheap, 5-7 average, 8-10 classy)
Food Choices: 8/10 (1-4 limited, 5-7 average, 8-10 many choices)
Taste: 6/10 (1-4 tasteless, 5-7 average, 8-10 excellent)
Pricing: 8/10 (1-4 cheap, 5-7 average, 8-10 expensive)
Service: 7/10 (1-4 bad, 5-7 average, 8-10 excellent)