2014 marked the first year The Eatery @ Four Points by Sheraton Penang would be promoting their Chinese New Year festive dining packages since their official opening on 30 October 2013. The promotion this year would be managed by Chef Wong who had many years of culinary experiences. You may book a table for 10 for Lunch or Dinner at RM850+ or just join in the Chinese New Year Buffet Dinner at RM88+ per person. Prosperous Yee Sang Platter would be served in every meal. Price is exclusive of a 6% government tax.
A few of us managed to try out the dishes for the Menu B for 10 persons. Of course, we started off the Chinese New Year dining with the Prosperous Yee Sang Platter with Salmon (風生水起-三文魚生), a symbol of good fortune. Takeaways are also available.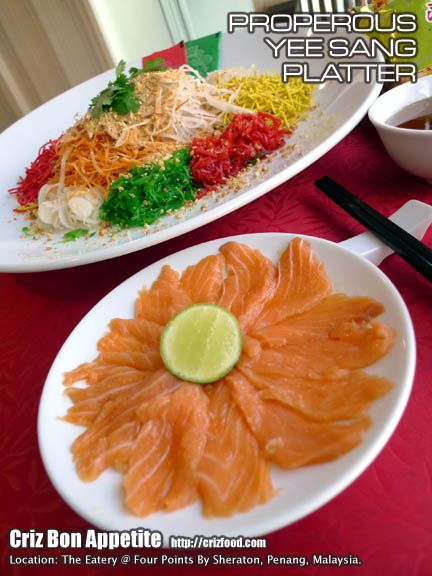 Next in the list was the Braised Superior Soup with Crab meat and Dry Scallop (財通四海-干貝蟹肉羹). There was a generous amount of crab meat and dried scallop added in the rich flavored stock. However, I personally find the soup to be a bit starchy minus the fragrance from a bit of added deep fried scallops as garnishing.
The Roasted Chicken with Plum Sauce (風凰報喜-梅醬燒雞) was superb with juicy and tender pieces of meat and crispy skin. I personally find the serving with plum sauce was a bit too common. The kitchen should have thought of other options such as spiced salt or other unique condiment for this dish.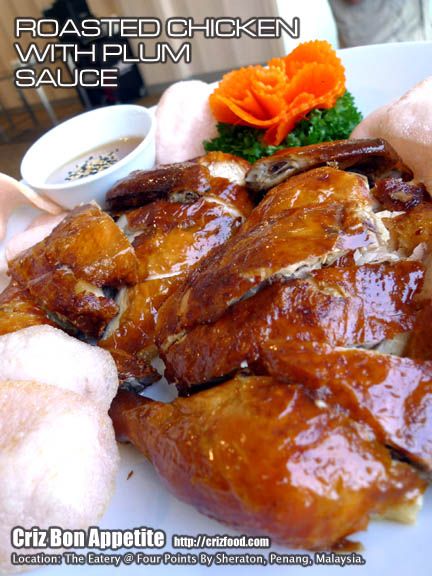 On the other hand, we were served with Steamed Sea Bass Fish in Superior Soya Sauce (年年有餘-清蒸石甲魚). Thought the fish was super fresh, I found the flavors to be lacking in something aromatic and fragrant to boost up the overall serving. I guessed some deep fried julienned young ginger plus some garlic oil would be great to pep up the dish more.
We also had some Braised Black Mushrooms and Gluten with Garden Green (萬事如意-冬菇,豆根,時蔬). Flavor wise, it was just another common banquet style dish.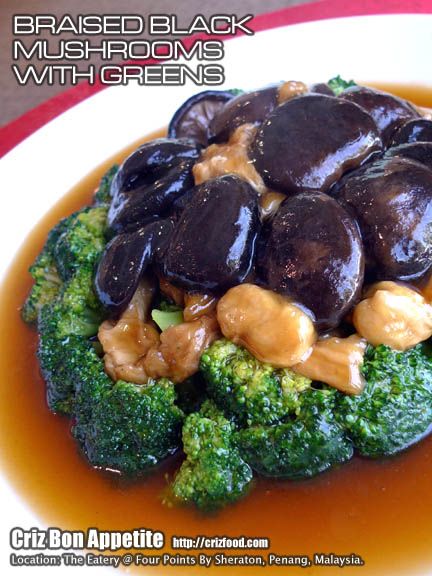 The Stir-fried Tiger Prawn with Chef Special Sauce (笑口常開-特式炒蝦) was indeed fresh. It tasted almost similar a milder flavored Szechuan Prawns.
As for the New Year Fried Rice with Silver Anchovies (遍地黄金-新年炒飯), I personally found the dish to be a bit over stressed as scattered gold. It was just Yong Chow Fried Rice garnished with some deep fried baby anchovies. I would prefer the presentation to be more distinctive with more rich filled ingredients added on top such as deep fried scallops, prawns and fish fillet. Items that could be deep fired until golden to symbolize the wealth abundance.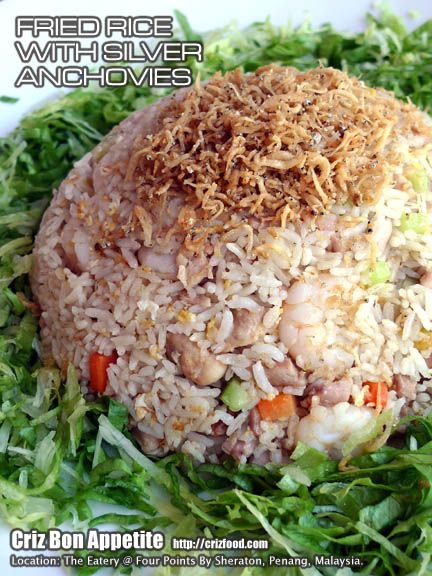 Lastly, it was the Warm Sea Coconut and White Fungus in Honey Syrup (新年快樂-蜜汁雪耳海底椰). Somehow, there was the slight sour aftertaste in this warm dessert. There could be 2 errors in the cooking process. One would be the overused of red dates which occasional would have slight sourness. The other would be the quality of the honey used as some brands of honey would turn sour upon mixing/cooking in certain boiling temperature. I hope the kitchen would rectify this minor hiccup and alternatively maybe they could consider using just plain rock sugar or lo han guo as sweetener for this dessert.
Overall, the dishes served are just like how you would get from a normal banquet serving during weddings except that the first course would be replaced with Prosperous Yee Sang Platter. There are still rooms for more improvements.
Here's the summary of the Chinese New Year Promotion:
Chinese New Year Buffet
Date: 30 January-1 February 2014
Time: 6.00pm-10.00pm
Price: RM88.00+ per person
Reservations:
+604-371 8888 (General)
+604-371 8707 (The Eatery)
Chinese New Year Set Lunch/Dinner
With a minimum of 10 persons, select your choice of menu and enjoy a private Chinese New Year lunch or dinner with your loved ones!
Date: 30 January-13 February 2014
Price: RM850.00+ per table
Reservations:
+604-371 8888 (General)
+604-371 8833 (Low Ee Ling, Catering Manager)
+604-371 8834 (Phang Sue Ann, Catering Sales Executive)
Please click the photo below for a clearer view of the 2 options:
Yee Sang Takeaways
Prosperous Yee Sang Platter with Salmon
Price: MYR58+
Servings: 10 pax
Reservations:-
+604-371 8888 (General)
+604-371 8707 (The Eatery)
The Eatery @ Four Points By Sheraton is located along the main road of Jalan Tanjung Bunga. To get there, just use the road going towards the beaches of Batu Ferringhi. As you reach a curving part of the road, keep to your right after the first traffic lights (Chinese Swimming Club on your right). At the second traffic lights, turn right into the hotel's premises to find a car park. Walk straight into the lobby and you can find The Eatery located at the ring wing of the hotel.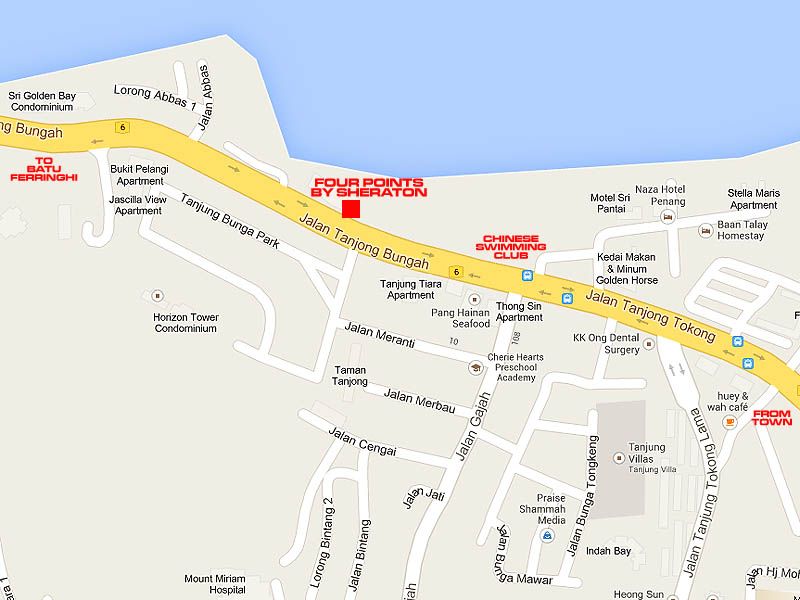 Name: THE EATERY @ FOUR POINTS BY SHERATON PENANG
Address: 505 Jalan Tanjung Bungah, 11200 Tanjung Bungah, Penang, Malaysia.
Contact: 604-371 8888 (General), 604-371 8707 (The Eatery)
Business Hours: 6.30am-11.00pm (Daily)
GPS: 5.463681, 100.301836
Please refer to: The Eatery Menu
RATING:
Ambience: 7/10 (1-4 cheap, 5-7 average, 8-10 classy)
Food Choices: 7/10 (1-4 limited, 5-7 average, 8-10 many choices)
Taste: 6.5/10 (1-4 tasteless, 5-7 average, 8-10 excellent)
Pricing: 8/10 (1-4 cheap, 5-7 average, 8-10 expensive)
Service: 8/10 (1-4 bad, 5-7 average, 8-10 excellent)