In the holy month of Ramadhan, The Eatery @ Four Points by Sheraton Penang would be holding its Ramadhan Buffet Dinner (28 June 2014 – 27 July 2014) from 6.30pm until 10.00pm daily. Diners would get to enjoy their enticing buffet spreads which would consist of a mix and match of tantalizing flavors from the locals and international cuisine scenes. You can enjoy your meal over the breathtaking sunset scenery along the horizon of the Andaman Sea, either indoor or at the al fresco area. Dining at The Eatery is all about having your deserved relaxation and dining time after a day's of hectic work. Priced at RM78+ per person or 50% off for children age 3 years to 12 years old, there are many more discounts in store such as 20% off for Starwood Preferred Guests (SPG) members and discounts for selected credit card holders (UOB, Maybank & CIMB) can enjoy up to 50% off. You can check out the dining offers at the hotel's website. Terms and conditions apply. Children below 3 years old get to eat for free.
You may be in for a surprise to find whole fruits or fresh fruit cuts being served first at the main buffet line. Well, they are right in the major rule of consuming fruits first, meals later. Haha~ Ideally, fruits should be consumed at least an hour before meal or two hours after meal but most Asians don't follow the golden rule, do they? LOL~ The main reason behind this method of dining, is that your digestive process would work quicker by empowering different enzymes to break the fruits into nutrients, fiber and fructose for easier absorption into your body, thus gaining the maximum benefits from the process. So, remember to eat your fruits first before any meal~ 🙂 The Eatery would serve a variety of local tropical and imported fruits such as red dragon fruits, white dragon fruits, duku langsat, rambutans, papayas, ciku, pineapples, jackfruits, watermelons, grapes, apples, oranges, honeydews and more. Do check out the little compartment below the chiller as there would be different condiments for your fruits such as strawberry sauce, orange sauce, sour plum powder and rojak sauce, pounded peanuts, maple syrup and more. That's what I call a healthy meal before a hearty meal~ Love it!
The special spreads for the evening was prepared by the skillful Chef Shafiq. Dishes would differ from week to week on a rotation basis. Firstly, let's start with some assorted crackers followed by some ulam-ulaman (fresh garden vegetables and herbs) with unique condiments such as the sambal cincalok (Fermeneted Krill – Melaka), sambal hijau (Green Chilies & Anchovies – Johor), sambal budu (Fermeneted Seafood – Kelantan & Terengganu), sambal tempoyak (Durian Sambal – Perak), sambal kicap pedas and sambal belacan. You would also get Nasi Himpit/Ketupat Raya (Rice), Ketupat Daun Palas (Glutinous Rice) and Lemang (Glutinous Rice) together with Serunding Daging and Serunding Ayam. For pickle lovers, there would be the assorted fruit pickles, some savories items, kerabu and acar such as Kerabu Udang dengan So Hoon (Glass Noodles Spicy Salad), Kerabu Kacang Botol, Kerabu Telur Permata Hati, Jelatah, Acar Buah-buahan and more. There would also be some soup based dishes such as Noodle Soup, Bubur Lambuk and Sup Ekor.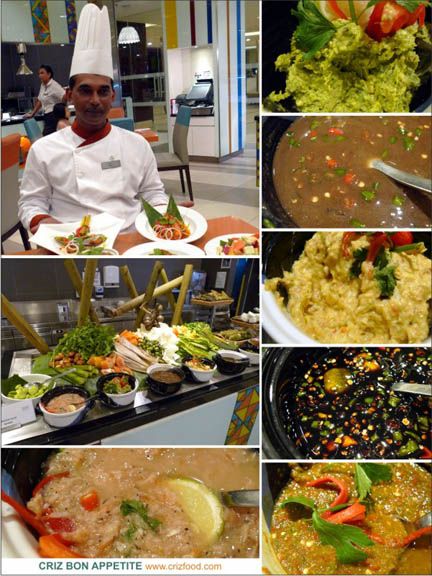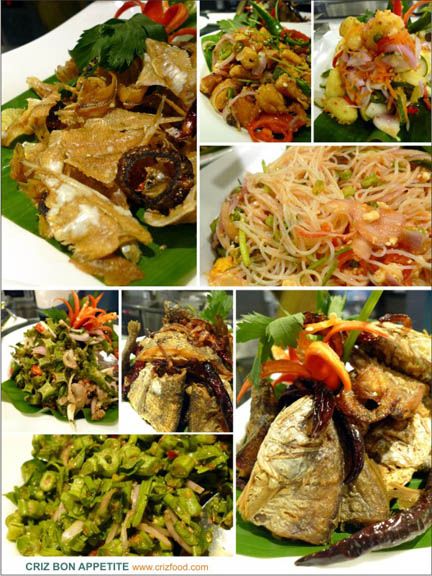 As for the main dishes, you would expect to get dishes such as Steamed White Rice, Kari Ikan, Ayam Rendang, Ikan Masak Kicap, Daging Masak Kurma, Kailan Ikan Masin, Sayur Campuran, Kepah Masak Kunyit, Ayam Masak Gulai, Udang Masak, Daging Opor Pahang, Terung Belacan, Prawn Fritters, Deep Fried Calamari Rings and more.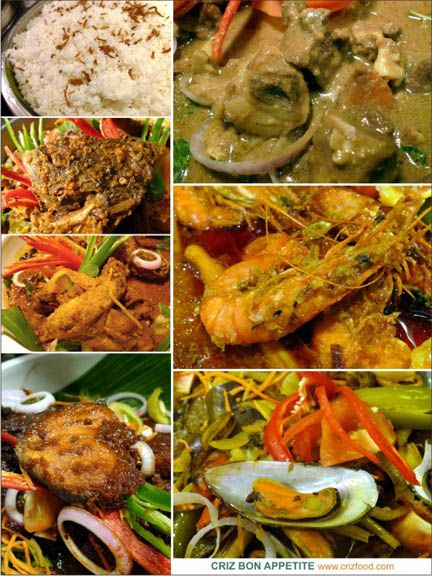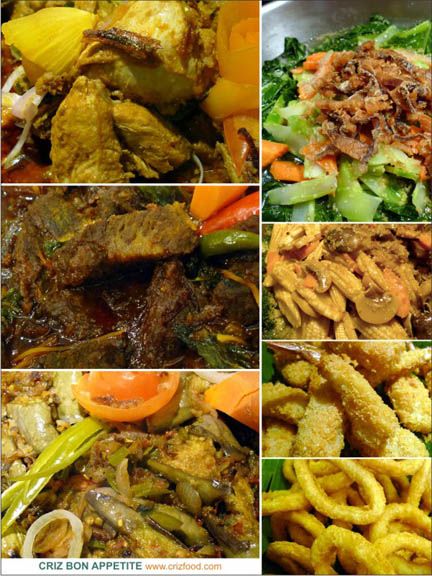 For desserts, Last but not least, dessert lovers would love their Chef Eddie's Dessert Collections where you would find items such as Kurma, Kuih Balu, Kuih Bijian, Kuih Kapit, Assorted Malay Kuih, Jelly & Pudding, Assorted Cakes, Bubur Cha Cha, Teh Tarik, Air Soya, Air Bandung, Air Sirap Limau, Fruit Cocktail, Ice Cream & Ais Kacang with Condiments and so on.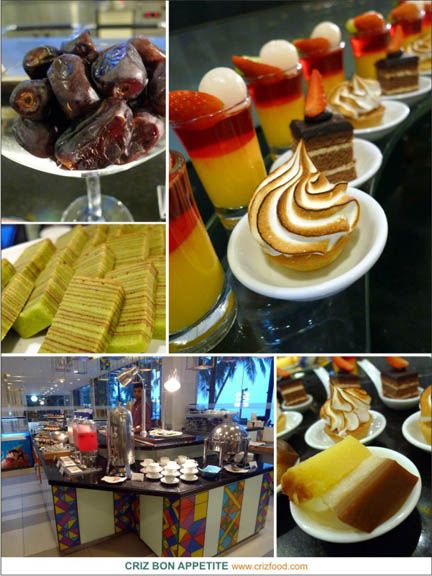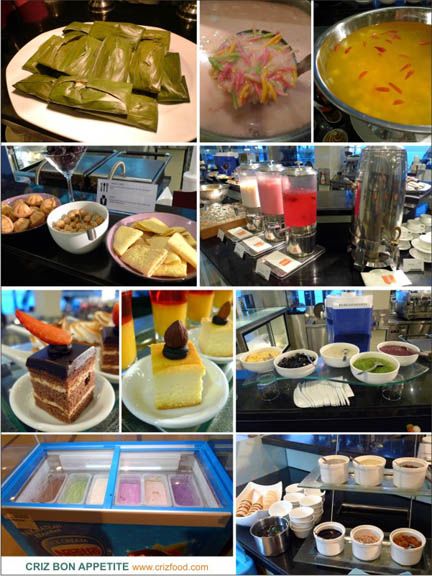 Overall, the dishes served here during the holy month had more touches of Malay cuisine compared to their normal daily spread throughout the year.
The Eatery @ Four Points By Sheraton is located along the main road of Jalan Tanjung Bunga. To get there, just use the road going towards the beaches of Batu Ferringhi. As you reach a curving part of the road, keep to your right after the first traffic lights (Chinese Swimming Club on your right). At the second traffic lights, turn right into the hotel's premises to find a car park. Walk straight into the lobby and you can find The Eatery located at the ring wing of the hotel.
Honest and uncomplicated, Four Points by Sheraton Penang is located on the main road connecting UNESCO World Cultural Heritage city Georgetown and Batu Ferringhi, a popular beach area. The hotel is situated on a stretch of white sandy beach overlooking the shimmering sea of Tanjung Bungah. Ideal for leisure and business travelers looking for a peaceful, yet convenient getaway, the hotel is 12 minutes from the bustling city center and 45 minutes from the Bayan Lepas International Airport by bus or taxi.
Known as the "Pearl of the Orient", the what-to-do-list on the island of Penang is plenty. It attracts visitors with its flavorful cuisine, vibrant culture and rich history. For those who are interested in the history and heritage of this island, the UNESCO World Heritage Site is just 15 minutes away from the hotel with numerous old architectures, shops and cafés to admire. Alternatively, take in the spectacular views of Georgetown and the iconic Penang Bridge from a distance on top the Penang Hill, via a cable car ride up. For more information or to make reservation please call +604-371 8888 or email reservations.03947@fourpoints.com or visit www.fourpoints.com/penang.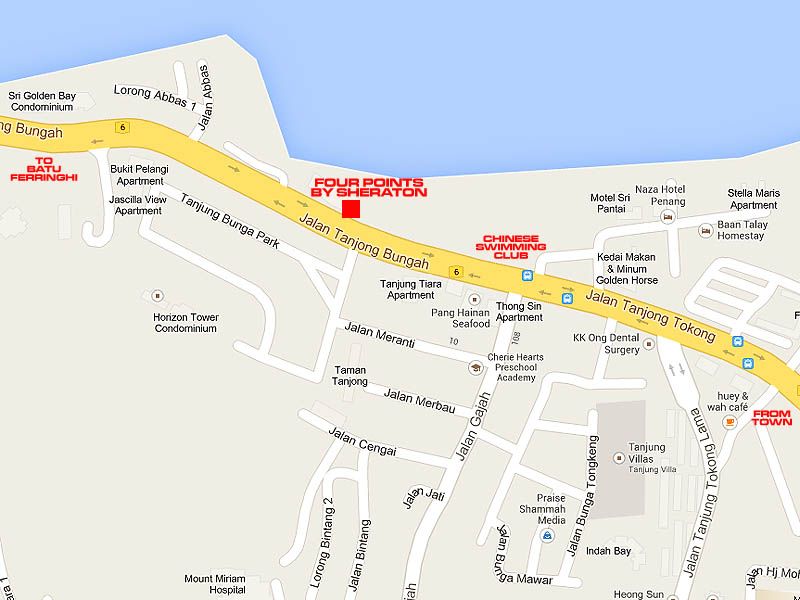 Name: THE EATERY @ FOUR POINTS BY SHERATON PENANG
Address: 505 Jalan Tanjung Bungah, 11200 Tanjung Bungah, Penang, Malaysia.
Contact: 604-371 8888 (General), 604-371 8707 (The Eatery)
Business Hours: 6.30am-11.00pm (Daily), Sunday Brunch: 12.00pm-3.00pm
GPS: 5.463681, 100.301836
Please refer to: The Eatery Menu
RATING:
Ambience: 7/10 (1-4 cheap, 5-7 average, 8-10 classy)
Food Choices: 7/10 (1-4 limited, 5-7 average, 8-10 many choices)
Taste: 7/10 (1-4 tasteless, 5-7 average, 8-10 excellent)
Pricing: 8/10 (1-4 cheap, 5-7 average, 8-10 expensive)
Service: 8/10 (1-4 bad, 5-7 average, 8-10 excellent)