For the holy month of Ramadan 2019, Spice Brasserie @ The Light Hotel, Seberang Jaya, Penang, would be serving Khazanah Sajian Nusantara Ramadan Buffet Dinner from 8 May 2019 until 4 June 2019 from 7.00pm until 10.00pm. The prices would be at RM110nett per pax (adult) and RM88nett per pax (child & senior citizen). For reservations and enquiries, please contact +604-382 1111 or email to info@thelighthotelpg.com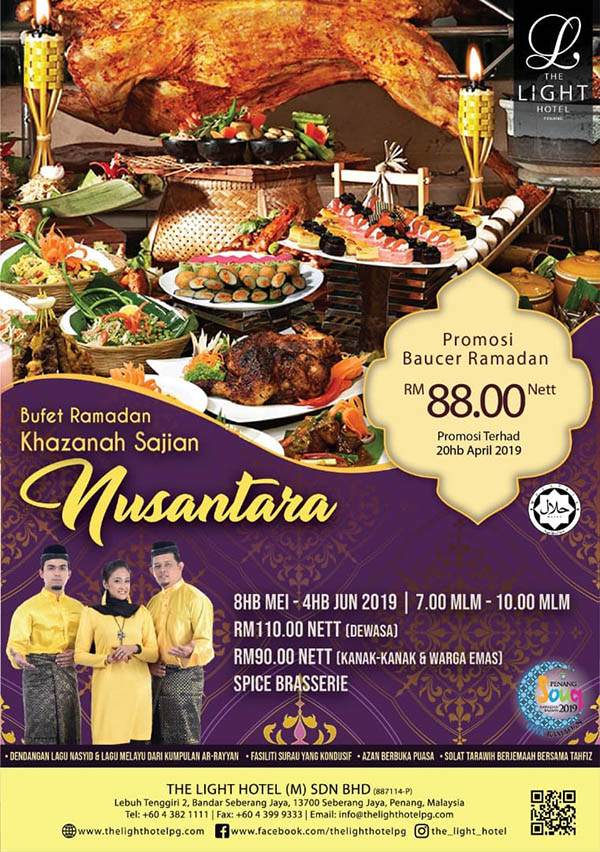 Note: You would also be entertained by the Ar Rayyan Band with a medley of Arabic, Malay's oldies and contemporary music nightly. For the convenience of all Muslim guests, The Light Hotel Penang has made conducive arrangements for separate male and female prayer rooms with Imam for Tarawih prayer too.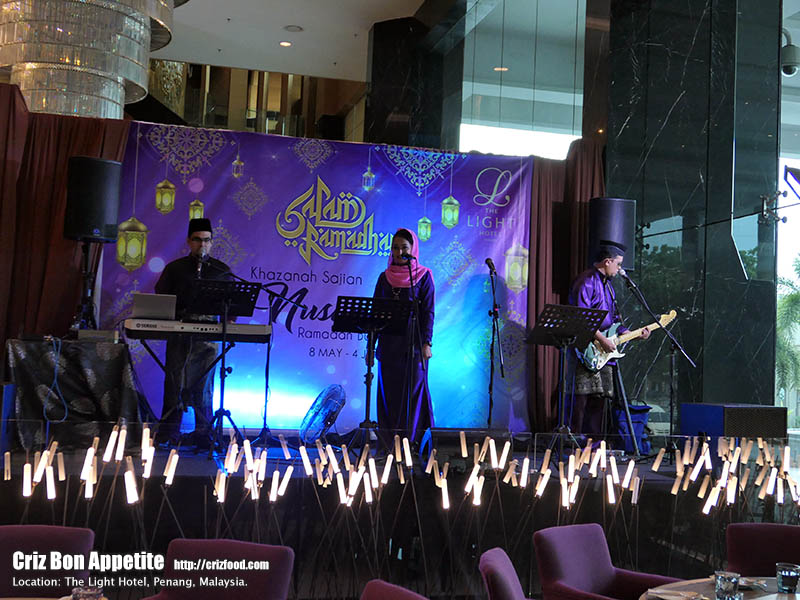 On top of that, there would also be two more promotions available at Flavor@3, Level 3 of the hotel, such as the Biryani Dome Set, comprises of Biryani Rice, Ayam Bawang, Kambing Kari Pekat, Sambal Sotong, Egg Kurma/Dalca, Sayur Goreng Masala accompanied with a serving of kurma, desserts, a jar of beverage of the day for a minimum of 6 persons at RM50nett per person or the A La Santai Buffet Dinner with a feast of mouth-watering array of our local favourites with stall concept at the air-alfresco dining area of Garden Terrace @ Level 3 at RM88nett per pax (adult) and RM68nett per pax (child & senior citizen).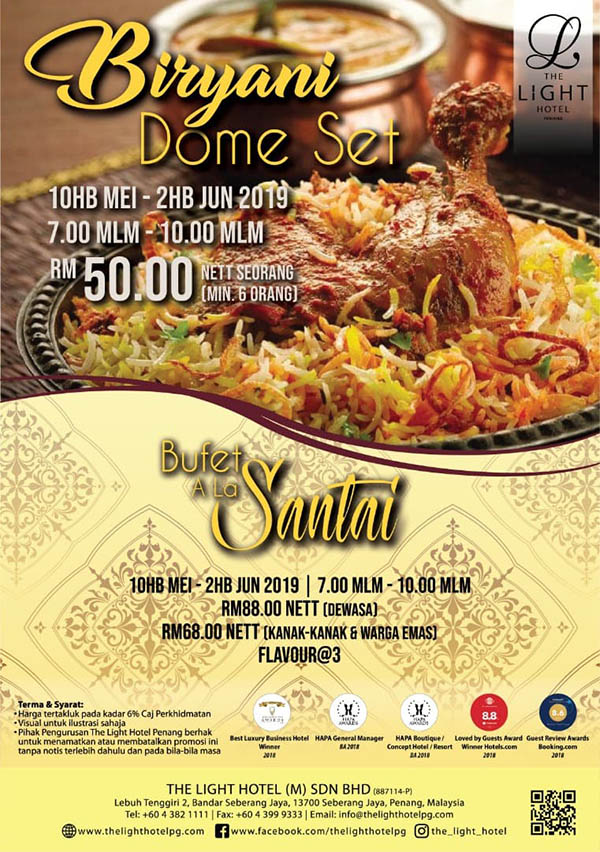 There are also other customized packages available. Private Ramadan Meeting Package starts from RM90nett per person. Ramadan Room package from RM230+ which is inclusive of breakfast/sahur for 2 persons and from RM380+ which is inclusive of breakfast/sahur and Ramadan Buffet Dinner for 2 persons. Terms & conditions apply. For Group Berbuka Puasa gatherings of 100 persons or more, the hotel could offer specially tailored buffet menus for those interested in organizing private or special get-togethers during the festive month of Ramadan. The Hotel would be able to arrange for events to take place at the pillar-free The Light Grand Ballroom that seats over 1,200 persons, or in any of the other function rooms. Buffet menus are priced from RM90nett onwards depending on the menu selections.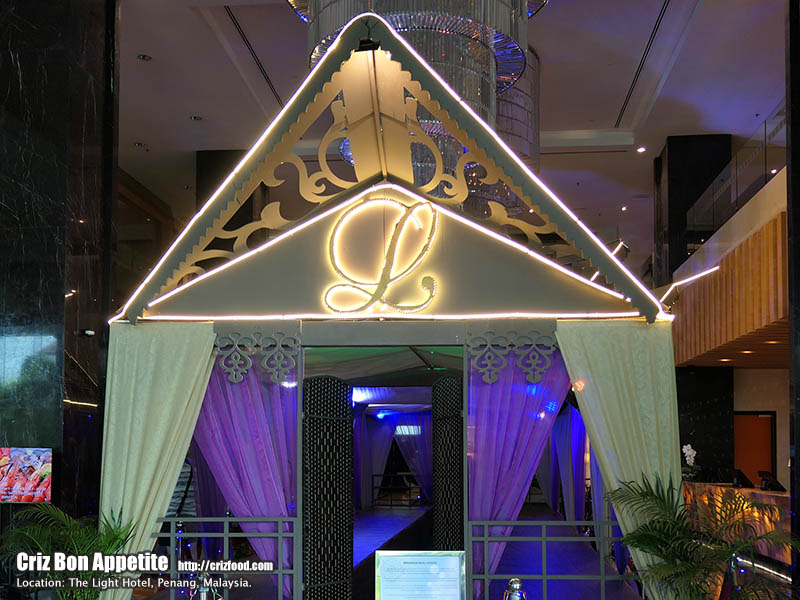 The dishes presented by The Light Hotel Penang during their Ramadan Buffet has always impressed me with their creativity and innovation to come out with something unique yearly to pamper its guests. This year, you would get to savor home-style dishes from the various states in Malaysia with the main highlight being the Minangkabau dishes from Negeri Sembilan. The Kitchen team would arrange more than 170 dishes which would include 6 live action stalls, 2 types of carving, 6 types of Gulai Kawah, up to 20 main dishes, 2 types of savory rice, and more than 15 types of desserts to get your saliva dripping from the minute you stepped into Spice Brasserie.
Let's have a tour on what are the items available for your Ramadan buffet dinner experiences. We would start off with Salad, Appetizer, Soup, Selection of Breads & Rolls including Roti Benggali, Grill Station, Roast and 'live' action station such as carvery, noodles, deep-fry, Indian Station, Chinese Station as well as Western favorites that will certainly satisfy your palate. Perennial favorites of Nasi Impit drizzled with sweet peanut sauce, and Lemang accompanied with Serunding and delicious rendang will be part of the arrays too. Wide variety or traditional salads or locally known as ulam, a popular main dish in traditional Malay villages and a variety of aromatic spicy sambal to give it that extra zing.
The main menu would be rotated daily throughout the Ramadan month with flavourful cuisines comprising of the key highlight such as Lamb 'Percik Minang" (Kambing Percik Minang), Coffee-Crusted Beef Tenderloin (Daging Lembu Tenderloin Dengan Salutan Kopi Istimewa), Chilli Crab (Ketam Bercili), Field Beans & Drumstick Salted Fish Curry (Kari Ikan Masin Dengan Kacang Bidang & Murunggai), Duck Egg Bird's Eye Chilli Coconut Gravy (Telur Itik Masak Lemak Cili Padi), Hot & Spicy Assam Stingray (Ikan Pari Asam Pedas), Beef Rendang "Nogori" (Rendang Daging Nogori), Pineapple with Dried Shrimp in Sweet-Spicy Coconut Curry (Pajeri Nenas Udang Kering), Lamb Keema in Pita Bread (Kambing Keema Dengan Roti Pita), Gearbox Soup (Sup Tulang Daging) and special Lamb Char Koay Teow (Koay Teow Kambing). A must-try for Minangkabau dishes among others, Daging Rendang Nogori, Gulai Lemak Nanas Ikan Talang Masin, Sambal Gesek, Gulai Pisang Muda, Gulai Pucuk Ubi Ikan Bilis, Gulai Ikan Sembilang Salai, Gulai Daging Salai Pucuk Ubi & Terung Telunjuk and more.
To completing the Ramadan culinary journey, sink into the sweet stuff, the dessert assortments of more than 50 types, including traditional Malay Kuih-Muih such as Kuih Seri Muka, Karipap Pusing, Lepat Pisang, Tapai Ubi, Apam Kelapa Kuih Bahulu, Kuih Tiram and Jeli kelapa are among some of the desserts along with our famous Bread & Butter Pudding, Warm Apple Crumble, Bubur Durian with Roti Benggali, a host of sliced and whole seasonal local fruits, cakes and cookies. Do not forget to check out their Teh Tarik section, where you would get to savor one of the best beverages in this region.
Moreover, the hotel would also be collaborating with Merry Me, an ice cream parlor with "Malaysian Inspired Ice Cream" since 2016, to have a stall at the lobby to sell their signature ice creams at RM8.90nett per scoop. Do check out two of their signature flavors such as Gula Melaka and Salted Egg Cookies & Cream.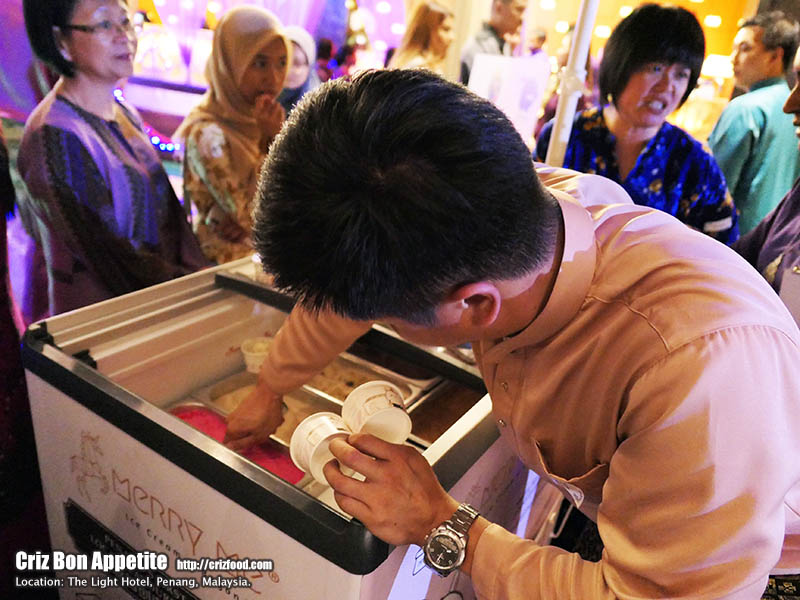 Thanks to the management of The Light Hotel Penang for having us over for the review.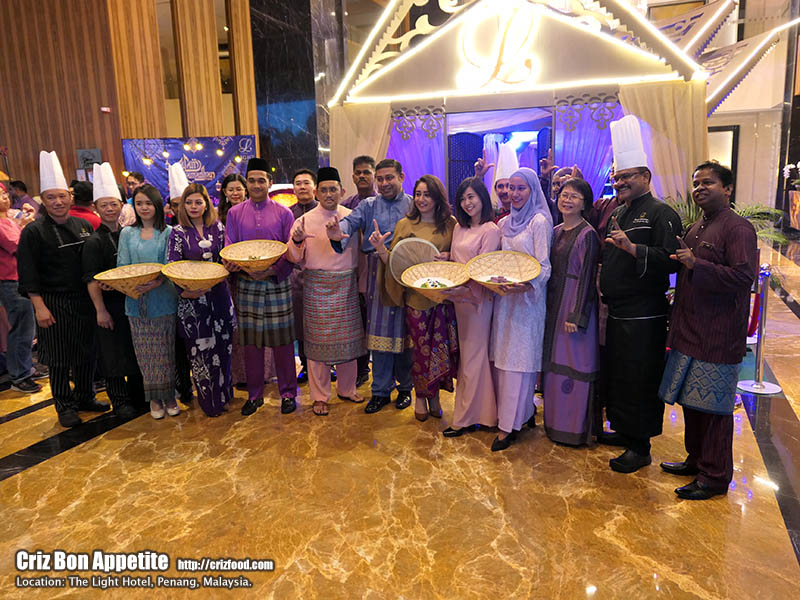 The Light Hotel is located along Lebuh Tenggiri 2 at Seberang Jaya, Penang. Upon entering the main entrance of the hotel, just drive around to find your parking space at the front of the premises. Walk into the lobby of the hotel and you can see Spice Brasserie on your left.
SPICE BRASSERIE @ THE LIGHT HOTEL PENANG
Address: Lebuh Tenggiri 2, Bandar Seberang Jaya, 13700 Seberang Jaya, Penang, Malaysia.
Contact: +604-382 1111
Business Hours: 7.30am-11.00am (Breakfast), 12.00pm-2.30pm (Set Lunch), 7.00pm – 10.30pm (Set Dinner)
GPS: 5.394646, 100.397951
RATING:
Ambience: 8/10 (1-4 cheap, 5-7 average, 8-10 classy)
Food Choices: 9/10 (1-4 limited, 5-7 average, 8-10 many choices)
Taste: 9/10 (1-4 tasteless, 5-7 average, 8-10 excellent)
Pricing: 8/10 (1-4 cheap, 5-7 average, 8-10 expensive)
Service: 8/10 (1-4 bad, 5-7 average, 8-10 excellent)
About The Light Hotel

: The Light Hotel Penang is wholly owned and managed by The Light Hotel (M) Sdn Bhd. It is located within a fast-developing industrial area of Seberang Jaya, Penang. The 5-star Hotel offers a luxury resort-style experience with a total of 303 rooms of 6 different categories. Its private and fully equipped meeting facilities and boardrooms offer high class stylish business environments which cater to all business needs. Meet your partners or hold your business gatherings in the comfort of our function rooms. Expand the possibilities in fascinating surrounding and ultra-modern interior of The Light Grand Ballroom with 1200 banquet seating or choose from any of the 12 other meeting rooms that caters for a small intimate affair to larger scale events. Opt for a casual all-day dining at Spice Brassiere or an exquisite experience at Flavour@3 that caters for in-door and Al fresco style dining whereas Lumino Lounge serves refined food and beverages as well as fine cigar brands. The beautiful outdoor landscaped swimming pool, gymnasium, sauna room, yoga studio, kid's playroom, are namely some of the facilities on the 3rd floor, whereas the Spa is located on the Mezzanine floor. The Light Hotel Penang represents the perfect combination of luxurious destination of Delightful Mix of Business and Comfort for a truly unique experience. Visit www.thelighthotelpg.com for more information.