The Iconic Hotel Penang has outshone many others again this year by being the first in the region to convert its car park into a comfortable venue for diners to break their fast in a cool air-conditioned environment. Moreover, you will also be entertained by a live band. With the theme of "Luxurious Middle East", the Cita Rasa Warisan promotion is priced at RM78+ per adult and RM39+ per child (6-12 years old)/senior citizen (60 years old and above) from 7.00pm until 10.00pm, from 6 May 2019 until 3 June 2019. The hotel would be contributing RM1 from each adult purchase to charity. For reservations, please call +604-505 9988 to make your reservations. There would also be a special promotion of RM68+ for each adult purchase if you booked by 12 May 2019. Terms & conditions apply. For reservations, please call +604-505 9988 to make your reservations.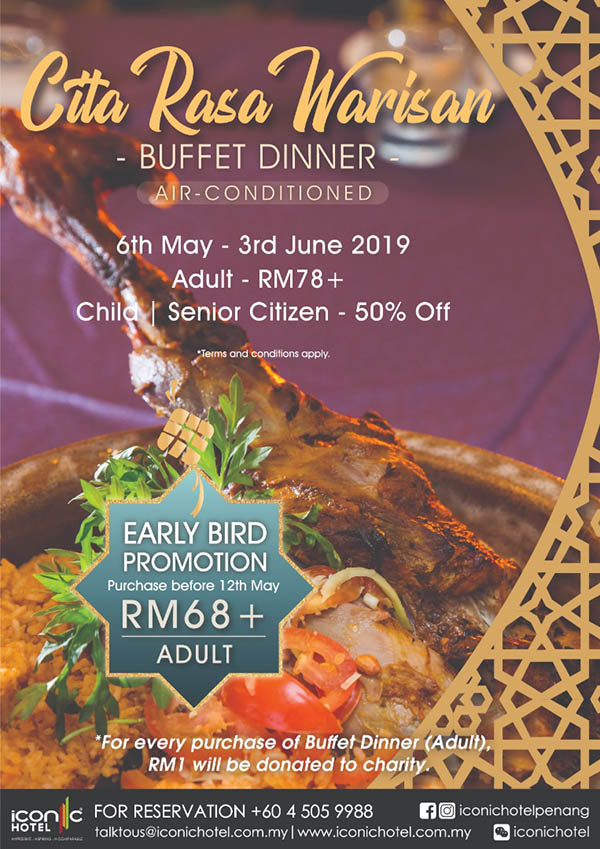 For appetizer, salad and soup, you could check out the section for various choices starting with various crackers in tins, fresh greens, Ulam-Ulam Kampong, Ikan-ikan Masin, not forgetting various soups such as Soto Ayam, Tomyam Seafood, Sup Daging Utara, Bubur Lambuk and more.
As for main dishes, some of the highlights would include their Dajaj Mashwi (Arabian Grilled Chicken), Beef Tagine with Chickpea, Ketam Masak Lemak, Kepah Masak Paprik, Nasi Kabsa, Nasi Tomato and more.
The action stalls have some interesting items which could be really delicious, namely Kambing Golek, Satay, Asam Laksa, Char Koay Teow, Ikan Goreng Bawal, Shawarma and so on.
Desserts could be quite an abundance with choices such as local kuih-muih, assorted cakes, Bubur Durian, Bread Pudding, Lai Chi Kang, jellies, puddings and more.
Check out the menu available for the buffet dinner during the promotional period as below.
Iconic Hotel Penang is located at Icon City, opposite of Juru Autocity. Just use the North-South Expressway towards south and upon reaching the traffic lights to Juru Autocity, turn left into Jalan Kebun Nenas until you see the Petron petrol kiosk on your left. Turn left into the road before the petrol kiosk, Lorong Nenas. Drive on and you can see the hotel on your right. Park your car at the hotel's car park as it could be rather hard to find public parking space during peak period. Parking rate is RM3 for the first 2 hours and RM2 for each subsequent hour. The venue of the buffet dinner is located at Level 6 of the building.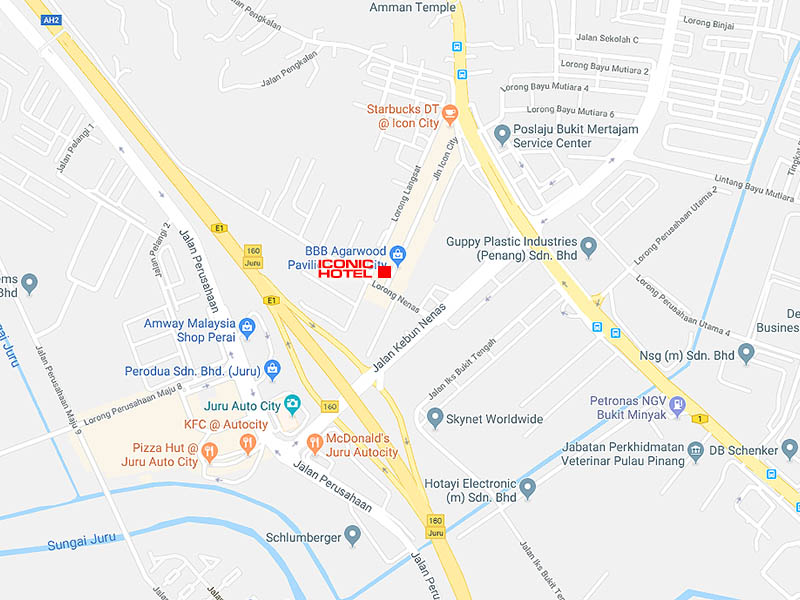 Name: 6TH FLOOR CAR PARK @ ICONIC HOTEL PENANG
Address: 71 Jalan Icon City, Bukit Tengah, 14000 Bukit Mertajam, Penang, Malaysia.
Contact: +604-505 9988
Business Hours: 7.00pm-10.00pm
GPS: 5.342106, 100.432846
Promotion Period: 6 May 2019 – 3 June 2019
Price: RM78+/pax (Adults), RM39+/pax (Child/Senior Citizen)
RATING:
Ambience: 9/10 (1-4 cheap, 5-7 average, 8-10 classy)
Food Choices: 8/10 (1-4 limited, 5-7 average, 8-10 many choices)
Taste: 7/10 (1-4 tasteless, 5-7 average, 8-10 excellent)
Pricing: 7/10 (1-4 cheap, 5-7 average, 8-10 expensive)
Service: 7/10 (1-4 bad, 5-7 average, 8-10 excellent)
About Iconic Hotel Penang

: Iconic Hotel is owned by Iconic Group of Companies, one of the successful property developments based in Penang. In the past two years, Iconic Hotel has won up to 9 awards including CTrip Chinese Preferred Hotel, Tripadvisor, Agoda.com, Booking.com, Expedia, Hotels.com, Luxury New Hotel, Luxury Design Hotel and Travel and Hospitality award winner. Iconic Hotel located in the heart of Icon City Bukit Mertajam, one of the hottest and lively areas at Mainland Penang, Iconic Hotel is accessible within 5 minutes from Juru Toll Plaza and 10 minutes from Penang Bridge. The 195 stylishly designed rooms are to deliver an "Impressive, Incomparable and Inspiring" experience with its three unique themes – Modern, Urban and Contemporary. All rooms are equipped with a 40-inch LED TV, stylish workspace with high-speed internet access, safe deposit box, minibar, digital health machine and coffee and tea-making facilities with Harney & Sons Teabags and Segafredo capsule. Iconic Hotel also has 5 function rooms which can accommodate up to 400 guests, 1 conference room, business centre, and 1 VIP dining room. The hotel recognized the need of a healthy lifestyle with leisure services such as swimming pool, 24 hours' gym and sauna are available for guests to rejuvenate after a long tiring day. When we say we make our guests stay ICONIC, that also extends to looking after their broader needs for their travels in the modern age. We are committed to providing our guests with the best premium facilities. The new BMW i-Charging and SOCAR Facilities as a new milestone for the hotel. The hotel has 2 F&B outlets offering a wide selection of flavours. Mezza 9, an all-day dining restaurant which serves variety cuisines for buffets and ala-carte menu. Crumbles & Cream, a café offering pastries, coffee ice cream and other delicious desserts.