Hard Rock Hotel Penang will be having a few promotions this festive season to pamper rock star wannabes in Penang under the expertise of the hotel's Executive Chef, Chef Zul, whom also bagged "The Best Western Chef " Award in this year's 7th Gastronomique Penang. Do enjoy his delightful holiday treats this Christmas & New Year eves at Starz Diner @ Hard Rock Hotel Penang from 6.30pm until 10.30pm. Please call +604-886 8057 or email fb.penang@hardrockhotels.net to book earlier to avoid disappointment.
The Christmas Eve Rock 'n' Roll Buffet Dinner is priced at RM 160++ per person. You will be expecting a wide selection from the sushi bar, salad bar, platters, hot dishes, action station, carving station, desserts and more.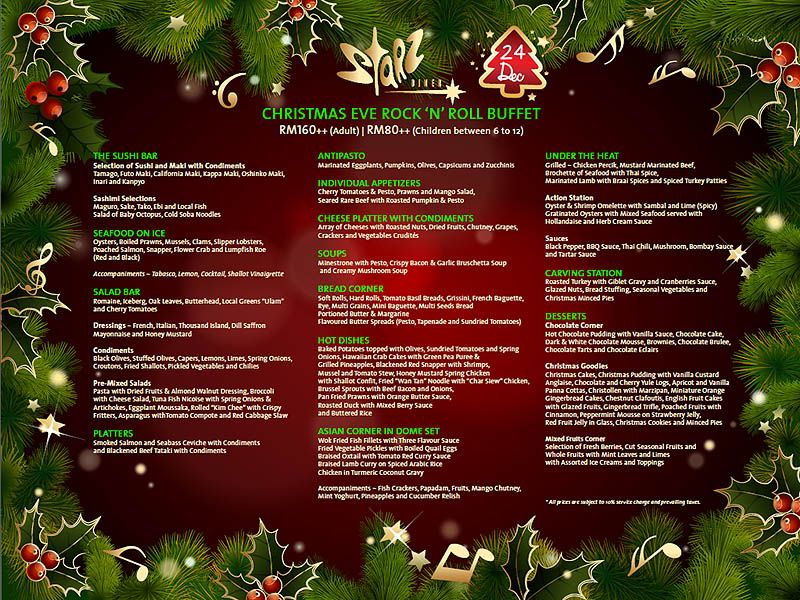 Let's have a peep onto the highlights for the joyous evening as below:
First, we'll have Tiger Prawns with Mango and Avocado Salad as appetizer. Fresh prawns with cool salad dressing will always be the best to start off a meal.
If you are not a fan of seafood, there'll always be the Seared Rare Beef with Roasted Pumpkin and Pesto. Not a bad combination though but I would prefer some beef jus added to add in more flavors.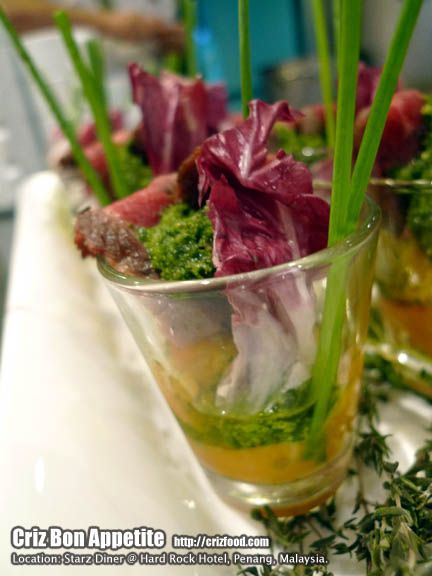 The highlight of any Christmas meal will always be the roasted turkey, what more it's organically fed without added antibiotic or hormone. We were treated with Roasted Turkey with Giblet Gravy with Cranberry Sauce, Glazed Nuts Stuffing, Sweet Potatoes & Seasonal Vegetables. Oh My… This is the best turkey I ever had and the meat was juicy and tender unlike others. Combined with the condiments of gravy and sauce plus the stuffing, it was a perfect meal for the whole season.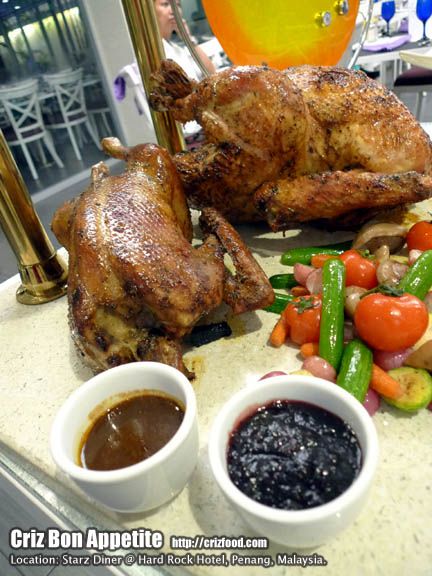 The next dish which was the Hawaiian Crab Cakes with Green Pea Puree and Grilled Pineapple was awesome. Soft in the inside will the juiciness of the seafood combined with the crusty outer layer was perfect for any party.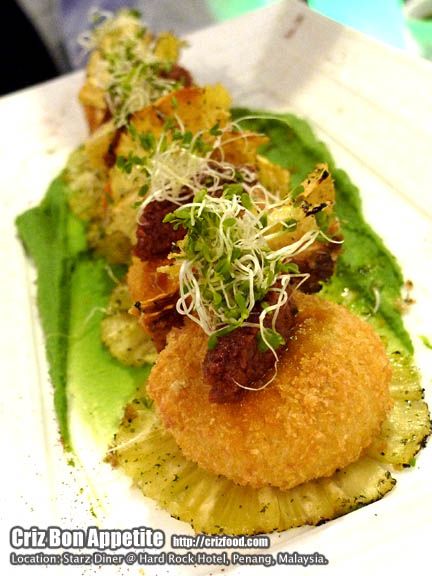 Christmas will not be Christmas without the Chocolate & Cherry Yule Logs. This was one of the good ones around.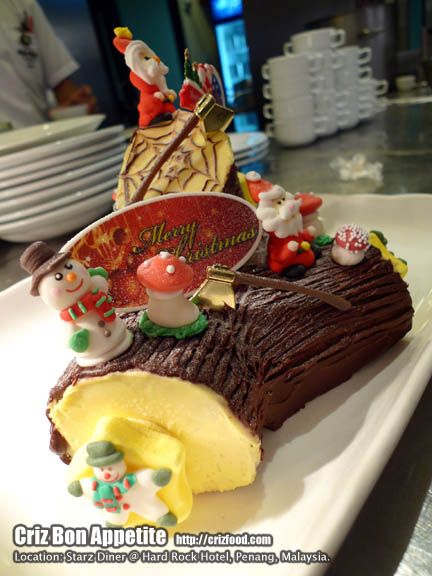 Of course, there'll be the English Fruit Cake with Glazed Fruits. Sweet as it is, it's a great dessert to end the dinner over a cup of hot tea.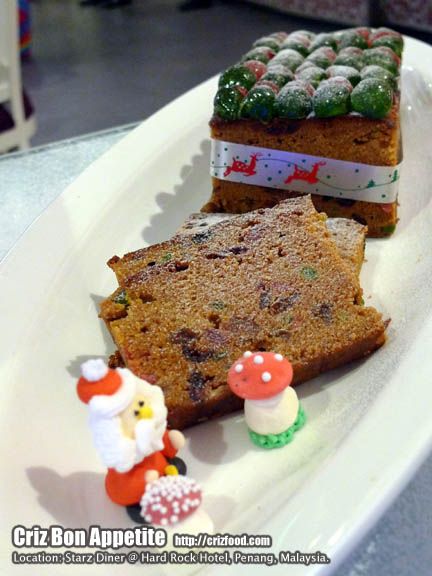 On the other hand, the New Eve Buffet Dinner is priced at RM 172++ per person. You would be served with a wide variety of fresh oysters from the Shucked Oyster Bar, chilled seafood, appetizers, Asian corner, shawarma station and many more.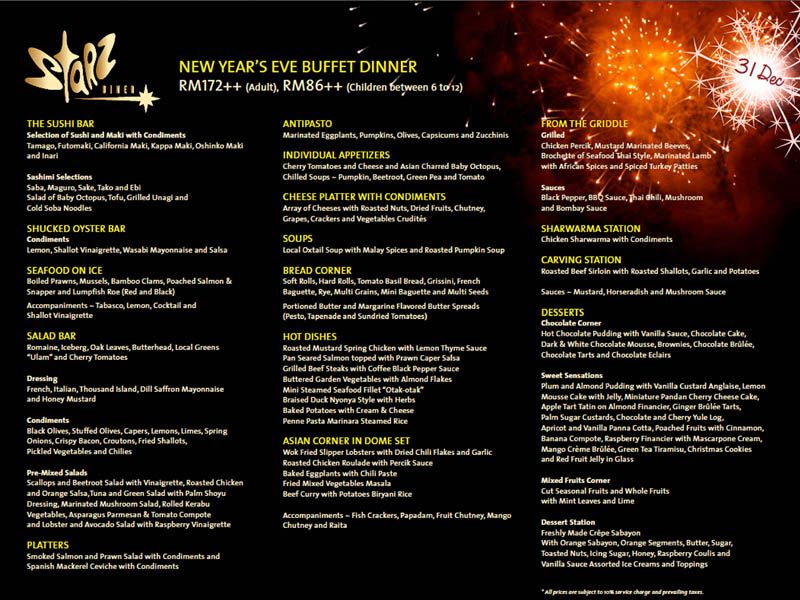 Some of the recommendations would include Tuna Fish Nicose with Palm Shoyu Dressing, Scallops & Beetroot Salad with Vinaigrette, Chicken Galantine with Berry Relish, Roasted Pumpkin with Tomato Basil Brea & Grissini – Pesto, Pan Seared Salmon with Prawn Capers Salsa, Wok Fried Slipper Lobsters with Dried Chili Flakes & Garlic, Apricot & Vanilla Panna Cottas and Miniature Pandan Cherry Cheese Cake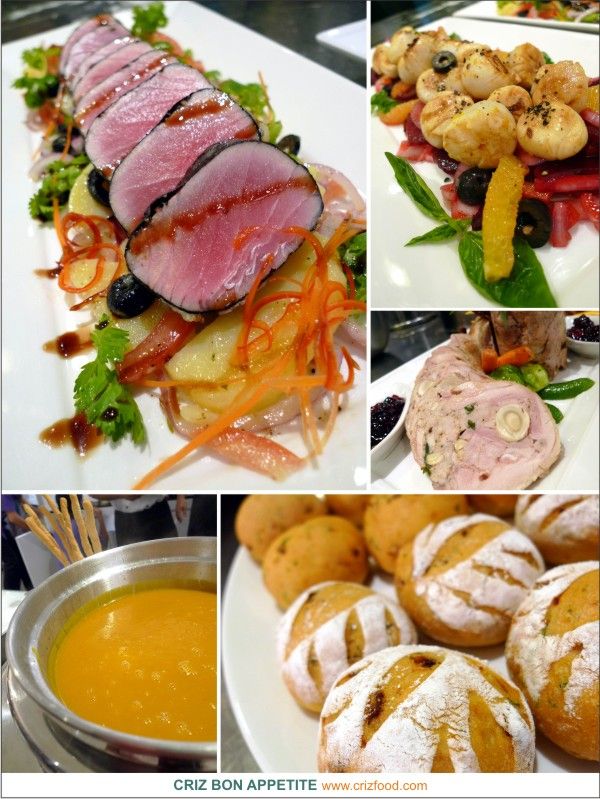 On top of that, there'll be two more promotions for New Year Eve at Pizzeria and Hard Rock Café. Pizzeria will be having its Seafood Buffet Dinner featuring a charcuterie bar, BBQ seafood, pizzas, carving station and more while Hard Rock Café is offering a 4-course dinner at RM 170++ per person featuring a starter, soup, a choice of main course and dessert.
Overall, the dishes are specially crafted for the festive seasons and can be quite palatable for those who love to savor those once a year delicacies, especially that yummy and memorable flavors of the Roasted Turkey and Stuffing that still lingers in my mouth.
The Starz Diner is located at the left wing of Hard Rock Hotel Penang. Upon entering, just head to the left side and you will see a little glass door leading to the eatery.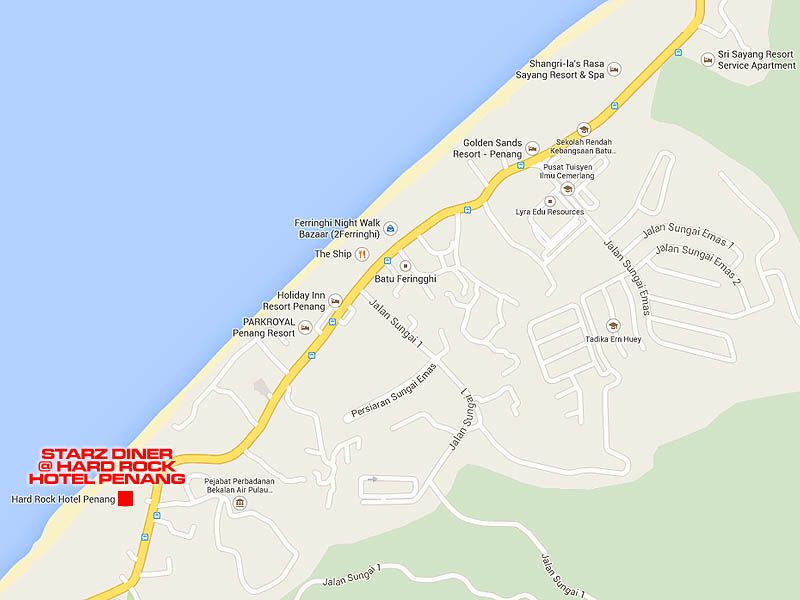 Name: STARZ DINER @ HARD ROCK HOTEL PENANG
Address: Batu Ferringhi Beach, 11100 Penang, Malaysia.
Contact: 604-881 1711
Business Hours: 6.30am-11.00am, 5.30pm-11.00pm
GPS: 5.467568, 100.241382
RATING:
Ambience: 8/10 (1-4 cheap, 5-7 average, 8-10 classy)
Food Choices: 8/10 (1-4 limited, 5-7 average, 8-10 many choices)
Taste: 8/10 (1-4 tasteless, 5-7 average, 8-10 excellent)
Pricing: 8/10 (1-4 cheap, 5-7 average, 8-10 expensive)
Service: 8/10 (1-4 bad, 5-7 average, 8-10 excellent)