This year, the Mid Autumn Festival will be celebrated on 27 September 2015, the 15th day of the 8th lunisolar month. Other than the Chinese New Year which falls during spring, the Mid Autumn Festival is the 2nd most important festival for the Chinese as once again they can have reunions with their family members and friends from all over the world. Of course, there would be lots of feasting over great goodies and one of it would be mooncakes of all shapes and flavors. This year, Hotel Jen would also be promoting their delightful mooncakes as before. The best part is that all their mooncakes are halal certified, thus you could share some with your Muslim friends too. Do take advantage of their early birds offer from now until 31 August 2015 as all purchases would be entitled to a 20% discount.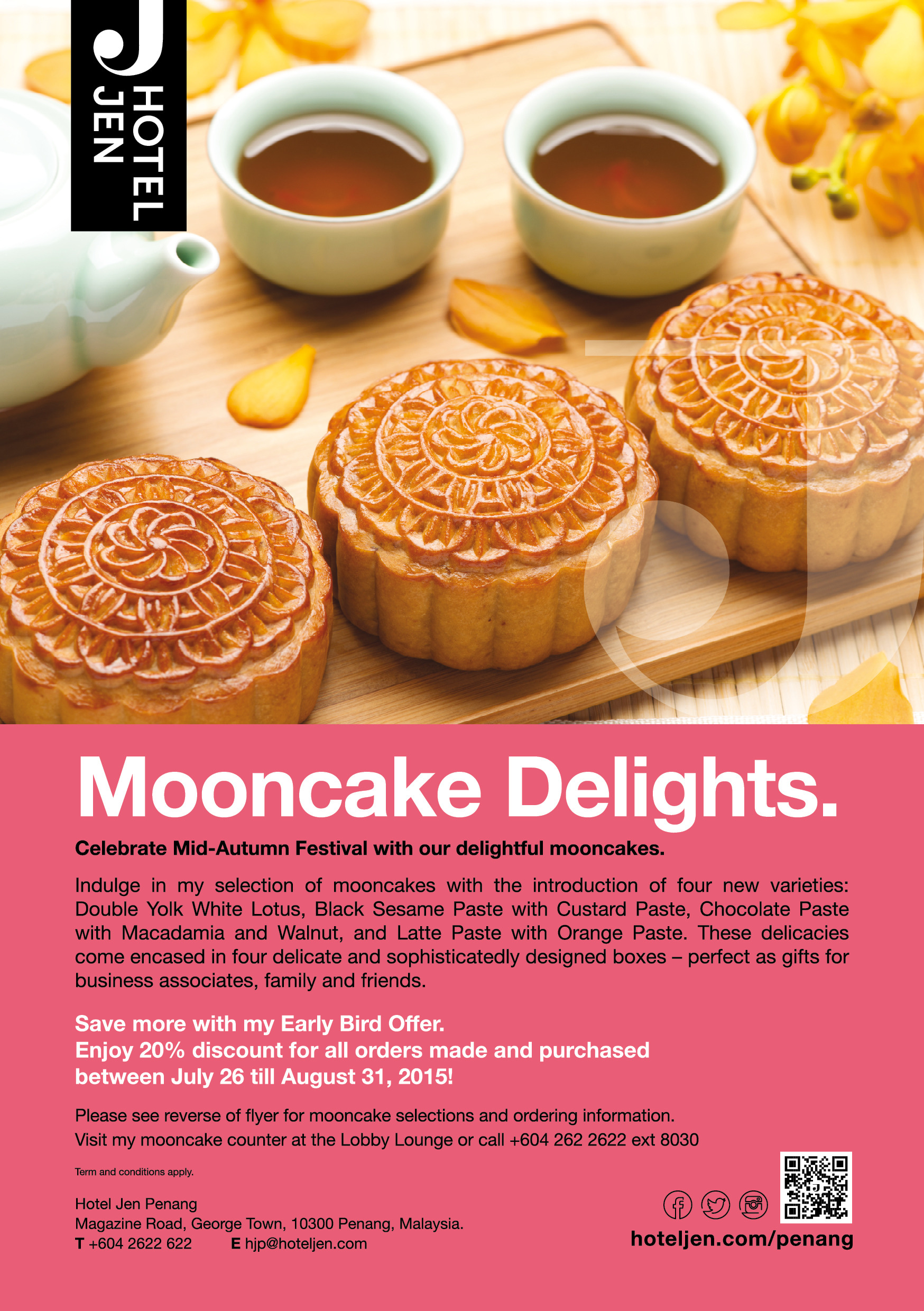 There will be 8 options for this year's promotion ranging from classic flavors such as White Lotus with Single or Double Yolk and Green Tea plus innovative new flavors such as White Coffee Paste with Pure Durian Paste, Black Sesame Paste with Custard Paste, Chocolate Paste with Macadamia and Walnut, Latte Paste with Orange Paste and their all-time favourite – Farmer's Grown. Each piece is priced at RM30nett. For every purchase of 4 pieces (RM120nett/box), you would get to choose one of the 4 exclusive packaging of either Flower Design or "S" Design (velvet finishing with silk embroidery).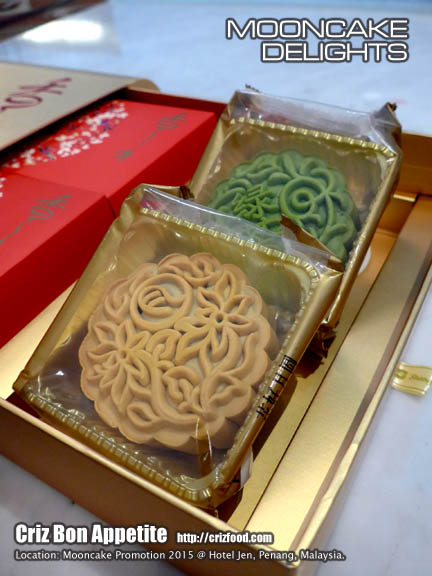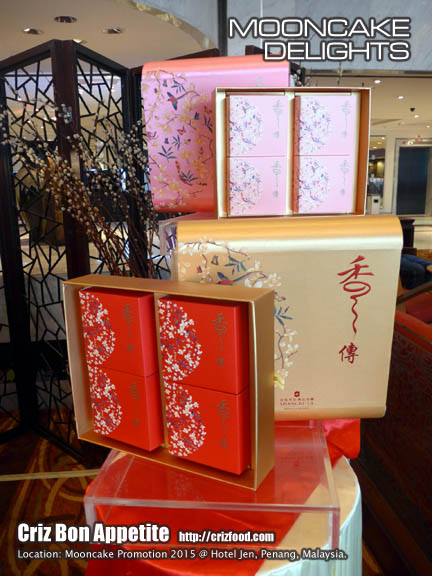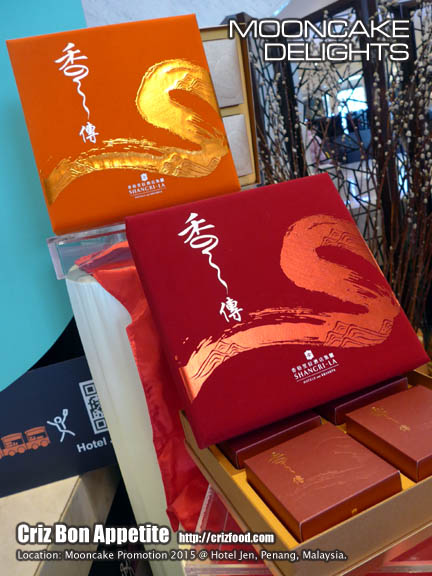 Even during the days of their predecessor, I've tried their mooncakes and fell in love with them as their selections have a fine and lesser oil texture compared with many other brands out there. Their Farmer's Grown has always being my favorite as it has just the right balance of sweetness without feeling too surfeit after each bite. My second favorite this year would be the Wholesome Chocolate Macadamia Walnut, an earthly bitter sweet combo with chunky nuts. Of course, their classic flavors of White Lotus with Single or Double Yolk would be my must have too.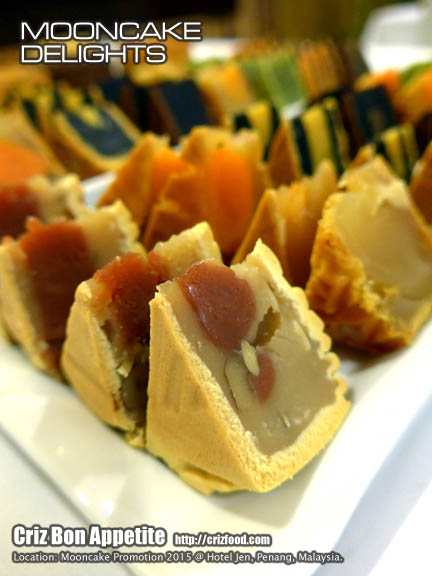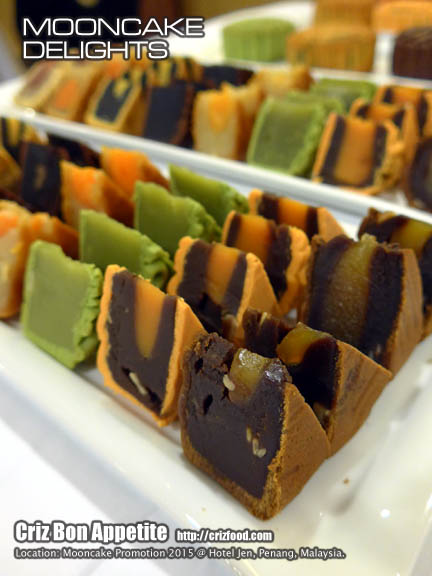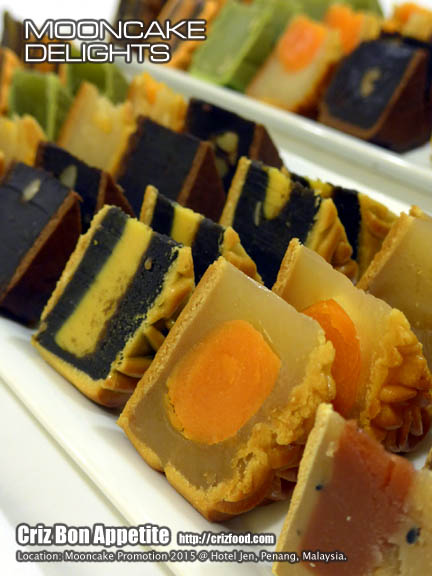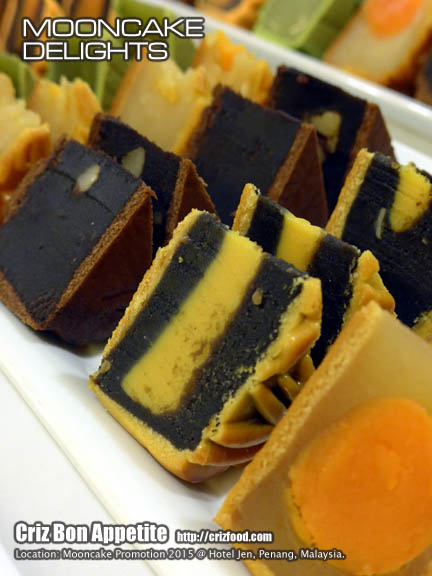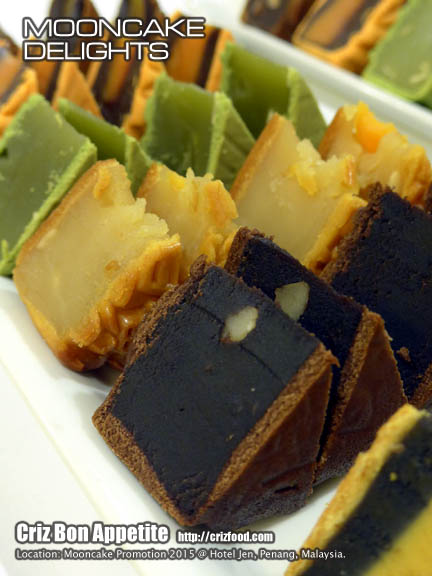 Here are the descriptions of all the mooncakes and the order form. Please click on the photos below for a clearer view. You can call in at +604-262 2622 ext 8030 to make your booking or fill up the form and fax to +604-262 6526.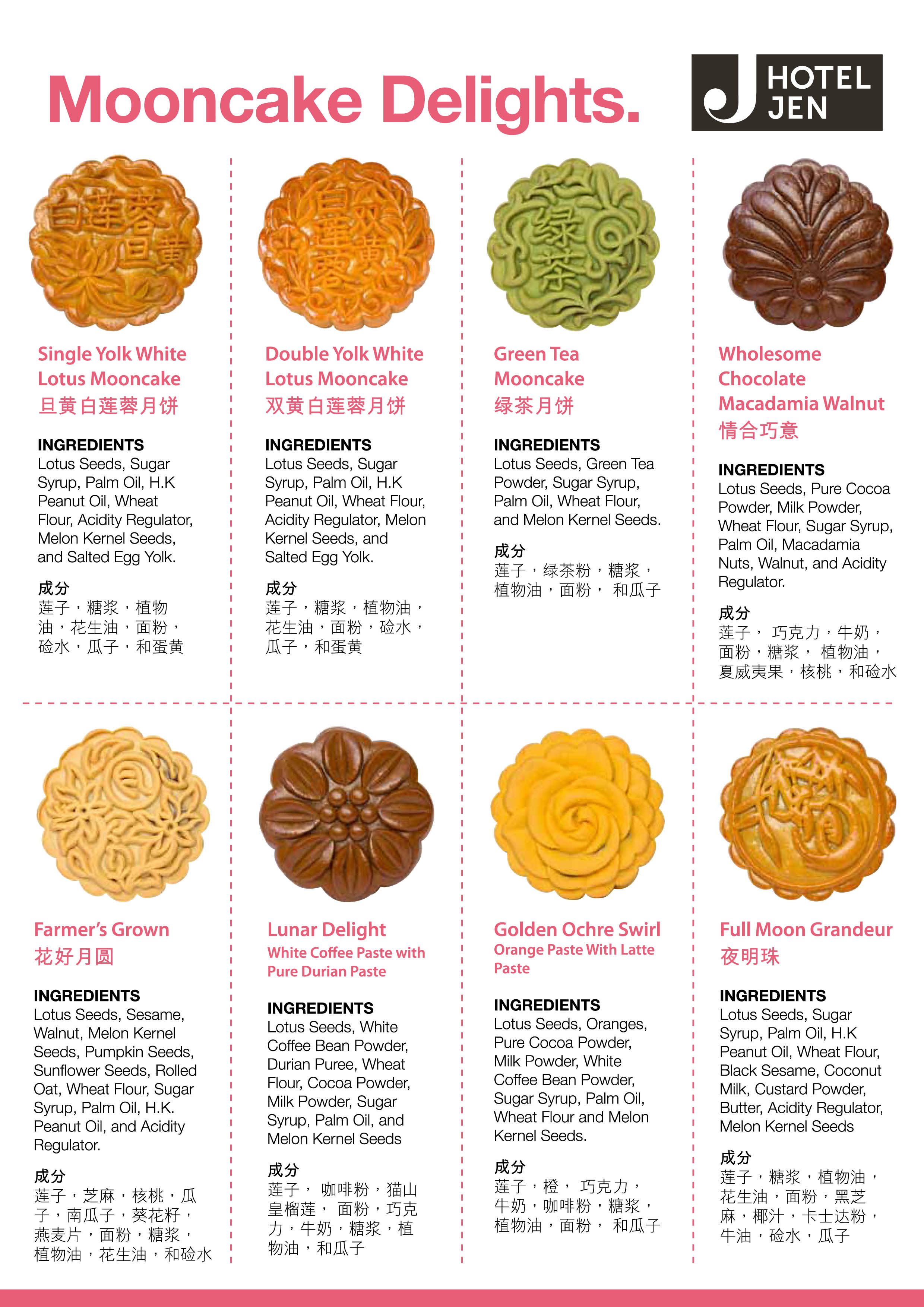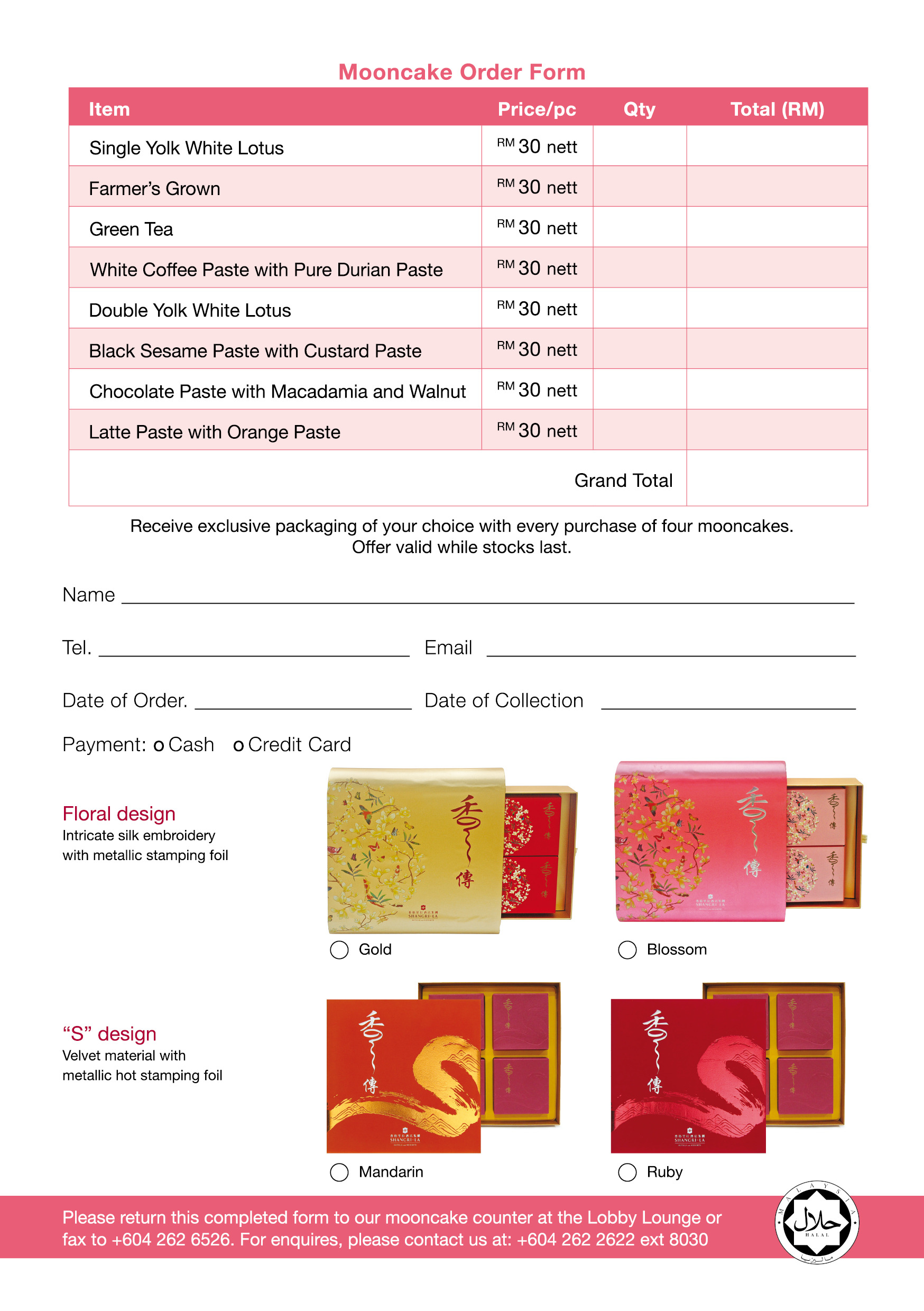 Overall, I still find the mooncakes sold here to be consistent in the texture and flavors, especially those classic ones. However, some of those newer versions could be a bit too sweet for my personal liking. It's a waste they do not have mixed nuts mooncake as it's my all-time favorite.
Hotel Jen Penang is located along Jalan Magazine just next to the iconic Kompleks Tunku Abdul Razak (KOMTAR). Just walk into the main lobby of the hotel and you can see the mooncake stall there.
Name: HOTEL JEN PENANG
Address: Jalan Magazine, 10300 Penang, Malaysia.
Contact: 604-262 2622
GPS: 5.413622, 100.330153
RATING:
Ambience: 7.5/10 (1-4 cheap, 5-7 average, 8-10 classy)
Food Choices: 7/10 (1-4 limited, 5-7 average, 8-10 many choices)
Taste: 7.5/10 (1-4 tasteless, 5-7 average, 8-10 excellent)
Pricing: 8/10 (1-4 cheap, 5-7 average, 8-10 expensive)
Service: 8/10 (1-4 bad, 5-7 average, 8-10 excellent)