Espressa Coffee Company (ECC) Flagship Cafe located at Gurney Tower has opened its door for business on 1 March 2016 in an effort to bridge the gap between "the third place" and "the concept store". Executive Director, Mr. Solomon Lee and its management team strive towards establishing ECC as the solution. As a first of its kind cafe, ECC Coffee has launched its first wave of signature beverages which include coffee, chocolate and fruit tea range along with merchandises such as ECC special mix sachets and more to come.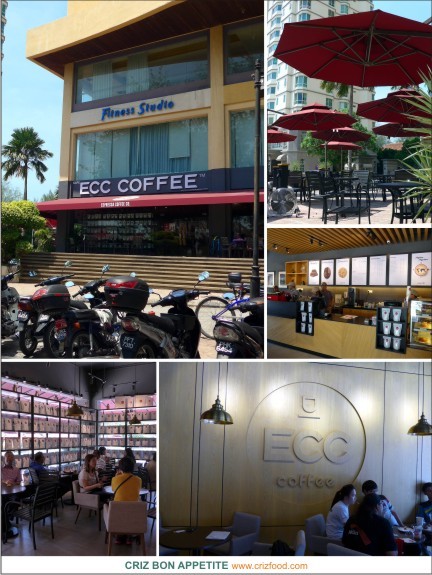 ECC Coffee uses its own manufacturing arm, with a whole ecosystem from coffee harvesting to distribution supply chain and integrated customer experience at the end of the day. The product is ISO 22000, a HACCP, GMP and Halal-certified. The range of their merchandises are thoroughly created and manufactured in line with the latest trends. It's crafted to be the perfect premium gift for any season, anytime and anywhere. Basically, there are 5 types of coffee beans being sold here such as Brazil, Columbia, Ethiopia, Guatemala and Java.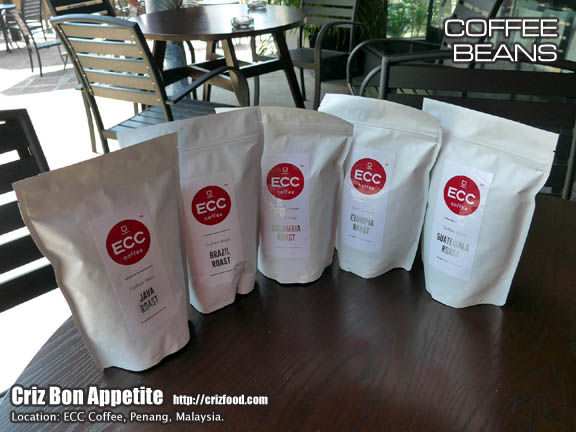 There are quite a substantial amount of beverages options you could order off the counter from basic coffee (5 options), chocolate (6 options), signature coffee (12 options) and fruit tea (10 options). The coffee beans found here were slightly below medium roast with a higher note of acidity. Though I'm more of a bitter coffee lover, ECC Coffee managed to make that fragrantly bright, snappy and earthly cup of coffee of mine to be quite mellow with a light tart of sweetness and creaminess to my liking. Just order the basic Latte and you will know what I meant. As for the Chocolate, I do find the Orange Cioccolata to suit my taste well with the right amount of citrus zesty flavor and sweetness. Of all the signature coffees that were presented, I personally like the Irish Espressa and Limon Espressa. All their fruit teas were well received by us especially the Kiwi Te Freddo which was rather unique and not frequently found elsewhere.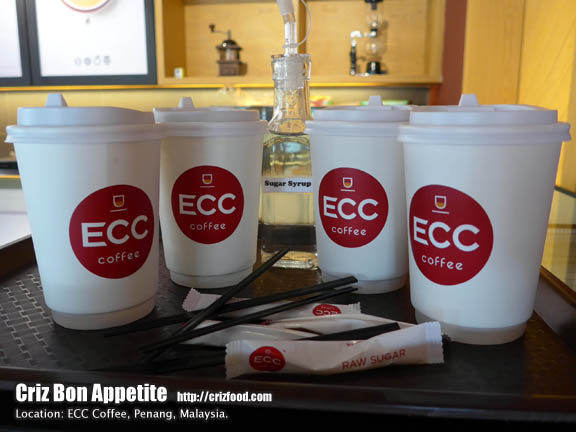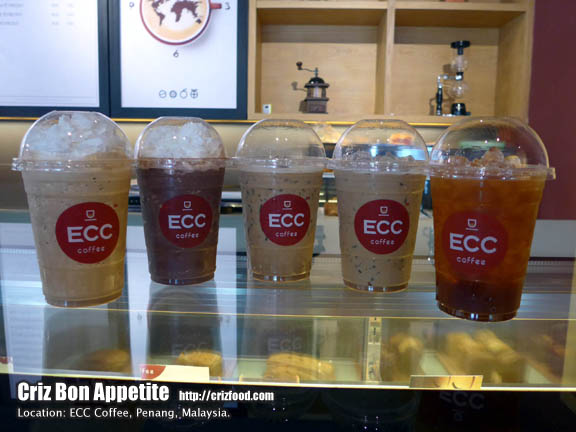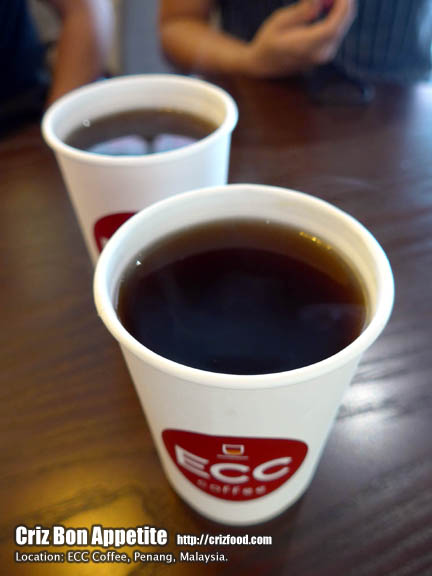 If you love the beverages here and would like to enjoy them in the comfort of your home or maybe to share them with your family and friends, you could always purchase the "premix" off the shelves ranging from Espressa, Cioccolata and Te Freddo. There would be 10 sachets in each pack and they do come in quality takeaway bags. The prices are shown in the list below.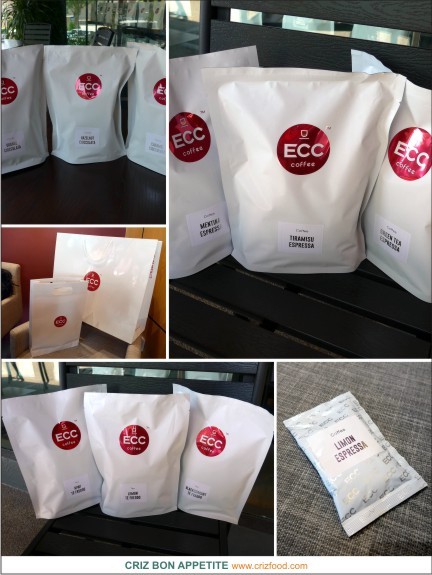 There are also an assortment of pastries and cakes for your personal indulgence such as Blueberry Muffin, Banana Muffin, Sardine Puff, Almond Roll, Black Sesame Milk Chocolate Cake and more. I personally like the uniqueness of the Black Sesame Milk Chocolate Cake as the combination of layers were perfect over a cup of hot coffee or tea.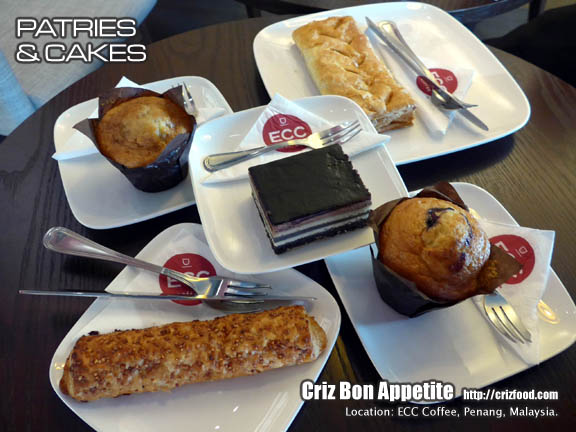 Let's have a look at pricing for the items available on their main board as well as their takeaway products as below.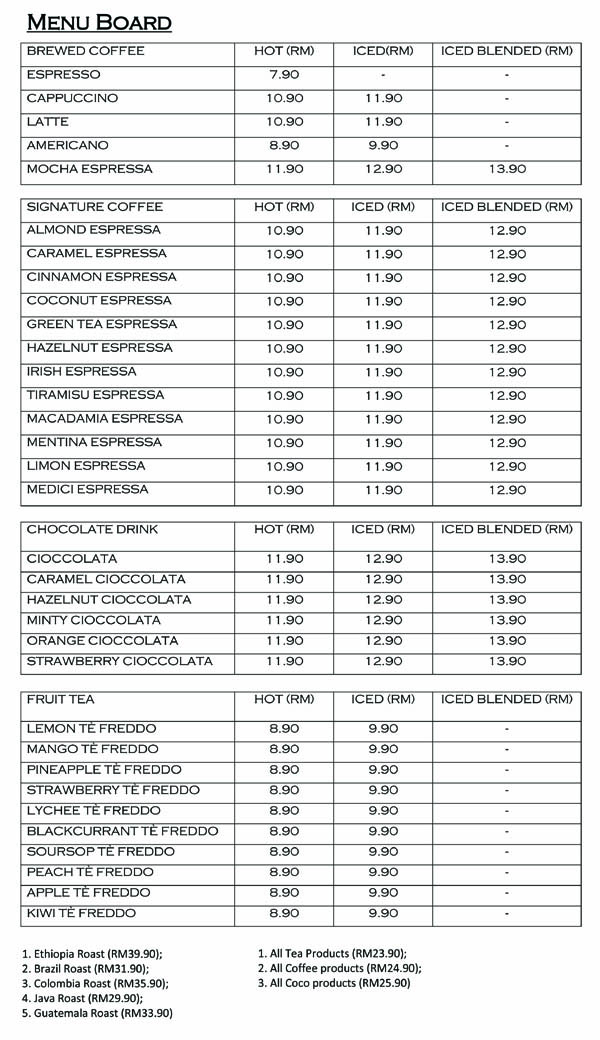 The core business of ECC is focused towards licensing where they offer interested investor to license their business plan locally and internationally. Interested parties may contact Ray Low, Franchise Developments Director at 6012-209 6100 or email ray.low@ecccoffee.com for more details.
ECC Coffee is located at the corner shoplot of Gurney Tower at Jalan Kelawai and Jalan Lim Chin Guan. The signage is quite prominent. Parking could be quite scare during peak hours. If you can't find any parking space here, you could almost always find some further up the service road nearer to Good Hope Inn. Make sure you use your parking coupons sparingly as the MBPP staff could be real hardworking here~ LOL~ 😛
Name: ECC COFFEE @ GURNEY TOWER, PENANG
Address: R-G-B1-2, Gurney Tower, 10250 Penang, Malaysia.
Contact: 604- 227 7001
Business Hours: 8.30am-10.00pm (Sun-Thurs), 8.30am-12.00am (Fri&Sat)
GPS: 5.429920, 100.318775
RATING:
Ambience: 8/10 (1-4 cheap, 5-7 average, 8-10 classy)
Food Choices: 6/10 (1-4 limited, 5-7 average, 8-10 many choices)
Taste: 7.5/10 (1-4 tasteless, 5-7 average, 8-10 excellent)
Pricing: 7/10 (1-4 cheap, 5-7 average, 8-10 expensive)
Service: 8/10 (1-4 bad, 5-7 average, 8-10 excellent)