"Good music and good food always go hand-in-hand and we are looking to make Art & Soul Café the place for people stop by and enjoy both," said Melvin Ooi, General Manager of Hotel NEO+ Penang by Aston. It was indeed well said as there's nothing better that would lift the spirit and strengthen the soul more than an array of great food over some soothing yet soulful music. For every Saturdays in the month of September and October 2016, guests would get to enjoy various genre of music from awesome musicians as early as 8.30pm at the Art & Soul Café, located at the ground floor of Hotel Neo+ Penang by Aston. We were serenaded by the amazing duo of Leo & Viv on one fine Saturday night and were truly impressed by the powerful yet soothing voice of Vivian with her jazzy and bossa nova music numbers.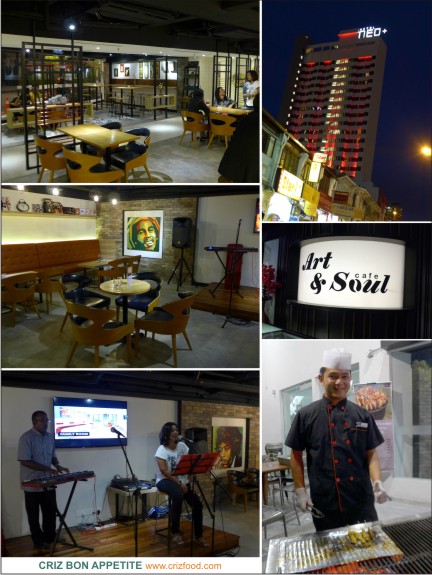 Basically, you can enjoy their Daily Set Menu (Sep/Oct: 11.00am-11.00pm) and/or their Saturday BBQ Skewers (Sep/Oct: 7.00pm-11.00pm) during your visit to the café. Each BBQ Skewers set would be served with a complimentary baked potato. Price would be with a 6% Government Tax per skew and last order from kitchen would be at 10.30pm.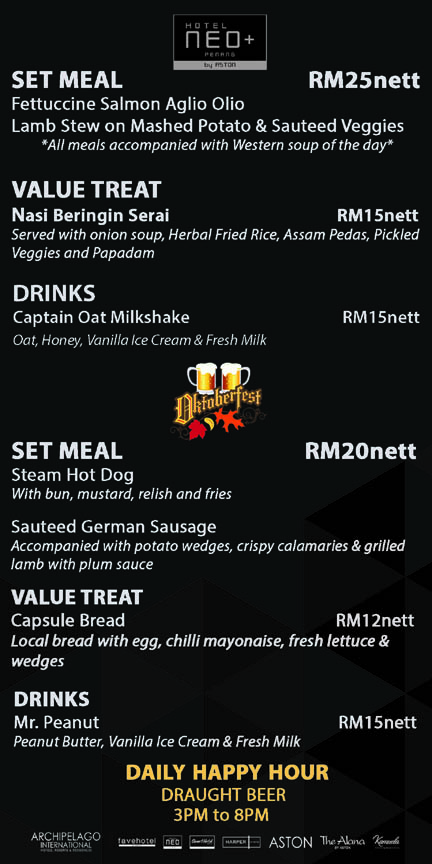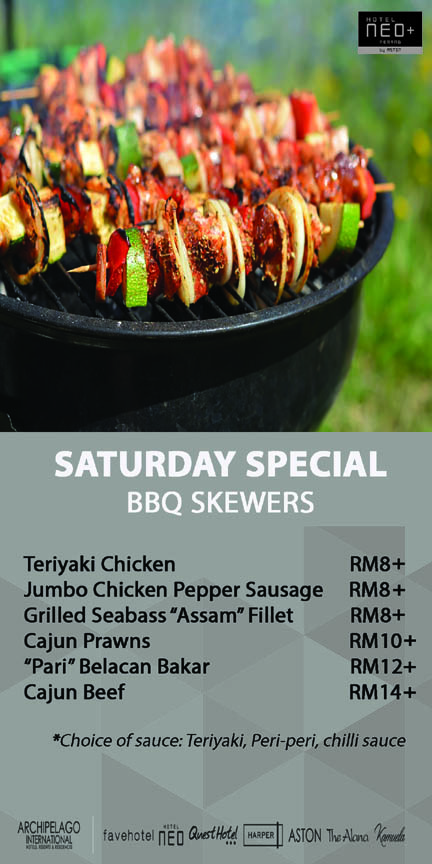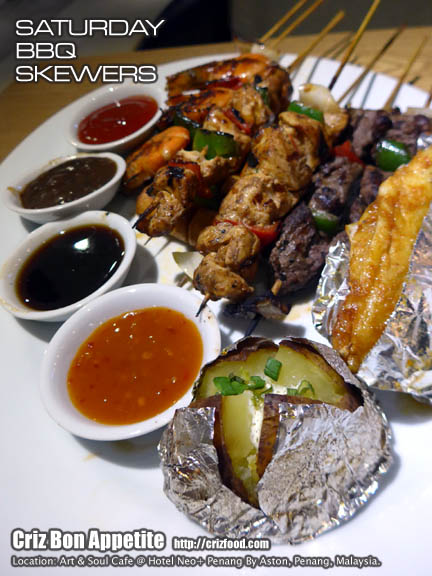 On top of that, there would be two specially concocted beverages for the promotion, namely Captain Oat Milkshake (RM15nett – September only) and Mr. Peanut (RM15nett – October only). The Captain Oat Milkshake would have a concoction of oat, honey, vanilla ice cream and fresh milk whereas the Mr. Peanut would have a concoction of peanut butter, vanilla ice cream and fresh milk. Both beverages had their own unique flavors which I quite like and they could be quite filling too. You could also order other beverages too such as Chamomile Tea (RM8+) or Cappuccino (RM12+).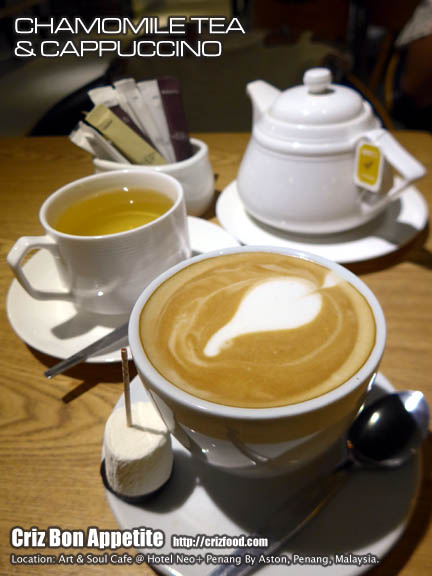 Do check out on their Daily Happy Hours (3.00pm-8.00pm) too as shown below.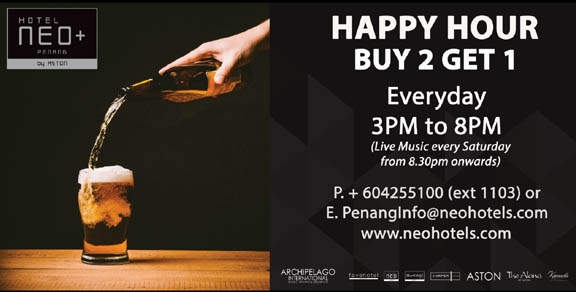 Overall, I loved the BBQ skewers, especially the beef and prawns skewers with their peri-peri condiment.
The Art & Soul Cafe is located at ground floor of the hotel. As you enter the hotel, you can see the café on the left side of the building.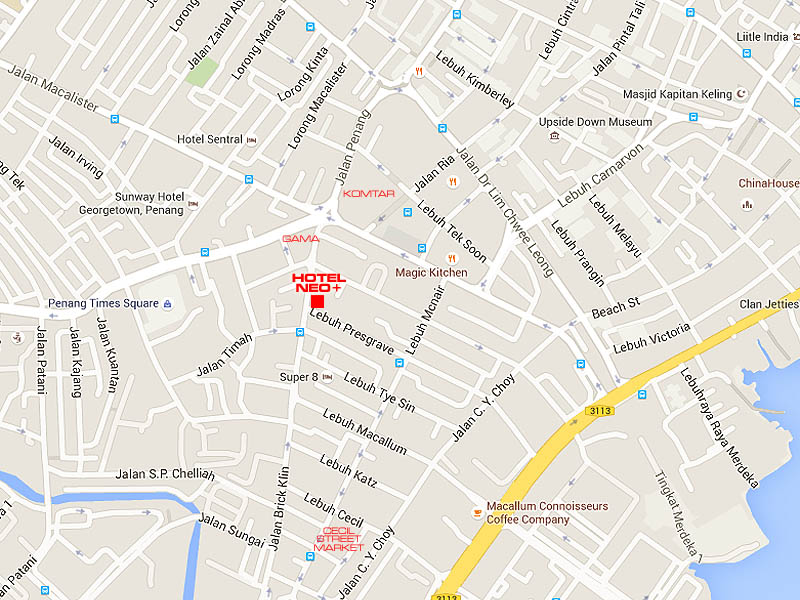 Name: ART & SOUL CAFE @ HOTEL NEO+ PENANG BY ASTON
Address: 68 Jalan Gurdwara, 10300 Penang, Malaysia.
Contact: 604-255 1000 (ext 1103)
Business Hours: 11.00am-11.00pm (Sunday-Friday), 11.00am-12.00am (Saturday)
GPS: 5.479097, 100.254663
RATING:
Ambience: 7.5/10 (1-4 cheap, 5-7 average, 8-10 classy)
Food Choices: 7/10 (1-4 limited, 5-7 average, 8-10 many choices)
Taste: 8/10 (1-4 tasteless, 5-7 average, 8-10 excellent)
Pricing: 7/10 (1-4 cheap, 5-7 average, 8-10 expensive)
Service: 8/10 (1-4 bad, 5-7 average, 8-10 excellent)
About Hotel NEO

: Hotel NEO+ Penang features 196 guest rooms and suites decorated in a modern-contemporary style that befits the new trends in hotel design. With uncluttered open spaces, the atmosphere is at once stylish and relaxed, topped off with twenty-first century conveniences such as complimentary high-speed WiFi, LED TVs and home entertainment systems. The new NEO concept aims to open doors to a world of wellbeing and sensual satisfaction. Designed in a stylish and contemporary style befitting the latest trends in hotel design, NEO Hotels offer uncluttered open spaces for an atmosphere of relaxation and tranquility within these chic yet reasonably priced new-build hotels and resorts. The brand has been described as "hip and new," with aesthetics reminiscent of cutting-edge fashion designs. Customer Focus Groups have credited Archipelago International for "bringing sexy back", thus hailing NEO Hotels as a brand fit for savvy young travelers and Generation Y parents alike. Images of NEO Hotels can be found at www.neohotels.com
About Archipelago International

: Archipelago International is Indonesia's largest hotel management chain with a portfolio of over 110 hotels and 15,000 rooms. It also continues to have the fastest growing brands with over 100 properties in the pipeline across Indonesia, the Philippines, and Malaysia. Their 7 core brands include favehotel, NEO, Quest, Harper, Aston, Alana and Kamuela, ranging from ultra-luxurious villas to select-service, economy-class hotels to serviced apartment residences. You can view more at www.archipelagointernational.com