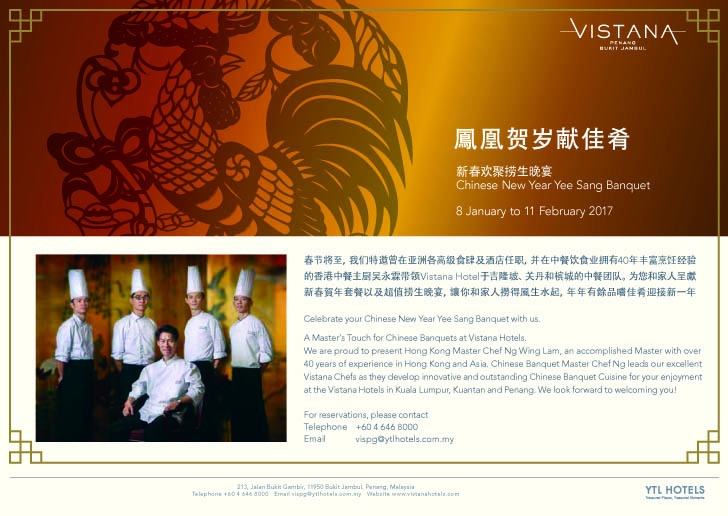 Vistana Hotel Penang Bukit Jambul had always been one of the main banquet providers, with support from the corporate and public sectors for quite many years. This year again, diners would have the privilege the Chinese New Year spreads from the Hong Kong Master Chef Ng Wing Lam with more than 40 years of culinary experiences from Hong Kong and Asia. The Chinese New Year Yee Sang Banquet 2017 promotion would start from 8 January 2017 until 11 February 2017 (Lunch: 12.00pm-3.00pm & Dinner: 7.00pm-10.00pm). For more information, you can email vispg@ytlhotels.com.my or call +604-646 8000 for enquiries and reservations.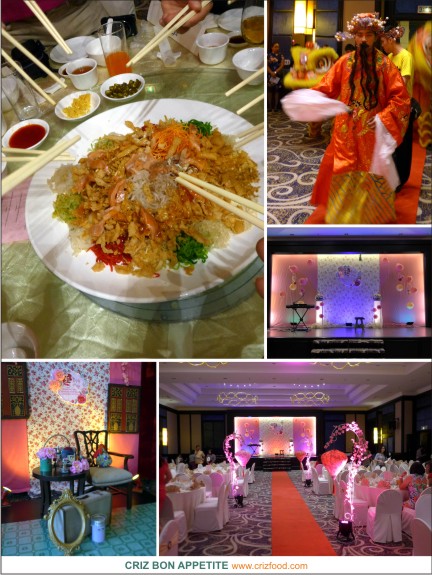 You have an option to choose from the menu as shown below with pricing starting as low as RM688++ per table for 10 persons. However, the hotel does also provide the flexibility to customize your dishes as what we had earlier.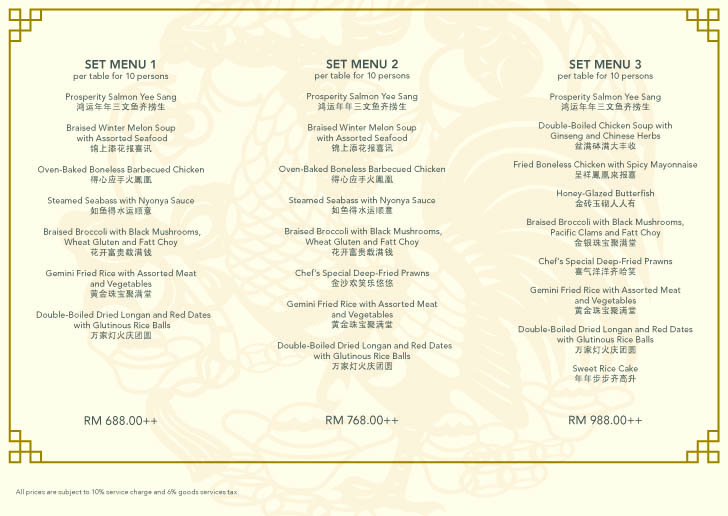 I would be sharing with you some of dishes plucked from the 3 different menus available. The main highlight of the dinner was the Prosperity Salmon Yee Sang, a rather out of the norm dish with jellyfish, freshly julienned carrot and radish plus some deep fried julienned yam on top of the usual other ingredients.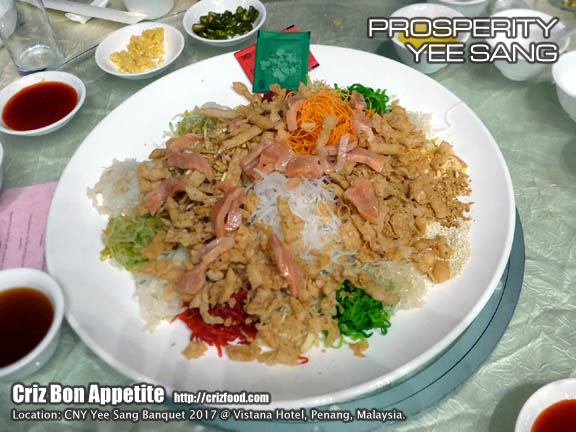 The next on the list was the Double-Boiled Chicken Soup with Ginseng and Chinese Herbs, packed with herbal flavors and chunks of boneless chicken thigh meat.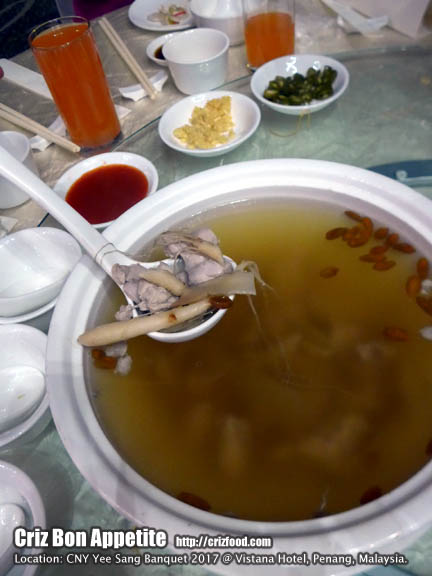 We were also served with Fried Boneless Chicken with Spicy Mayonnaise, a set of 3 batter fried boneless chicken served on a bed of spicy mayonnaise. It was a rather unique dish, except that the portion might be quite small for a table of 10 pax.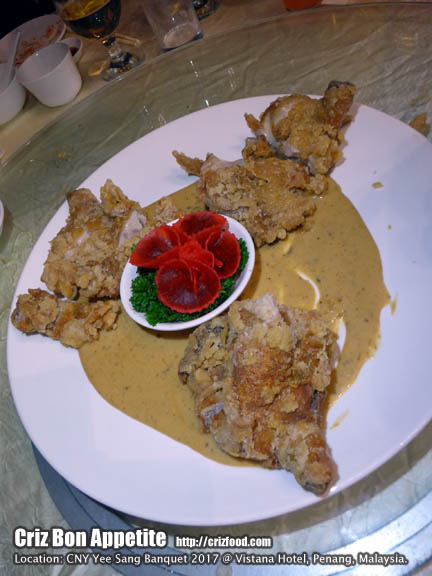 As usual, there would be a fish dish to symbolize years of abundant wealth and we had the Steamed Red Lion Fish with Superior Soya Sauce. Not bad but it could be better in size.
The Braised Broccoli with Black Mushrooms, Pacific Clams and Fatt Choy was another usual dish you would get in a banquet style of serving.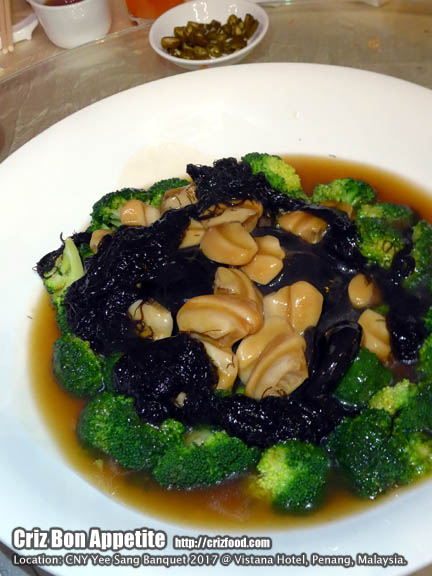 We also had the Chef's Special Deep-Fried Prawns. The sizes of the prawns were indeed bigger than the normal servings.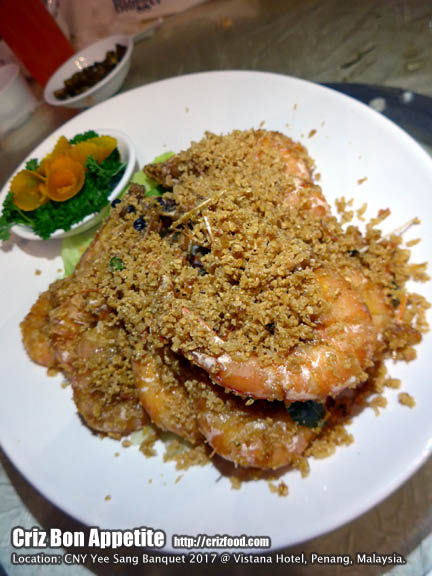 The Gemini Fried Rice with Assorted Meat & Vegetables might not look appetizing as I would expect some additional julienned iceberg lettuce to be added in like last year to add in more colors and flavors to the dish. However, look can be deceiving as the dish was quite palatable.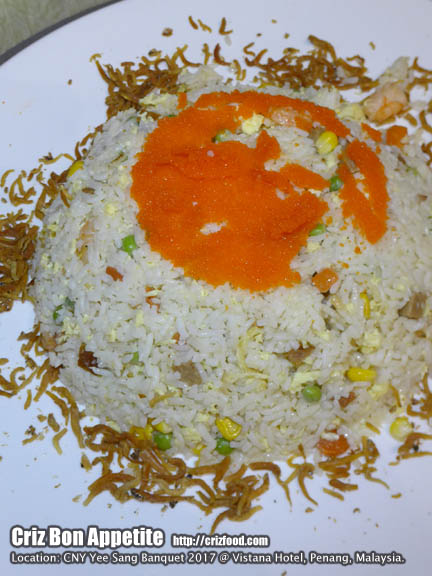 We ended our meal with Double-Boiled Dried Longan and Red Dates with Glutinous Rice Balls. It was a rather balanced Chinese dessert with tasty sesame paste filled glutinous rice balls.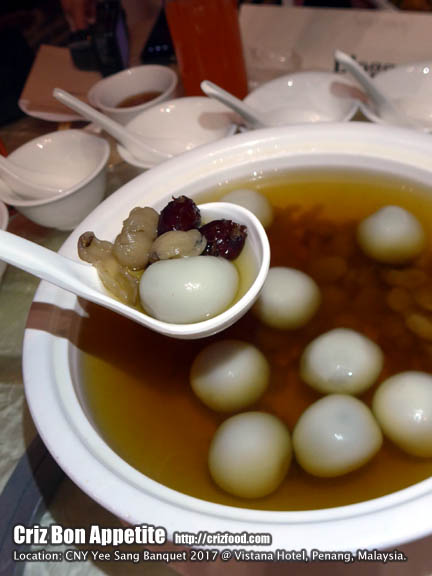 The bonus dessert of Sweet Rice Cake was something that caught our attention most as they could be rather addictive. There were hint of sweet potatoes, yam and lotus paste in each of the mini ball.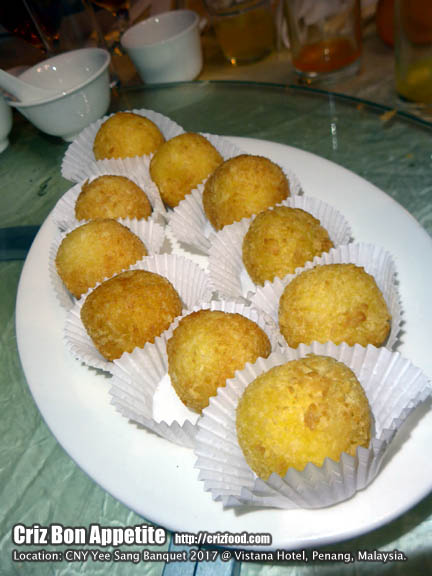 Overall, the dishes served for the night was quite fulfilling but it could have been better in terms of portion. The ballroom can only cater up to 500 pax at one time, so do email vispg@ytlhotels.com.my or call in +604-646 8000 to make your advance reservations to avoid any disappointment.
The ballroom is located at the left side as you enter the hotel lobby of Vistana Hotel Penang along Jalan Bukit Gambir. You can park your car at the basement which would require you to get a magnetic card from the receptionist to scan your way out.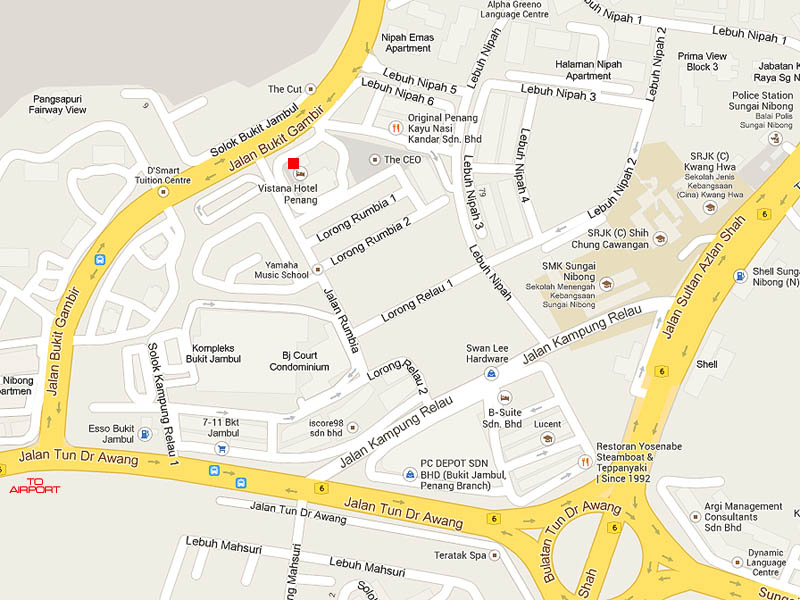 Name: GROUND FLOOR BALLROOM @ VISTANA HOTEL PENANG
Address: 213 Jalan Bukit Gambir, 11950 Bukit Jambul, Penang, Malaysia.
Contact: 604- 646 8000
Business Hours: 12.00pm-3.00pm & 7.00pm-10.00pm (8 January until 11 February 2017)
GPS: 5.336334, 100.291527
RATING:
Ambience: 7.5/10 (1-4 cheap, 5-7 average, 8-10 classy)
Food Choices: 7/10 (1-4 limited, 5-7 average, 8-10 many choices)
Taste: 7/10 (1-4 tasteless, 5-7 average, 8-10 excellent)
Pricing: 7/10 (1-4 cheap, 5-7 average, 8-10 expensive)
Service: 8/10 (1-4 bad, 5-7 average, 8-10 excellent)