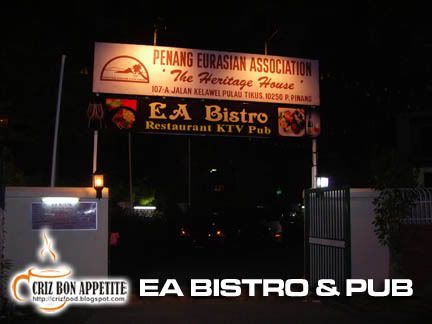 You may have pass by this restaurant always but maybe you did not pay much attention as it is hidden at the end of a lane. This restaurant is actually right with the premises of the Penang Eurasian Association. That's how it got its name as EA Bistro & Pub. Not only does the restaurant serve Set Lunch (RM9.90) daily (except Monday), it also served one of the best Western Food as well as Japanese Meals around the area and everything in this restaurant is freshly cooked daily. Even the soups are prepared with the freshest ingredients and the Japanese meals are prepared with imported Japanese products.
My friend and I discovered this place on our way to Tanjung Tokong area a few days back and decided to try out this place. We ordered the BBQ Chicken (RM16.90) and Blackened Chicken (RM16.90). The Blackened Chicken is actually grilled cajun spiced chicken breast meat served with black pepper sauce. Every piece on the plate is well prepared and tasty. The portion served is extremely large.
The BBQ Chicken on the other hand is a grilled cajun spiced chicken drumstick served with sweet fragrance-rich BBQ sauce. Absolute delicious too!
For every order of an Ala Carte Western Dishes, you are can upsized to Set Dinner with an additional RM7.00. You will get a glass of soda of your choice, a fresh Mushroom Soup, a spicy green salad, and coffee or tea. This is recommended for those big eaters. You should also try out the smoothness of their Vietnamese Coffee. This is such a great offer!
There will also be different Live Bands performing from Thursday until Saturday. Thursday would be Jazz Night, First and Third Friday would be Country Night, Second and Fourth Friday would be Retro Night and Saturday would be Oldies Night. This is not a bad place for group gatherings or party but you will expect dimly lighted place with some smoke since this is a bistro cum pub.
There is also a list of Teppanyaki and Sashimi dishes, Spaghetti and Pasta, and finger food available for your hungry tummy. The boss recommended their Yaki Udon, Yaki Mesi, Spaghetti Marinara and Chicken & Mushroom Fettuccine for our next visit.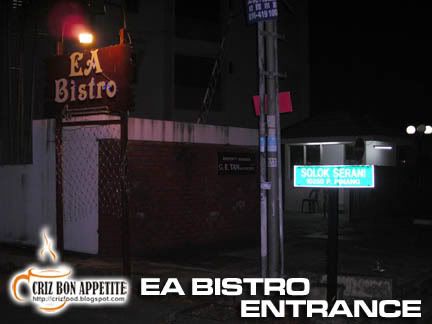 If you are coming from town towards Gurney Plaza along Jalan Kelawai, you will reach a traffic light. Go straight and turn into the second lane on your left. The restaurant is just at the end of a no-through road, right in between the Brahma Kumaris Raja Yoga Malaysia building and Arcadia Apartment. Hunzaland Project Office is just directly opposite the lane. The will be parking space inside.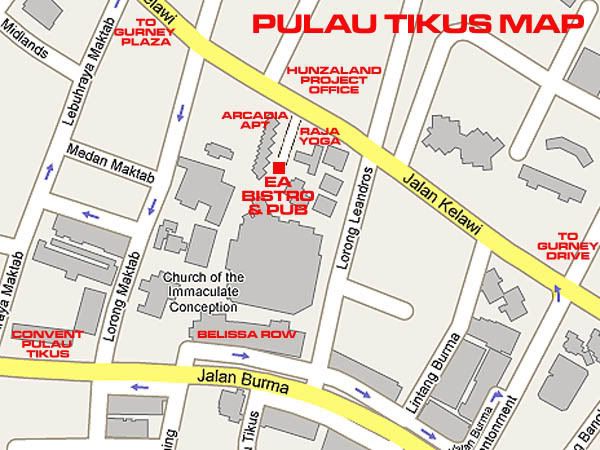 Name: EA BISTRO & PUB
Address:
107-A, Jalan Kelawai (Solok Serani), Pulau Tikus, 10250 Penang, Malaysia.
Tel: 604-228 2406, 016-422 6688 (Pauline)
Opening Hours:
11.30am – 3.00pm (Lunch)
6.00pm – 10.00pm (Dinner)
6.00pm – 1.00/2.00am (Pub)
6.00pm – 12.00/1.00am (Live Band – Thursday – Saturday)
GPS: 5.434593, 100.310315
RATING:
Ambience: 7/10 (1-4 cheap, 5-7 average, 8-10 classy)
Food Choices: 8/10 (1-4 limited, 5-7 average, 8-10 many choices)
Taste: 8/10 (1-4 tasteless, 5-7 average, 8-10 excellent)
Pricing: 7/10 (1-4 cheap, 5-7 average, 8-10 expensive)
Service: 8/10 (1-4 bad, 5-7 average, 8-10 excellent)