This season, do come to celebrate a "Starry Christmas 2017" at Straits Café & Lounge @ Ixora Hotel, Bandar Perai Jaya, Penang, with delectable festive dishes under the culinary skills of Executive Chef, Chef Aikaun Beh and his dedicated team. Be impressed with the divine selection of food choices created by the team to make your Christmas experiences a memorable one with your friends and family members. Do check out the promotion below. Early birds would get a 15% the bill with advance payment before 20 December 2017.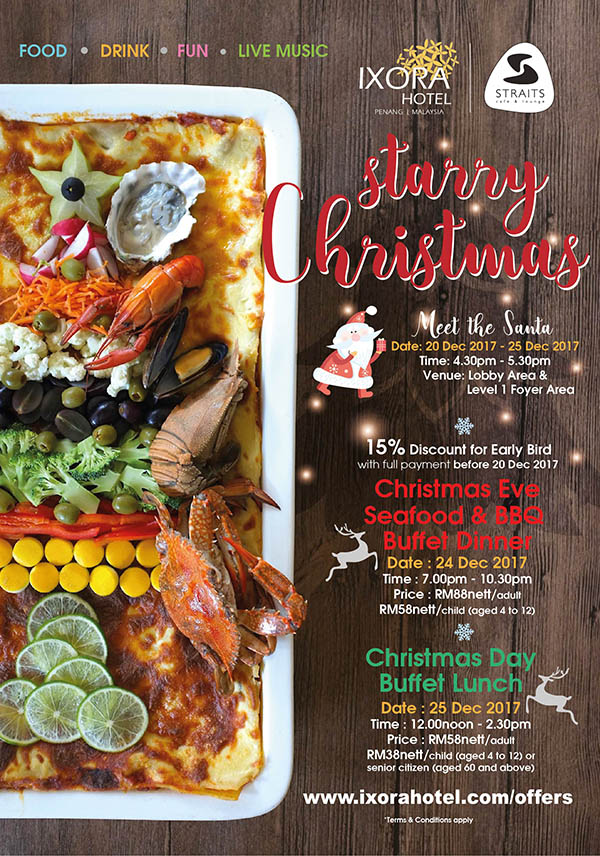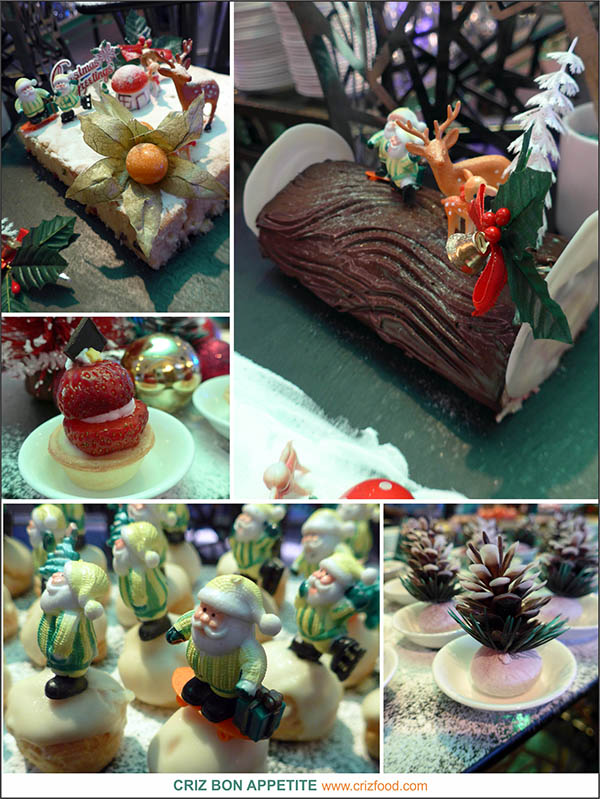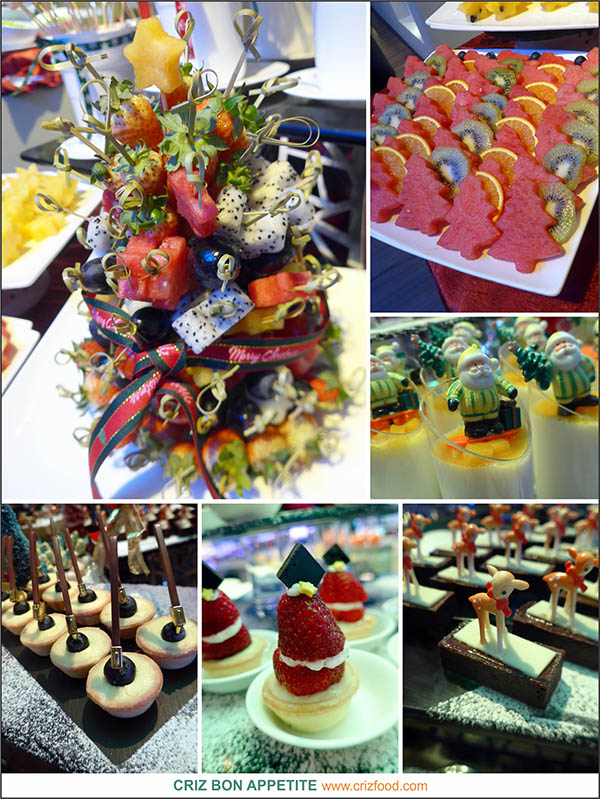 Other than the various spreads of delicious savory and sweet items, you would also get to try out the Cocktail & Mocktail of the month (December 2017) which would consist of "Christmas Rudolph" (Cocktail – RM22nett) and "Santa Punch" (Mocktail – RM18nett).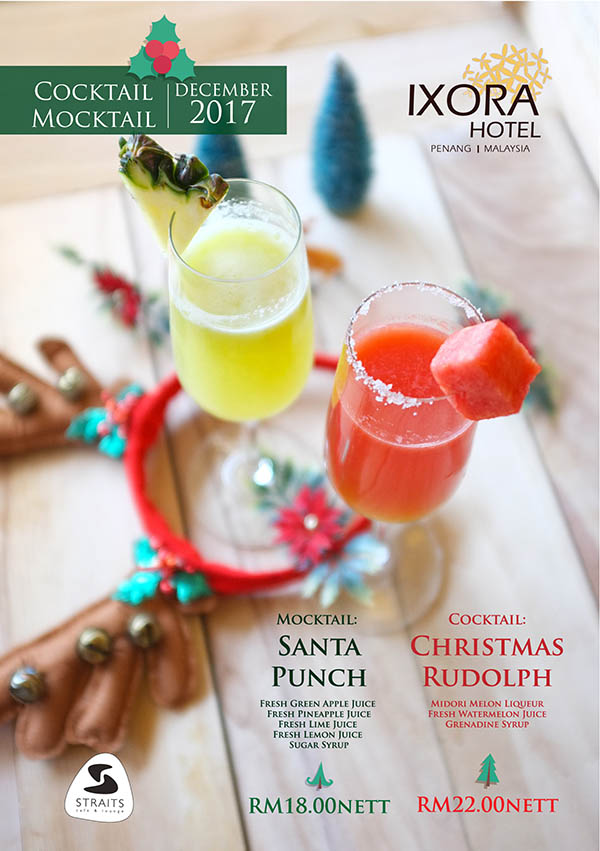 For the whole month of December 2017, you could also order some of the festive desserts as below. 3 days advanced booking is required with a 50% deposit of the item.
– Christmas Yule Log – RM50 nett/cake (500g)
– Christmas Pudding 0.5kg – RM50nett each
– Christmas Yule Cake 0.5kg – RM50nett each
– Fruit Cake 0.5kg – RM50nett each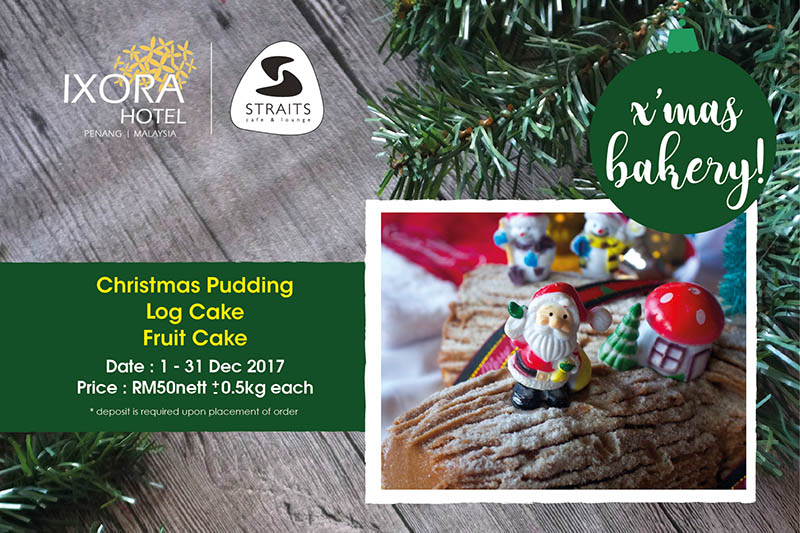 As for their "Turkey To Go" with various condiments, you could order the bird from 15th until 25th December 2017 at RM460nett per bird. 3 days advanced booking is required with a RM200 deposit and the item is only available for takeaways.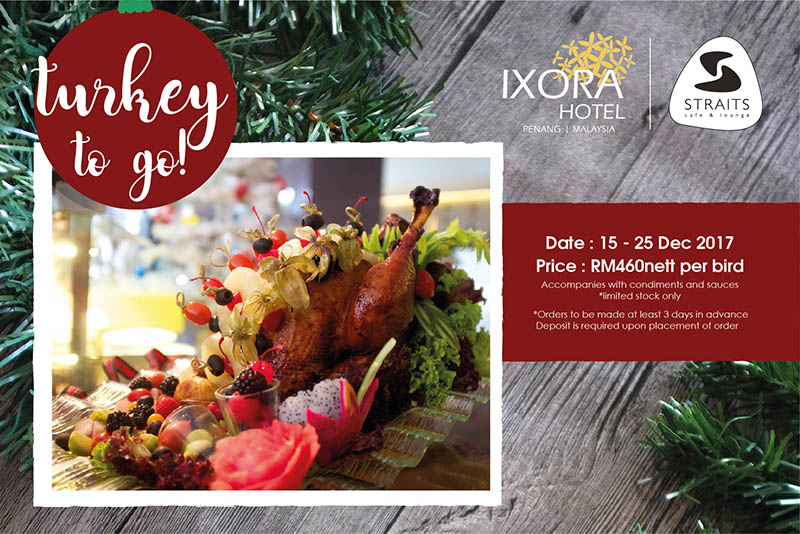 Do also check out their current European Cuisine Buffet Lunch for December 2017 from Monday until Friday, 12.00pm-2.30pm at Straits Café & Lounge with 4 different menus on rotation weekly.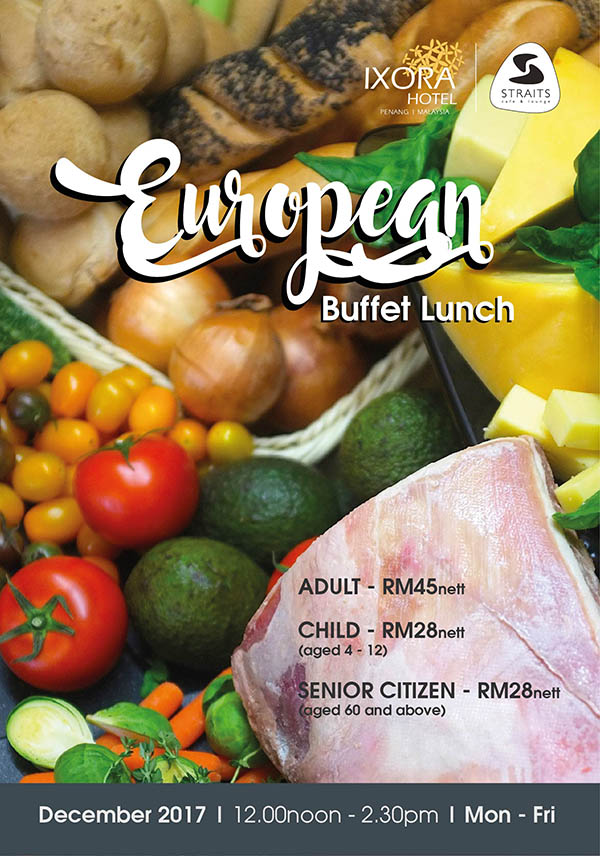 Some of the highlights would include Cream of Garlic with Oysters, Prawn Gumbo Soup, Slow Braised Chicken Stew with Vegetables, Braised Lamb with Tomatoes and Capsicums, Fillet of Fish and Potato Baked, Braised Vegetables with Tomato Sauce-Ratatouille, Burnt Cream, Chocolate Choux Puff and more.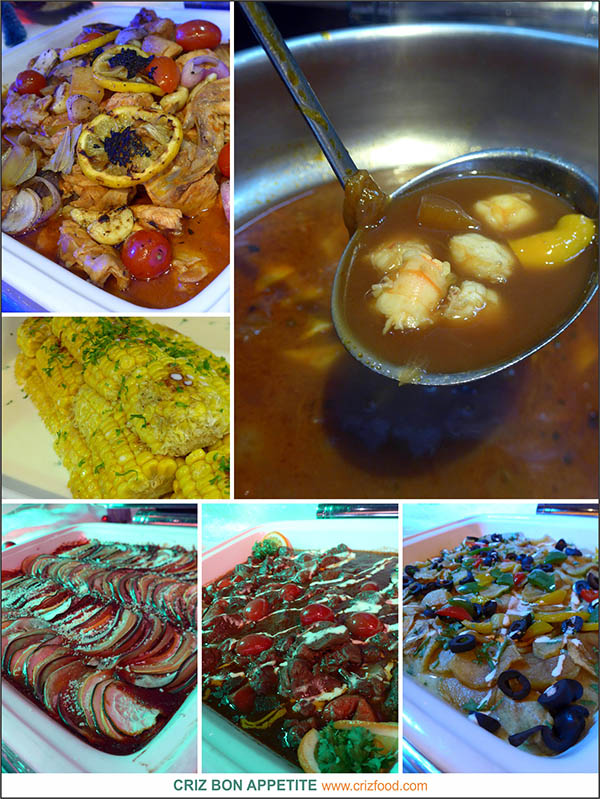 Overall, the dishes served here in the café can be remarkably interesting, flavorful, colorful and very skillfully presented. Thanks to the chef's team for providing us with a different experience compared to others. For more information, please check out www.ixorahotel.com
Getting to the Straits Café & Lounge @ Ixora Hotel won't be hard as it's just located next to the Megamall Shopping Complex at Bandar Perai Jaya. If you are coming from the island via the 1st Penang Bridge, just look out for the second exit on your left upon reaching the mainland. Drive all the way via Jalan Baru until you reach the 1st traffic lights. Turn left into Jalan Perai Jaya 1 and you can see Ixora Hotel at the junction of Jalan Baru/Jalan Perai Jaya 1. Drive straight for about 10m and you can see the basement car park on your left. Park your car and go up Level 1 and you can see the café & lounge there.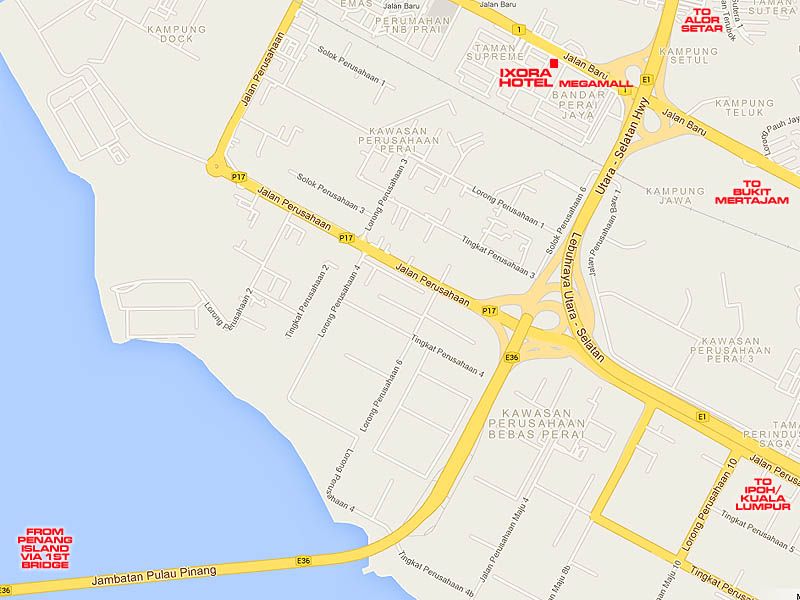 Name: STRAITS CAFÉ & LOUNGE @ IXORA HOTEL
Address: Jalan Baru, Bandar Perai Jaya, 13600 Perai, Penang, Malaysia.
Contact: 604-382 8888
Business Hours: 6.00am-10.00am (breakfast), 12.00pm-2.30pm (Lunch), 6.00pm-10.00pm (Dinner)
GPS: 5.378357, 100.398322
RATING:
Ambience: 8/10 (1-4 cheap, 5-7 average, 8-10 classy)
Food Choices: 8/10 (1-4 limited, 5-7 average, 8-10 many choices)
Taste: 8.5/10 (1-4 tasteless, 5-7 average, 8-10 excellent)
Pricing: 8/10 (1-4 cheap, 5-7 average, 8-10 expensive)
Service: 8/10 (1-4 bad, 5-7 average, 8-10 excellent)