Whenever you think of having some little tarts or some finger food, you would think of having them in Dim Sum shops. Maybe you are not aware that there is this little shop along Lebuh Carnavon that sells those yummy delights fresh and hot without having to pay as much if you were to dine in a Dim Sum shop. Guangzhou Cake shop has been there for many years and is manned by a few elderly folks. They produced different type of delicacies that will suit your breakfast, lunch as well as tea needs. Some of the food are ideal if you were to have parties.
Egg Tarts, especially those mini ones are the hot items in the shop. These are normally sold out before 10am. I was so engrossed in munching my Mini Pandan Egg Tart that I totally forgot to take some shots. Quite typical of me when something that nice are laid right in front of my eyes. Anyway, you can still take a peek at those mini tarts in the photo above.
On a normal week day, the shop will produce tens of different type of delicious treats such as Egg Tarts (Mini Plain and Pandan Flavored as well as plain normal sized ones), Yam Cake, Fried Yam Cake, Radish Cake, Pineapple Tarts, Coconut Tarts, Ma Lai Gou (Pandan or Brown Sugar), Woo Tao Kok, Char Siew Buns, Siew Bao, Glutinous Rice Ball with peanut filling, Sesame Glutinous Rice Ball with peanut filling, Char Siew Sou, Or Nee, Rock Biscuit and many more yummies. Here are some of the items which I had taken shots of.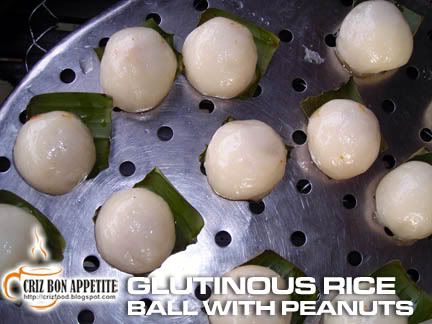 If you are coming from Prangin Mall along Jalan Dr. Lim Chwee Leong, turn left into Lebuh Carnavon. Drive further until you have passed the second road (Lebuh Kimberley) on your left and you will see the unnamed shoplot displaying those yummy delicacies right in front of the shop. Normally, it would be an elderly lady selling those yummies. Make sure you reach there early to get the best choices or just give them a call to place your order. My recommendation would be the Mini Pandan Egg Tarts (a box of 10's @ RM4). Make sure you consume them fast while they are fresh. Leaving them for later consumption will make the surface dry and crack.
Name: GUANGZHOU CAKE HOUSE
Address: 158, Lebuh Carnavon, 10100 Penang, Malaysia.
Tel: 016-470 3392
Opening Hours: 8.30am – 4.00pm
GPS: 5.415442, 100.334712
RATING:
Ambience: 6/10 (1-4 cheap, 5-7 average, 8-10 classy)
Food Choices: 8/10 (1-4 limited, 5-7 average, 8-10 many choices)
Taste: 8/10 (1-4 tasteless, 5-7 average, 8-10 excellent)
Pricing: 6/10 (1-4 cheap, 5-7 average, 8-10 expensive)
Service: 7/10 (1-4 bad, 5-7 average, 8-10 excellent)