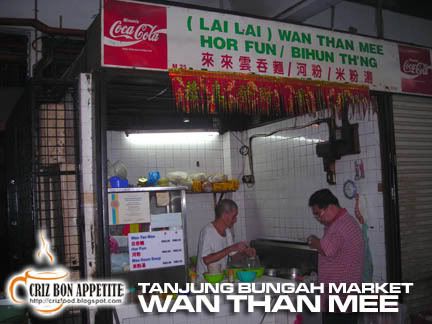 It really amazed me how an elderly couple could work almost without any rest practically every hour of the day for years without ever taking time off to relax for their old age. You got me right! They have been selling Wan Than Mee 24 hours a day for years, only taking a 10-hour break every Tuesday from 12.30am until 10.30am. Gosh! I won't want my life to be this way when I get old. Surprisingly, they still get a lot of supporters going for their Wan Than Mee at odd time as the pricing is dirt cheap! But there's a catch, you might have to serve yourself as the old man could be rather slow in serving as it's a one-man business.
Out of curiosity, my friend and I went over to try out the noodles. It was cheap indeed but the taste was just average. I guessed this stall is catering to those lower income groups as well as the TAR College students staying around that area. We ordered a dry Wan Than Mee (RM2.50) each with barely a few pieces of char siew pork and a slice of fish cake. It is quite expensive for a plate of almost nothing noodles. Maybe the rest of garnishing were added into our side orders. I'm not sure about that as it was my first time there. The noodles appeared to be as below.
We ordered a bowl of Wan Than Soup (RM2). There are about 20 plus Wan Than. The soup based was fine but the filling for the Wan Than was little and a little lack of flavors.
We also ordered a plate of Fried Wan Than (RM2 for 24 pieces). Instead of waiting for the old man to serve us, we did the frying ourselves. I saw quite a few people did that.. I guessed that must be the trend there as everyone willingly helped out the old man. Well, the taste was the same. The Fried Wan Than also lack of flavors as the filling were little.
Next was the mixed vegetable (RM2) with some dark soy sauce added. As for the drinks (RM1 per glass), we made our own. You can have a choice of Chrysanthemum, Nutmeg, Rose or Keat Poh. Overall, the noodles were just average but considering the crowd and orders, I guessed there were still many compassionate people out there who loved to support this old couples.
Just drive into the Tanjung Bungah Market and you can see only one stall in the hawker centre opening up for business during the wee hours of the night. You sure won't miss it as there will be continuous flow of people patronizing the stall each night.
Name: TANJUNG BUNGAH MARKET WAN THAN MEE
Address: Jalan Sungai Kelian, 11200 Penang, Malaysia.
Opening Hours: 24 hours (Closed Tuesday 12.30am – 10.30am)
GPS: 5.464038, 100.284898
RATING:
Ambience: 5/10 (1-4 cheap, 5-7 average, 8-10 classy)
Food Choices: 6/10 (1-4 limited, 5-7 average, 8-10 many choices)
Taste: 6/10 (1-4 tasteless, 5-7 average, 8-10 excellent)
Pricing: 5/10 (1-4 cheap, 5-7 average, 8-10 expensive)
Service: 5/10 (1-4 bad, 5-7 average, 8-10 excellent)