Other than Northam Beach Café, there is another place called Breeze Café right up by the coastal area of Tanjung Tokong. The concept here is totally different compared to NBC as all the food and beverages are managed by only a restaurant there. They do serve Western food, noodles & rice dishes, finger food up to ice creams, coffee and hard liquors. Not a bad place to laze about on the easily available deck chairs while enjoying the cool breeze from the sea. This is quite an ideal place for love birds as well as for small groups of friends.
The management can even arrange for BBQ by the beach for a minimum of 4 persons (RM25+ each), a group of 25 persons (RM25+ each plus a free bungalow stay) and themed buffet dinner for a minimum of 20 persons (RM25+ each) by the beach. You can check out more information on the promotion through any of their other restaurants, Nyonya Café (i-Avenue) in Bayan Lepas, Penang or Nyonya Café (New World Park), Penang.
My friend and I paid a visit recently and found the place quite relaxing except that you might find some stray mosquitoes biting since the place is dimly lighted and with a lots of decorative plants around. Both of us ordered a Shirley Temple (RM8) and a Kickapoo (RM4) as our drinks.
As for starter, I ordered a bowl of Mushroom Soup (RM4.50). It came in a big soup bowl with a few largely cut crouton. Not bad for the pricing but the soup tasted ordinary.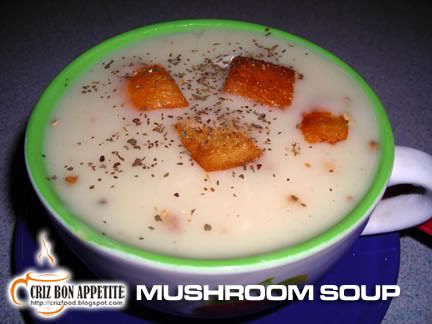 As for the main, I ordered the Chicken Cordon Bleu (RM10). The dish was presented in a simple way with the usual fries, salad, white plain bread (a quarter and non-toasted?) and the stuffed breaded chicken drumstick garnished with some mushroom sauce. Maybe it was my luck as the chicken was quite burn and dry and the stuffing has no taste of cheese at all. The mushroom sauce was rather bland too.
My friend ordered a Black Pepper Chicken (RM9). The garnishing was the same except that he got a larger piece of battered chicken drumstick with thigh. As for the black pepper sauce, I felt that it was rather diluted with not much of pepper taste in it. I still love the one at Yaw's Roast & Grill.
My friend and I then ordered Love Boat (RM8) to share out as dessert. We were allowed to choose 3 flavors from the list of 6 flavors such as Vanilla, Coffee, Chocolate, Strawberry, Rum & Raisins and Mint Chocolate Chips. You can even order a scoop at RM3.50.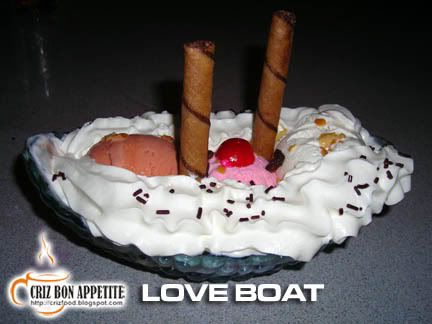 The total price came up to RM47.85 which included a 10% service charge. Overall, the place is not bad for drinkers. As for food, I would hope that the management would spice up the quality in order to gain more diners. I have not tried their other stir-fried dishes with rice or fried noodles yet. Maybe I might have other opinions of the taste and quality.
Most people, even the locals would miss this place as it is situated right inside the coastal area of Tanjung Tokong. If you are driving up from town area towards Tanjung Tokong / Tanjung Bungah / Batu Ferringhi, you will see the Penang Chinese Swimming Club on your right. Drive forward until you see a traffic light (Tanjung Bungah Hotel on your right). Make a U-Turn and drive towards the swimming club. Turn left into the road after the swimming club until you see Naza Hotel. The café is just next to the hotel. They do also provide budget motel here under the name Sea Wind Beach Motel. You can park right inside or just along the road. Parking spaces are rather limited within the compound.
Name: BREEZE CAFÉ (BAYU SEAFOOD VILLAGE)
Address: 515, C.M. Hashim, Tanjung Tokong, 11200 Penang, Malaysia.
Tel: 604-899 7099
Website: www.seawind.where2go.com.my
Opening Hours:
6.30pm – 1.00am (Mon-Thur), 6.30pm – 2.00am (Fri-Sun)
Note: Kitchen will close an hour earlier.
GPS: 5.463835, 100.305777
RATING:
Ambience: 8/10 (1-4 cheap, 5-7 average, 8-10 classy)
Food Choices: 7/10 (1-4 limited, 5-7 average, 8-10 many choices)
Taste: 6/10 (1-4 tasteless, 5-7 average, 8-10 excellent)
Pricing: 7/10 (1-4 cheap, 5-7 average, 8-10 expensive)
Service: 8/10 (1-4 bad, 5-7 average, 8-10 excellent)