The Sam Hui Prangin Mall has ceased its operation and had moved to the ground floor of 1-Stop Midlands Park. Will the standard of the food still maintain as good as in Prangin Mall? You would have to find out yourself. 😛 (More updates on their main branch below – 15 February 2009)
The legendary 70's Hong Kong actor/singer Samuel Hui (Sam Hui) has a food franchise business in Penang? Generally, this is what I have heard from some of the older generations around here. Well, the proprietor is definitely named Sam Hui, a Malaysian. You would not get him to sing to you with his unique voice or break any humor but he would surely impress you with his range of Hong Kong style cuisine. I have tried out one of the franchises recently and was really impressed by their choices of food, tastes, food presentations and pricing. It was in fact better than some of the known Hong Kong style restaurants around town.
The Hong Kong Style Tong Por Pork Rice (RM5.50) tasted real good. It may look like a plate of normal economy rice with some meat and vegetables but one bite into the sliced meat and you would be asking for more. The meat was nicely stewed until soft and tender with their special fragrant herbs and spices. It would just melt right in your mouth. It would have a stewed egg and some vegetable to balance off the meal.
Their Orange Fried Fish Rice (RM6.80) was also quite unique. It has quite a generous amount of deep fried tempura based fish slices cooked in mild spicy orange sauce and topped with mayonnaise, served with rice and accompanied with some salad. The taste would suit any ages.
You could also try out their Sharks Fin Gravy Rice (RM7). This is another wetter version of rice served with a generous amount of shark fins and fried baby anchovies. The gravy was nothing more than some rich broth with some beaten eggs. It tasted quite normal to me except that the fried anchovies did bring out some fragrance in the dish. Moreover, I was quite skeptical about the amount of shark fins given at such a low price. It could well be mock shark fins as the bite was not as chewy as the real ones. Well, at least some sharks were spared in this process. LOL!
I also tried out their Shanghai Noodles with Dried Tong Por Meat (RM5.50). The juicy meat slices were as great as mentioned above and the noodles blended in well with the Tong Por meat gravy and a hint of sesame oil. The Shanghai noodles tasted like a combination of ramen and pan mian. It has a springy sensation and tasted real nice.
You should also try out their salad and lighter snacks such as the fried and soup based dumplings, spring rolls combined with different salad dressings. I quite like the Deep Fried Breadstick with Pineapple Salad (RM6.80). Each piece of the sliced breadstick or commonly know as You Tiao or Chinese Crullers were stuffed with some prawn paste and deep fried until golden. The crunchy yet delicious breadstick slices (10 pieces) were then laid on some fresh green lettuce and topped with some pineapple salad and fresh carrot strips. This is a must to have.
The café do also serve Siew Long Bao (Little Basket Dumpling – 6pcs) for a mere RM9. Each piece of the dumpling contained some soup with seasoned minced meat mixed with some chopped Chinese celery. Watch out when you take these dumplings as you might spurt some of the juices at your friend. LOL! Anyway, I found those served here to be quite fine except for the minced meat which has a bit too much of corn starch added, making the meat a bit too soft. On top of that, the accompanied black vinegar with ginger strips was a bit too diluted for my liking.
The café do not have many choices for desserts as there were only three options such as Sweetened Barley with Egg and Tofu Skin (RM3), Red Bean Paste (RM3) and Fruit Cocktail with Herbal Jelly (RM3.50). I managed to try out the Sweetened Barley with Egg and Tofu Skin. The barley broth was mildly sweetened with rock sugar, accompanied with some barley grains, dried tofu skin and a hard boiled egg. This is an ideal dessert for a hot and humid weather.
Overall, the place served some good food at a reasonable price and without any taxes added onto your bill. They also have a few unique ice blended juices such as Markisa (Indonesian Passion Fruit) and Red Plum for you to try out. There are just too many items to introduce here. I will just attach their order menu to let you have a better idea of what they have. You can just click the photo to see the enlarged version.
Although the location of the café was at a secluded area of the mall, it's actually quite easy to find the place. Try to find your way to Prangin Mall Atrium A (where Bread History, Secret Recipe, Starbucks, 7-ELEVEN, etc are). Use the main bubble lift to level 2. Look out for the striking S&J orange signboard or Digi yellow and blue signboard. Immediately after these two shoplots, you would see the café located along an inner lane between the Chocolate Gift & Souvenir and Glantz shoplots.
Name: SAM HUI CAFE
Prangin Mall Branch:
Level 2-30, Atrium A, Prangin Mall-Komtar,
33, Jalan Dr. Lim Chwee Leong, 10100 Penang, Malaysia.
Opening Hours: 11.30am-9.00pm
Contact: 016-453 0350 (Mr. Kelvin Khor)
GPS: 5.414814, 100.331286
You can also check out their main branch located within the 1-Stop Midlands Park Centre in Pulau Tikus. Just walk into the main entrance of the mall (Jalan Burma). The café is at level 2 on your left.
1-Stop Midlands Park Branch:
488B-2-26, Level 2, 1-Stop Midlands Park Centre
Jalan Burma, 10350 Penang, Malaysia.
Opening Hours: 11.30am-9.00pm
Contact: 016-458 2979 (Mr. Sam Chong)
GPS: 5.433139, 100.306547
UPDATED 15 February 2009: I thought after having some reasonably nice food at their Prangin Mall branch, the food at the main branch would be even better. My whole family was extremely disappointed with the taste and quality of the food served here. It was real embarrassing to me. To me, it should not the main excuse of us being the earliest patrons there. Moreover, the rude service of certain staff had added to the wound.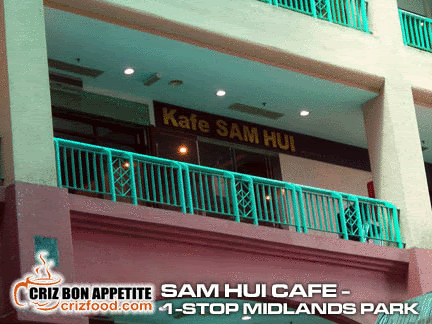 The five of us had ordered 5 different dishes and none of those ordered met our expectations. The taste for Shanghai Noodles with Tong Por Meat (RM5.50) was totally different compared to the one I took from the other branch which was filled with flavors. Except for the Shanghai noodles, the meat was hard and the gravy was so diluted with hardly any herb taste in it. The Kimchi Noodles (RM5.50) was a disaster. The wantan noodles used was soggy and the soup was rather tasteless except for the mild chili flavor. The Guangdong Crispy Noodles (RM5.50) was still fine but it was not the best around. It lacked of fragrant. The Pork Rib Rice (RM6.00) was a laugh. It was merely some sliced pieces of pork chop and it was so chili hot that it won't fit the taste bud of a child. It's supposed to be sweet and sour and not sweet and spicy. The last order which was Hong Kong Style Roasted Pork Rice (RM5.50) got me dumbfounded. I expected the dish to be somewhat different in taste but ended up with some roasted pork slices fried with fermented beans. I could have cooked that myself instead of visiting a restaurant just for that.
Overall, the food here is way below par compared to any of those roadside stir fry stalls. I would expect the café to look into a better qualified chef than to simply serve the public with such kind of food. If the other branch can provide quality food, why can't the main branch? I might be wrong in this review but with two seasoned cooks, one elderly father and two children complaining, something is just not right. The menu here was slightly different with an additional 10 set meals priced at RM15. You can click to enlarge the menu below.
RATING:
Ambience: 7/10 (1-4 cheap, 5-7 average, 8-10 classy)
Food Choices: 8/10 (1-4 limited, 5-7 average, 8-10 many choices)
Taste: 4.5/10 (1-4 tasteless, 5-7 average, 8-10 excellent)
Pricing: 7/10 (1-4 cheap, 5-7 average, 8-10 expensive)
Service: 6/10 (1-4 bad, 5-7 average, 8-10 excellent)