For this Christmas 2019, Swez Brasserie @ Eastin Hotel, Penang would be offering an extensive range of traditional delicacies under the helm of the new Executive Chef, Chef Alex Leong, who had more than 3 decades of culinary skills.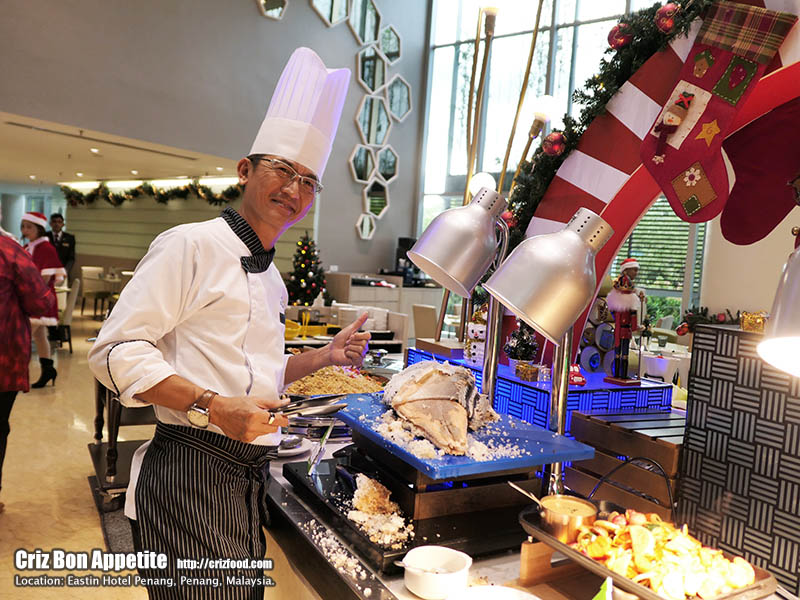 The Christmas Eve Buffet Dinner would be served from 7.00pm to 10.00pm on December 24, 2019, priced at RM128nett (adults), RM89nett (senior citizens aged above 60 years old) and RM64nett (children aged 6-12 years old). Everyone would get a party pack, a chance to meet the Santa Clause and enjoy the music from a live band.
There would be Christmas Day Buffet Lunch and Buffet Dinner too. The Christmas Day Buffet Lunch would be priced at RM88nett (adults), RM62nett (senior citizens aged above 60 years old) and RM44nett (children aged 6-12 years old), whereas the Christmas Day Buffet Dinner would be priced at RM118nett (adults), RM82nett (senior citizens aged above 60 years old) and RM59nett (children aged 6-12 years old). For more information and reservations, please contact +604-612 1111, email to info.pg@eastin.com or Whatsapp +6011-3108 9100 today. All prices are entitled to a 15% off bank promo (applicable to Citibank and Maybank Only) but is not applicable with any other discounts. Fret not if you do not own those credit cards as there's also the special privileged 15% discount given to my readers for all buffets by quoting "XMAS CRIZLAI".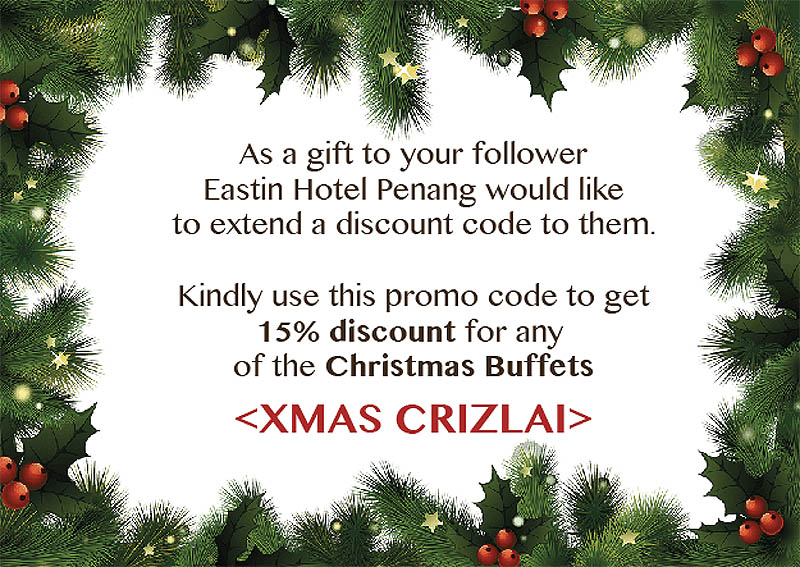 The highlight of the promotions would be their Traditional Roasted Turkey with Classic Ingredients and Condiments. Do watch out for the Yorkshire Puddings and various unique stuffing, namely fruit, chestnut & bacon and bread. Other than that, some other dishes were quite unique too such as their Rock Salt Baked Crusted Whole Salmon, Cheese Yule Log with various bread sticks/profiterole, Braised Beef Ribs with Sweet Blueberry Chutney and Smoked Hickory BBQ Glaze, New Orleans Jambalaya, and more.
Here's a peep at what is in store for you. Some of the items would include Appetizers (Buckwheat Blinis with Shrimp with Sour Cream, Seared Scallops with Lentils and Tomato and Herbs de Provence Dressing, Chilled Green Tea Noodles with condiments, Gimbap aka Korean Sushi), Cold Meat Platters (Lamb Rillettes, Chicken Liver Terrine), Salad Bar (lettuce, Romaine, mesclun, spinach, etc) with Dressings (sweet dill mustard, chili soy, wasabi mayonnaise, spicy chili spread, Gazpacho, raspberry-walnut, spa caesar, olive oil, herbs vinaigrette and balsamic vinegar, lemon and lime, Chipotle balsamic, Roast garlic and green chili, Lime cilantro, Caesar, Smoky thousand islands), Cold Fish Platters (Traditional Gravlax, Cured Salmon with Pineapple and Palm Syrup), Cheese and bread counter (Cheese Yule Log, Bread Sticks/Cheese Profiterole), Canapés (Vanilla-Scented Scallop Escabeche with Yuzu Chili Lime Aioli, Sweet Harissa Chili Prawn Cocktail with Avocado- Black Bean Salsa), Action Station (New Orleans Jambalaya, Bouillabaisse with Chilli Garlic Toast with Seafood Stew), Foie Gras Live Action Station (Pan Seared Foie Gras with Herb Brioche, Fig Chutney, Orange Marmalade, Christmas Burritos filled with Turkey Cha Siew, Avocado, Mango, Cucumber, Chipotle Cranberry Compote), Carving (Festive Roasted Turkey with Giblet Sauce, Cranberry Sauce plus 3 types of Bread stuffing), Festive Oven (Rock Salt Baked Crusted Whole Salmon, Roasted Roots Vegetables and Porcini Cream), Soup (Kim Chi Soup with Clams and Tofu with Freshly Baked Breads and Rolls), Main Western (Braised Beef Ribs with Sweet Blueberry Chutney and Smoked Hickory BBQ Glaze, Shoulder of Lamb, Peperonata Red Lentils and Black Pepper Jus, Poached Salmon with Asparagus & Mornay Sauce, Grilled Tiger Prawns with Ratatouille Vegetables and Salsa Verde, Duck Leg Confit, Flageolet Beans Au Orange, Buttered Chestnut Brussels Sprouts, Trio of Potato Gratin)
There would be more traditional Christmas Desserts this season with options such as Traditional Xmas Pudding, Mini Mince Pie, Assorted Xmas Cookies, Raspberry Yule Log, Mini Strawberry Cheese Cake, Walnut Cream Pie, Fresh Fruit Tart, English Fruit Cake, Mini White Chocolate Brownies, Tropical Fruits Bar and beverages such as Black Coffee and Tea.
You could also make a special order for one whole bird of turkey at RM338nett (2 days prior booking is required and available from 1-23 December 2019 only).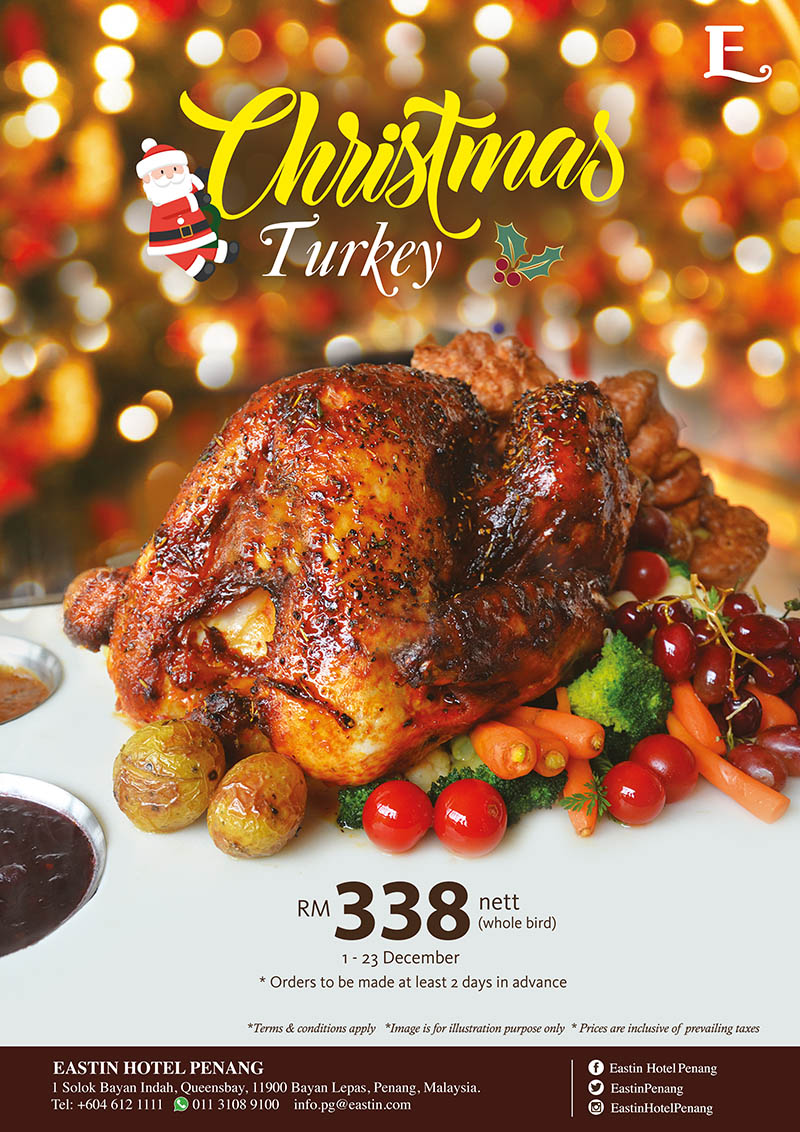 Other ongoing promotions until the end of the year 2019 are as shown below.
Thanks to the management of Eastin Hotel Penang for having us over for the wonderful gastronomy experiences.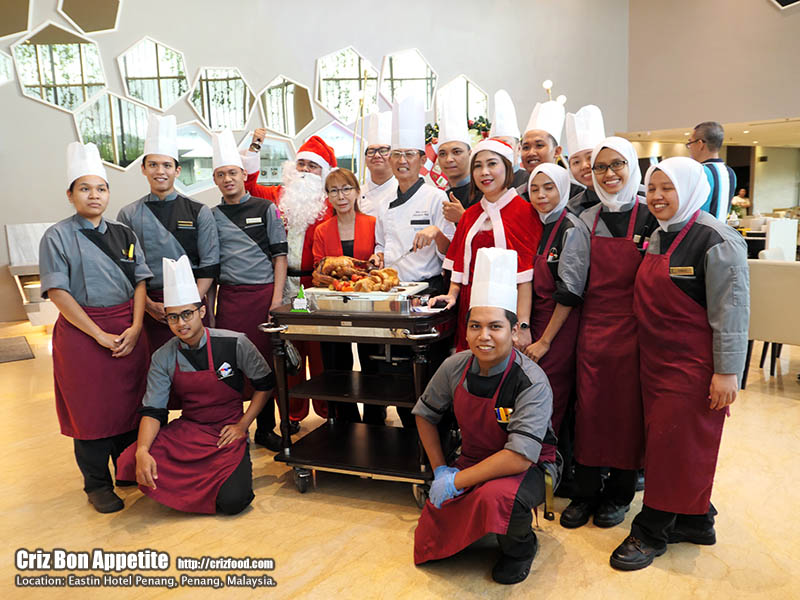 The Swez Brasserie is located at the ring wing of Eastin Hotel, Penang (next to Queensbay Mall). If you are coming from Georgetown towards Bayan Lepas Free Trade Zone via Bayan Lepas Expressway, do watch out for the Pulau Jerejak signboard (leading to Pulau Jerejak jetty). Ignore the turning and drive on to the next left junction. Turn left into Jalan Aziz Ibrahim and drive on until you reach a roundabout. Drive on until you see a big Eastin Hotel signboard at the first right junction. Turn right and drive on. Park your car at the basement car park. Take a lift to the first floor of the lobby and you would see the restaurant there.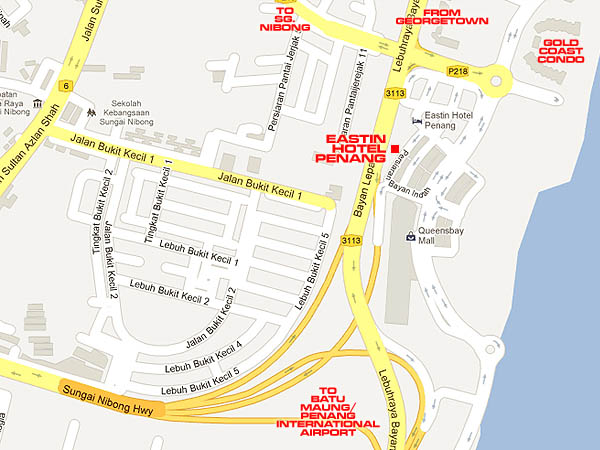 Name: SWEZ BRASSERIE @ EASTIN HOTEL
Address: 1 Solok Bayan Indah, Queens Bay, 11900 Bayan Lepas, Penang, Malaysia.
Contact: 604-612 1128
Business Hours: 12.00pm-2.30pm (Lunch), 6.30pm-10.00pm (Dinner)
GPS: 5.33643, 100.306345
RATING:
Ambience: 8/10 (1-4 cheap, 5-7 average, 8-10 classy)
Food Choices: 8/10 (1-4 limited, 5-7 average, 8-10 many choices)
Taste: 7.5/10 (1-4 tasteless, 5-7 average, 8-10 excellent)
Pricing: 8/10 (1-4 cheap, 5-7 average, 8-10 expensive)
Service: 8/10 (1-4 bad, 5-7 average, 8-10 excellent)
About Eastin Hotel Penang

: Eastin Hotel Penang is a contemporary International business class hotel. Strategically located within the integrated waterfront development of Queensbay, Eastin Penang is adjacent to Queensbay Mall. Its superb location is minutes' drive away from the Penang International Airport and the iconic Penang Bridge as well as within the vicinity of the Bayan Lepas Free Industrial Zone. It features 328 meticulously decorated guest rooms and suites, facing the shimmering blue sea and the verdant green hills of Pulau Jerejak, home to the tropical rainforest that is over 130 million years old. For more information, please visit www.eastin.com