The Year of the Ox looks rather promising for the future of CRIZ BON APPETITE as the website was mentioned in the local Chinese daily,  Kwong Wah Yit Poh today. I found out about the news last night through a friend and subsequently by a SMS from Carrie this morning. It was on an article I wrote in early December 2008 regarding the longest Chinese cruller in Malaysia. I did not expect my website to be mentioned as it was still a brand new site but I guessed all the hard work done to acquire a new domain surely did help a lot. At least now the public would be aware of the existence of http://crizfood.com/.
For those who can read in Chinese, here's the special feature on Page C16 of Kwong Wah Yit Poh dated 28 January 2009.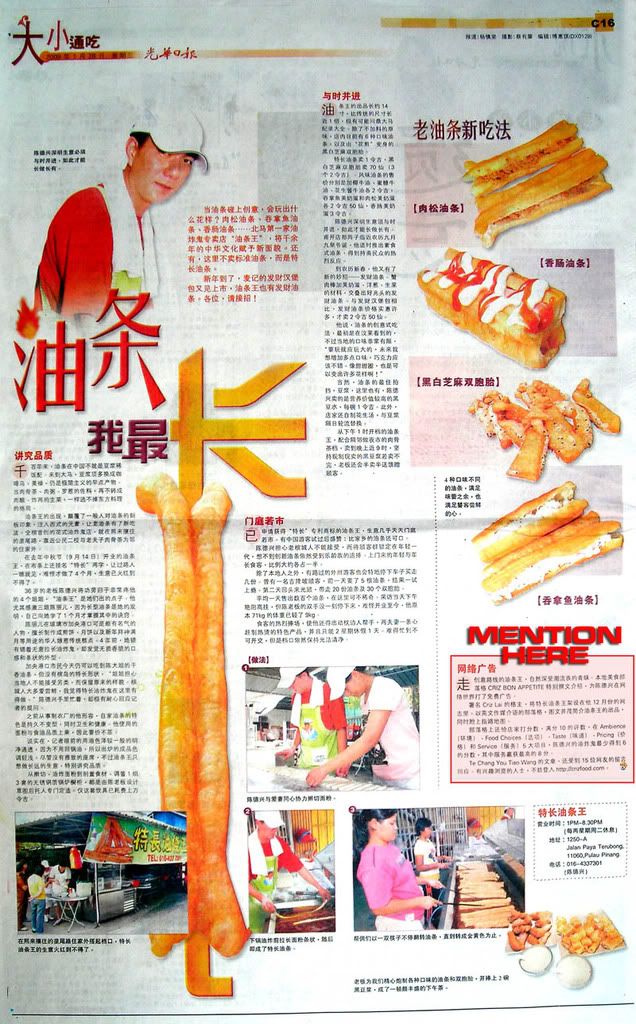 You can also check it out at the daily's Kwong Wah eNewspaper website in case you cannot get hold of the actual newspaper. This is how it was shown there.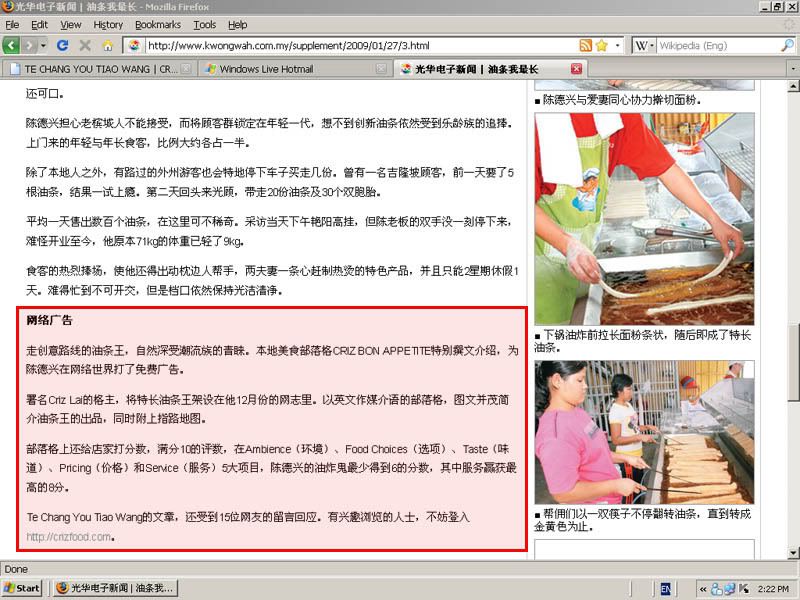 To ease those who like to know what had been written in the newspaper, I had the article translated to English as accurate as I can. Here is how it goes.
Online Advertising
Moving towards the path of creativity and fusion, Te Chang You Tiao Wang had already gained the acceptance in flavors by the public. Local food blog, CRIZ BON APPETITE, had introduced Mr. Tan Teik Hin's business for free to the world of internet.
Blog author, Criz Lai, introduced the extra long Chinese crullers in his December post. With English as a medium, the blog introduced on the products as well as posted up a road map to the location.
The blog also provided a score with 10 points as maximum for categories such as Ambience, Food Choices, Taste, Pricing and Service. Mr. Tan's Chinese crullers scored a minimum of 6 points for some categories, with a maximum of 8 points for another.
The Te Chang You Tiao Wang article also received 15 comments from the public. If you are interested to view more, you may wish to visit http://crizfood.com/
I would like to thank Mr. Tan for his free publicity by printing and posting up my article at his stall as well as the staff of Kwong Wah Yit Poh for the publicity. Penang definitely has a lot of hidden treasures and together we shall make the food known to the world.