For the two patriotic months of August and September 2019 (1 August 2019 – 30 September 2019), Spice Brasserie @ The Light Hotel, Seberang Jaya, Penang, would be serving Khazanah Sajian Nusantara Buffet Dinner, to commemorate our National Day on 31 August 2019 with the theme "Sayangi Malaysia/Love Malaysia" and Malaysia Day on 16 September 2019 with the theme "Malaysia Bersih/A Clean Malaysia", from Sundays to Thursdays, 6.30pm until 10.00pm. The "Back by Popular Demand" themed buffer dinner with over 100 favourite Malaysian dishes would be priced at RM116.00nett per pax. Do grab the Early Bird vouchers which are now available for purchase at RM80.00nett (Adult) and RM60.00nett (Children & Senior Citizen). Advanced reservations are encouraged. Terms and conditions apply. For reservations and enquiries, please contact +604-382 1111 or email to info@thelighthotelpg.com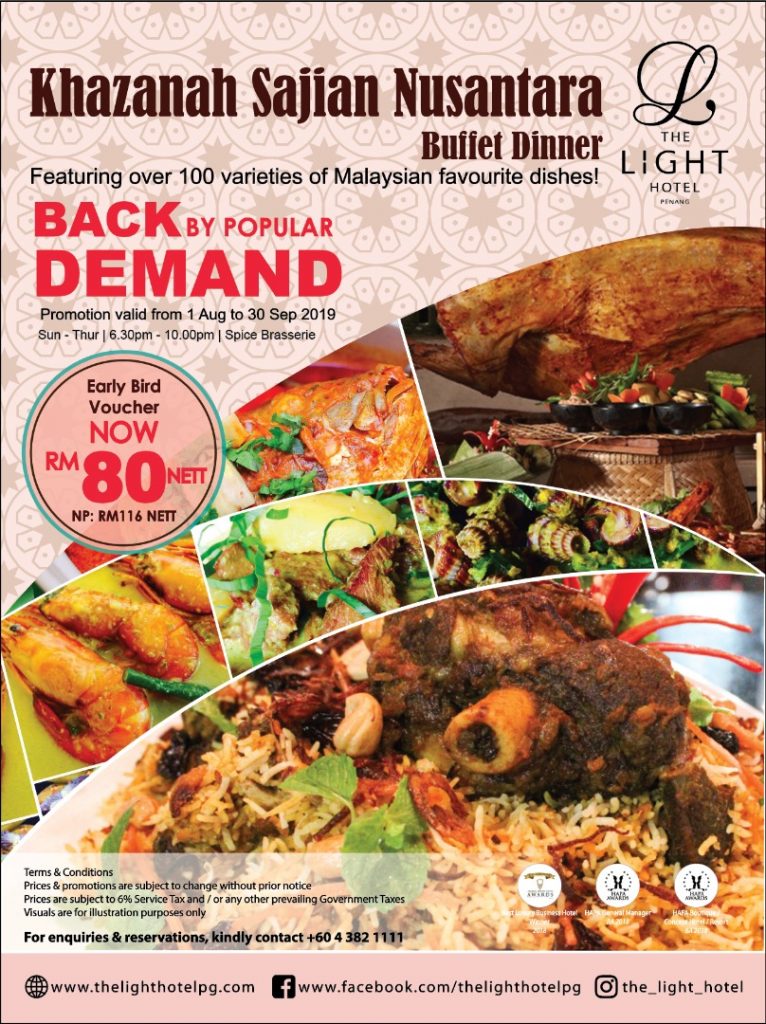 The hotel's Executive Chef, Chef Halim Mohamad, has infused in the dishes that embodies the essence of being Malaysian and able to fusion the tastes into new pleasing forms and flavors for both the eyes and the palate with favorites such as Nasi Biryani Ayam Wawasan, Nasi Dagang Murni, Nasi Kerabu Sehati, Nasi Kabuli Sejiwa, Nasi Daging Sejati, Nasi Ayam Melaka Gemilang, Kambing Panggang Perwira, Kari Kepala Ikan Semangat Jati, Shawarma Daging Pujangga, Itik Panggang Tuah , Asam Pedas Ikan Pari Harmoni, Sambal Sotong Petai Makmur, Ayam Masak Lemak Warisan, Gulai Nangka Muda & Ikan Bilis Abadi, Murtabak ala Lasagne Muhibbah, Char Koay Teow Sejahtera, Ais Kacang Setinggi Angkasa; Piza Buah Nangka Berkeju Semangat, Piza Quarto Nasi Kandar Sedunia and more. Other selection ranges from wide variety or traditional salads or locally known as ulam accompanied with aromatic spicy Sambal to give it that extra zing. Salad, Appetizer, Soup, Selection of Breads & Rolls including roti benggali, Grill Station, Roast and 'live' action station such as carvery, noodles, deep-fry, Indian Station, Chinese Station as well as Western favourites will certainly satisfy your palate.
Diners will not be disappointed as there will be an extensive spread of desserts ranging from local and Western such as Sago Gula Melaka Putra Putri, Serawa Durian Dirgahayu, Aneka Kuih Melayu Jalur Gemilang, and other sweet delicacies to complete the journey of Merdeka gastronomy.
Other promotions would include special treats for Merdeka Babies-Dine-For-Free-Buffet, that is applicable with two accompanying paying adults from 25-29 August 2019, and there would be a draw fortnightly with a minimum spending of RM350nett in a single receipt.
Do also look out for the "Stay & Dine Package" which is inclusive of a "2 Days 1 Night Stay" in Superior Room with Complimentary Buffet Breakfast and Khazanah Sajian Nusantara Buffet Dinner from RM300+ (single). Terms and conditions apply.
The Light Hotel is located along Lebuh Tenggiri 2 at Seberang Jaya, Penang. Upon entering the main entrance of the hotel, just drive around to find your parking space at the front of the premises. Walk into the lobby of the hotel and you can see Spice Brasserie on your left.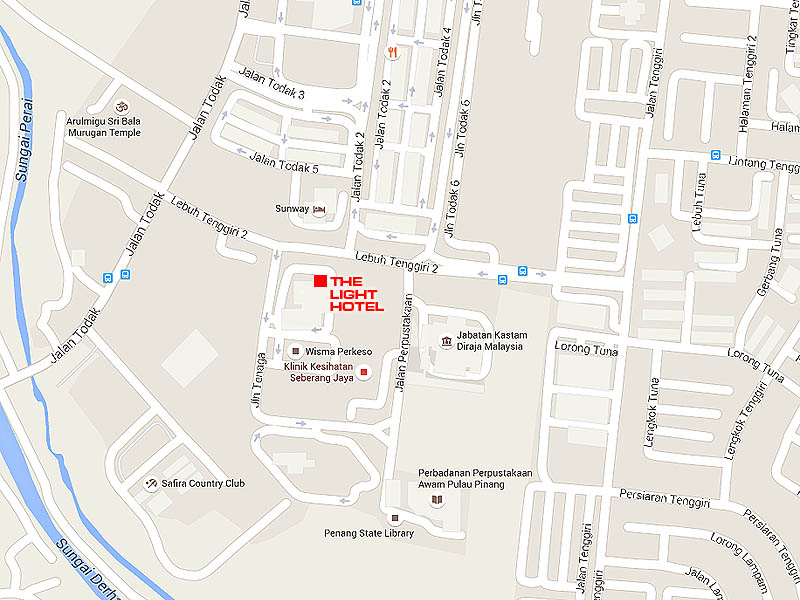 SPICE BRASSERIE @ THE LIGHT HOTEL PENANG
Address: Lebuh Tenggiri 2, Bandar Seberang Jaya, 13700 Seberang Jaya, Penang, Malaysia.
Contact: +604-382 1111
Business Hours: 7.30am-11.00am (Breakfast), 12.00pm-2.30pm (Set Lunch), 7.00pm – 10.30pm (Set Dinner)
GPS: 5.394646, 100.397951
RATING:
Ambience: 8/10 (1-4 cheap, 5-7 average, 8-10 classy)
Food Choices: 9/10 (1-4 limited, 5-7 average, 8-10 many choices)
Taste: 9/10 (1-4 tasteless, 5-7 average, 8-10 excellent)
Pricing: 8/10 (1-4 cheap, 5-7 average, 8-10 expensive)
Service: 8/10 (1-4 bad, 5-7 average, 8-10 excellent)
About The Light Hotel

: The Light Hotel Penang is wholly owned and managed by The Light Hotel (M) Sdn Bhd. It is located within a fast-developing industrial area of Seberang Jaya, Penang. The 5-star Hotel offers a luxury resort-style experience with a total of 303 rooms of 6 different categories. Its private and fully equipped meeting facilities and boardrooms offer high class stylish business environments which cater to all business needs. Meet your partners or hold your business gatherings in the comfort of our function rooms. Expand the possibilities in fascinating surrounding and ultra-modern interior of The Light Grand Ballroom with 1200 banquet seating or choose from any of the 12 other meeting rooms that caters for a small intimate affair to larger scale events. Opt for a casual all-day dining at Spice Brassiere or an exquisite experience at Flavour@3 that caters for in-door and Al fresco style dining whereas Lumino Lounge serves refined food and beverages as well as fine cigar brands. The beautiful outdoor landscaped swimming pool, gymnasium, sauna room, yoga studio, kid's playroom, are namely some of the facilities on the 3rd floor, whereas the Spa is located on the Mezzanine floor. The Light Hotel Penang represents the perfect combination of luxurious destination of Delightful Mix of Business and Comfort for a truly unique experience. Visit www.thelighthotelpg.com for more information.