"Don't play with your food. Sit quietly and eat politely with your fork and spoon without spilling anything on the table." Those statements sounded familiar to you, right? It was some of those table manners that your parents had instilled into you when you were young. However, the current trend would be otherwise. You are encouraged to leave your table manners behind, start playing with your food and make as much mess as you could. Well, the messier it gets, it would show that you are enjoying your food to the max. So, where would this place in Penang be that would let you loosen yourself without any house rules or anyone watching over your table manners? It's at The Bungalow @ Lone Pine Hotel located at Batu Ferringhi, Penang.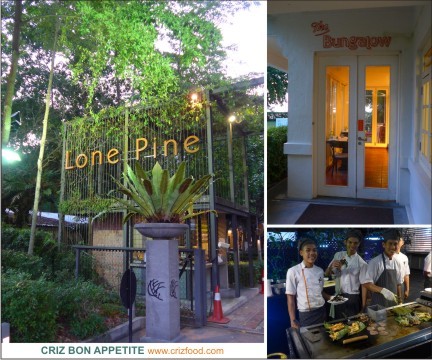 Currently, the restaurant is having its Crabby Claws Seafood Promotion on every Thursdays of the month from 7.00pm until 10.30pm until further notice. For reservations and more information on the promotion, please contact +604-886 8566 or email to fb.coordinator@lonepinehotel.com.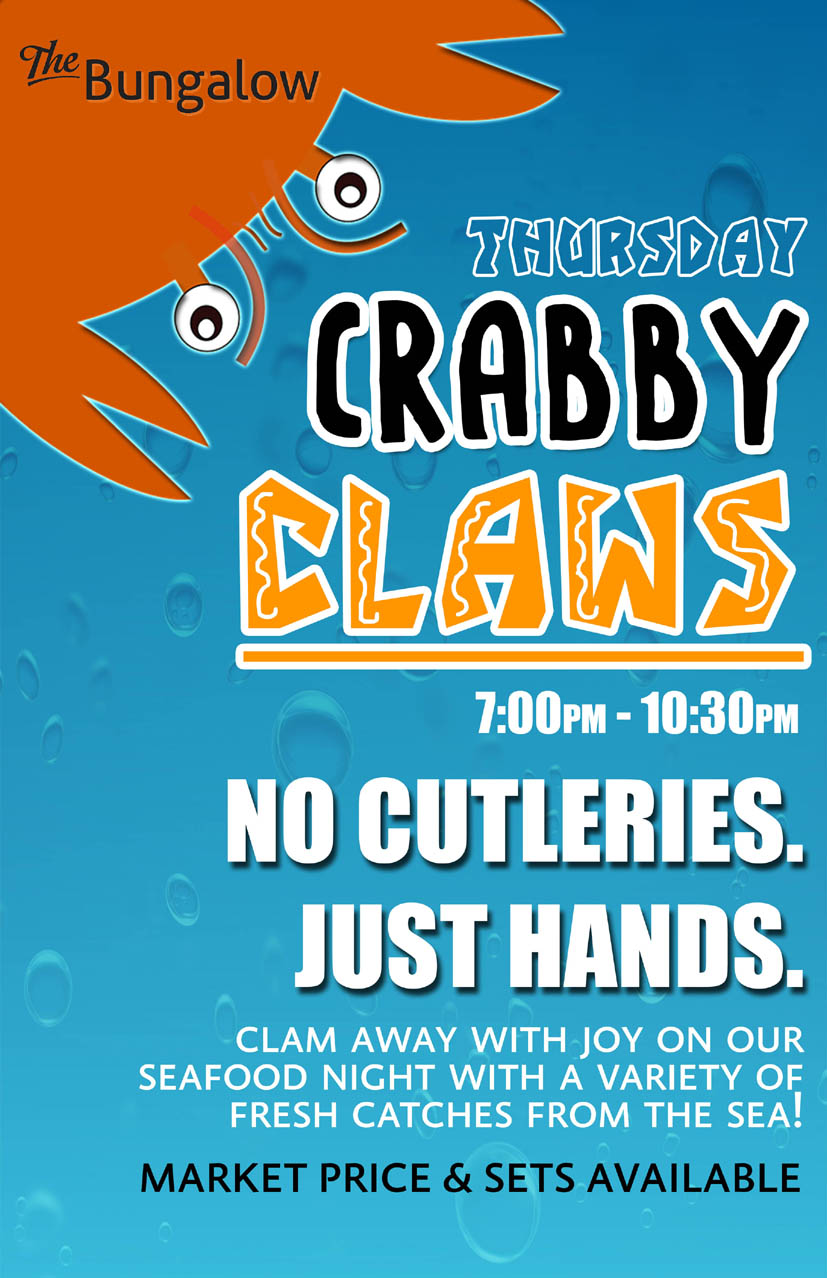 Who needs cutleries anyway while enjoying your seafood dishes? Seafood is best enjoyed using your bare hands by peeling, picking, prodding, smashing, cracking, and the best part is to share out the communal dishes in the companionships of your family and friends. The ordering is simple. Choose either Set A (RM79nett) or Set B (RM138nett with an additional 500g of mud/flower crab from Set A), your choice of carbo (White Rice, Garlic Bread or Mantou), your choice of sauce (Sweet & Sour, Indonesian Curry or Kam Heong) and the live stall staff would tactfully prepare your selections. My favorite sauce would be the Indonesian Curry which had the mild spiciness with a lot flavors emitting from the mixed herbs and spices.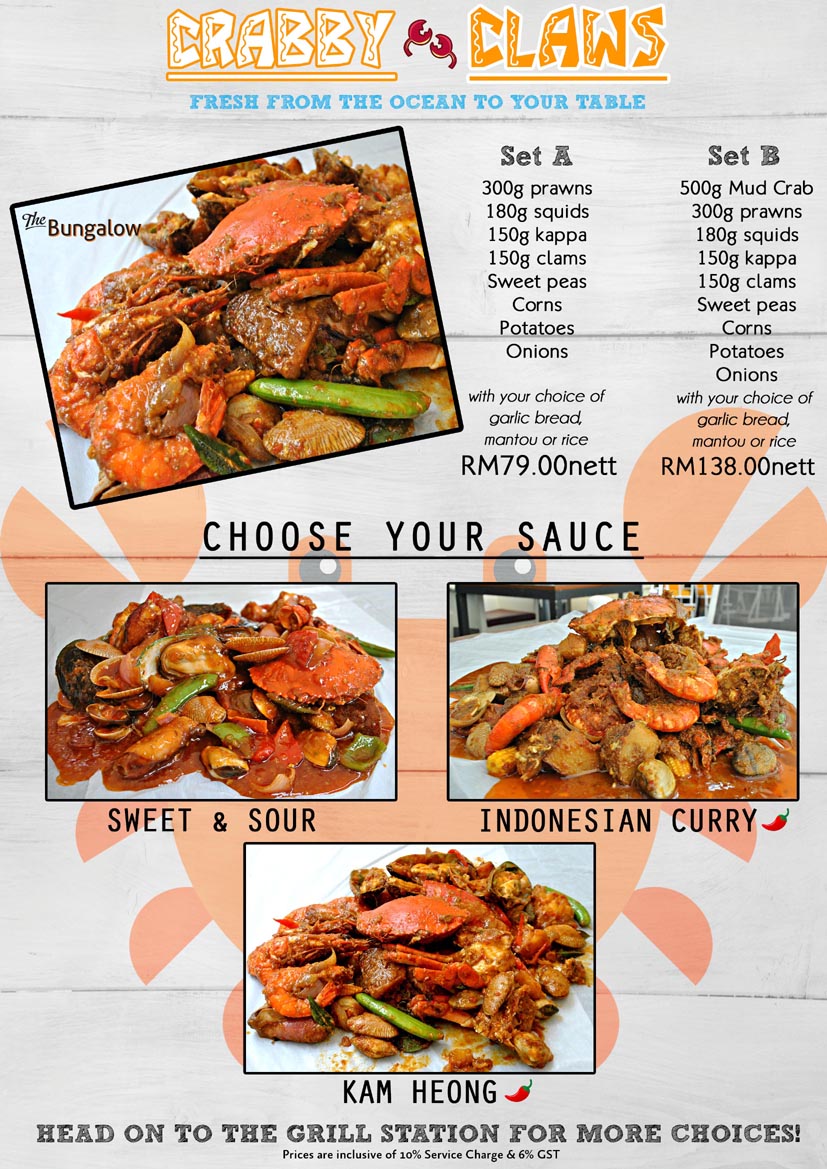 Below would be some of the combinations you could order as shown below.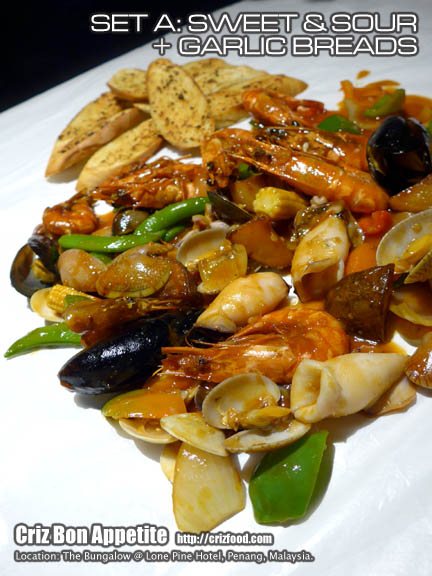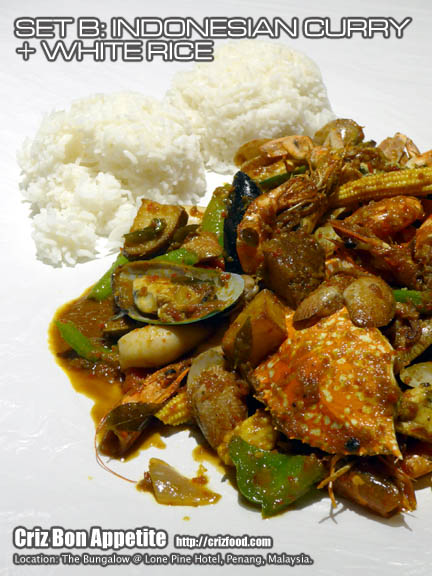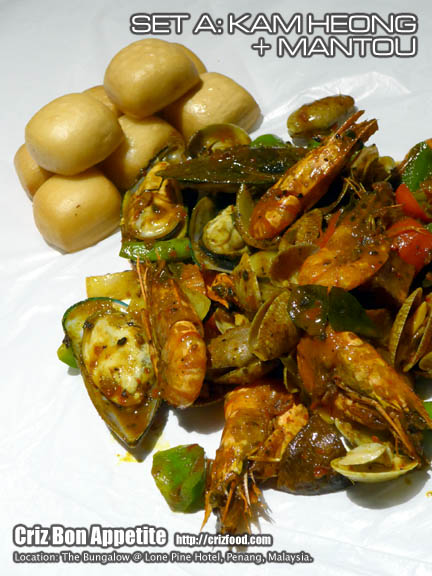 On top of that, you could always order extra dishes from their ala carte menu which has the freshest catches of the day, charged at market price. Do check out more in the poster below.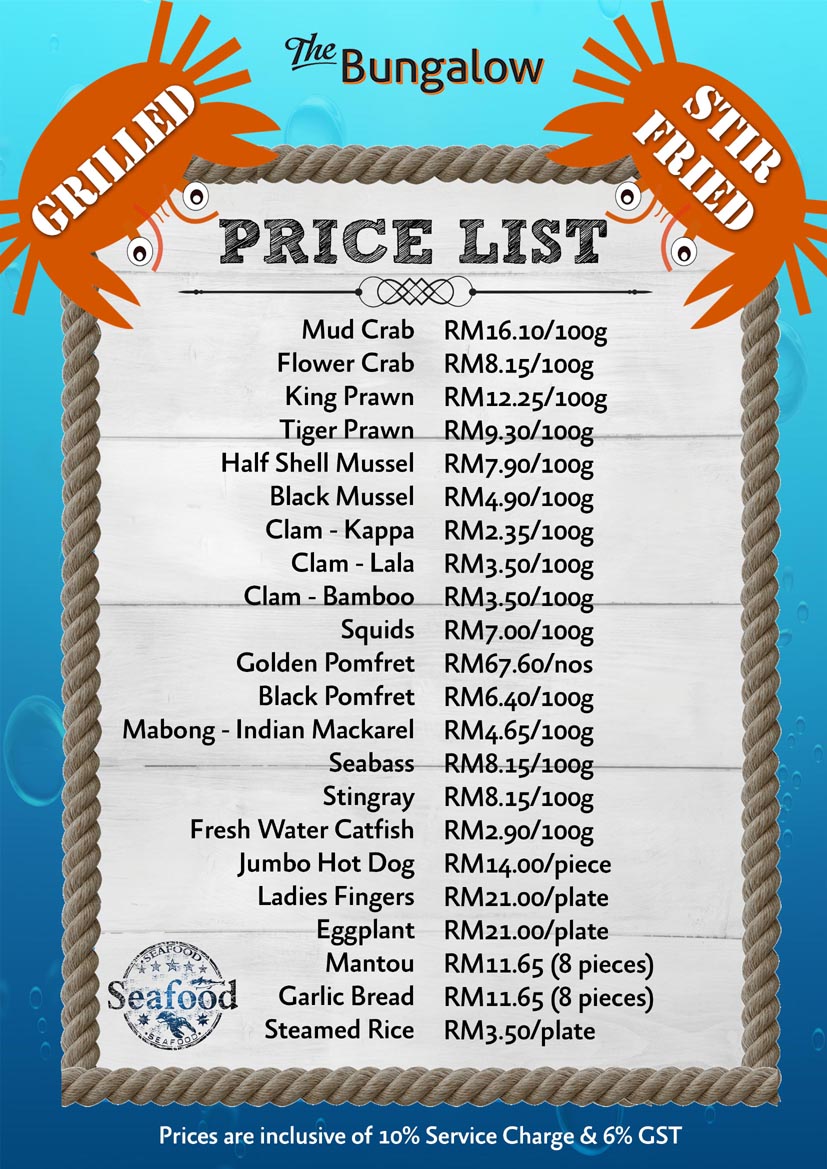 Here are some of the ala carte dishes with condiments.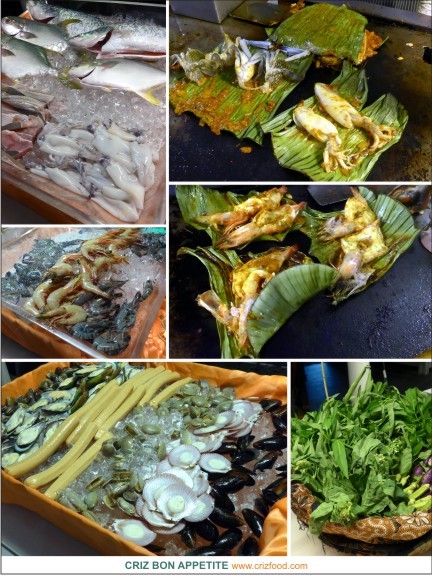 There would also be the special Drink Menu for the night.
You do not have to about messing up your clothes while you crazily indulge in the heavenly prepared seafood dishes as a set of plastic bib with a pair of gloves (just in case someone doesn't want to get too messy with his/her bare hands), napkins and a bowl of water with lemon slice for washing your hands. There would be some crab claws cracker aka nutcrackers scattered around for your usages. Just look at how my friend, Steven Goh, enjoyed his food while wearing his new attire for the night~ LOL~ There would be tables topped with plastic sheets everywhere and you can start digging into the piles of seafood spreaded on it. Don't worry~ Mama and Papa are not looking at how you eat but it's best if you could bring them along to watch the expressions on their faces~ 😛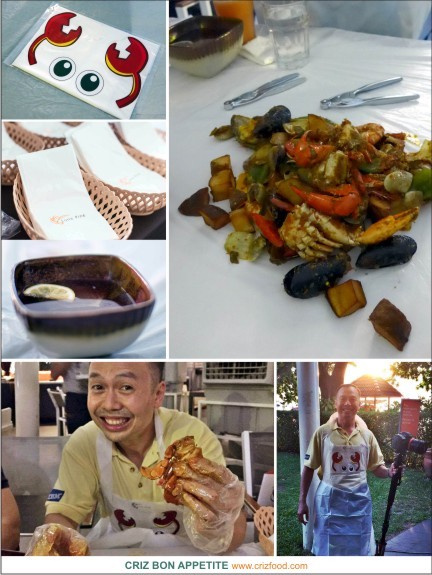 Overall, I've no regret dining here as the dinner was awesome with the great company of friends. It was all fun, seeing the reactions of my friends flinching and swaying the eyes away, trying to avoid the cracking of the gravy filled crab claws right in front of them. I would definitely go back for more of the finger licking goodies when my craving strikes again~ 🙂
Do check out more of the May/June 2016 promotions below:
The Bungalow @ Lone Pine Hotel is located at the beach front of the hotel. After passing Rasa Sayang Resort & Spa on your right, you would reach a cross junction with traffic lights. After the traffic lights slow down, keep to your right and you would a small sign leading to Lone Pine Hotel just right after the Golden Sands Resort. Find a parking space within and just walk into the entrance of the hotel. You would see the Batubar on your right. Just keep to your right walk until the end where you can see the entrance to a bungalow. You won't miss the restaurant.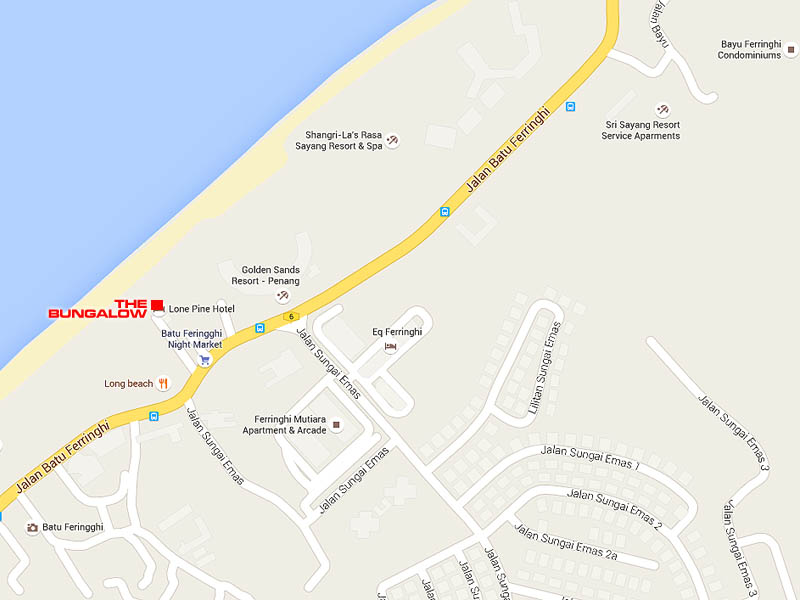 Name: The Bungalow @ Lone Pine Hotel
Address: 97 Batu Ferringhi, 11100Penang, Malaysia.
Contact: 604-886 8686
Business Hours (For this promotion only): 7.00pm-10.30pm (Every Thursday)
GPS: 5.476144, 100.250041
RATING:
Ambience: 8/10 (1-4 cheap, 5-7 average, 8-10 classy)
Food Choices: 8/10 (1-4 limited, 5-7 average, 8-10 many choices)
Taste: 7.5/10 (1-4 tasteless, 5-7 average, 8-10 excellent)
Pricing: 8/10 (1-4 cheap, 5-7 average, 8-10 expensive)
Service: 8/10 (1-4 bad, 5-7 average, 8-10 excellent)
About Lone Pine Hotel

: Lone Pine Hotel is the first hotel along Penang's picturesque Batu Ferringhi coastline and since 1948 and is known to this day for its unpretentious accommodation and genuine hospitality. It was given a new lease of life after undergoing extensive refurbishment and expansion in 2009/2010. It reopened in 2010 with an additional 40 rooms (bringing the total to 90) and an upgraded swimming pool, wellness spa, shop and gym, business centre and meeting rooms. Guests, especially loyal long time followers of Lone Pine, were relieved to see that the hotel has not lost its quintessential charm and character, including its signature casuarina trees and lawn. The successful refurbishment and expansion of Lone Pine was recognised by the architect fraternity when it won the PAM Gold Award (commercial category) at the Malaysian Institute of Architects (PAM) bi-annual awards for architectural design excellence. Lone Pine's recent accolades include the TripAdvisor® Top 10 Boutique Beach Resorts in the World 2011, Top 25 Trendiest Hotels in Malaysia (TripAdvisor Traveller's Choice® 2012) and TripAdvisor® Certificate of Excellence for the fifth consecutive year from 2011 till 2015
The E&O Group

: The E&O Group (Eastern & Oriental Berhad) is a listed company on Bursa Malaysia that has established a reputation as the premier lifestyle property developer of exclusive addresses for the discerning. In Kuala Lumpur, E&O's landmark properties include The Mews, St Mary Residences, Dua Residency, Idamansara and Seventy Damansara, all located in the most prime and prestigious neighborhoods of the capital city. In Penang, Seri Tanjung Pinang is the island's first masterplanned seafront development that is now a highly sought-after and thriving community to locals as well as expatriates from over 20 nationalities. In Johor's southern development corridor of Iskandar Malaysia, E&O has embarked on Avira, a 207-acre wellness-themed development within Medini that has easy accessibility to the Second Link connection to Singapore. In its expansion overseas, E&O's international foray into real estate investment and development is focused within prime locations in London, including Princes House along Kingsway, ESCA House in Bayswater, and a commercial property in Hammersmith. E&O's leading position as a lifestyle developer is anchored by its niche in luxury hospitality derived from its namesake, the iconic Eastern & Oriental Hotel, a cherished heritage landmark in George Town established in 1885. Along the popular beachfront, Lone Pine Hotel stands as the only boutique resort on Batu Ferringhi and the Group has further leveraged on its experience and expertise in hospitality management with the opening of E&O Residences serviced apartments in Kuala Lumpur.