Penang, the food paradise of Malaysia, has long being known for its diversity in many choices of cuisine due to its heritage as well as the different ethnic populations living within. From every nooks and corners of Penang, you would surely find something that would suit your taste bud well. However, to savor all the few hundreds of delicious items in Penang could be quite an impossible feat, even for the locals. Swez Brasserie @ Eastin Hotel, Penang has now made your life easier by pepping up great Penang dishes, all under one roof, with its current Chiak Penang Buffet Lunch Promotion from now until June 2015. You would get to savor Penang own local delicacies plus a slight mix of international cuisine. The Chiak Penang promotion is priced at RM66nett (adult) and RM33nett (child) with different menus rotation daily. You can also get more discounts with credit cards as mentioned below.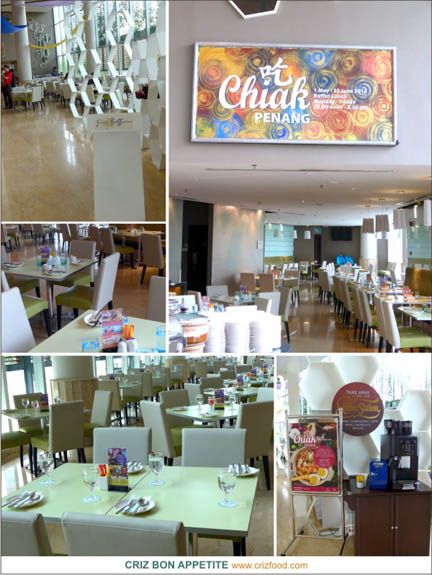 Let's start with a typical menu you might get for lunch during weekdays. At the Salad Bar, Appetizer & Cold Dishes Section, you would expect to get a selection of fresh greens, condiments and dressings, accompanied by some ready-made salads and cold cuts such as Kerabu Telur, Kerabu Mango, Roasted Chicken with Mushroom Salad, Gado Gado, Fajita-Marinated Beef with Avocado Cream, Penang Famous Fruit Rojak, Cold Cuts, Prawn Crackers, Fish Crackers and Papadum.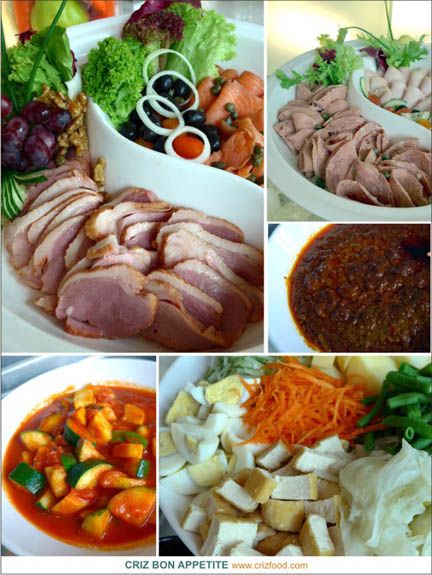 As for the Soup Section, you would get items such as Chinese Style Bitter Gourd Chicken Soup, Chicken and Smoked Sausage Soup and Assorted Bread Roll & Butter.
At the Main Dishes Section, you would have a selection of local cum international dishes such as Ikan Panggang dengan Air Assam, Wok Fried Mussels with Black Bean Sauce, Fried Okra with Belacan, Nyonya Chicken Pong Tei, Ayam Masak Madu, Kambing Masak Merah, Dhall Masak Sayur, Kari Ikan Kepala dengan Bendi, Mee Mamak, Steamed Rice, Nasi Minyak Hujan Panas (also known as Nasi Dhalca), Minced Lamb Kofta on Onion Compote, Chicken Scaloppini with Beef Bacon and Sage, Oven Baked Red Snapper Fillet Lemon Infused Cream Sauce, Baked Fennel with Pepper and Tomato, Homemade Mushroom Cannelloni Filled with Cheese and Spinach and more.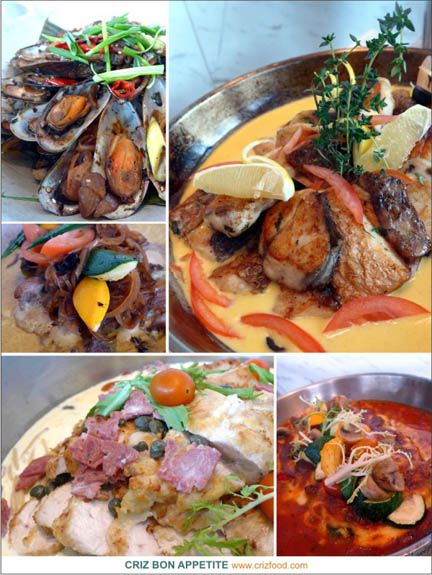 There will also be the Action Counter where you can get other deep fried items for your Nasi Kandar, such as Udang Goreng, Ayam Goreng, Ketam Goreng and Ikan Goreng. Do also take note that there might also be a special dish of the day such as the Telur Ikan Masak Lemak Seri Kayangan being served here. Other than that, you might find dishes such as Yong Tau Foo, Mamak Popiah, Murtabak Ayam, Teppanyaki Chicken, Ais Kacang and Cendol available here.
At the Desserts Section, other than your fresh fruit cuts, you would get an assortment of cakes, pastries, jellies and Nyonya kuih here. Free flow of ice creams, coffee and tea are also available.
Overall, the food served here can be quite interesting as you would get to try out multi-national Malaysian cuisine as well as different Penang street food on different days during this promotion.
Here's the summary of all the promotions throughout the year.
SWEZ BRASSERIE PROMOTION 2015 (JANUARY-DECEMBER 2015)
Monthly Themed Buffet Lunch (12.00 noon – 2.30pm): Monday – Friday
RM66nett (adult), RM33nett (child)
Seafood Extravaganza 6.30pm – 10.00pm) : Friday & Saturday
RM106nett (adult), RM53nett (child)
Hi-Tea (12.00 noon – 3.00pm): Saturday & Sunday
RM77nett (adult), RM38.50nett (child)
For Citibank card members, you can enjoy a "Buy 1 Free 1" offer for Buffet Lunch until September 2015. Other than that, Maybank and Citibank car members get to enjoy a 15% discount for the Full Buffet Dinners from 6.30pm – 10.00pm until end of 2015. Terms and conditions apply.
The Swez Brasserie is located at the ring wing of Eastin Hotel, Penang (next to Queensbay Mall). If you are coming from Georgetown towards Bayan Lepas Free Trade Zone via Bayan Lepas Expressway, do watch out for the Pulau Jerejak signboard (leading to Pulau Jerejak jetty). Ignore the turning and drive on to the next left junction. Turn left into Jalan Aziz Ibrahim and drive on until you a roundabout. Turn 3 o' clock and drive on until you see a big Eastin Hotel signboard at the first right junction. Turn right and drive on. Park your car at the basement car park. Take a lift to the first floor lobby and you would see the restaurant there.
Name: SWEZ BRASSERIE @ EASTIN HOTEL
Address: 1 Solok Bayan Indah, Queens Bay, 11900 Bayan Lepas, Penang, Malaysia.
Contact: 604-612 1128, 604-612 1138
Business Hours: 12.00pm-2.30pm (Lunch), 6.30pm-10.00pm (Dinner)
GPS: 5.33643, 100.306345
RATING:
Ambience: 8/10 (1-4 cheap, 5-7 average, 8-10 classy)
Food Choices: 7.5/10 (1-4 limited, 5-7 average, 8-10 many choices)
Taste: 7.5/10 (1-4 tasteless, 5-7 average, 8-10 excellent)
Pricing: 7/10 (1-4 cheap, 5-7 average, 8-10 expensive)
Service: 8/10 (1-4 bad, 5-7 average, 8-10 excellent)