Some time back before I was down with some health issues, a few of us visited yet another of the Sakae Japanese food chain down at Autocity, Juru Interchange at mainland Penang. This outlet was rather unique as it had a 2-in-1 dining concept wirh the teppanyaki area located downstairs while the Izakaya area being upstairs. Thus, the restaurant is named as Sakae Teppanyaki & Izakaya. Thanks to PenangTuaPui and CK Lam for the wonderful experience there.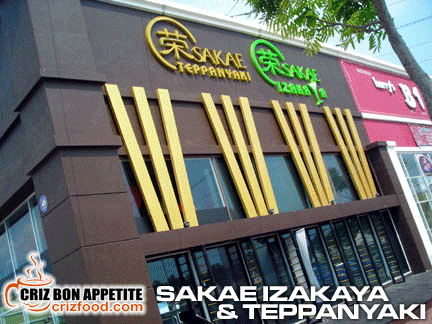 The evening started with a garlic fried rice demonstration by the young teppanyaki chef, Jie Xian. Three of us, namely Fei Fei, Carrie and Lingzie had a fun time cooking their special version of garlic fried rice for us to try out, with Lingzie having some kimchi add-ons. Basically, the garlic fried rice was simple with the usage of some cooked rice, butter, pepper, salt, shoyu, sakae and egg.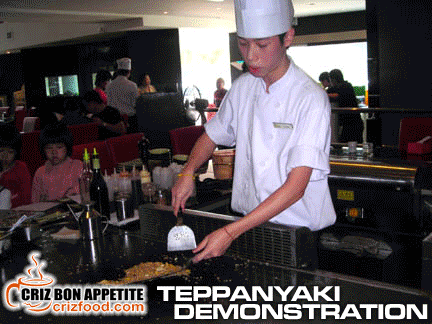 We eventually landed ourselves at the mezzanine floor for more Japanese culinary experience – Sushi Making Workshop. We were shown the procedures in making good sushi by the sushi chef, Chee Keong. We were taught how to prepare Salmon Sushi, Ebiko Gunkan and California Temaki.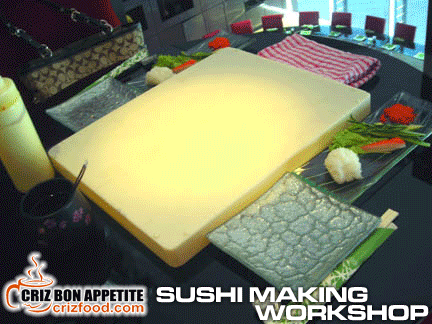 How do you like my homemade sushi as below? Haha! Anyway, the top 3 winners went to Bee, Fei Fei and Huat Koay.
We were then introduced to some of the new dishes by the restaurant starting with Fire Dragon Maki (RM13.80). These had raw salmon fillet, tempura prawn, salmon roe, shrimp roe, mango and mayonnaise. Not a bad combination after all.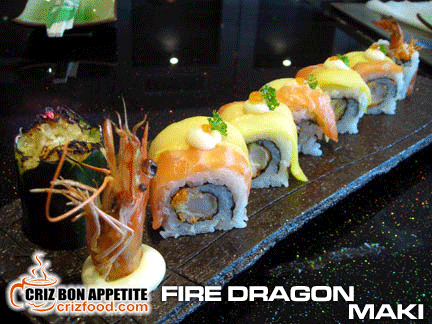 There was also the Rainbow Maki (RM12.80). The dish has some raw salmon fillet, red snapper fillet, broiled prawn, crabmeat salad, avocado and mango. Not a bad combination as the avocado blended in real well with the seafood ingredients.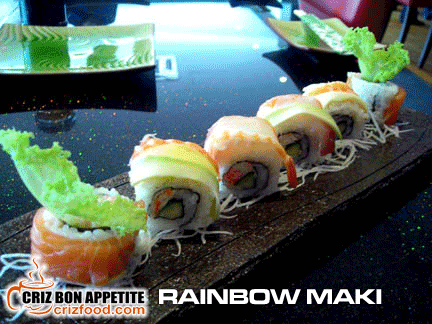 We also had some Mango Soft Shell Crab Maki (RM12.80). There were some soft shell crabs, wrapped in some sushi rice and nori, topped with some mayonnaise, mango slices and shrimp roe. This dish was rather fusion with a prominent fruity mango taste. It was fine taking it as it is compared to adding with some sushi sauce and wasabi.
We also tried out the Mixed Agemono with Japanese Curry (RM15.80). The Japanese curry was somewhat like a mild spiced chicken stew with added onions, carrots and potatoes. It came served with skews of fried breaded chicken, salmon, quail egg and shitake mushroom. It would be best to take the skews of food while it's still piping hot.
There were also many set items available here such as the Sweet Romance Set (RM49.80 for 2 pax). The set had two bowls each of pickle appetizers, rice and miso soup, served with teppanyaki sukiyaki chicken, assorted tempura, salmon with teriyaki sauce, teppanyaki chicken, squid, half shell scallop, assorted vegetables (bean sprout & pea sprout) and a glass of mocktail. What a nice and fulfilling set for couples except I felt it was rather weird that it came with only a glass of mocktail since this set was meant for two.
Next was the Live Baked Lobster Set (RM129.80). It had the same two bowls each of pickle appetizers, rice and miso soup with its special Boston flown in live lobster baked with salt as its main attraction. These were accompanied with deep fried live seabass, teppanyaki chicken, squid, assorted vegetables (bean sprout & pea sprout) and live oyster sashimi. The lobster was nice with the burned saltiness from the natural sea salt.
There was also the Omo Soft Shell Crab (RM7.80 – 2pcs). There were some soft shell crabs wrapped in egg crepe, topped with some Japanese sweet sauce and mayonnaise and garnished with some bonito flakes (katsuobushi shavings). The problem with this dish was the soft shell crabs. It could be a bit crunchier to combine with the already soft egg crepes. Moreover, I felt that it lacked some distinctiveness. Maybe a bit of wasabi and mayonnaise mix sauce added in would give the extra kick.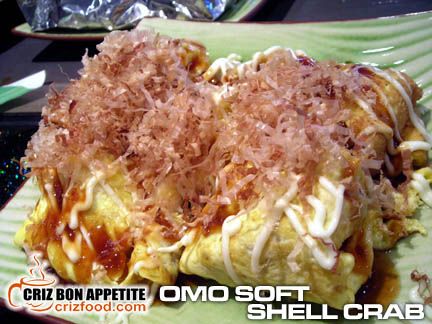 Some desserts were added in for those sweet-tooth lovers such as the Love Chocolate Fondue (RM19.80). There were some strawberry and banana cut, green tea mocha (glutinous rice ball) served with decadent chocolate dip. The portion as a bit too small and the banana slices were overripe. Moreover, the green tea mocha was rather hard and the chocolate dip was a bit too diluted to stick on the dips.
The next dessert was the Love Cheesecake (RM9.80), presented in a cage. Love imprisonment? Caged love? I felt that the concept of presentation for this was rather weird. I rather have it served on a plain plate. The cake was actually a homemade strawberry cheesecake which suited my sweetness liking. I would say it was value for money at that size.
There were many nice combinations of beverages available here too such as the Azuki Smoothie (RM11.80 – blended sweetened red bean in ice topped with vanilla ice cream and some red bean paste), Bubbling Passion (RM8.80 – passion fruit juice with sparkling soda), Kyoto Sunrise (RM9.80 – blended mango puree with ice), Chocolate Parfait (RM12.80 – vanilla ice-cream, peanuts, cornflakes, herbal jelly and topped with chocolate fudge) and Strawberry Parfait (RM12.80 – vanilla ice-cream with cornflakes, herbal jelly, mango and topped with strawberry syrup). I would recommend the Azuki Smoothie as it was milder in sweetness and was real smooth for consumption.
You can check out more on the Sushi Workshop and Wedding Packages promotions in the posters below (click to enlarge for a better view):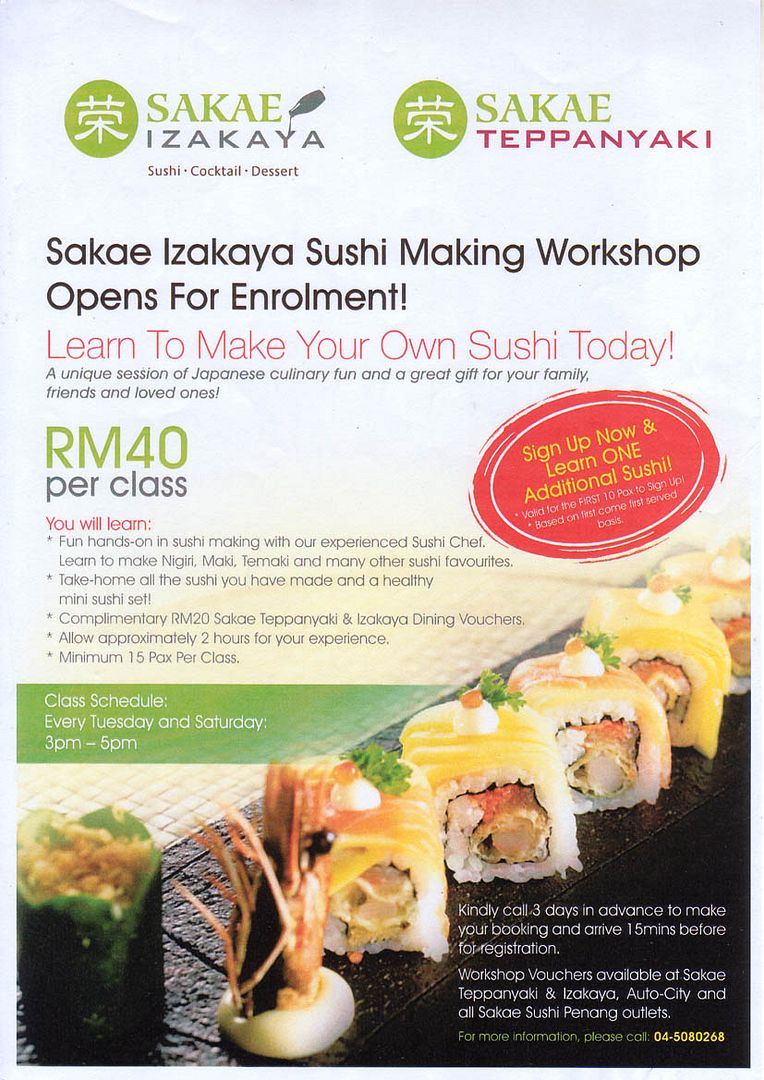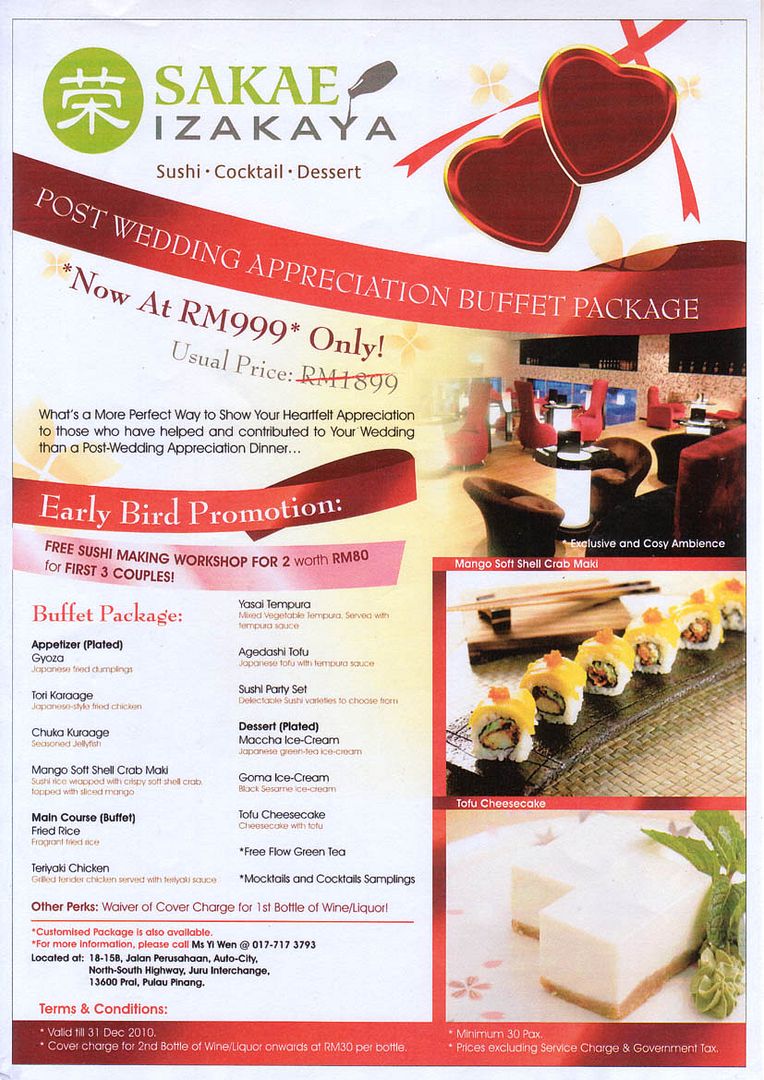 I can't show a clearer map as Auto City Phase 3 is still not available in the Google Maps. If you are coming from Penang Bridge towards the North-South Highway, you would see the Juru Rest Area on your left. Drive further a bit and you would see an overhead bridge which would lead you to the Juru Interchange. Do not drive up the overhead bridge but turn left instead until you see a traffic light. Turn right into Jalan Kebun Nenas. Drive on until you see the second traffic lights at a T-junction (Jalan Kebun Nenas/Jalan Perusahaan). At the traffic light, turn right into Jalan Perusahaan. A few meter away, keep a look out for a left turning into Auto City Phase 3 (KFC). Drive further in and you would see the restaurant on your right. It's along a stretch of F&B outlets.
Name: SAKAE TEPPANYAKI & IZAKAYA
Address:
1815-B, Jalan Perusahaan, Auto City (Phase 3), North-South Highway,
Juru Interchange, 13600 Prai, Penang.
Contact: 604-508 0268
Business Hours: Mon-Thu (11.30am to 10.30pm), Fri-Sun (11.30am to 11.30pm)
GPS: 5.338527, 100.428352
RATING:
Ambience: 8.5/10 (1-4 cheap, 5-7 average, 8-10 classy)
Food Choices: 8.5/10 (1-4 limited, 5-7 average, 8-10 many choices)
Taste: 7.5/10 (1-4 tasteless, 5-7 average, 8-10 excellent)
Pricing: 7.5/10 (1-4 cheap, 5-7 average, 8-10 expensive)
Service: 8/10 (1-4 bad, 5-7 average, 8-10 excellent)
Attendees :
PenangTuaPui (Huat Koay, Tam Chiak & Fei Fei), CK Lam, Criz Lai, Buzzing Bee, Alan Choong, Lingzie & Steven Goh