After a hilly Thai food experience just barely two weeks ago, there was another feasting last weekend. This time we ate until our hearts' contents at Terrace Bay Restaurant, Copthorne Orchid Hotel, Penang. The restaurant is currently promoting their August/September weekend Thai Food Buffet. With great responses from the public, the management would be extending this promotion until further notice. It's only RM30nett per pax, RM20nett per Senior Citizens (55 years old & above) and RM18nett per child. With such an attractive pricing, who would want to miss out this wonderful promotion?
As the menu for the promotion would change for both buffets, let me brief you roughly on what to expect for each meal. Let's start with the salad bar/appetizer section. There would be at least 5 type of premixed salad for you as well as those DIY vegetables to top either with thousand island sauce, ranch dressing, vinaigrette, sambal belacan or sambal cincaluk.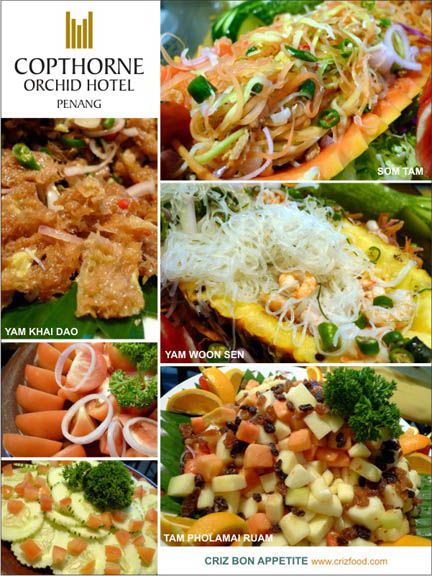 At the main course section, there would be at least 8 dishes which would comprise of meat, seafood, vegetables, eggs, rice and soup.
There are more at the al fresco area by the swimming pool. This would be where you can get all those easily accessible Thai hawker food, specially cooked for you out from the wok, pot or pan.
Desserts would be abundant here ranging from fresh fruit cuts, traditional Thai desserts, cakes to crushed ice desserts.
It's not hard to locate the restaurant as it's within the premises of Copthorne Orchid Hotel Penang. Drive all the way up towards Batu Ferringhi. As you see the Toy Museum on your right, keep to your right and make a U-turn at a junction further up. The hotel is just behind the Toy Museum. There would be ample car parks and the ground level of the hotel as well as the basement.
Name: TERRACE BAY RESTAURANT @ COPTHORNE ORCHID HOTEL PENANG.
Address: Jalan Tanjung Bungah, 11200 Penang, Malaysia.
Contact: 604-892 3333
Opening Hours:
Saturday Buffet Dinner: 7.00pm – 10.00pm
Sunday Buffet Lunch: 12.00 noon – 2.30pm
GPS: 5.463599, 100.229199
RATING:
Ambience: 8/10 (1-4 cheap, 5-7 average, 8-10 classy)
Food Choices: 8.5/10 (1-4 limited, 5-7 average, 8-10 many choices)
Taste: 7.5/10 (1-4 tasteless, 5-7 average, 8-10 excellent)
Pricing: 7/10 (1-4 cheap, 5-7 average, 8-10 expensive)
Service: 9/10 (1-4 bad, 5-7 average, 8-10 excellent)
ATTENDEES:
Criz Lai – http://crizfood.com/
Eunice, Siew Ying & Kelvin Tan – http://foodpromotions.com.my/
Carrie Soon & hubby – http://www.cariso.net/
Alan Choong & Amanda Teoh – http://allaboutpenangfood.blogspot.com/
Steven Goh & Tan Kim Penag – http://www.stevengoh.com/
Chan Chee Wah (Waco) – http://www.noweating.com/
Jason Wong & Gill Giam – http://www.gourmetgarden.com.my/
Thanks the food promotion gang for the invites, Steven Goh for the group photo, Ms. Sally Lai (PR Manager of Copthorne Orchid Hotel Penang) and Mr. Sivalingam (F&B Manager of Copthorne Orchid Hotel Penang) for the wonderful hospitality.