Criz Bon Appetite together with a few bloggers had the privileges to be invited to the Bora Bora By Sunset's Pareo Party 2011 at Batu Ferringhi, Penang, on Saturday night. The pareo party was a blast with a huge crowd of ladies and men trying to outwear each other with their best pareo displays. We have Shahriman Gunter as the emcee for the night.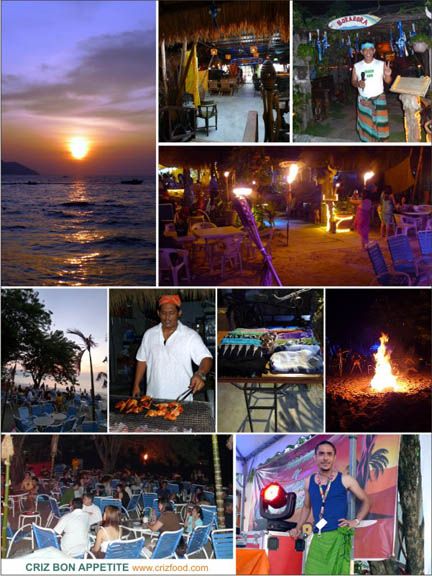 Thanks to Ms. Melynda Soon and the Bora Bora staff for making our presences there so enjoyable and fun-filled. Almost everyone is aware of the existence of Bora Bora By Sunset by now and the ever friendly staff sure knows how to keep their patrons happy with great food, cool beverages, electrifying entertainment in a nice Balinese style setting by the beach.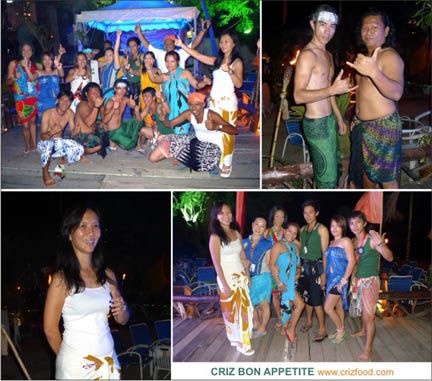 The event started with a contest to test out the drinking power of both sexes. Finally, we did find out that certain ladies can drink faster than the other even though they have shapely figures. Amazing! There was also the men's category. I don't have to disclose which blogger was one of the winners right? It was so obvious~ LOL! Well, all of them must thank Carlsberg for giving them free beers. Haha!
The staff of Bora Bora By Sunset also did put on their best costumes to present us with a Hawaiian number. All the ladies were so sexily dressed. Oops… did I say all ladies? Well, it did take lots of courage for Wipeout Jacob to be cross dressed as a female dancer. Well done Jacob but I hope those "inspectors" did not harass you much at all. Haha!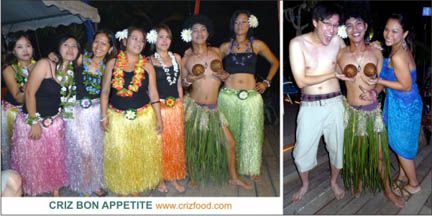 Here's the video of their performance:
Next in the program were the Best Dressed Women and Men in Pareo Contest. I guessed the men chickened out as they have nothing much to show in public. LOL! The women excelled better in pareo dressings as you can see them at all the corners of the bistro. Eventually, the winners went to a lady with the most creative way of dressing in pareo and a tourist with his "sarung" and Scottish cap. Haha! Each of the winners won a bottle of wine home, courtesy from the management of Bora Bora By Sunset.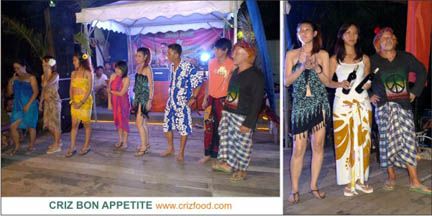 Educators always say that it would not be too late to learn something new. Teacher "Ernest" sure has "her" way to teach the guys how to wear a pareo well. Of course, those "students" needed to be taught the right way, with wigs and hamburger buns stuffed in front to be more "feminine". We all had a good laugh!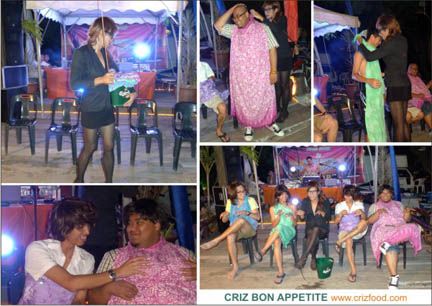 There was also the special fire show by Anita (nicknamed Nita by the locals) during the night. It was an energetic and superb performance under the dimly lighted surroundings.
Do catch part of her performances in the video below:
Eventually, the staff did a catwalk in their best pareos while dragging more of the patrons up onto the stage for a few dance numbers.
A display of fireworks presentation was set off to mark the bistro's appreciation to the patrons for a wonderful night there.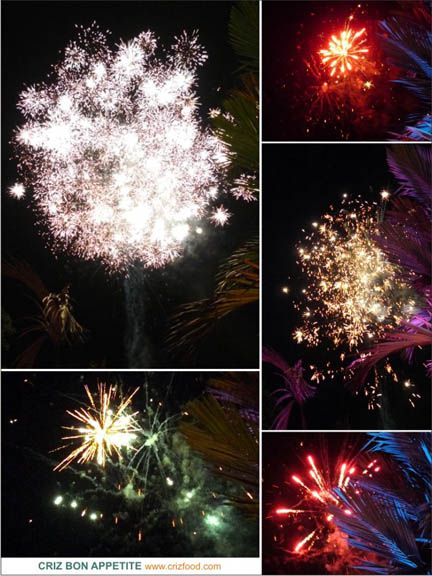 The party went on until the wee hours of the morning.
If you love great food and beverages in a relaxing and breezy place, do head to Bora Bora By Sunset for your next great dining and entertainment experience. They do have fusion local and Western delights to please all taste buds. It might be a bit hard for foreigners to find this bistro as it would not be visible from the main road. But no worries as I'm going to show you some landmarks that would lead you directly to their door step. Just drive all the way up to Batu Ferringhi until you reach the traffic lights with Petronas petrol station at the junction. Further up would be Lone Pine Hotel on your right. Drive slowly and watch out for the tall Tarbush Lebanese Restaurant neon signboard on your right. Just before the restaurant is the Beach Corner Seafood Restaurant (Happy Mart Mini Market is just across the road). Park inside the car park (RM3 per entrance/RM5 on weekends) and you would see a green gate on the right. Walk through that gate, turn left and you would see the bistro there waiting to greet you with open arms.
Note: The entrance to Bora Bora By Sunset is actually opposite the Desire Reflexology Centre and Fish Spa (left side of Jalan Batu Ferringhi) but quite unnoticeable with a small signboard in yellow neon lights with a beach view background. As parking spaces would be very limited inside there, it would be a better idea to park your car next door (Beach Corner Seafood Restaurant) with ample parking spaces.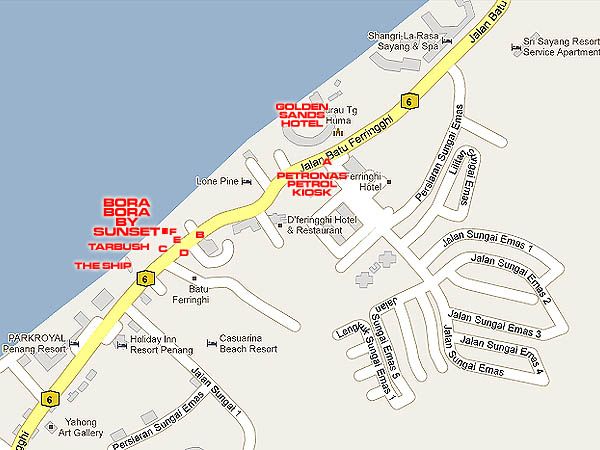 Name: BORA BORA BY SUNSET
Address: Lot 415, Jalan Batu Ferringhi, 11100 Penang, Malaysia.
Business Hours:
12.00noon-1.00am (Sunday to Thursday)
12.00noon until 3.00am (Friday, Saturday and Eve of Public Holiday)
4.00pm-7.00pm (Happy Hours)
Contact: 012-553 1313 (Ms. Melynda Soon)
GPS: 5.474476, 100.248114