Quite a number of F&B outlets are taking this opportunity to have their Grand Opening today since it's a nice date~ 11-11-11 (11 November 2011). One such outlet is the Tea Secret, an outlet specialized in producing tea and fruit based beverages with the concept originating from Taiwan. Thanks to the management for inviting a few of us to grace the auspicious occasion. There are quite a few choices to choose from, starting from Milky Tea Premium Tea, Around The World, Nutrilicious Yoghurt, Natural Fruit Tea, Latte Series, Milik Cream Tea, Frozen Indulgence, Delicious Chewy Tea, Yakult Tea and Smoothie Delights. The Tea Latte Series has a special and imported machine just like the coffee version and may require a slightly longer waiting time.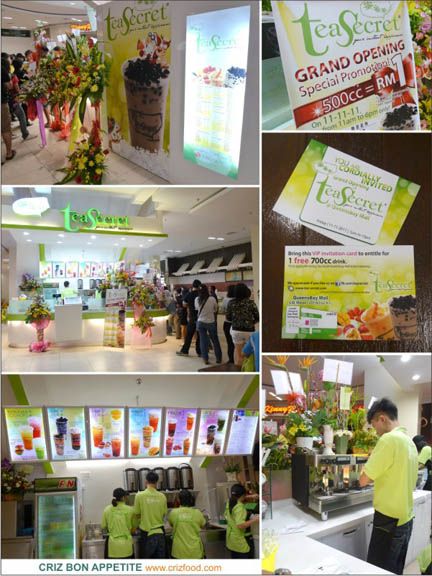 All the beverages would come in two sizes – 500cc and 700cc. There would be options to top up these beverages with either Pearl, Aloe Vera, Grass Jelly (Leong Fun), Pudding, Ai-Yu Jelly, Coconut Jelly or Konjac (a colorful jelly having the al dente similar to that of Nato de Coco) at RM1.00nett. On top of that, you have the option to adjust the sugar level to your liking from 0% (no sugar), 30% (slight sugar), 50% (half sugar), 70% (less suagr) and 100% (normal sugar). Moreover, you can also request the ice to be 0% (no ice), 70% (less ice) and 100% (normal ice). You can click on the photo below to have a clearer view of the options.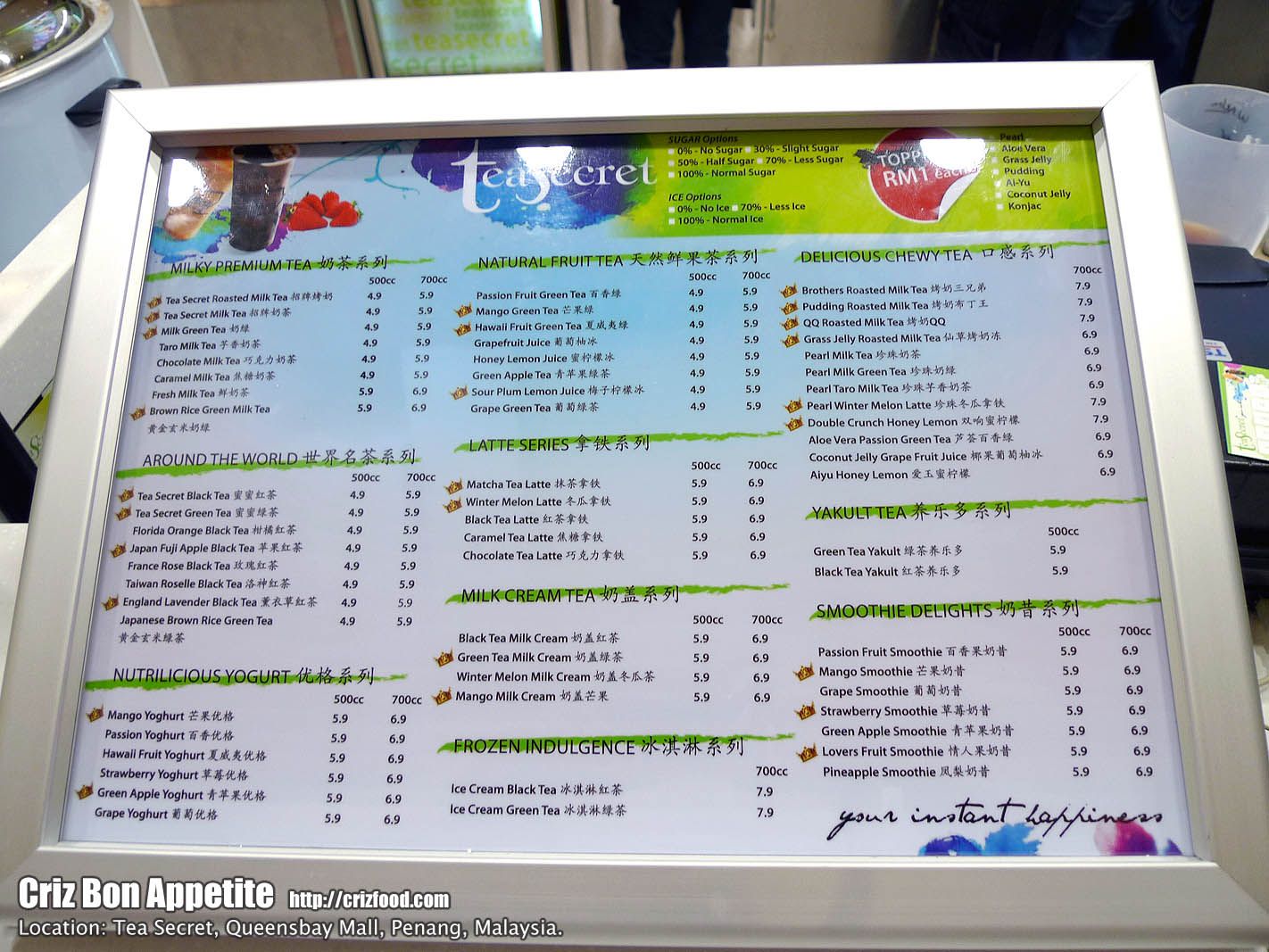 Here are the 700cc of beverages provided to us by the management. It sure was a large and filling one at that size.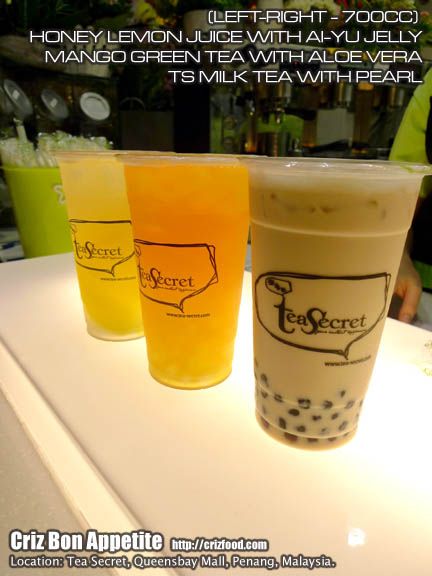 There were also some catered snacks for our appetite such as different flavors of Cheese Tarts, Chocolate Tarts, Fruit Tarts, Cream Puffs and some Chocolate Brownies. It was indeed a sweet over sweet temptation for those sweet toothed guests.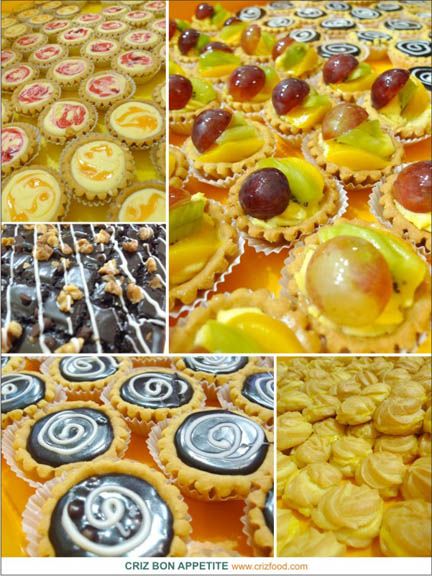 Here are some of the bloggers and friends who attended the grand opening.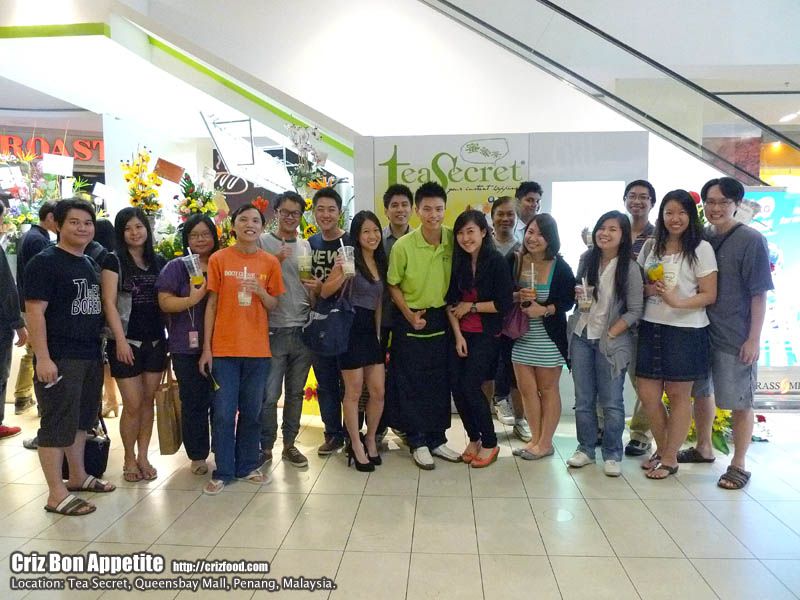 Overall, I find that some of the beverages were a bit too sweet to my liking. Maybe I should have requested for one with lesser sweetness instead of having ordered the normal ones (100%). Well, it might take some tweaking before one would get the right taste for his/her preferences. As for the top-up ingredients, I somehow like the natural aloe vera, and ai-yu jelly due to the fact that they went well with the more fruity teas. It was a waste that the coconut jelly and pudding were out of stock before we could even try them.
The Tea Secret kiosk is located right next to the Lower Ground car park at the South Zone of Queensbay Mall. Alternatively, if you enter the Central Zone of the mall, just turn left and walk towards Dome Café. Use the escalator down to the lower ground and you will see the kiosk right under the escalator. It's just next to Nippon Yataimura Japanese Restaurant and nearby Jusco Supermarket.
Name: TEA SECRET @ QUEENSBAY MALL PENANG
Address:
LG-K1, Queensbay Mall, Persiaran Bayan Indah, Sungai Nibong, 11900 Bayan Lepas, Malaysia.
Business Hours: 11.00am – 10.00pm
GPS: 5.332499, 100.306417
RATING:
Ambience: 7/10 (1-4 cheap, 5-7 average, 8-10 classy)
Food Choices: 8/10 (1-4 limited, 5-7 average, 8-10 many choices)
Taste: 6.5/10 (1-4 tasteless, 5-7 average, 8-10 excellent)
Pricing: 7/10 (1-4 cheap, 5-7 average, 8-10 expensive)
Service: 7/10 (1-4 bad, 5-7 average, 8-10 excellent)