"Eat your vegetables!" was the first thing that came into my mind when I was approached by Idealite – Malaysia's 1st Wellness Education Restaurant to write on their NO MEAT, NO GLUTEN, NO MSG, NO WHITE SUGAR & SALT, NO PEANUTS, NO ARTIFICIAL FLAVORING, ETC healthy menu. It may sound like some sort of imprisonment torture for many foodies but I can guarantee you that I did not suffer from any hunger side effects. LOL! The restaurant is not similar to any other vegetarian restaurants as it also uses other fresh/organic produce such as garlic, onions and eggs, minus the mocked items of course. As opposed to the normal dining experiences, Idealite would focus on satiating your appetite with a well balanced diet such as adequate protein, carbohydrate, fiber, mineral and vitamin for a healthy living. Their cuisine would be based on the usage of natural/organic and quality ingredients to boost up the food in taste, colors and flavors with some light touches of uniqueness and creativity. Even their fruits and vegetables are washed by an ozone machine to remove any existing chemicals and pesticides.
Idealite would serve healthy and well balanced breakfast as low as RM4.70 from 8.00am to 11.00am daily (except Monday). Being an adult with a kid in the heart, I could not resist ordering their Kid's Breakfast Meal (小孩營養早餐 – RM10.70) with a "Hello Kitty" wholemeal bread mascot (upon request). This breakfast set meal would ascertain that your kid/adult get the right amount of carbohydrate, protein, mineral, vitamin and fiber for the day. Items given might differ from day to day as they have yet to firm up on the actual menu.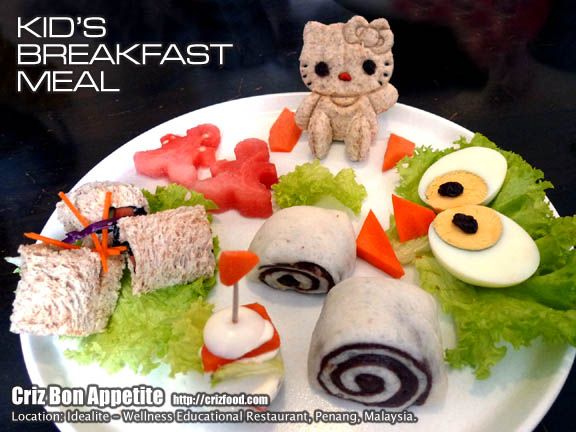 We started our lunch with the Curry Tofu Salad (咖喱豆腐沙拉 – RM5.70). The dish had a block of tofu on a colorful bed of fresh greens (purple cabbage, carrot, cucumber & coral green), dressed with a combination of soy yoghurt and curry powder and garnished with some raisins, sunflower seeds, sesame seeds and chopped almonds. The taste of the dressing had that mild beany soy sourness, very mild spiciness with a touch of fruity after taste. I presumed the soy yoghurt was cultivated with fructose instead of glucose or sugar. This dish would only be suitable for consumers with an acquired taste for such flavor. Soy yoghurt is low in fat and is suitable for people with milk allergy, diabetes type II and high blood pressure. I believed that the curry powder used had a high content of turmeric in it. Turmeric has been used for centuries as a wonder spice with anti-inflammatory medicinal values.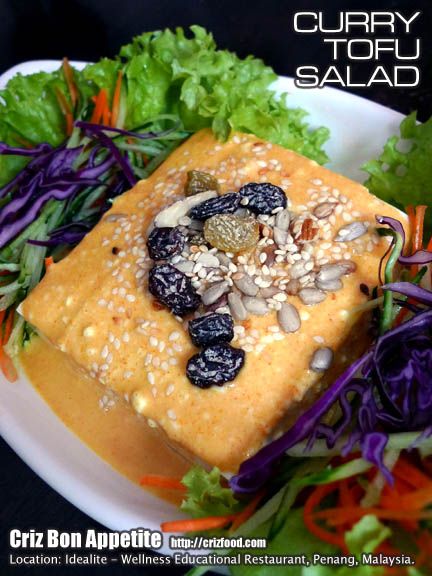 As for side dishes, we were served with Chee Cheong Fun (酵素珠常粉 – RM3.70), a steamed rice roll made from a mixture of rice flour, tapioca flour and water in cream consistency batter for that al dente texture. The special order made rolls were benzoic acid free. The rolls were served with a secret recipe sauce in placement of the usual prawn paste (蝦膏), red sweet sauce (紅甜醬) and chili paste (辣椒醬). The secret sauce had that sea brine saltiness with a darkish purple color which I presumed was from some species of seaweed. The overall taste was still acceptable but it lacked that thick creaminess. Since they do not use peanuts as it contained a high level of aflatoxins (黃曲霉素) which is bad for the liver, maybe some finely blended hazelnuts would add in the slight nutty creaminess? The Chee Cheong Fun came garnished with some toasted white and black sesame seeds.
We were served with two versions of vegetarian sushi. The first was the Vege Sushi (蔬菜壽司 – RM6.70). It had strips of raw carrot, cucumber, purple cabbage, jicama (sengkuang), coral green lettuce and some pounded hazelnuts all wrapped within a poh piah (traditional Chinese spring roll) skin and garnished with some toasted sesame seeds. Some sweetened lime juice was dressed for that refreshing bite.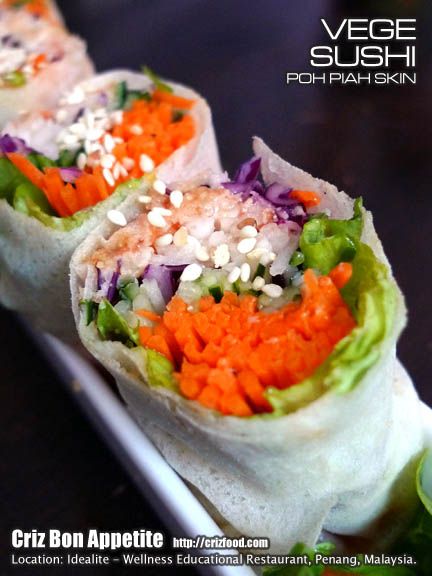 The second version of sushi was the chef's latest creation named as the Jade Seaweed Vege Sushi (白玉紫菜蔬菜壽司 – RM7.70). This sushi will be available in the menu soon. Except for the usage of the benzoic acid free steamed rice roll and nori, the fillings were the same as above. Most of us preferred this version as the earlier one got soggy too fast due to the moist within the vegetables.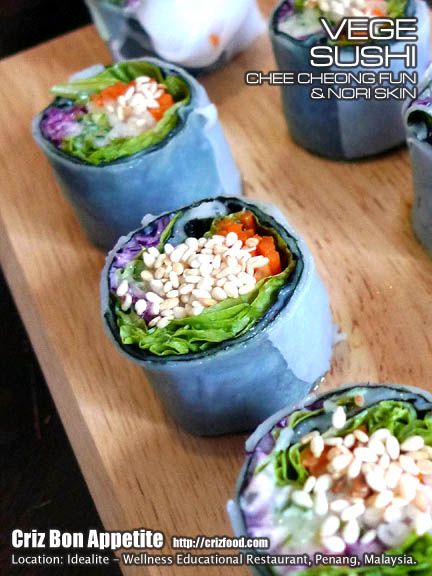 There was also the Seaweed Roll Sushi (紫菜壽司筒 – RM7.70). This was the unique one amongst the rest as there was some taste difference. This sushi has coral green lettuce, jicama, cucumber, carrot, spring onion and pounded hazelnuts all wrapped up with a thin strip of nori. There were some drizzles of sweetened lime juice, sesame oil and some dashed of black pepper. I love this sushi most~ 🙂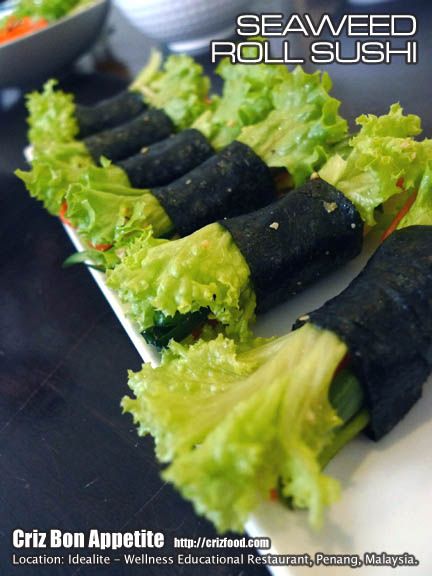 The next side order was the Poh Piah (健康薄餅 – RM4.70). Somehow this dish was rather disappointing. It lacked flavors and texture as the carrot, jicama and mushrooms were too finely shredded and easily got overcooked. It became too mushy to even being wrapped firmly with the lettuce and poh piah skin. The vegetables should be coarsely shredded and cooked until translucent but still maintaining the slight crunchiness. The mushroom was totally bland without the addition of some marinates. I just wondered why bean curd and some toasted garlic were not added for the extra flavors. Even a light coat of red sweet sauce would have done more justice to this local delicacy.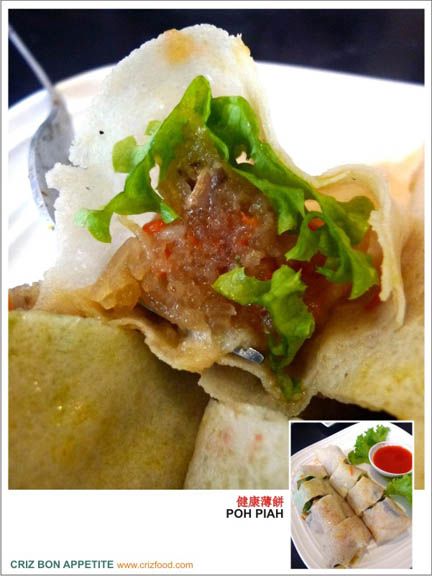 For those who would want to have some rice with dishes, there would be a few set meals to choose from. We tried out the Dry Curry Set Meal (香辣乾咖喱套餐 – RM9.70) and it was amazingly delicious. The main dish consisted of dry curry stir fry savory and sweet potatoes filled with herbs and spices. The only two ingredients missing that would add in more aromatic flavors and benefits would be the curry leaves which have Vitamin A, Vitamin B, Vitamin C, Vitamin B2, calcium and iron in plenty and mustard seeds which would help in supporting healthy blood circulation, appetite, pancreas, metabolism, overall digestive and gastrointestinal health. Each of the set meal would come with a bowl of organic brown rice with soy bean in olive oil, a healthy salad with homemade mayo dressing, tofu with tom yam sauce and a slice of fresh fruit.
The next set meal was the Eryngii Mushroom Set Meal (特色杏鮑菇套餐 – RM9.70). The set meal also came with a bowl of organic brown rice with soy bean in olive oil, a healthy salad with homemade mayo dressing, tofu with tom yam sauce and a slice of fresh fruit. The slightly sour based stir fry eryngii mushroom had some sprinkles of black pepper to pep up the flavors. Although the main dish was rather appetizing, I personally felt that the sour sauce had overpowered the natural taste of the mushrooms. It would be great if they were to present the dish in just plain mushroom sauce. Get'em Smack did a great job in maintaining the mushroom flavor by mildly sautéing them in olive oil with some chopped garlic and these mushrooms went well with pasta too.
One of the most healthy dishes by the Hakka clan would be the Hakka Lei Cha (客家擂茶飯 – RM12.70) and the dish would also be available here at Idealite. The dish came with a bowl of steamed brown rice and soy bean in olive oil, garnished with mixed sesame seeds and pine nuts, served with cabbage, long beans, carrot, homemade preserved radish, sweet leaves (sayur manis/star gooseberry/馬尼菜), chickpeas, fried bean curds and dressed with a concoction of blended basil (九層塔/羅勒), mugwort (蒌蒿/艾草), coriander (香菜), mint (薄荷) and tea leaves (茶葉) with mild seasoning. The dressing was just right and not overpowered by the intense taste from the basil. It was an ideal dish for anyone. People who often consume this dish are believed to benefit from improved vitality, relaxation and body detoxification.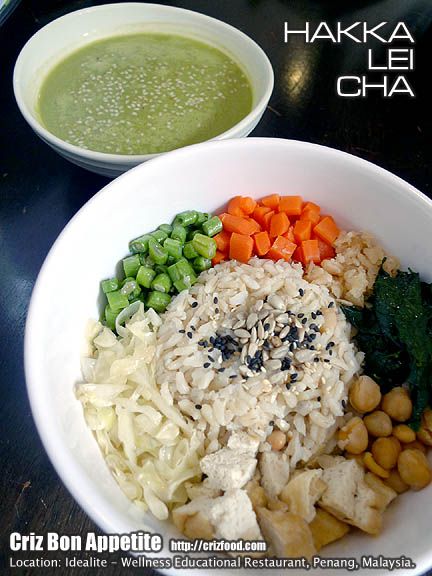 We also tried out a few of their noodles which were made from Spinach (菠菜), Pumpkin (南瓜) and Buckwheat (蕎麥). We started with Green Curry Ramen (招牌青咖喱拉麵 – RM9.70) served with Pumpkin Noodles. Due to their principles of not using coconut milk or lactose filled milk, the dish lacked the creaminess. The soup had some potato sweetness almost similar to the Jawa Mee gravy. As it was green curry, there was a strong Thai basil flavor in it minus the spiciness from some green chilies. The pumpkin noodles were smooth and had the right al dente but were overpowered by the strong flavors from the green curry.
The dish was served with some potatoes, long beans, carrot, eggplant, tofu puff, and half a hardboiled egg. They should find ways on how to improve the creaminess maybe with the usage of lactose-free soy milk, almond milk or even hempseed milk (大麻子).
The next version of noodles which was the Organic Curry Ramen (有機咖喱拉麵 – RM9.70), served with Spinach Noodles, was far better tasting. The dish was served with some long beans, bean sprouts, chick peas, tofu puff and dark soy sauce brewed bean curd aka "pig's blood". The soup base basically had thick curry paste with mild flavors. Overall, it was still a nice bowl of ramen. It would be even better if they could add in some lemongrass for the extra fragrance. The only setback was that the curry flavors overpowered the distinctive taste of the spinach noodles.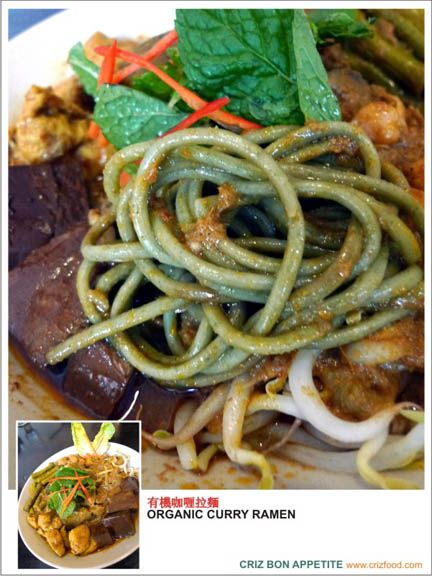 The Organic Lo Ramen (有機滷味拉麵 – RM9.70) served with Pumpkin Noodles was another dish that was not within my acceptance level. They failed in getting the right flavors into the gravy. It was rather diluted and bland in taste except from the overwhelming flavors from some star anise (八角). They could have blended in some potatoes to thicken the texture plus sweetness of the gravy and also add in some mushroom stock/juice. The dish was served with some bean sprouts, radish, mushroom, mildly dark soy sauce brewed bean curd and half a hardboiled egg. I rather have some bean curd stick rather than the flavor-drained radish slices.
Of all the ramen dishes, my pick would be the Organic Dry Ramen (有機乾撈拉麵 – RM9.70) served with Buckwheat Noodles. It was an uncomplicated dish where I get to savor the true flavor of the buckwheat noodles, together with some mushroom slices, purple cabbages, carrots, cucumber, bean sprouts and green coral lettuces. There was the simple fruity flavor dressing that made the whole dish awesomely refreshing. I could have this dish all the time.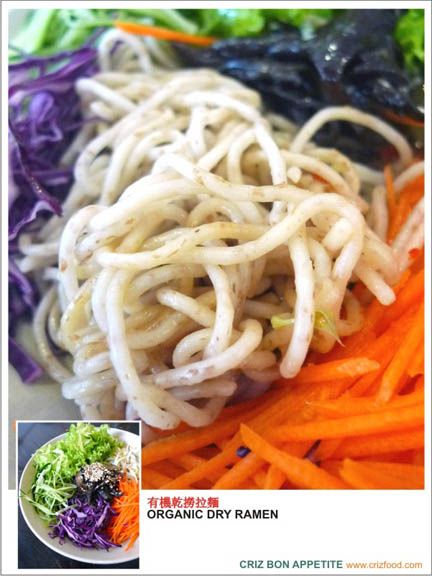 Frankly speaking, I loved all types of pastas and also cooked them frequently. I was not impressed at all with the next dish which was their Tomato Spaghetti (番茄意大利麵 – RM9.70). The dish lacked flavors, textures, colors and taste. It was basically some overcooked pasta minus the al dente in some quite diluted homemade tomato and basil puree, lightly garnished with some dry herbs. They should have added in some blanched carrots, cauliflower and broccoli for the extra bite and colors. Of course they won't use cheese which contained dairy but alternatively they can utilize non diary nutritional yeast with nutty, creamy and cheesy flavors would have boasted up the flavors. Moreover, they lacked more varieties in this category. They could have given more options such as the Aglio Olio which consists of garlic and olive oil or Eryngii Pasta with mushroom, garlic, olive oil and parsley. Even Pesto (blended garlic, basil, pine nuts, olive oil and cheese) which is good for constipation would make great pastas. They can always replace the cheese with non diary nutritional yeast.
Idealite also serves Tomyam Steamboat (營養健康東炎火鍋 – RM17.70-1 pax/RM27.70-2 pax) served with olive oil steamed brown rice with soy beans. It was a mild spicy but sour soup steamboat filled with plentiful vegetables such as sweet corn, broccoli, cauliflower, cabbage, carrots, mushrooms and seaweed. The soup practically had the flavors from the vegetables especially a strong seaweed taste and got saltier as it reduced. Somehow, I could not taste the presence of lemongrass and kaffir lime leave being used to boost up the taste. Moreover, the dish lacked more options such as tofu and bean curd sticks which would go well with the tomyam soup.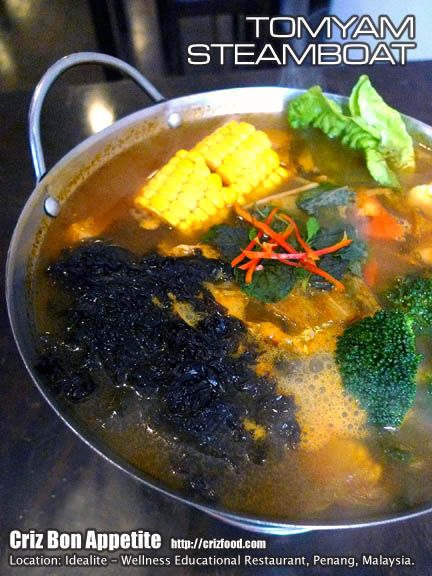 We were also served with a numbers of desserts with my favorite being the Signature Sesame Paste (招牌黑芝麻糊 – RM5.70). It had that mild sweetness from the organic brown sugar used and nice flavors from the blended black sesame seeds, cashew nuts and brown rice. This is one must have dessert during your visit.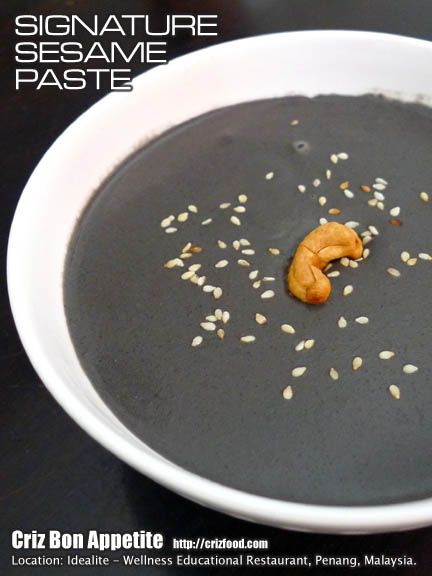 I also quite like the 7 Color Bean Paste (七色豆養生糊 – RM4.70) which had blended mung beans, azuki red beans, soy beans, white kidney beans and black beans aka black turtle beans, cooked with blended 10 multi grains such as organic sorghum, organic millet, organic buckwheat, organic pearl barley, organic oats, mountain red rice, black rice, unpolished brown rice, parboiled rice and wheat. It was also mildly sweetened with organic brown sugar.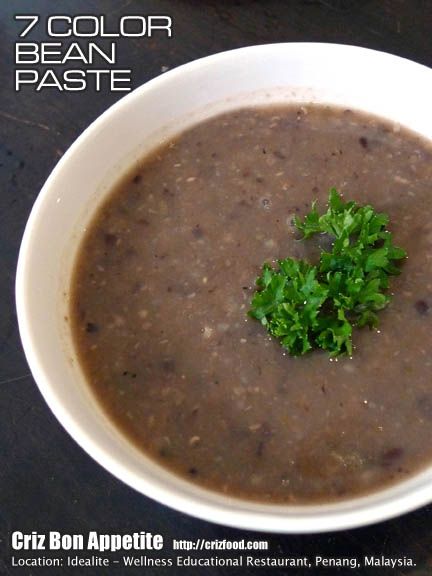 We were also introduced to a weekend special dessert which was the Bubur Cha Cha (摩摩喳喳 – RM4.70), a Nyonya dessert. The dessert was cooked in a broth like texture with some blended grains plus sweet red potatoes, yam and black eyed peas. It had oat milk instead of coconut milk as a healthier version, thus it lacked that creamy and fragrant coconut taste.
There was also the Dragon Fruit Konyaku Jelly (龍珠果蒟蒻 – RM1.70/3 pcs) available here. It had that bouncy and chewy texture as how a konyaku jelly should be with a mild fruity flavor. No doubt it was a nice dessert but it would be best if some of the fresh fruit meat be added in for that extra freshness.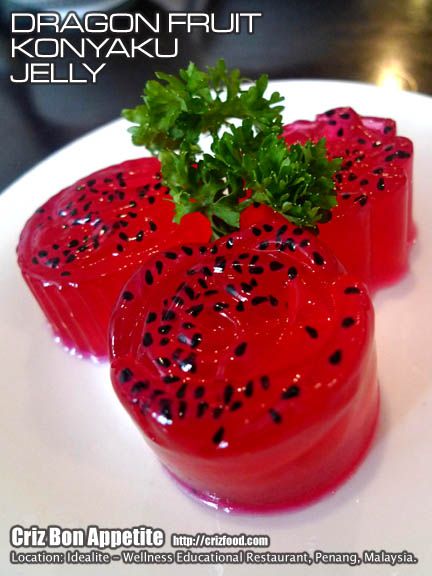 As for beverages, the selections were rather limited. We had the Organic Cocoa Oatmilk (有機朱古力植物奶 – RM6.70), Organic 5 Grain Energy Oatmilk (有機五穀植物奶 – RM4.70), Sugar Free Organic Soy Milk (無糖有機豆奶 – RM4.70), Organic Masala Chai (有機馬薩拉口味茶– RM3.70), Organic Lemongrass Green Tea (有機柠檬香草绿茶– RM3.70), Organic Assam Tea (有機酸梅茶 – RM3.70) and Pumpkin Barley (金瓜薏米 – RM3.70). I quite like the Organic Cocoa Oatmilk as it tasted quite similar to my daily breakfast boost of Cocoa with Malt. The Sugar Free Organic Soy Milk was also thick and nice. The Pumpkin Barley was one drink to compliment too as it has the natural sweetness from the pumpkin and fibrous barley grains for great bowel movements.
Here's the young and energetic Chef Hung with his creative meals the healthy way~ 🙂
Overall, the dishes served here were extremely healthy with a reminder to us to follow the age old principles of cooking and dining healthily. Some dishes served indeed required an acquired taste bud as we are all so used to the taste from today's world of fast and processed food. As for the dishes, there are still rooms for improvement as the choices of dishes were just average with not many options. The restaurant basically concentrated on the Eastern way of cuisine without providing much insight into the healthy diet from the West. They could have added in items such as the asparagus soup which is great for irritable bowel system. Even the usage of tofu has not been explored further other than the usual few selections. As an example, it could just be steamed tofu with egg in pumpkin paste to name one option. As for beverages, it lacked the creativity in combining fruits and vegetables as juices. One such drink would be the usage of cucumber to benefit the skin, nails and hair. Cucumber plus mint leaves juice would be a refreshing and nutrient rich drink for any ages. All price stated is nett.
It's not hard to find Idealite at it's located just two shop houses away from Hotel Waterfall (Little Cottage 2) and next to Double Dragon Inn Restaurant along Jalan Gottlieb. Parking spaces could be rather limited during weekends especially when Little Cottage 2 is having their weekend buffet. Currently, they are utilizing only the first floor of the shop house.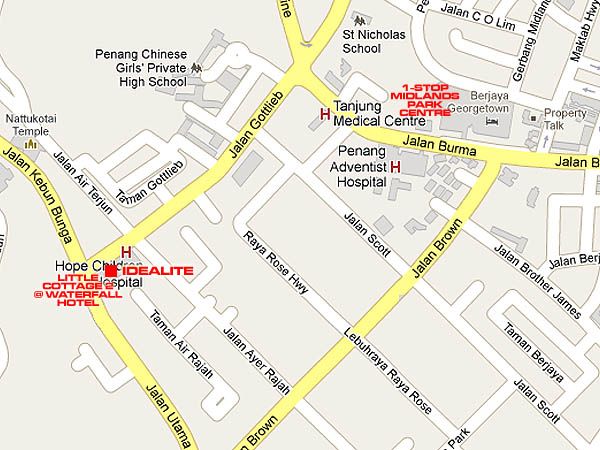 Name: IDEALITE – MALAYSIA 1ST WELLNESS EDUCATIONAL RESTAURANT
生命陽光-馬來西亞首創正食養生餐廳 (Beside Waterfall Hotel)
Address: 27C Jalan Gottlieb, 10350 Penang, Malaysia.
Contact: 604-226 3650
Business Hours: 7.30am-11.00am, 12.00noon-3.00pm, 6.00pm-10.00pm (Closed on Monday)
GPS: 5.430574, 100.299698
RATING:
Ambience: 7/10 (1-4 cheap, 5-7 average, 8-10 classy)
Food Choices: 7/10 (1-4 limited, 5-7 average, 8-10 many choices)
Taste: 7.5/10 (1-4 tasteless, 5-7 average, 8-10 excellent)
Pricing: 7.5/10 (1-4 cheap, 5-7 average, 8-10 expensive)
Service: 8/10 (1-4 bad, 5-7 average, 8-10 excellent)