For the last few years, more and more Japanese restaurants are popping up in Penang. Some of these restaurants are charging quite an exorbitant pricing for their cuisine and did not quite suit the budget of many locals. However, one restaurant with quite a few branches has always been receiving endless streams of loyal diners. The name is Japin Restaurant.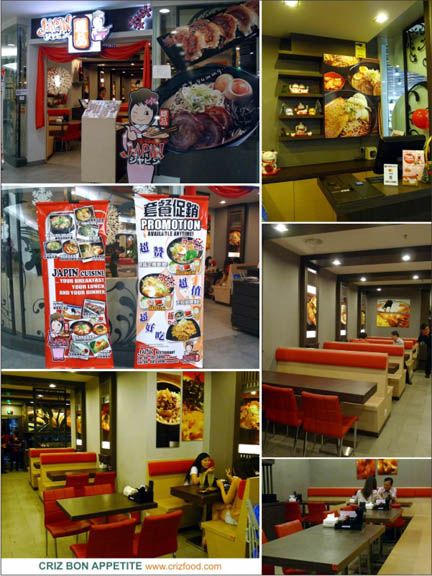 We managed to pay a visit to one of the branches at 1st Avenue recently. This outlet's kitchen is managed by Chef Wong Wai Ming.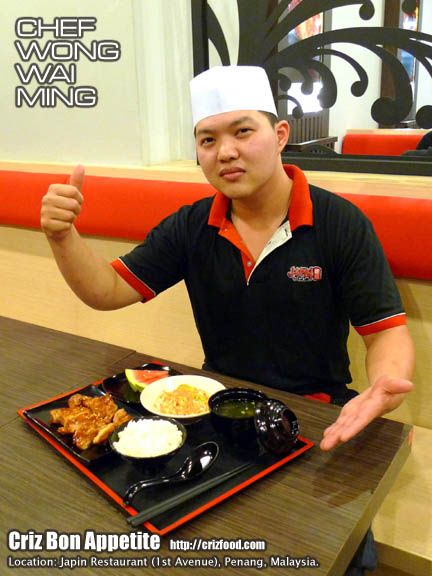 For ramen lovers, you would not regret ordering their signature Kakuni Japin Ramen (Stewed Pork in Rich Soup Noodles/滷肉絕品拉面 – RM16.80+). You can practically taste the thick flavors in the broth which had been carefully simmered for more than 72 hours. The noodles were served together with some succulent and tender pieces of pork belly meat, wood ear fungus, a runny Ajitama soft boiled egg plus some chopped spring onions and toasted sesame seeds as garnishes.
Instead of the thick broth type of ramen, you can also try out their Kara Ramen (Spicy Soup with Noodle/香辣拉面 – RM13.80+) with has a light strength of soup with some kicks of spiciness. The noodles were served with some slices of specially prepared pork, some vegetables plus some chopped spring onions and toasted sesame seeds as garnishes. You can request for the spiciness to be adjusted based on your preference.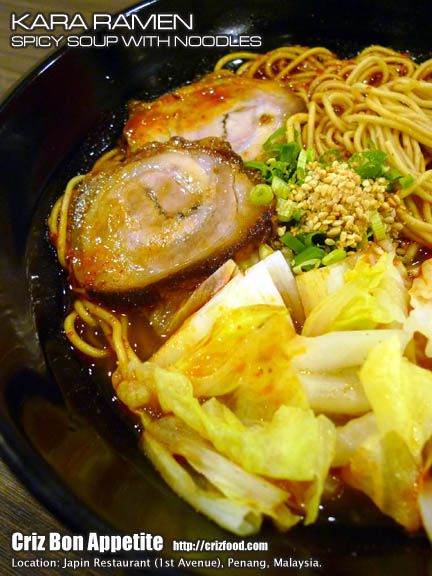 There would also be some udon dishes available such as their recommended Kaisen Kimuchi Udon (Seafood & Kimchi Soup with Udon Noodle/海鮮泡菜烏冬面- RM20.30+). The soup base was almost similar to the Korean's Haemultang (해물탕), a spicy hot seafood stew. It was like having a chili boasted rich bowl of seafood stock with a nice al dente bite from the udon noodles. The dish had some scallops, prawns and squids, wood ear fungus, kimchi with some chopped spring onions and toasted sesame seeds as garnishes.
Somehow, I always like to order rice dishes such as the Tori Katsudon (Fried Chicken Chop & Egg with Rice/炸雞扒盖飯 – RM12.80+) as it's more filling for me. Each bowl of sweet sauce boosted Japanese rice would be topped with a piece of chicken chop carefully folded in with some egg and onions. The dish here was not overly drenched in sweet sauce as those I had tasted before. This version had some nori (seaweed) as garnish.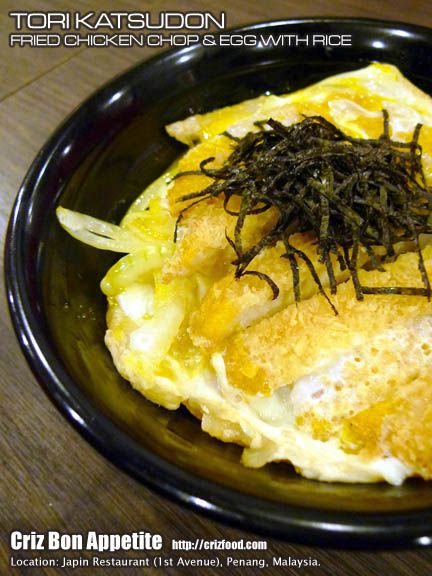 A set meal would never go wrong in any visit to a Japanese restaurant. I was impressed with the pricing for their Tori Teriyaki Tei (Teriyaki Chicken Set/蜜汁雞套餐 – RM17.80+). On top of the nicely prepared succulent piece of chicken, there was also the hot steaming rice, salad with their own special dressing, miso soup and a few fruit cuts. It was a value for money set deal.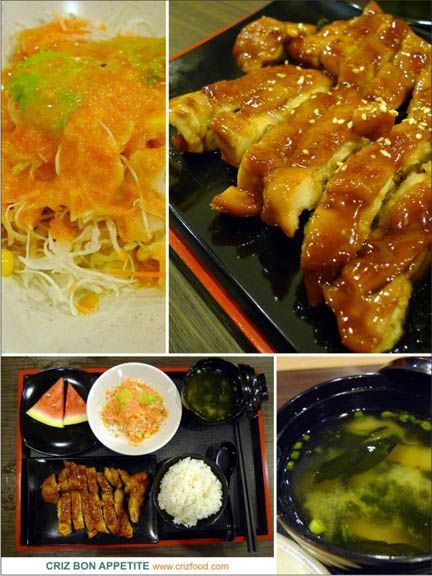 As for side orders, Gyoza (Fried Dumpling/日式餃子 – RM6.80+) was one dish that was simple and yet filled with a punch of goodness. There was a bit of crisp on the surface form a thin layer of batter used and the filling had that moisture just like when you have your Siu Long Bao. These dumplings would be best consumed when hot with a bit of the accompanied black vinegar. I won't mind having some julienned young ginger added in the condiment as well.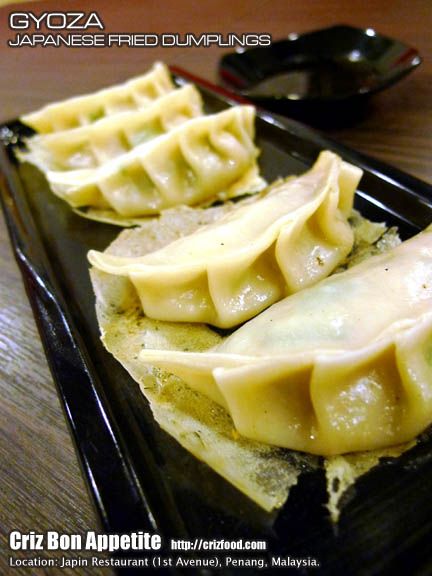 I was surprised that their Mikkusu Yakiniku (BBQ Sauce Fried Mixed Meat/日式醬燒 – RM13.80+) was categorized as part of their "Side Dishes". It was a portion that might be even too much for a small diner. However, ever since my visit to Kannichikan (KNK) Yakiniku Restaurant not long ago, I've been longing for some nice meat. The mixed meat palate here was awesome with choices of beef, chicken and pork, in whatever combination suit you best.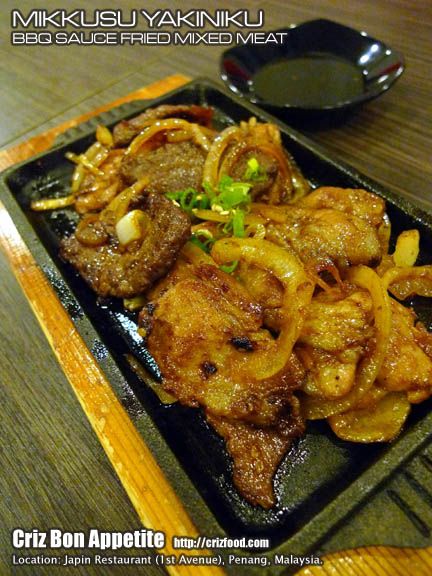 As for dessert, we had the Azuki-An-Nin (Almond Soup with Red Bean/甜豆杏仁 – RM6.80+). The named "soup" can be rather deceiving as what we had were some almond jelly cubes in mildly sweetened syrup topped with some sweetened red beans. No doubt it was simply refreshing for me, it might not be the type of dessert for those who detested the flavors of Chinese almonds. If you love it, this could be one of the nice desserts after a hefty meaty meal.
Overall, Japin Restaurant does provide a substantial amount of good quality dishes that would please the appetite of major diners. On and off, they do also come out with impressive promotions that would be value for money.
Japin Restaurant is located at the basement of 1st Avenue, Penang. This outlet has been in operation since May 2012. To find the restaurant, just walk towards Kim Gary and you will see the restaurant just on the right side of the restaurant with quite a number of standing banners displayed outside the outlet.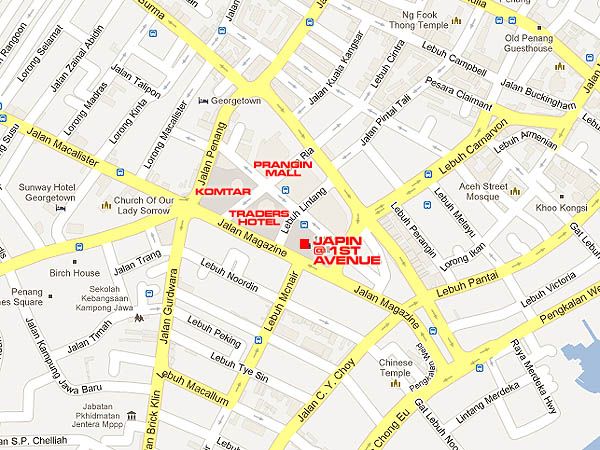 Name: JAPIN RESTAURANT @ 1ST AVENUE PENANG
Address: LG-10, 1st Avenue, 182 Jalan Magazine, 10300 Penang, Malaysia.
Contact: 604-261 5098
Business Hours: 11.00am-10.00pm
GPS: 5.413188, 100.331342
Branches:
Japin Queensbay
2F-147, Queensbay Mall, 100 Persiaran Bayan Indah, 11900 Bayan Lepas, Penang, Malaysia.
Contact: 604-641 5098
Japin Desa Sri Hartamas
34, Ground Floor, Jalan 27/70A, Desa Sri Hartamas, 50480 Kuala Lumpur, Malaysia.
Contact: 603-2857 0212
RATING:
Ambience: 7/10 (1-4 cheap, 5-7 average, 8-10 classy)
Food Choices: 8/10 (1-4 limited, 5-7 average, 8-10 many choices)
Taste: 7.5/10 (1-4 tasteless, 5-7 average, 8-10 excellent)
Pricing: 7/10 (1-4 cheap, 5-7 average, 8-10 expensive)
Service: 7/10 (1-4 bad, 5-7 average, 8-10 excellent)