It was another historic day for Texas Chicken Malaysia when it opened its door at 1st Avenue Mall, Penang, the first Northern region outside Klang Valley on 19 January 2017. Being the 34th outlet and with more expansion planning for Northern region in 2017, local franchisee, Envictus International Holdings Limited (Envictus Group – formerly known as Etika Holdings), Texas Chicken is ready to excite the taste palates of Penang residents with its signature menu items and bold flavors. Most popular are their Spicy Chicken which is double-marinated and hand-breaded to ensure spicy deliciousness in every bite and their scrumptiously delicious Honey-Butter Biscuits which are made from scratch and freshly baked all day long. Other customers' favorites include the juicy crunchy Chicken Tenders, Mexicana Wrap, Tex Supreme Burger, Jalapeno Bombers, Strawberry Shortcake and more. The opening of Texas Chicken @ 1st Avenue Mall was officiated by franchise partner Envictus International Holdings Limited Chairman, Datuk Jaya JB Tan and Amarpal Sandhu, General Manager of Texas Chicken Asia-Pacific. The event ended with the directors handling over some donations, ang pows and gifts to the children from the House of Hope.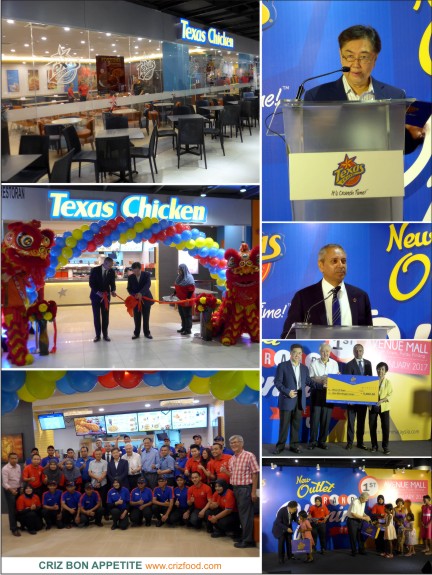 Of course the main attraction of Texas Chicken would be their Crunchy Chicken Pieces or Tender (Spicy or Original) and their signature Honey-Butter Biscuit, with the option to choose between BBQ and Honey Mustard Sauce. If you are unsure which option of the chicken suit you best, you could always try out their Tex Sampler (RM15.55+) which has a piece of chicken, a piece of tender, a piece of honey-butter biscuit, BBQ or honey mustard sauce, coleslaw and a glass of Coca-Cola.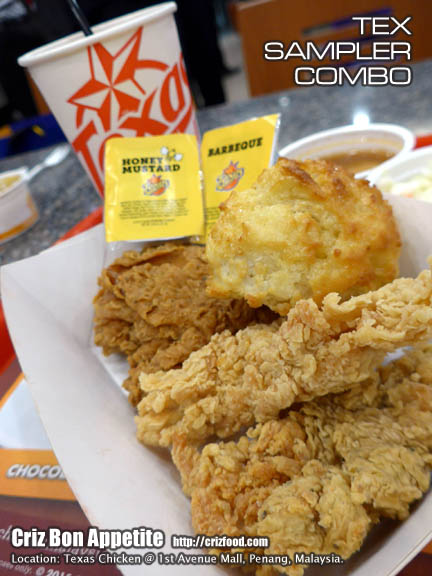 I also managed to try out their Spicy Tex Supreme (RM8.90+). You would be surprise to find some added nachos for that extra crunch.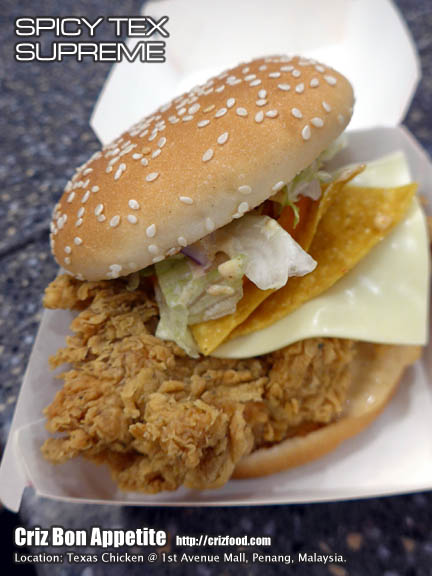 We also tried out their signature desserts such as Strawberry and Chocolate Shortcakes (RM5.90+ each) and Chocolate Volcano (RM7.90+). Definitely the Chocolate Volcano excelled amongst the 3 desserts.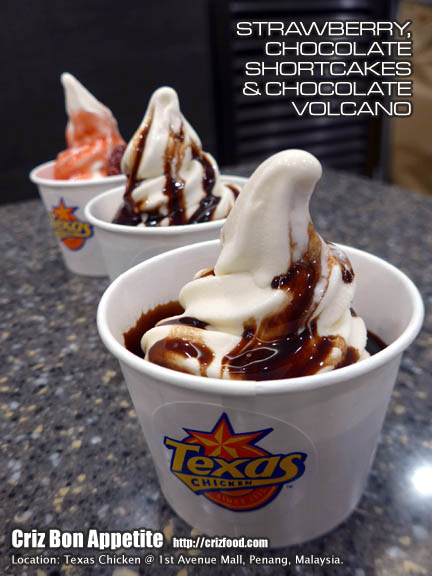 Overall, I'm quite happy with the chicken products as they were indeed fresh and tasty. However, my favorite is still the Chocolate Volcano with a nice combination of hot and cold sensation.
Texas Chicken can be located at the LF Floor of 1st Avenue Mall.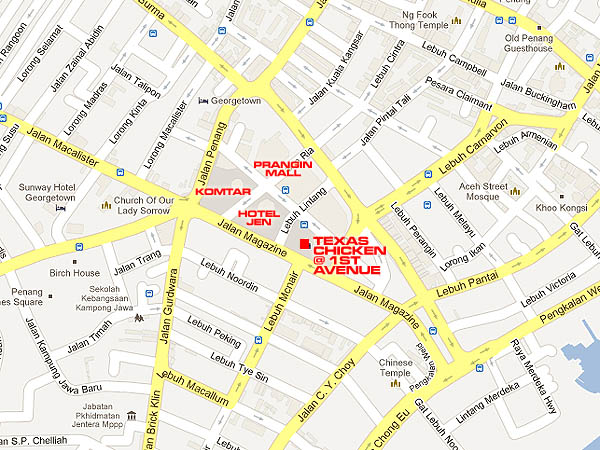 Name: TEXAS CHICKEN @ 1ST AVENUE MALL
Address: LG-15, 16 &17, Lower Ground Floor, 1st Avenue Mall, 182, Jalan Magazine, 10300 Georgetown, Penang, Malaysia.
Contact: +604-370 5594
Business Hours: 10.00am-10.00pm
GPS: 5.413186, 100.331222
RATING:
Ambience: 7/10 (1-4 cheap, 5-7 average, 8-10 classy)
Food Choices: 7/10 (1-4 limited, 5-7 average, 8-10 many choices)
Taste: 7/10 (1-4 tasteless, 5-7 average, 8-10 excellent)
Pricing: 7.5/10 (1-4 cheap, 5-7 average, 8-10 expensive)
Service: 8/10 (1-4 bad, 5-7 average, 8-10 excellent)
About Texas Chicken

: Founded in San Antonio, Texas in 1952 by George W. Church, Church's Chicken, along with its sister brand Texas Chicken outside of the Americas, is one of the largest quick service chicken restaurant chains in the world. The brands specialize in Original and Spicy Chicken freshly prepared throughout the day in small batches that are hand-battered and double-breaded, Tender Strips®, sandwiches, honey-butter biscuits made from scratch and freshly baked, and classic, home-style sides all for a great value. Church's Chicken and Texas Chicken have more than 1,650 locations in 25 countries and global markets and system-wide sales of more than US $1 billion. For more information, visit www.texaschickenmalaysia.com.
About Envictus International Holdings Limited

: On July 2012, the Group signed an exclusive 10-year International Multiple Unit Franchise Agreement with US-based Cajun Global LLC for exclusive rights to develop and operate Texas Chicken restaurants in Malaysia and Brunei from 2013 to 2022. This marked the Group's Maiden foray into the fast food segment. These restaurants serve American-styled, big juicy full-flavored fried chicken, French fries, honey butter biscuits, mashed potatoes, coleslaw, burgers and sundaes to name a few. Since the opening of the first flagship store, Envictus has leveraged on the robust demand for the Texas Chicken restaurant concept by growing its presence at a good place to reach a total of 34 restaurants at present, mainly within Klang Valley area in Malaysia.