For the month of December 2013 (1-31 December 2013), the Swez Brasserie @ Eastin Hotel, Penang, would be having its International Flavors Promotion to tantalize your taste buds. This promotion would be under the skillful hands of Chef Ong Chin Hock (Jr. Sous Chef) and Chef Franco Ho (Pastry Chef).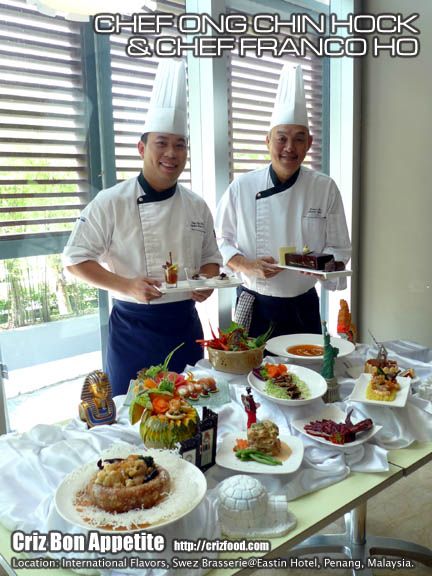 We started off the meal with a classic soup called Italian Cream of Tomato (意式番茄湯). It was creamy with full sweetness from ripened tomatoes with a mild tad of herbs and spices. Obviously, the thickness was from some usage of heavy cream. However, I personally felt it was a bit towards a sweeter taste that did not suit my taste bud all so well.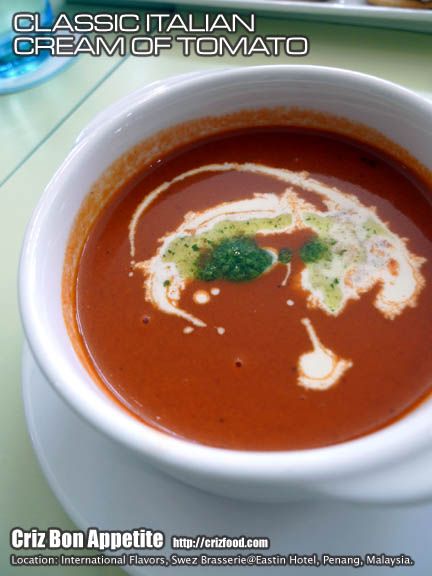 However, the appetizer of Roulade de Saumon au Fromage Crème (French Salmon Roulade with Cream Cheese Platter/法式鮭魚肉卷) was something to comment about. The freshness of the salmon combined with some herb infused cream cheese was something quite addictive. It seemed this was one of the dishes that won an award in a recent culinary competition. Thumbs up!
You would also be expecting something from Thailand, namely the Yam Talay (Thai Seafood Salad/泰式海鮮沙拉). When it comes to Thai cuisine, the balance of herbs and spices usages with a light touch of sweet and sourness would hardly go wrong. Moreover, combined with a few selections of fresh seafood, the dish was another winner for any buffet spread.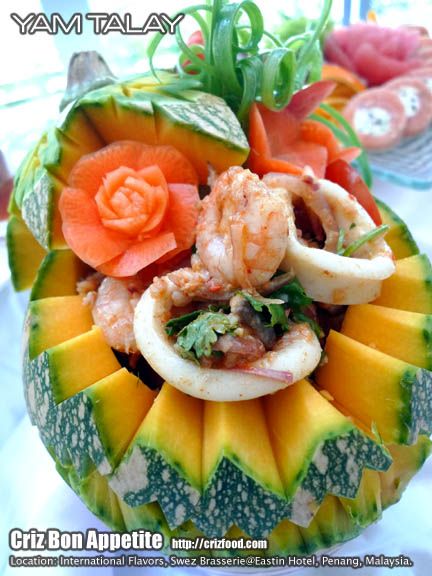 Amongst the many canapé sections, you would expect to get some variations of tapas. There were a few variants introduced such as the French Style Marinated Sardine (法式滷沙丁魚). The main attraction of this appetizer was that the sardine slices were served raw but cured with some lemon citrus juice and infused with some red pepper corn and herbs. It was an interesting combination indeed and appetizing too.
Another interesting tapas was the Eggplant Caviar (茄子魚子醬) served on cream crackers. Though the preparation was simple, the mayonnaise added eggplant combination with some added lumpfish caviar was something light and delicious.
The last of the tapas introduced was the Cheese with Dry Apricot & Turkey served with Apple Jam Sauce. It was not a bad combination at all.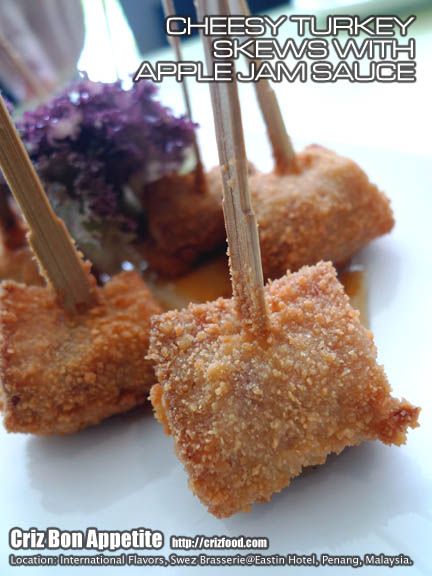 As for the main dishes, you would be expecting some Korean dishes such as the Korean Bulgogi (韓國烤肉). At first glance, you might think that the grilled beef slices might be tough. However, being marinated well with ginger juice as tenderizer and added garlic, chili flakes and sesame seeds, each bite was amazingly tender to the bite.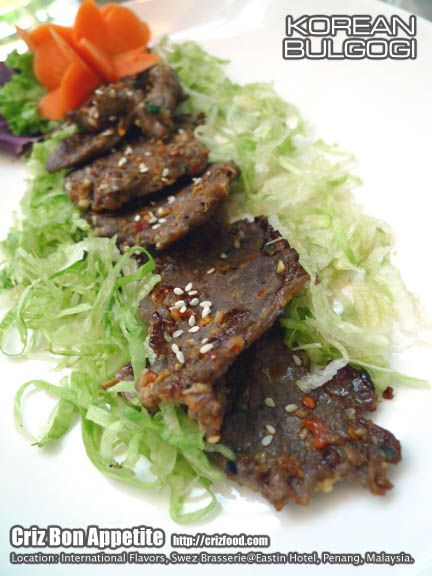 There was also the Indian Curry Fish Head with Vegetables (印度咖哩魚頭). For Malaysians, this was one of the more common dishes in our daily spread of dishes. There was nothing much to brag about.
One of the more prominent dishes that always caught my attention was the Hong Kong Style Roasted Duck with BBQ Sweet Sauce (港式烤鴨). The kitchen did quite a great job in roasting the duck with the right stuffing. The pieces were tender and juicy and went well with the condiment of BBQ sweet sauce.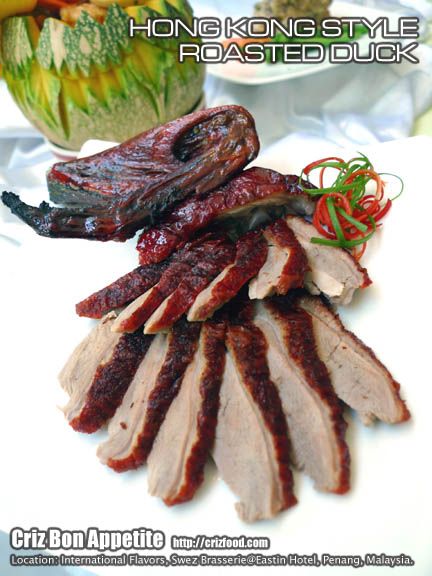 What caught my attention most was the Frango comleit de coco Brasileira (Brazilian Chicken with Coconut Milk/巴西椰奶雞). The creamy coconut milk concoction with a mild touch of herb, lemon juice and some finely diced tomatoes went well with the pan-fried boneless chicken. This dish would be great with some bread or tortillas.
Chinese Classical Loh Han Chai with Yam Ring (玉環羅漢菜) was also served. I personally felt that the yam ring would go better with some stir fry vegetables and chicken. The fermented bean curd usage in the dish somehow overpowered the fragrance from the nicely fried yam ring.
We were also served with some French Prawn Persillade (法式香菜蝦). This was just some king sized prawns sauteed in some chopped garlic plus parsley and served with curry infused couscous.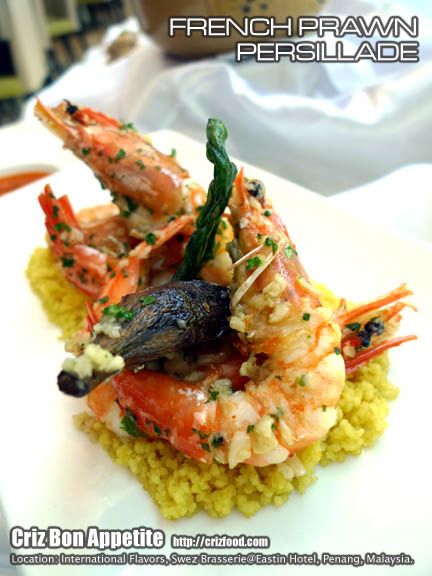 Last but not least, we ended our meals with two delicious desserts. One of them was the Italian Classic "Pick Me Up" Tiramisu (法式提拉米蘇) while the other was the American Dark Chocolate Mud Cake (黑朱古力泥蛋糕).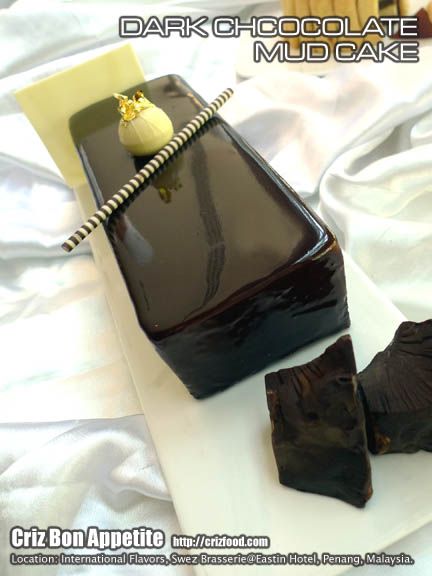 Overall, the theme for this December month can be quite interesting as it has the cuisine from all over the world. Do check out the different display of tapas to tempt your taste buds.
Here's the summary of the International Flavors Promotion.
INTERNATIONAL FLAVORS PROMOTION (1-31 DECEMBER 2013)
Lunch (12.00 noon – 2.30pm): Monday – Friday (except 25 December 2013)
RM48++ (adult), RM24++ (child)
Hi-Tea (12.00 noon – 3.00pm): Saturday, Sunday & Public Holidays (include 25 December 2013)
Normal weekend: RM55++ (adult), RM28++ (child)
Festive Occasion: RM68++ (adult), RM34++ (child)
Semi Buffet Dinner (6.30pm – 10.00pm): Sunday – Thursday (except 24 & 25 December 2013)
RM48++ per pax
For MAYBANKARD, Standard Chartered Bank, OCBC Bank, CIMB Bank and CITIBANK card members, you can enjoy 15% discount for the Herbs & Spices Semi Buffet Dinner (Monday to Thursday) and Weekend Buffet Dinner (Friday to Sunday) from 6.30pm – 10.00pm.
The Swez Brasserie is located at the right wing of Eastin Hotel, Penang (next to Queensbay Mall). If you are coming from Georgetown towards Bayan Lepas Free Trade Zone via Bayan Lepas Expressway, do watch out for the Pulau Jerejak signboard (leading to Pulau Jerejak jetty). Ignore the turning and drive on to the next left junction. Turn left into Jalan Aziz Ibrahim and drive on until you a roundabout. Turn 3 o' clock and drive on until you see a big Eastin Hotel signboard at the first right junction. Turn right and drive on. Park your car at the basement car park. Take a lift to the first floor lobby and you would see the restaurant there.
Name: SWEZ BRASSERIE @ EASTIN HOTEL
Address: 1 Solok Bayan Indah, Queens Bay, 11900 Bayan Lepas, Penang, Malaysia.
Contact: 604-612 1128, 604-612 1138
Business Hours: 12.00pm-2.30pm (Lunch), 6.30pm-10.00pm (Dinner)
GPS: 5.33643, 100.306345
RATING:
Ambience: 8/10 (1-4 cheap, 5-7 average, 8-10 classy)
Food Choices: 8/10 (1-4 limited, 5-7 average, 8-10 many choices)
Taste: 7/10 (1-4 tasteless, 5-7 average, 8-10 excellent)
Pricing: 8/10 (1-4 cheap, 5-7 average, 8-10 expensive)
Service: 8/10 (1-4 bad, 5-7 average, 8-10 excellent)