Howdy mate! Care for some sumptuous delicacies from Down Under? For the month of January 2014 (1-31 January 2014), Swez Brasserie @ Eastin Hotel, Penang, would be having its Aussie Tucker Promotion 2014, under the skillful hands of the Jr. Sous Chef, Chef Kelvin Cheong with the help of Chef Mohd Fauzi. The Australian cuisine has the influence of globalization from different nationalities, thus the food served may include just anything from sandwiches, rolls, wraps, salads, hot from the oven to snack treats.
We started with some appetizers namely the Corn & Haloumi Fritters (酥炸奶酪玉米粒). The combination of corn kernels and haloumi, a Cypriot semi-hard, unripened brined milk product made from a mixture of goat's and sheep's milk and sometimes also cow's milk, made into fritters were perfect. These were served with some sour cream and smoked salmon.
Next was the Roasted Kumara Salad (烘烤紅番薯沙拉). There was nothing much to shout about except it was just another potato salad of a different species. Overall, it was still a great salad with a bit of earthly flavors.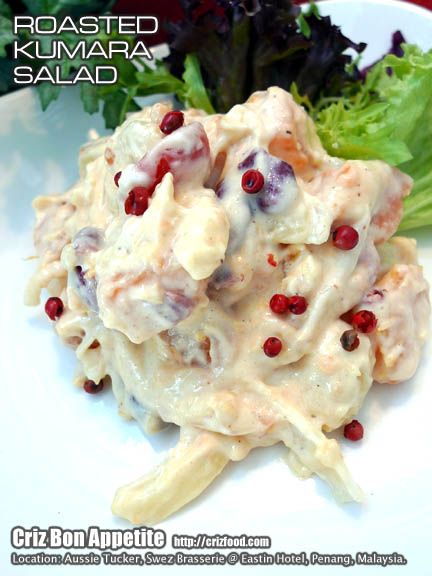 We also had some Aussie Roasted Carrots & Cumin Soup (澳洲烤胡蘿破和小茴香湯) which reminded me of the Indian dhal dish. The soup tasted a bit too strong of cumin which I would think won't be much suitable for those who can't take too much of spices. However, it was quite tasty for me as I'm quite fond of Indian spices.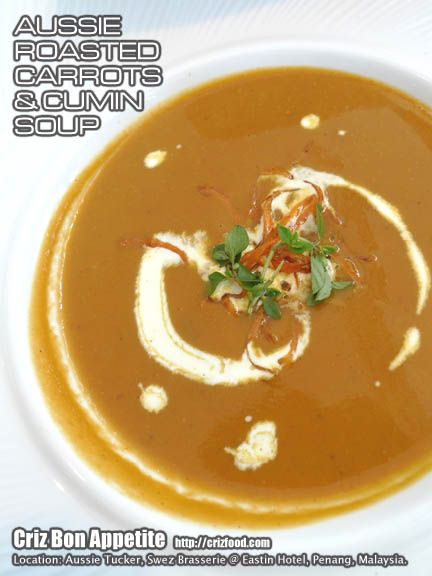 We also served with some Zucchini Bites (烘烤西葫蘆). The flesh of the squash was roasted, then blended before being mixed with some mayonnaise and herbs and piped into the rolled up skin. It was not a bad presentation but I did not find the dish as palatable to my liking as there were no bites at all as the name depicted.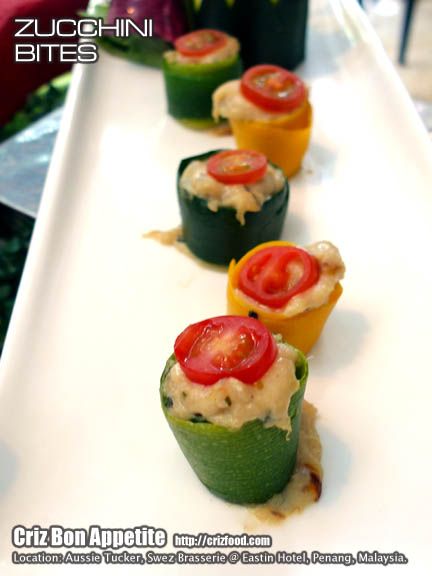 As for the main course, we had Tasmanian Mussels with Garlic Butter (蒜味塔斯馬尼亞貽貝). No doubt the pan butter grilled mussels were juicy but it lacked a tad of flavors such as added chopped garlic and red chilies/paprika to pep up the flavors more.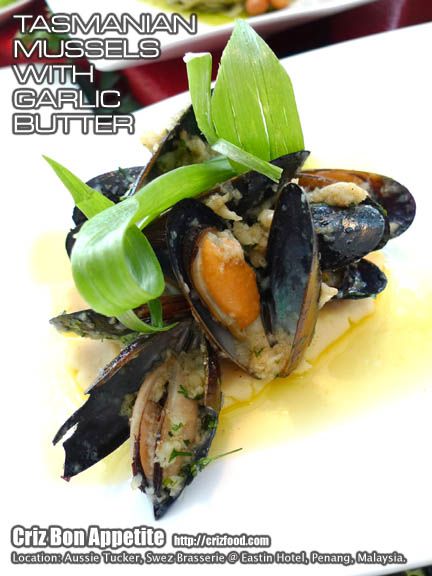 There was also the Aussie Prawns (澳式大蝦). It was just some large prawn being sauteed with some butter, herbs and spices. Taste wise, it was still fine but I don't quite like the hard shelled prawn species used in the kitchen as the prawns were rather hard to peel properly.
The next dish caught my attention. It was the Macadamia Nuts Pesto (澳式堅果香草醬面). Anything to do with macadamia nuts is my favorite as the creaminess of these nuts would always be heavenly. Instead of the usual added pine nuts, the madadamia nuts indeed pepped up more nutty flavors in the pesto sauce. Tossed with the right al dente pasta, it was a great dish to watch out for. Do find some grilled meat or smoked salmon from the buffet spread to add onto your pasta as it would make this dish more perfect as your main dish.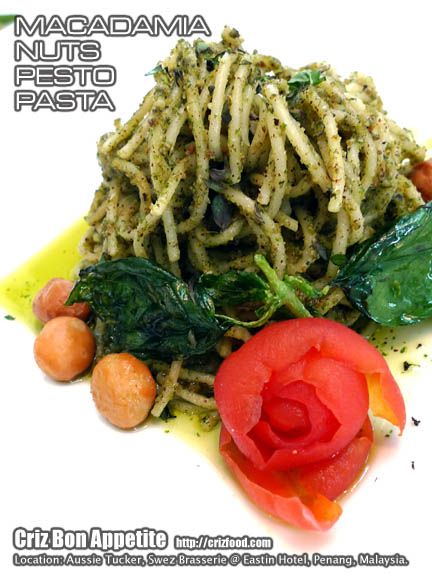 We ended up the main dishes with some Grilled Chicken Breast with Barbeque Glaze (澳式燒烤雞胸肉). It was the perfect meat dish to complement the pesto pasta.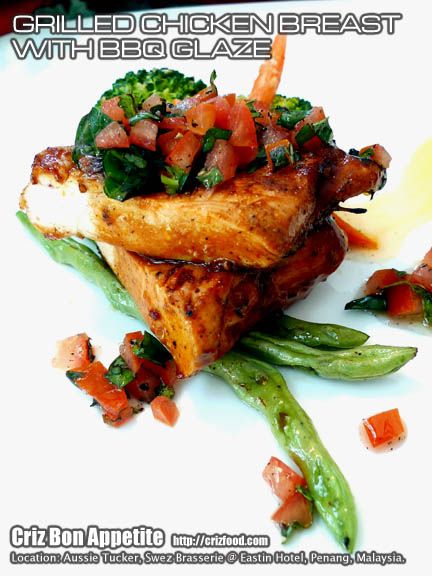 As for desserts, we had the Australia originated Lamington Cake (澳式傳統拉明頓蛋糕). This time around, the chef did something special. Instead of dipping the moist butter cake slices into some hot chocolate sauce before being tossed in desiccated coconut, the kitchen used double shot espresso as a replacement. It was indeed a nice bitter sweet punch in the mouth. Moreover, the cake was just nice in sweetness for my liking. Thumbs up chef!
Another great Australian dessert would be the Fruits Pavlova (鮮果帕芙洛娃甜餅), a meringue dessert with a crisp crust and a light inner softness, filled with fresh fruits and custard. It was indeed something unique.
Lastly, we were also served with some Chocolate Mousse Cake (巧克力奶油凍蛋糕). It was indeed heavenly with creamy mousse coated with thick chocolate ganache.
Overall, the dishes served in the Aussie Tucker Promotion 2014 were somehow a mix and match of dishes in the Western and Tex-Mex cuisine scenes. The dishes quite common as you would get from the American cuisine spread.
Here's the summary of the promotion.
AUSSIE TUCKER PROMOTION 2014 (1-31 JANUARY 2014)
Lunch (12.00 noon – 2.30pm): Monday – Friday (except 31 January 2014)
RM50++ (adult), RM25++ (child)
Hi-Tea (12.00 noon – 4.00pm): Saturday, Sunday & Public Holidays
Normal weekend: RM58++ (adult), RM29++ (child)
Festive Occasion: RM68++ (adult), RM34++ (child)
Weekend Buffet Dinner (6.30pm – 10.00pm): Friday & Saturday
Friday (Free Flow Friday with Wine): RM128++ (adult), RM48++ (child)
Saturday (Pirate Seafood Night): RM80++ (adult), RM48++ (child)
Semi Buffet Dinner (6.30pm – 10.00pm):
Sunday – Tuesday & ThursdayRM50++ per pax
Wednesday (Wine & Dine)RM95++ per pax
For MAYBANKARD, Standard Chartered Bank, CIMB Bank, Citibank and MasterCard Worldwide card members, you can enjoy 15% discount for the Semi Buffet Dinner (Monday to Thursday) and Weekend Buffet Dinner (Friday & Saturday) from 6.30pm – 10.00pm.
The Swez Brasserie is located at the ring wing of Eastin Hotel, Penang (next to Queensbay Mall). If you are coming from Georgetown towards Bayan Lepas Free Trade Zone via Bayan Lepas Expressway, do watch out for the Pulau Jerejak signboard (leading to Pulau Jerejak jetty). Ignore the turning and drive on to the next left junction. Turn left into Jalan Aziz Ibrahim and drive on until you a roundabout. Turn 3 o' clock and drive on until you see a big Eastin Hotel signboard at the first right junction. Turn right and drive on. Park your car at the basement car park. Take a lift to the first floor lobby and you would see the restaurant there.
Name: SWEZ BRASSERIE @ EASTIN HOTEL
Address: 1 Solok Bayan Indah, Queens Bay, 11900 Bayan Lepas, Penang, Malaysia.
Contact: 604-612 1128, 604-612 1138
Business Hours: 12.00pm-2.30pm (Lunch), 6.30pm-10.00pm (Dinner)
GPS: 5.33643, 100.306345
RATING:
Ambience: 8/10 (1-4 cheap, 5-7 average, 8-10 classy)
Food Choices: 8/10 (1-4 limited, 5-7 average, 8-10 many choices)
Taste: 7.5/10 (1-4 tasteless, 5-7 average, 8-10 excellent)
Pricing: 8/10 (1-4 cheap, 5-7 average, 8-10 expensive)
Service: 8/10 (1-4 bad, 5-7 average, 8-10 excellent)