The Sigi's Bar & Grill on the Beach @ Golden Sands Resort, Penang, is currently having its unique, gourmet burgers with international flavors from now until end of August 2015. The Burger Mania promotion is available from 11.00am until 6.30pm daily. These burgers would include choices such as Lamb Kofta Classic Burger (RM58nett), Egg and Cheese Burger (RM30nett), Charcoal Bread Beef Burger (RM50nett), Chicken Cajun Delight (RM42nett) and Big Wave Fish Burger (RM42nett). Most set would come with either some crispy nacho chips or French fries and a complimentary soft drink of either Coke or Sprite. For reservations, please call +604-886 1852 or +604-8811 911.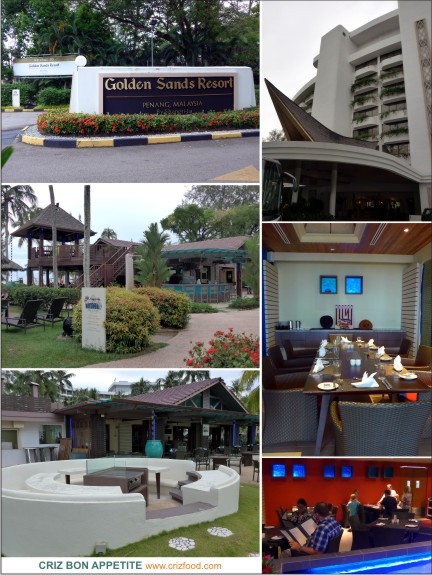 With Penang having one of the best durians during this season, the highlight of the August month will be their own concoction of Durian Cheese Chicken Burger (RM45nett), a chicken patty filled with oozy fresh Penang durian flavored cheese. The best part would be that the unique concoction would leave no extruding after dining breath. You can still kiss your partner with a disliking for the King of Fruits without getting a hard slap~ Haha~ 😛 In fact, I do love the aromatic scent as it was almost like the scent of a ripened cempedak (scientific name – Artocarpus integer). Fresh custardy fresh durian paste, combined with added melted cheese in the nicely grilled chicken patty was truly another umami experience. By the way, umami is the fifth taste your tongue could sense other than the usual sweetness, saltines, sourness and bitterness. I've to compliment the chef for creating such a unique patty. It may be the only one in the world as well.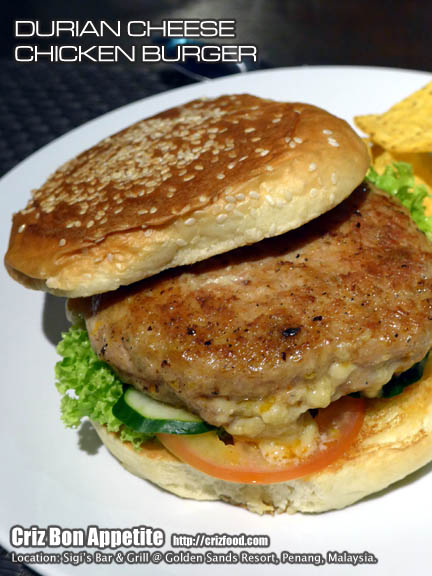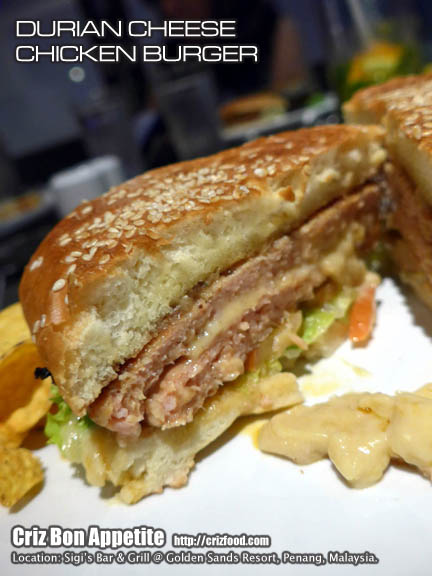 If you were to have the durian-phobia of putting your most hated fruit into your mouth, you can always opt out for some other burgers in their menu. One of the recommended ones would be their Charcoal Bread Beef Burger (RM50nett). The beef burgers would be served with toasted charcoal buns plus condiments of French cornichon (small pickled gherkins), lettuce, tomato slices, sliced cheese, garlic aioli, smoked BBQ sauce, tomato ketchup and a side dish of delicious crispy nacho chips.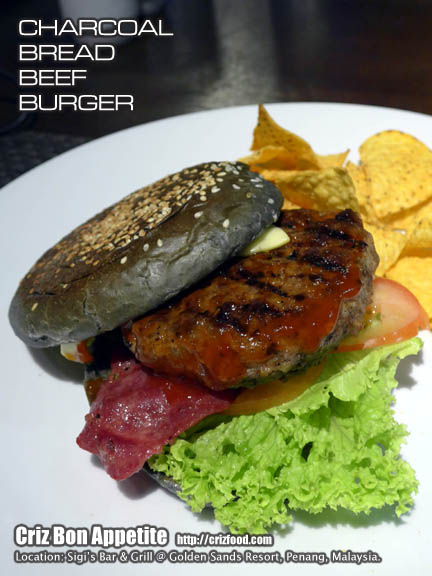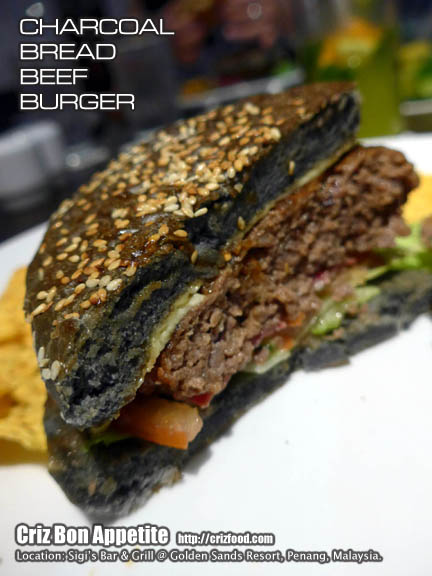 There would be more option in the menu such as the Lamb Kofta Classic which come with fragrantly cooked lamb, topped with some garnishing of diced onions, diced tomato and Middle Eastern crushed foul medames bean in a sesame seed bun, served with French fries and a lemon wedge. The Egg and Cheese Burger would consist of a fried egg, cheese, lettuce, tomatoes and French fries. On the other hand, the Chicken Cajun Delight would have grilled chicken breast seasoned with Cajun spices, served with a bed of fresh lettuce, tomato slices, tomato sauce, garlic aioli, cheese and French fries. There would also be something on the menu to pamper those seafood lovers such as the Big Wave Fish Burger. The burger would come with a crispy batter-fried fish fillet, served with julienned lettuce, tomato slices, coleslaw and tartar sauce plus a side dish of French Fries and a lemon wedge.

If you feel that you could still put in some other dishes, you may want to start off with their Signature SBG Caesar Salad with Smoked Salmon (RM44nett), a plate of crunchy Romaine lettuce tossed in Caesar dressing, served with beef rashers, garlic croutons and parmesan cheese with rolls of smoked salmon.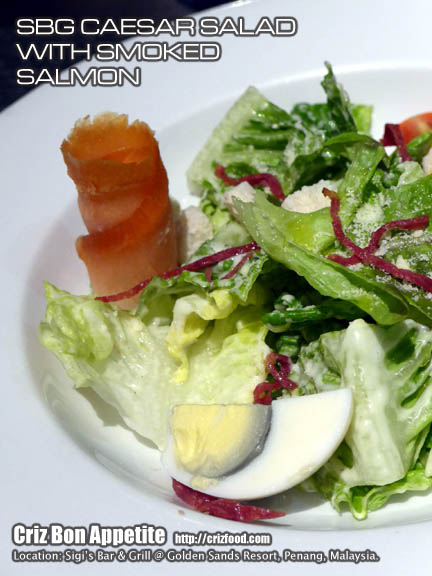 To wind up the meal with something sweet and cooling might be a great idea too. You can check with staff if they have Durian Cake (RM22nett) available. You would get to indulge in a piece of the delicious cake, served with vanilla ice cream with some chocolate dressings.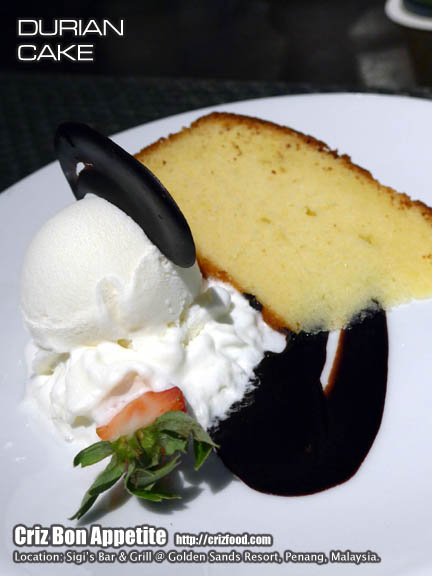 For more options on the lunch, dinner or pool side & garden menus, you can always click on the photos shown below to view the relevant menu.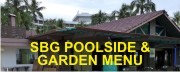 Overall, I would think that the chef did a great job in creating a dish that's so Penang via durians. I would love to see the restaurant coming out with more local fruits creations in the near future. Who knows? You might get to savor more out-of-the-world dishes soon with his creativity? Ice Blended Rambutan Float? Mangosteen Pudding? Nutmeg Dragon Beard Floss? I would surely be adventurous enough to try all out~ 🙂
The restaurant is just located within the premises of Golden Sands Resort. Drive all the way up towards Batu Ferringhi. When you see the Rasa Sayang Resort & Spa on your right, slow down and watch out for the Golden Sands Resort entrance which is right after the Rasa Sayang Resort & Spa. Park your car at the ample car park there and walk into the main lobby of the resort. Head towards the beach area and you would see Sigi's Bar & Grill on your right.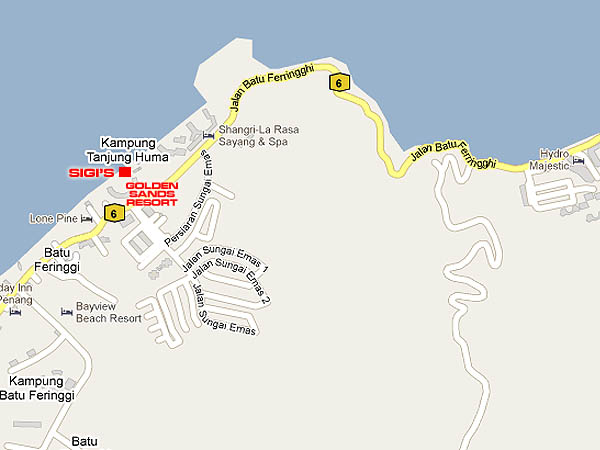 Name: SIGI'S BAR & GRILL ON THE BEACH @ GOLDEN SANDS RESORT
Address: Batu Ferringhi Beach, 11100 Penang, Malaysia.
Contact: 604-886 1852 (Direct Restaurant Line)
Business Hours:
11.00am-6.00pm, 6.30pm-10.30pm (Bar: 11.00am-11.45pm)
GPS: 5.477405, 100.251657
RATING:
Ambience: 9/10 (1-4 cheap, 5-7 average, 8-10 classy)
Food Choices: 7/10 (1-4 limited, 5-7 average, 8-10 many choices)
Taste: 8/10 (1-4 tasteless, 5-7 average, 8-10 excellent)
Pricing: 8/10 (1-4 cheap, 5-7 average, 8-10 expensive)
Service: 8/10 (1-4 bad, 5-7 average, 8-10 excellent)
Hong Kong-based Shangri-La Hotels and Resorts currently owns and/or manages 90 hotels under the Shangri-La brand with a room inventory of over 37,000. Shangri-La hotels are five-star deluxe properties featuring extensive luxury facilities and services. Shangri-La hotels are located in Australia, Canada, mainland China, Fiji, France, Hong Kong, India, Indonesia, Japan, Malaysia, Maldives, Mauritius, Mongolia, Myanmar, Philippines, Singapore, Sultanate of Oman, Taiwan, Thailand, Turkey, the United Arab Emirates and the United Kingdom. The group has a substantial development pipeline with upcoming projects in mainland China, Cambodia, India, Myanmar, Philippines, Qatar, Saudi Arabia and Sri Lanka. For more information and reservations, please contact a travel professional or access the website at www.shangri-la.com.