What's the best way to usher in the Year of the Female Brown Earth Pig during this coming Chinese New Year 2019? It would be to feast with family members and friends at reunion dinners with great ambiance and great food! This year, Straits Café & Lounge @ Ixora Hotel, Bandar Perai Jaya, Penang, would be promoting a few great deals for all to celebrate the auspicious season. You could call in +604-382 8888 to make your reservations or log in the hassle-free online site to pay in advance and enjoy some discounts.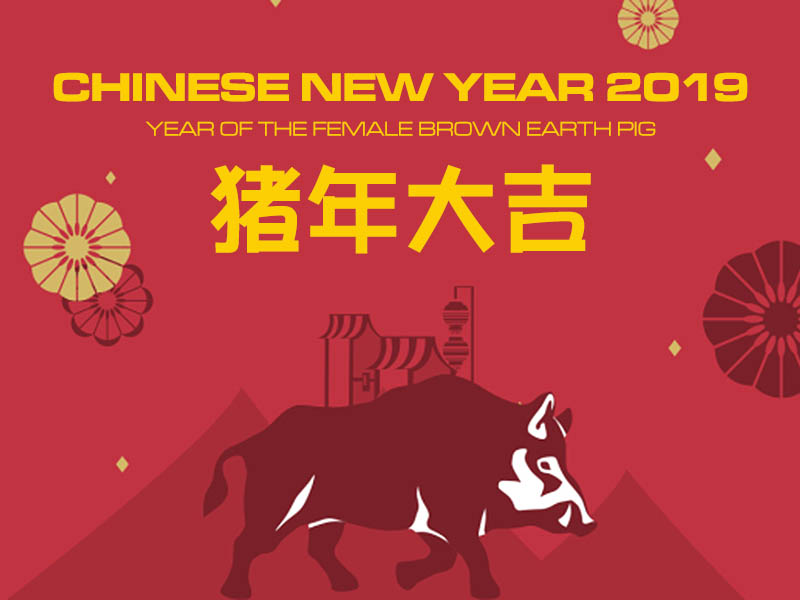 To start off, they have two packages for the Chinese New Year 2019 – Celebration Prosperous Chinese Course Sets (for both lunch & dinner), namely RM988+ for 8-Course and RM828+ for 6-Course. They also do have the Alcoholic Special Promotion, where you could Buy half dozen (6 bottles) and above of HOUSE WINE and get 20% off of NORMAL PRICE, Buy 2 CARLBERG BARRELS and get the 3rd BARREL on HALF PRICE or Buy 2 glasses free 1 glass of Carlsberg draught beer (320ml per glass), applicable at The Straits Cafe only.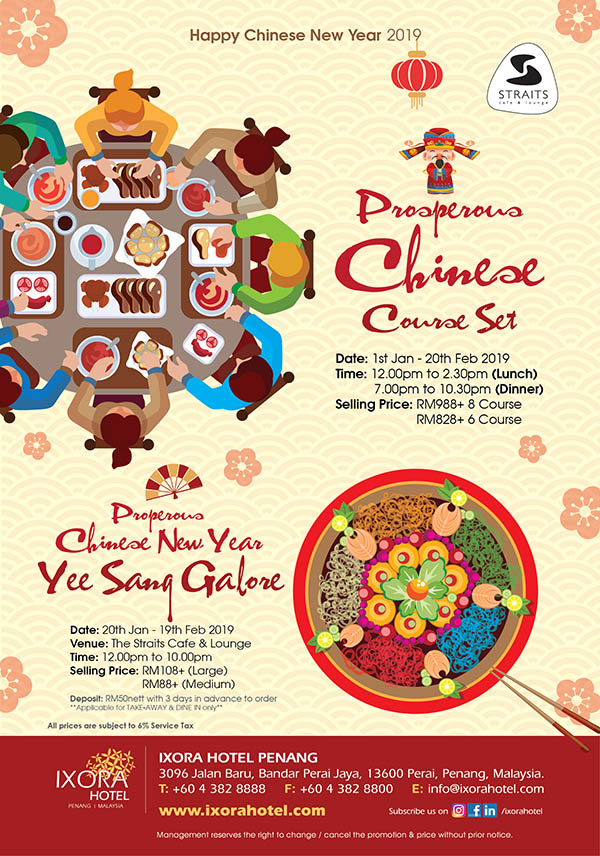 Here are some of the dishes available for both courses such as CHEF SPECIAL 5 COMBINATIONS (from 8-Course) which consisted of Mushroom Roll with Fatt Choy Sauce, Fragrant Crunchy Fish Finger, Stir-Fried Pacific Clam with XO Sauce, Breaded Golden Shrimp and Sesame Coral Flower Jellyfish, SEAFOOD TREASURE CHOWDER WITH ABALONE SLICE & FISH LIP (鲍你好势又发财 – from 6-Course), DEEP-FRIED BONELESS CHICKEN BBQ SAUCE (鸿运香脆鸡 – from 6-Course), DEEP-FRIED FIVE SPICE GARLIC PRAWNS SAUCE (嘉官皆进爵 – from 8-Course), STEAMED RED SNAPPER WITH AROMATIC THAI APPLE SAUCE 财运丰收庆有余 – from 6-Course), STEAMED LOTUS LEAF FRIED WITH DRIED & BLACK MUSHROOM (百子千孙齐丰收 – from 8-Course), and more.
You could also enjoy their Chinese New Year Eve Reunion Buffet Dinner (4 February 2019) from 7.00pm to 10.00pm at The Straits Cafe and Lounge. Priced at RM98+ (Adult) and RM68+ (Child aged 4-12), there's the offer of 15% off for early bird with FULL PAYMENT before 31st January 2019 for the total payment.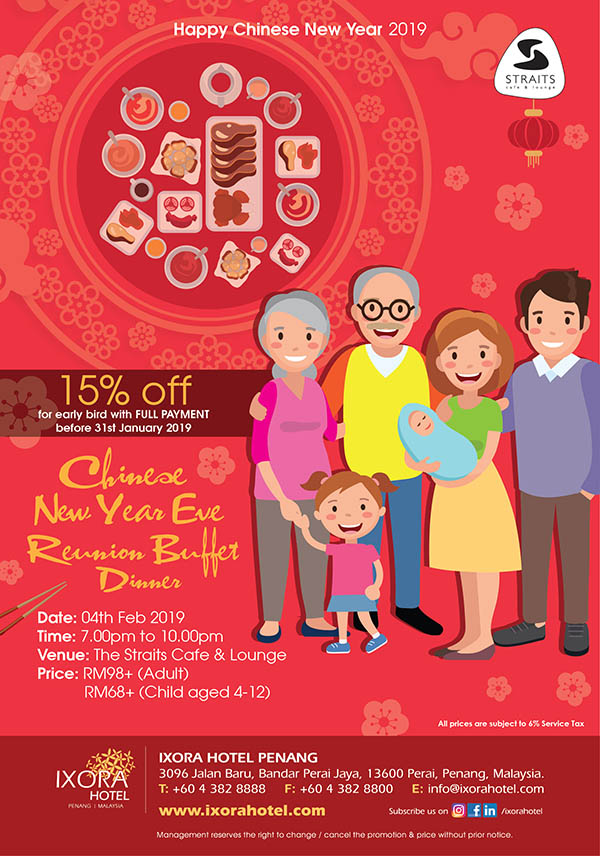 Here are some of the buffet items you would get during the promotion. Some of the items are APPETIZER (Tuna & Pasta Salad, Kerabu Chicken Feet With Mango), COLD CUT PLATTER (Smoked Duck Platter), MAIN COURSE (Fried Noodles with Seafood, Stir Fried Green Shell Mussel with Turmeric Sauce, Broccoli & Cauliflower with Pacific Clam, Chinese Herbal Chicken), DESSERTS (Chocolate Tart, Gui Ling Gao Jelly in Bowl, Baked Egg Tartlet, Red Velvet cake), and more.
You could also check out their Prosperous Chinese New Year Yee Sang Galore (Dine-in & Takeaways), which would be available from 20 January 2019 (Sunday) until 19 February 2019 (Tuesday), from 12.00pm to 10.00pm. Two sizes is available at RM108+ (Large: 8-10 pax) or RM88+ (Medium: 3-6 pax). A minimum deposit of RM50nett is required with 3 days advance order.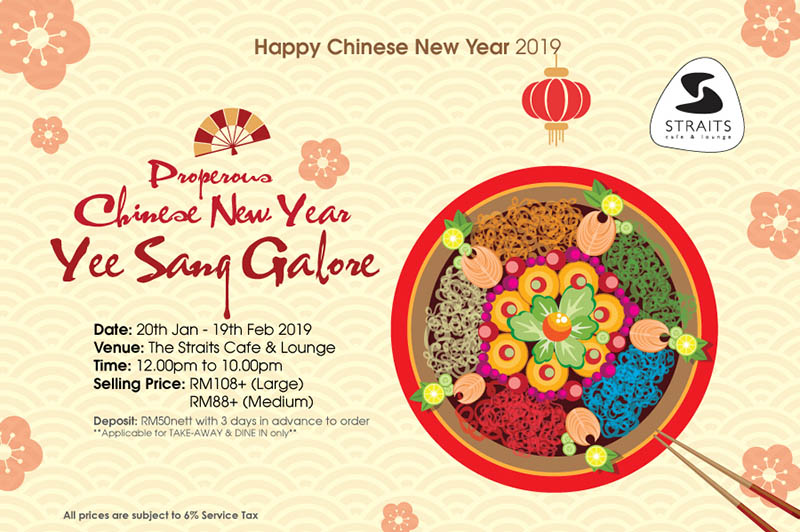 Getting to the Straits Café & Lounge @ Ixora Hotel won't be hard as it's just located next to the Megamall Shopping Complex at Bandar Perai Jaya. If you are coming from the island via the 1st Penang Bridge, just look out for the second exit on your left upon reaching the mainland. Drive all the way via Jalan Baru until you reach the 1st traffic lights. Turn left into Jalan Perai Jaya 1 and you can see Ixora Hotel at the junction of Jalan Baru/Jalan Perai Jaya 1. Drive straight for about 10m and you can see the basement car park on your left. Park your car and go up Level 1 and you can see the café & lounge there.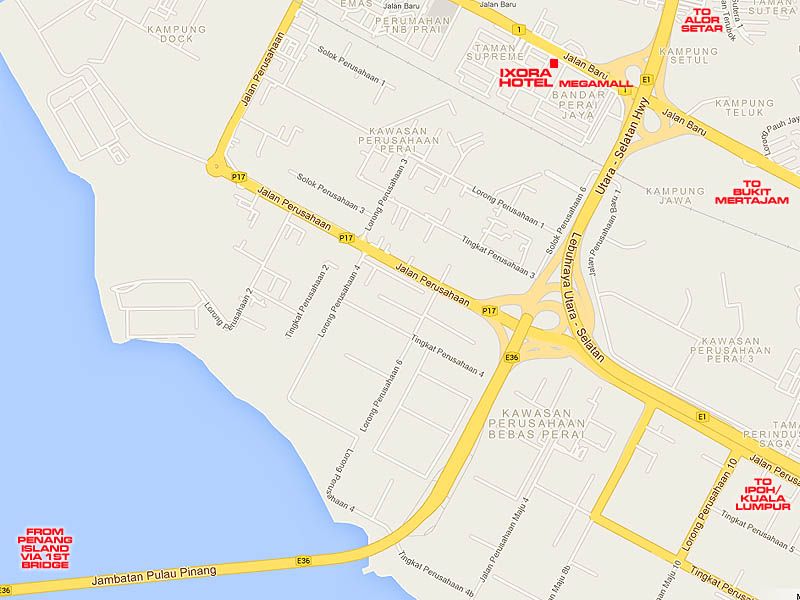 Name: STRAITS CAFÉ & LOUNGE @ IXORA HOTEL
Address: Jalan Baru, Bandar Perai Jaya, 13600 Perai, Penang, Malaysia.
Contact: 604-382 8888
Business Hours: 6.00am-10.00am (breakfast), 12.00pm-2.30pm (Lunch), 6.00pm-10.00pm (Dinner)
GPS: 5.378357, 100.398322
RATING:
Ambience: 8/10 (1-4 cheap, 5-7 average, 8-10 classy)
Food Choices: 8/10 (1-4 limited, 5-7 average, 8-10 many choices)
Taste: 8.5/10 (1-4 tasteless, 5-7 average, 8-10 excellent)
Pricing: 8/10 (1-4 cheap, 5-7 average, 8-10 expensive)
Service: 8/10 (1-4 bad, 5-7 average, 8-10 excellent)