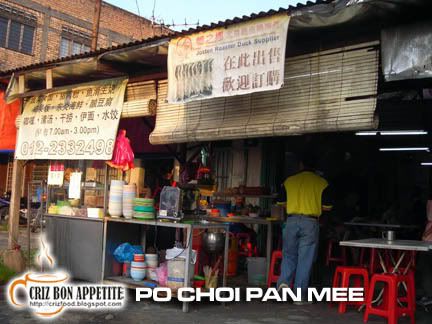 I have tried so many different versions of Pan Mee from all over Malaysia but this is the first time I had come across this unique version. Normally, Pan Mee will come with minced pork, green sweet leaves, mushroom, black fungus, anchovies, etc but this stall along the rural area of Seri Kembangan served the Pan Mee differently and simple.
Other than the normal kneaded dough for the noodles, it comes with three other options such as spinach, purple sweet potato and pumpkin. Each bowl will come with lots of sweet leaves (Sauropus androgynus, sweet leaf bush, sayur cekur manis, sayur Sabah), deep fried stuffed fu chok (soy bean skin) with fish paste and some garlic oil, accompanied by crunchy anchovies and chili paste. This is one of the best chili pastes I have ever tasted as it was cooked along with blended dried shrimps. Each bowl only cost RM4 which is considered cheap. Here are the three special noodles (we did not order the original version at all). My recommendation – The Spinach Noodle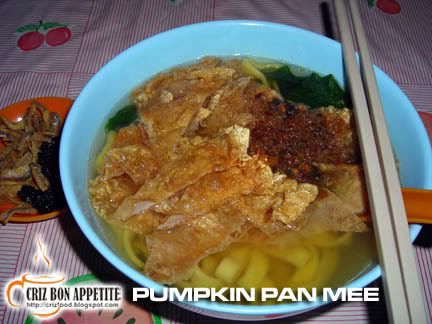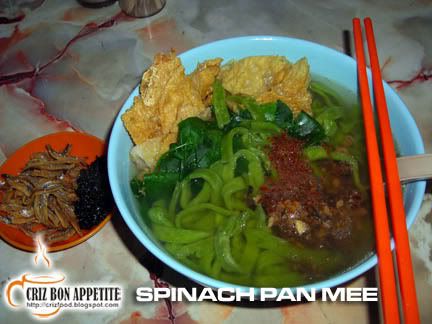 It might be hard for those people from outstation to find this small coffee shop within the inner part of Seri Kembangan. The stall is situated in a village area and only locals will know how to find this place. Fortunately, I managed to get the address and search for a map that will lead you there. Happy hunting!
Name: PO CHOI PAN MEE @ LIN CHIN COFFEE SHOP
Address: No.6 Jalan SK 5/2, 43300 Seri Kembangan, Selangor, Malaysia.
Contact: 012-233 2498
Opening Hours: 7.00am – 3.00pm
GPS: 3.029634, 101.704302
RATING:
Ambience: 4/10 (1-4 cheap, 5-7 average, 8-10 classy)
Food Choices: 6/10 (1-4 limited, 5-7 average, 8-10 many choices)
Taste: 8/10 (1-4 tasteless, 5-7 average, 8-10 excellent)
Pricing: 6/10 (1-4 cheap, 5-7 average, 8-10 expensive)
Service: 7/10 (1-4 bad, 5-7 average, 8-10 excellent)