Although I do get my Mum the best food around town frequently, it was a special day yesterday to bring her out for some live-on-the-spot dinner. After all, it was Mothers' Day and she ought to be treated like a queen. We ended up having Japanese food at Nippon Yataimura which is located in Pulau Tikus, Penang. From the exterior, it looked like a normal restaurant. As we stepped inside, it was totally another world by itself with lanterns hanging everywhere on little roofs just like in a village. Now I got it why they had named the shop as "日本屋合村", meaning Japanese House in a Village.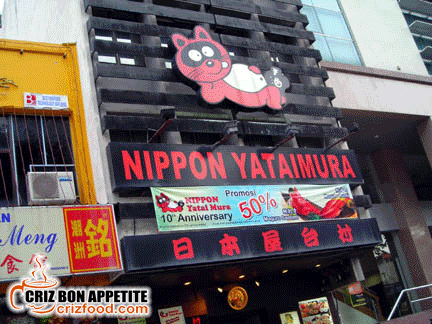 There were just too many choices available in this restaurant with even a specially created 9-course set meal priced at RM48+ just for Mothers' Day but we ended up ordering some other set meals with a few dishes from the Ala Carte menu. Let me share with you the set meals that we had ordered. One of the set was Saba Syioyaki (RM25). This is one of the most ordered fish dish in Japan where a small mackerel was grilled to perfection while maintaining the moisture within the fat. The fish had a nice grill and with a squeeze of lemon juice and grated daikon (mild flavored white radish), it was good.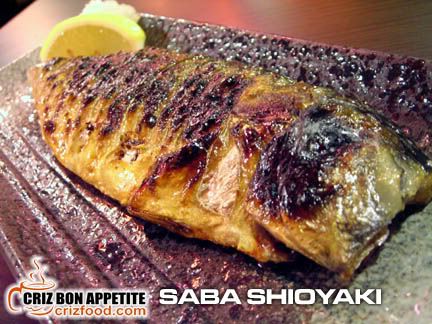 Next were two sets of teppanyaki (鉄板焼) style dishes. One of them was the Teppan Chicken (RM20). The dish came with some iron griddled mixed vegetables with some toasted garlic slices. The chicken slices were good with their special sauce and they tasted a bit like the spicy version of sate.
Teppan Salmon (RM24) was the other wonderful dish as the sauce was somewhat unique. It was slightly sweet and mildly spiced up. Even with the crisped sensation I had, the fish managed to retain its juice. It was beautiful.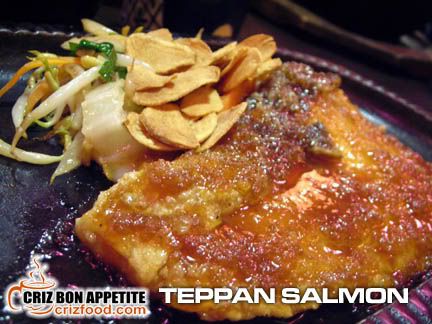 Something caught my eyes in the set menu and I ended up ordering Pork Mayonnaise (RM20). The dish was real creamy with the flavors coming from the mayo and a hint of Lea & Perrin sauce. This dish was cooked with lots of sliced big onions. This would be good if taken with rice.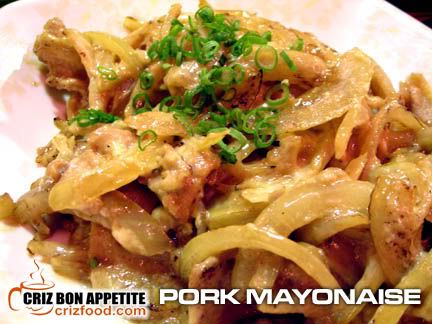 The above four sets came with side dishes such as a bowl of beautifully steam Japanese rice, Salad, Miso Soup, Chawan Mushi and fruit cuts. The Salad had a mildly gingered chili paste. The Miso Soup was thickly flavored with some tofu cubes and chopped spring onions in it. The Chawan Mushi (Steam Egg) came beautifully decorated and was silky smooth with a few chopped chicken meat pieces within.
Other than the above set meals, we also tried the Seafood Fried Rice (RM22). The dish came with freshly cooked squids, prawns and fish fillet. Although the taste of the rice was nice, I found it to be wet for my preference. It could be due to my liking for "wok hei" (high heat cooking) style of plain white rice rather than the usage of Japanese rice.
The next dish which was the Fish Ball Ramen (RM13) may look plain but one sip into the soup and you would yearn for more. The soup was richly flavored with a hint of fresh prawn juice. It was just like the Dobin Mushi I had at Penang Times Square. Even the portion of ramen served was rather filling. The dish came with fish balls, sliced wood ear fungus and some spring onions.
We also ordered some of the dishes from the Ala Carte menu and one of them was the Ocha Soba (RM13). We had a small serving of cold noodles served with cold soup, raw quail's egg, spring onions and chopped fried garlic. We indeed left the quail's egg untouched. One reason was that it was raw and the next was the 3640 calories it will bring into our bodies. The noodle was springy and blended nicely with the soup but somehow I still prefer the Tenzaru Soba I had at Penang Times Square as the soup was more flavorful.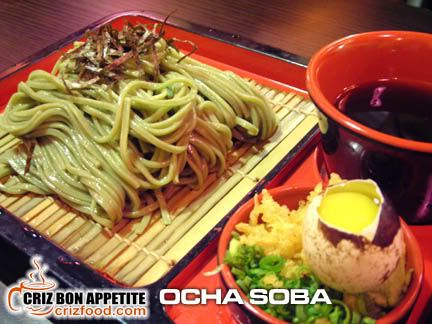 Next side dish was the Agedashi Tofu (RM6). It was nothing special with some pieces of fried tofu garnished with nori (Japanese seaweed strips), spring onions and daikon, served in a pool of soy sauce but the tofu cubes were indeed silky smooth.
The Ishiyaki Kinoko Nomori (RM18) was my favorite amongst the rest of the side orders. The shiitake (Chinese black mushroom – 香菇) and enoki/enokitake (golden needle mushrooms – 金針菇) mushrooms were stone-cooked so perfectly with their special sauce while maintaining the fragrant mushroom taste. The gravy for this dish tasted great with my rice. Both mushrooms are believed to be great antioxidants.
The most wonderful dining experience in this restaurant was their free flow of green tea, either cold or hot at no extra cost.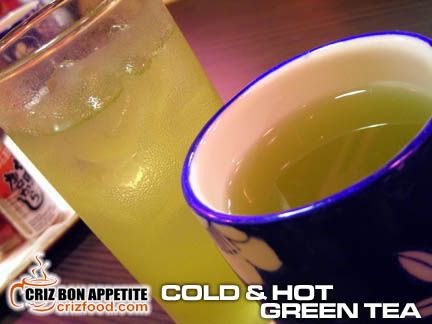 I felt that the pricing here is reasonable compared to the quality of ingredients and portion served. After all, I was really filled up with each set meal I had ordered. The service here was good considering that almost all the food came within minutes upon ordering. There are more dishes which I would love to try out next from their ramen (noodles), gohan (rice), sushi (vinegar rice finger food), sashimi (raw cold cuts) and dessert sections.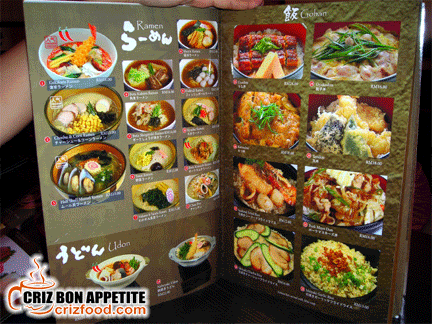 There is another branch of this franchise restaurant located within Queensbay Mall up in Bayan Baru, Penang. The main restaurant which I had visited in Pulau Tikus, Penang, is located next to a service road along Jalan Burma. If you are coming from Jalan Burma into Pulau Tikus district, you would see a police station on your right. Drive on until you have reached the Jalan Cantonment/Jalan Burma traffic light. After the traffic light, you would see a row of shop houses. Slow down and keep a watch out for a service road on your left. Turn in the service road and you would see the restaurant on your left just next to Teow Chew Meng restaurant. Parking can be quite limited during office hours and weekends. You can either try finding some behind the restaurant or opposite along Bellisa Row. The worst alternative would be within the Bandar Baru Supermarket car park along Jalan Cantonment and walk back to the restaurant.
Name: NIPPON YATAI MURA (日本屋合村)
Address: 403-A, Jalan Burma, Pulau Tikus, 10350 Penang, Malaysia.
Business Hours:
12.00noon-2.00pm, 6.00pm-10.00pm (Weekdays)
12.00noon-10.00pm (Saturday & Sunday – No reservation on these days & Public Holiday)
Contact: 604-226 6018
GPS: 5.432746, 100.310593
RATING:
Ambience: 8.5/10 (1-4 cheap, 5-7 average, 8-10 classy)
Food Choices: 8/10 (1-4 limited, 5-7 average, 8-10 many choices)
Taste: 8.5/10 (1-4 tasteless, 5-7 average, 8-10 excellent)
Pricing: 7.5/10 (1-4 cheap, 5-7 average, 8-10 expensive)
Service: 9/10 (1-4 bad, 5-7 average, 8-10 excellent)