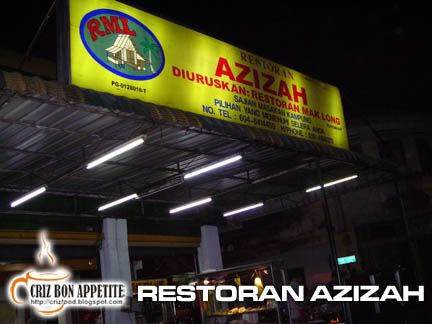 If you are in Georgetown area, you could always try out the kampung style cooking at Restoran Azizah, a subsidiary restaurant of the famous Restoran Mak Long in Bayan Lepas. This little Malay restaurant serves quite a variety of Malay dishes with rice at a very reasonable price. Some of the vegetable dishes would be as low as RM3.00, whereas fish would be charged according to market price. If you do not want to have rice with dishes, you could always order their fried rice and noodles which won't cost you more than RM4, unless you order their special which would be RM1 additional.
Here are some of the dishes I had tried out in this restaurant. The Tom Yam Udang or Prawn Tom Yam (RM4) has 6 medium sized prawns, some fresh mushrooms and tomatoes. The dish was quite tasty and appetizing to start the meal.
Next was the Sotong Goreng or Squid Fritters (RM4). The flour used was of a different kind. They were using plain flour which did not give the crunchiness I had expected. That was quite a disappointment.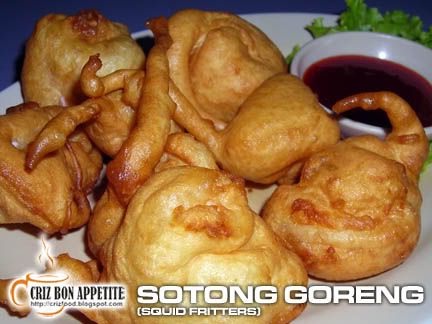 Sayur Campur or Mixed Vegetables (RM3.50) was next. Nothing to fuss or boast about as they did give quite a lot of squid slices there.
I also tried out their Telur Bungkus or Wrapped Omelette with Minced Chicken (RM4). There were quite a lot of minced chicken, chopped onions and mixed vegetables cooked with a touch of tomato puree wrapped inside the omelette. This dish is normal but at least the filling and the omelette blended in quite nicely.
As I saw many customers ordered their set fried rice, I decided to try out their Nasi Goreng Padprik Ayam or Padprik Chicken Fried Rice (RM4). I was impressed by the generous amount of chicken meat and vegetables given, considering the amount I had paid. As for the taste, it was a new experience as the gravy from the dishes blended in very nicely with the fried tomato rice.
I was chatting with the person-in-charge of the restaurant on what were the most ordered dishes in the restaurant. He recommended me the above fried rice as well as the Nasi Goreng Special (RM5) which has a few more seafood added in. Maybe I can try that next time.
If you are coming from Jalan Penang into Jalan Burma, keep to your right and turn into the second road on your right which is Jalan Transfer. Drive on until you have reached the third junctions on your left (Jalan Dinding). That's where the restaurant is located. You can always park your car along Jalan Dinding.
Name: RESTORAN AZIZAH (RESTORAN MAK LONG)
Address: 162, Jalan Transfer, 10050 Penang, Malaysia.
Opening Hours: 4.00pm – 1.30am
Contact: 604-641 4450 (Restoran Mak Long)
GPS: 5.419714, 100.330077
RATING:
Ambience: 6/10 (1-4 cheap, 5-7 average, 8-10 classy)
Food Choices: 7/10 (1-4 limited, 5-7 average, 8-10 many choices)
Taste: 7/10 (1-4 tasteless, 5-7 average, 8-10 excellent)
Pricing: 6/10 (1-4 cheap, 5-7 average, 8-10 expensive)
Service: 8/10 (1-4 bad, 5-7 average, 8-10 excellent)