Every year after the celebration of the
Nine Jade Emperors mother's birthday
, which is coincidentally the Chinese birthday of my Auntie, we would adjoin to a hotel for buffet lunch on the following Sunday. This year, we had decided to celebrate her birthday together with 60 guests at Sarkies Corner in E&O Hotel for the second consecutive year. From our
previous experience
, we agreed that the hotel did provide the best money for value buffet hi-tea around town.
By paying just RM42++ (adults) or RM21++ (children) or RM32++ (senior citizen), you could savor one of the most wonderful spread of buffet lines in Penang, ranging from hawker fares to international favorites. Although I had reviewed them earlier, I would like to reassess their standard this time compared to the time when they were only charging RM38++ per adult. With a mere increase of RM4++, the spread this time was incredible. Just look at what I had on my plate for appetizer.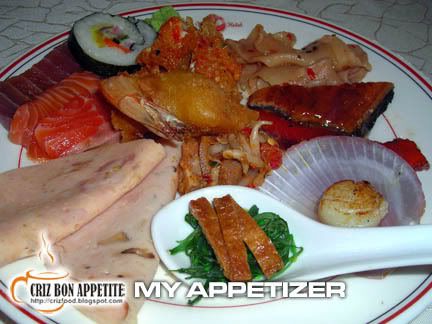 (Clockwise) Fresh Tuna and Salmon slices, Sushi with Wasabi, Thai-style Egg Salad, Prawn Fritters, Golden Abalone Salad, Unagi (Grilled Eel), Salmon Gravlan, Grilled Scallops, Smoked Lamb Salad, Vegetarian Duck with Seaweed and some hams.
Can you imagine that I had not even touch on the full salad, soup, buns, scones and dim sum section yet? This is already heaven for me!
As for the main course, you can try out their ever changing spread of rice and meat section. I could not describe all as there were not less than 15 dishes including Buttered Rice, Nasi Kuyit, Beef Rendang, Curry Chicken, Grilled Lamb in Mint Sauce, etc. Their Roasted Duck, Chicken Wing and Chicken Char Siew stall was always packed. You can even get a whole duck drumstick all for your self.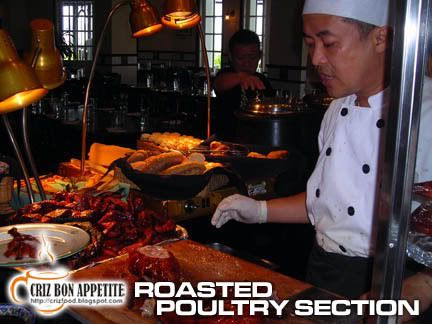 If you are a fish head lover, try the Curry Salmon Fish Head. It's worth more than RM30 each outside with that meaty size.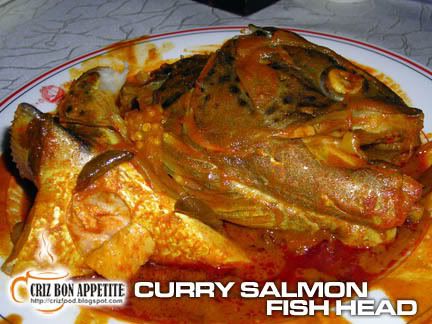 Fancy some grills and tempura seafood? There's abundant at the grill section with a wide selection of fresh scallops, prawns, salmon, cod fish, seafood on skewers, etc. On top of that, you can have some prawn fritters, tempura "sand divers" (lizardfish/sua chui), crab sticks, etc.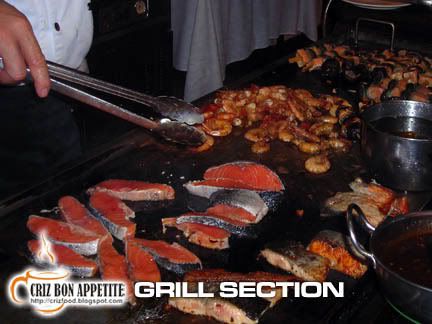 There's also the hawker section outdoor at the garden area. I forgo that as I was too full. You can savor the thick and juicy Chicken and Beef Satay, Roti Canai, Murtabak, Char Koay Teow, Laksa and Ice Kacang (Shaved Ice with Syrups).
By the time it was for dessert, I was almost at the brim. I thought I could still have some space left for some Pineapples, Dragon Fruits, Watermelons, Papayas or even the 6-flavored ice cream but I could fill no more. How to eat more when I have filled myself up with 50% of the sweet items as these?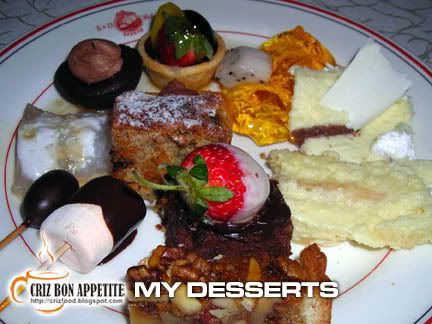 (Clockwise): Sago with Coconut Milk and Gula Melaka, Mini Chocolate Tart, Fruit Tart, Mini Butter Cake, Lemon Crystal Jelly with Dragon Fruit, Ivory Cake, Steamed Bread and Butter, Rich Fruit Cake, Chocolate Brownies, Mixed Fruit & Nuts Pie, Grape and Marshmallow Chocolate Fondue.
After this very enjoyable hi-tea buffet lunch, I would like to upgrade my assessment for Sarkies Corner. I would say that they are perfect for the appetite of any nationals, whether young or old.
Visiting the restaurant is one thing but getting a place to dine in would be hard as it would always be full. Make sure you make your reservation a few days earlier to avoid getting disappointed. To get there, just follow the map below as the hotel is situated within the hot nightspots of Penang along Upper Penang Road.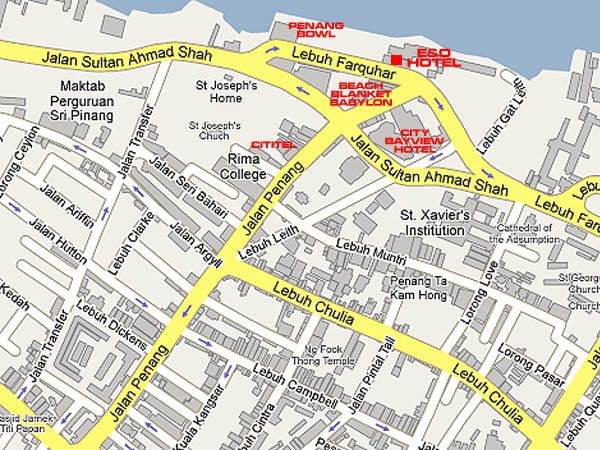 Name: SARKIES CORNER, EASTERN & ORIENTAL HOTEL
Address: 10 Lebuh Farquhar, 10200 Penang, Malaysia.
Contact: 604-222 2000
Opening Hours: 12.00pm – 3.00pm
GPS: 5.423361, 100.335946
RATING:
Ambience: 9/10 (1-4 cheap, 5-7 average, 8-10 classy)
Food Choices: 10/10 (1-4 limited, 5-7 average, 8-10 many choices)
Taste: 9/10 (1-4 tasteless, 5-7 average, 8-10 excellent)
Pricing: 9/10 (1-4 cheap, 5-7 average, 8-10 expensive)
Service: 8/10 (1-4 bad, 5-7 average, 8-10 excellent)