Sometimes we have leftovers of roasted duck or chicken in our chiller and we do not know what to do with them. Most Asian families I know would just stir fry those pieces of meat with some chopped garlic, soy sauce, dark sauce with a pinch of sugar. For me, it got sort of boring now. Instead of that, I always love to apply the East Meets West concept in my cooking. Thus, I came out with my own recipe for my ORIENTAL STYLE ROASTED DUCK FETTUCCINE. It's another great way to enjoy your pasta too. 🙂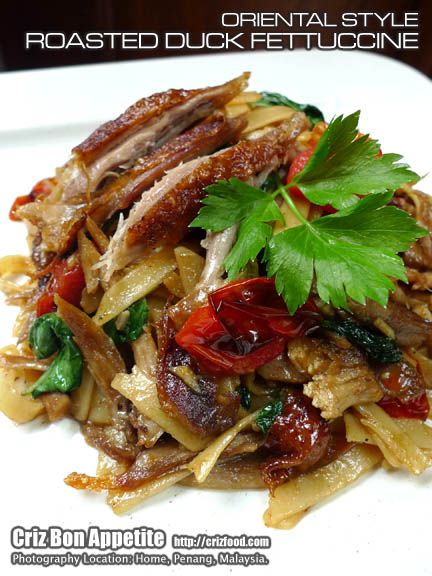 INGREDIENTS:
1 pkt fettuccine pasta (or any pasta weighing about 500g)
1/2 roasted duck/chicken (remove bones & tear to bite sizes. Roast them a bit if required. Leave some for garnishing)
1 cup meat stock (boiling 3 cups of water with the duck bones and 300gm chopped jicama until left about 2 cup)
1" ginger (finely julienne)
1 tbsp garlic (finely chop)
300g young spinach (use leaves only)
30-40 cherry tomatoes (slit a bit and roast for 5-6 minutes or you can use sundried tomatoes if available)
5-6 tbsp oyster/mushroom sauce
2 tbsp sesame oil
1 tsp Shao Xing wine/red wine
Extra virgin olive oil
Salt & black pepper to taste
GARNISHES:
Chinese parsley (optional)
Roasted duck (optional)
PREPARATIONS:
• Heat up a pot of water with one tablespoon of salt and cook the pasta to the al dente required. It would take about 10-12 minutes. Drain well and fold in some extra virgin oil to avoid the pasta sticking together.
• Heat up the extra virgin olive oil and sesame oil. Sauté the chopped garlic and julienned ginger until fragrant.
• Add in the meat stock and oyster/mushroom sauce. Cook until thickened like gravy.
• Add in the wine and stir evenly.
• Add salt and black pepper to taste.
• Pour in the pasta and spinach leaves. Stir evenly with a pair of chopsticks.
• Pour in the shredded roasted duck meat and roasted cherry tomatoes. Mix thoroughly.
• Scoop out onto a serving plate and garnish with some roasted duck meat and chopped Chinese parsley.
• Serve hot.
(Serves: 5-6)
YOU CAN CHECK HERE FOR MORE RECIPES.