The management and staff of The Light Hotel Penang, achieved yet another great milestone in undertaking CSR to the next level during their Christmas Tree Lighting Ceremony recently by hosting the children from Shan Children's Home with amazing and delicate Christmas treats and gifts. Also present to peak up the yuletide season moods were the St Anne's youth carollers with their sweet voices. Thanks to General manager, Raj Kumar, Culinary Director, Chef Johnno Fong, Executive Chef, Chef Murugan, various departmental heads and committed staff for putting up one of the best experiences for all the guests.
We were also served with some of the highlighted spreads for their coming White Christmas buffet promotions, which consisted of many carefully created local and international dishes. Of course, all the season's roasted meat and poultry won't be missed out, combined with the wide selections of Christmas sweet treats. The Christmas 2022 promotions are as shown in the poster below. To make reservations, please contact +604-382 1111 today.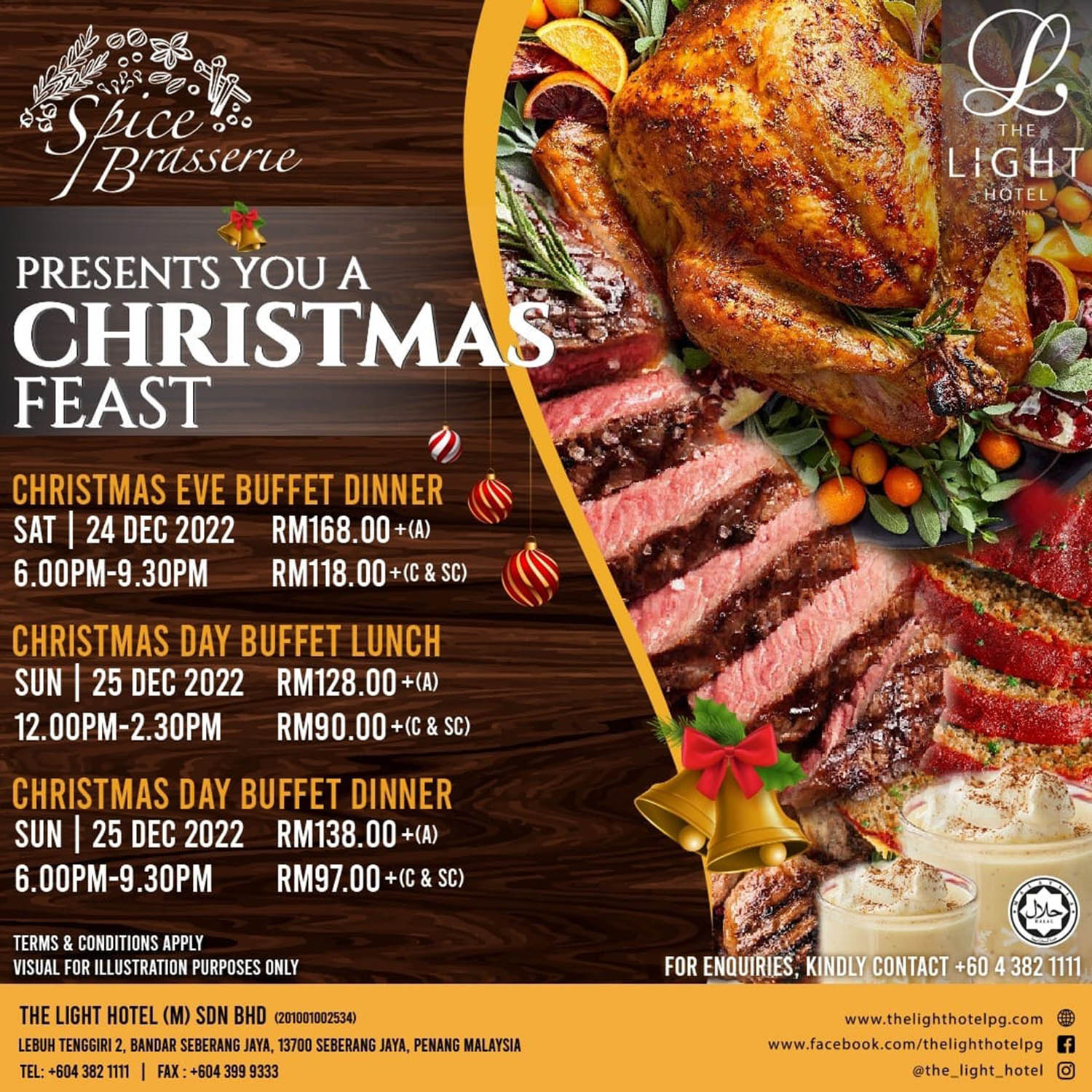 Here's a glimpse of what to expect during your visit.
To usher in 2023, the hotel has the following promotions as well.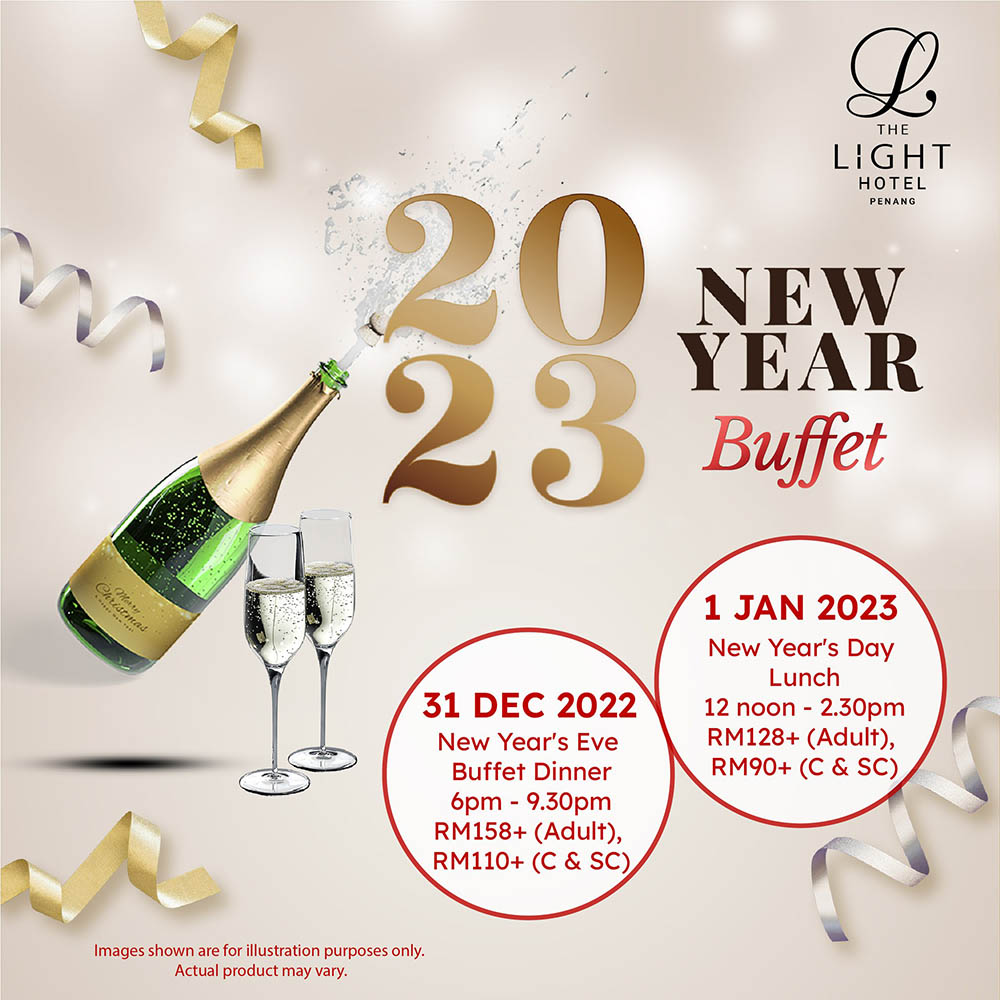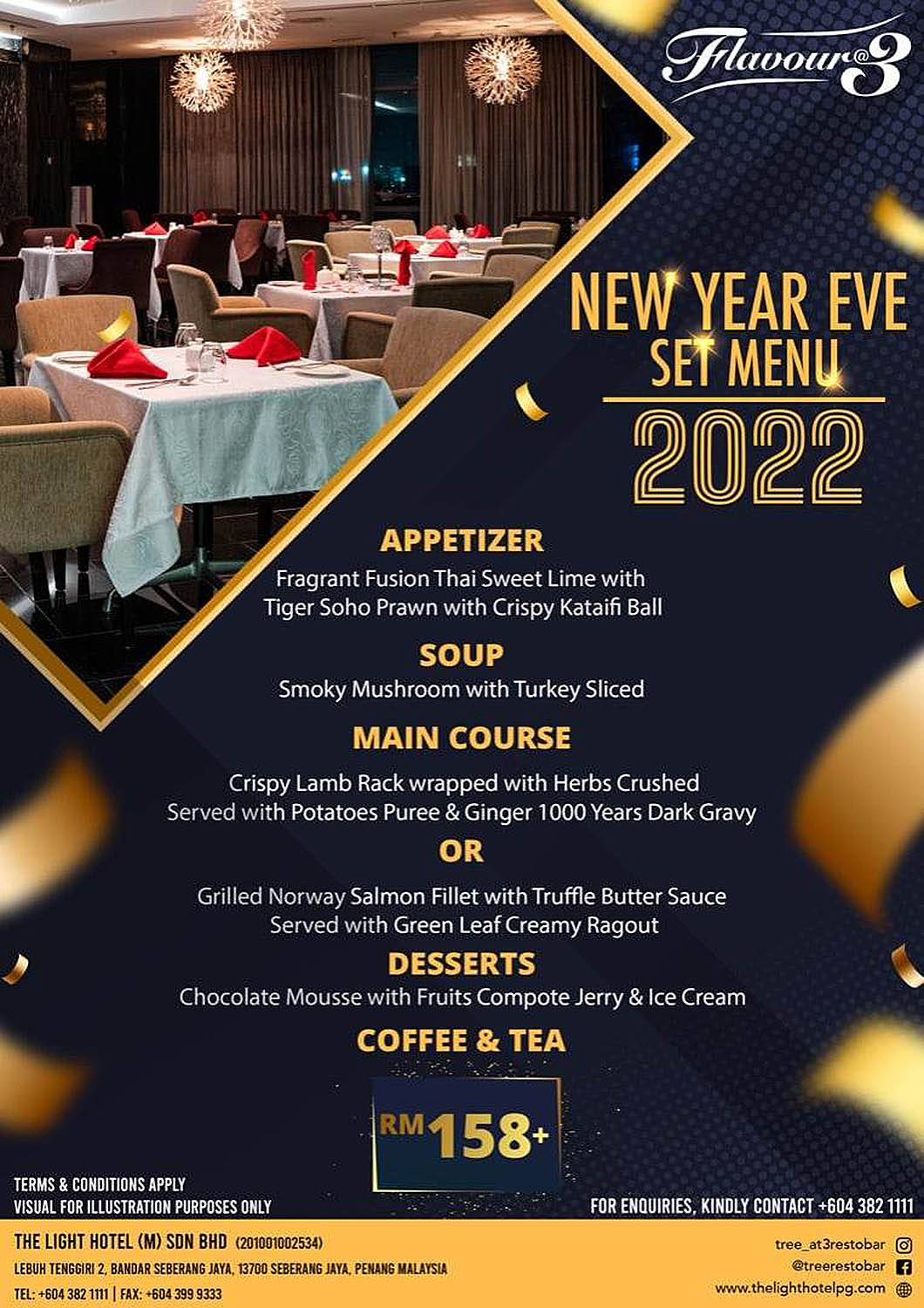 The Light Hotel is located along Lebuh Tenggiri 2 at Seberang Jaya, Penang. Upon entering the main entrance of the hotel, just drive around to find your parking space at the front of the premises. Walk into the lobby of the hotel and you can see Spice Brasserie on your left.
The Light Hotel
Address: Lebuh Tenggiri 2, Bandar Seberang Jaya, 13700 Seberang Jaya, Penang, Malaysia.
Contact: +604-382 1111
Business Hours: 7.30am-11.00am (Breakfast), 12.00pm-2.30pm (Set Lunch), 7.00pm – 10.30pm (Set Dinner)
Google Map: https://goo.gl/maps/DthTdXGpXv4aWn3A9
RATING:
Ambience: 8/10 (1-4 cheap, 5-7 average, 8-10 classy)
Food Choices: 8/10 (1-4 limited, 5-7 average, 8-10 many choices)
Taste: 8/10 (1-4 tasteless, 5-7 average, 8-10 excellent)
Pricing: 7/10 (1-4 cheap, 5-7 average, 8-10 expensive)
Service: 8/10 (1-4 bad, 5-7 average, 8-10 excellent)
About The Light Hotel: The Light Hotel Penang is the flagship hotel of Pelita Group in Penang. The hotel is positioned in proximity of Penang Island and exit to Kuala Lumpur. Conveniently located just 10 minutes away from Penang Bridge, we are also 30 minutes' drive from Penang International Airport. This offers easy access to the rest of the city as well as major attractions via an extensive train network ERT at Penang Sentral just 15mins drive away. A sanctuary that exudes luxury business charm, the 301-guestroom hotel are furnished with modern-day comforts. Combining authentic and enriching experiences with world-class meetings and convention facilities, we also offer a suite of business, recreational and dining facilities including 12 meeting and event venues, an outdoor swimming pool, fitness centre as well as restaurants and bars.