You could have a Rockin' Chinese New Year 2020 celebration at Hard Rock Hotel Penang with an array of delicious Chinese, Oriental and Fusion cuisines to pamper yourself and your family on the eve of Chinese New Year and Chinese New Year day at Starz Diner. The Chinese New Year Eve buffet dinner is priced at RM180nett per adult whilst the Chinese New Year buffet luncheon is priced at RM150nett per adult. Children aged 6 to 12 years old will have the privilege to dine at half price. The celebratory feasts invite guests to bond with their loved ones while indulging in the chef's signature dishes from a combination of Hot and Cold Platters to sumptuous Chinese main dishes, assorted dim sums, a selection of delicately crafted Japanese bites and action stations. Advance table reservations are required. Please contact our Rock Agents at +604-886 8054 or via email to fb.penang@hardrockhotels.net to reserve a table. Online reservation is also available on https://penang.hardrockhotels.net/starz-diner-reservation/.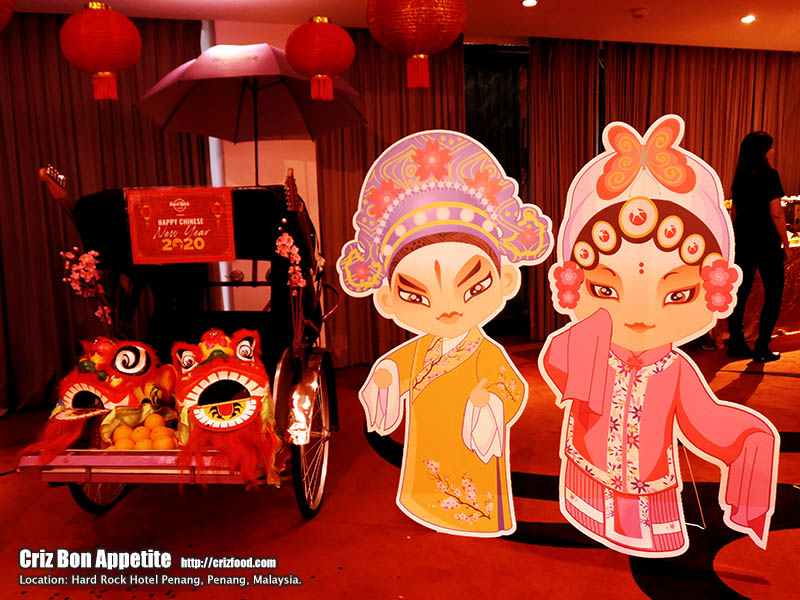 A time for joyous reunions, Hard Rock Hotel Penang invites guests to capture the spirit of joy and prosperity with a delightful fortune feast at Starz Diner. Savor authentic Chinese New Year Eve buffet dinner with the most anticipated traditions of Yee Sang tossing at the Yee Sang station. A good tossing of this must-have colorful Chinese salad dish is a significant symbol of abundance, prosperity, health and all things auspicious for the Chinese community in Malaysia. Yee Sang is a potpourri of tasteful ingredients (freshly sliced salmon and tuna, jellyfish, assorted fresh and pickled shredded fruits and vegetables, Chinese five-spice powder, crispy crackers, toasted sesame seeds, roasted peanuts and olive oil) mixed together and enhanced by its special sauce, which imparts a distinct flavor. The popular custom of tossing Yee Sang on a round dining table also brings a joyful reunion among different generations. In addition to the classic Chinese dishes like Steamed Lotus Leaf Fried Rice with Baby Abalone and Assorted Meat and Braised Yam Duck with Fermented Bean Sause, guests may indulge in a variety of Peranakan signature dishes such as Pak Din's Wok Fried King Prawn with Petai and Sambal Cincaluk, Steamed Fish Fillet with Spicy Tom Yam Sauce, Chef Poh's Special Crispy Boneless Lemon Chicken and Chef Hock's Special Wok Fried Chilli Crab. Be sure to also try some of the Fusion highlights on the buffet spread – Special XO Chicken and Pineapple Pizza, and BBQ Five Spiced Roasted Duck Pizza. The delectable buffet dinner spread also includes a variety of Japanese fare – California Maki Rolls Station, Seaweed Rolled with Gohan Rice, Crab Sticks, Kyuri, Takuan, Tobiko, Avocado and Japanese Mayonnaise.
Chinese New Year Eve Buffet Dinner at Starz Diner
Friday, 24 Jan. 2020 | 6.30pm-10.30pm
RM180nett per adult | RM90nett per child (age 6 – 12 years old)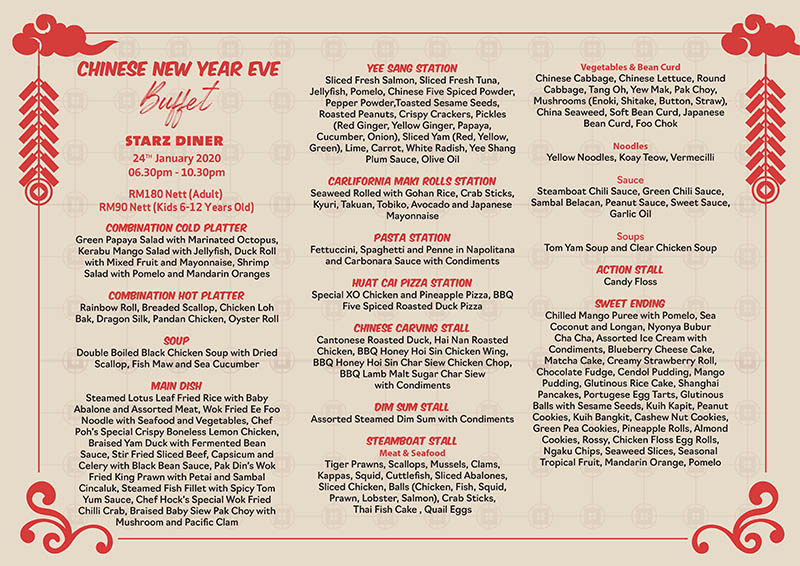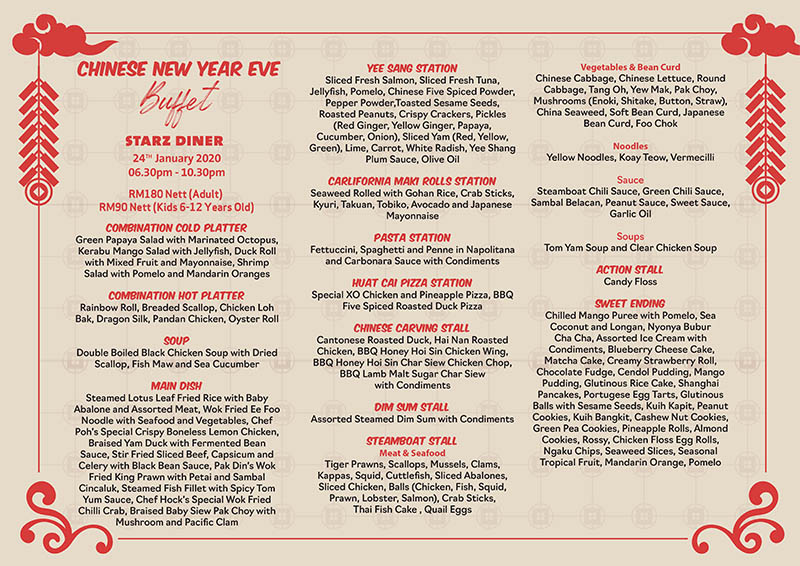 Revel the auspicious arrival of the year of the Metal Rat with a sumptuous culinary celebration. Hard Rock Hotel Penang proudly presents Chinese New Year buffet luncheon on the first day of Chinese New Year, exclusively prepared using the finest ingredients to tickle discerning palates. Chinese New Year buffet luncheon encompasses some of the chef's specialties such as XO Fried Rice with Mantis Prawn, Steamed Chinese Herbal Chicken with Dried Scallop, Wok Fried King Prawn with Salted Egg and Oats, Wok Fried Flower Crab with Szechuan Bean Sauce and other appetizing dishes. A series of popular Chinese carvings await guests at the carving station including Cantonese Roasted Duck, Hainanese Roasted Chicken and BBQ Lamb Malt Sugar Char Siew with condiments. No hearty reunion is complete without a steamboat dish. This popular traditional Asian hot pot delicacy uses steam and broth to cook the ingredients, making it a healthy choice for many modern families seeking a nutritious and heart-warming meal. Guests will find a good selection of steamboat ingredients including meat, seafood, vegetables, bean curd and noodles on the Steamboat stall. Complete the sumptuous buffet luncheon with a selection of local desserts and festive sweet treats including Sea Coconut and Longan, Portuguese Egg Tarts, Shanghai Pancakes, Matcha Fudge, Cendol Pudding, Pineapple Rolls and Peanut Cookies.
Chinese New Year Buffet Luncheon at Starz Diner
Saturday, 25 Jan. 2020 | 12.00pm-3.30pm
RM150nett per adult | RM75nett per child (age 6 – 12 years old)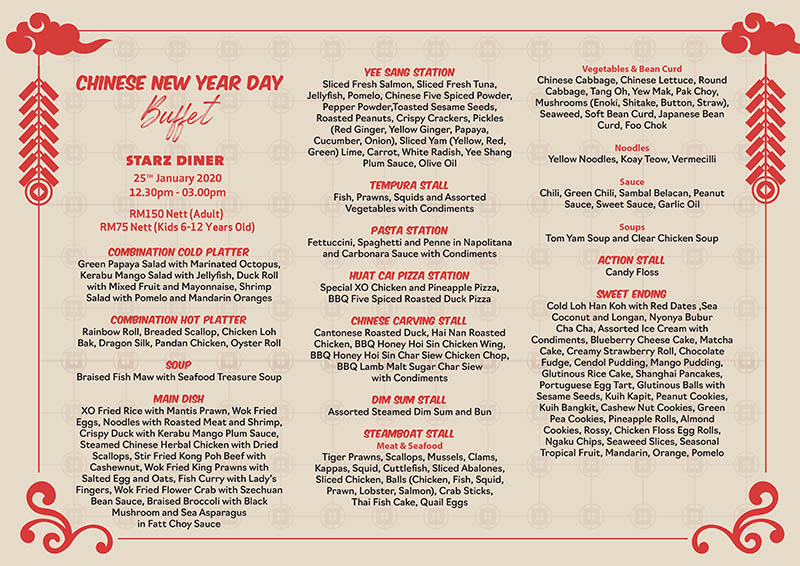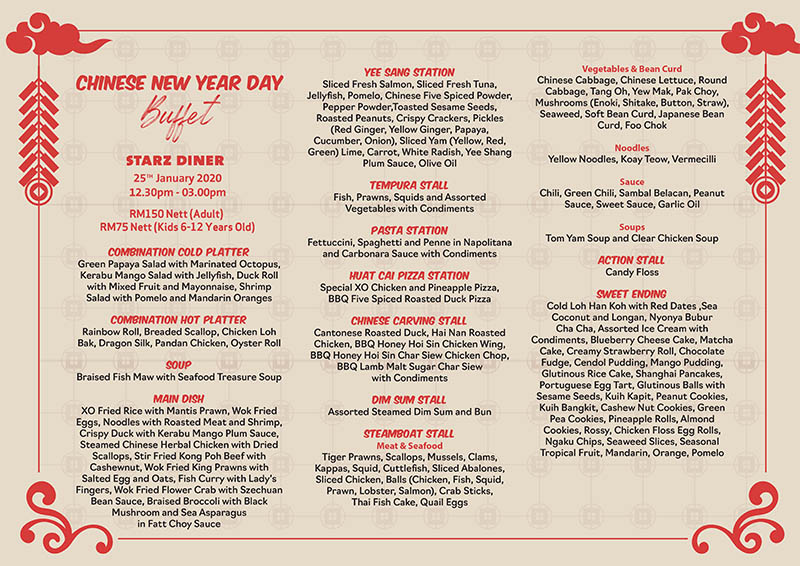 You could also indulge in their special Chinese New Year package at Hard Rock Cafe, namely the Prosperity Rock Platter 2020 for 2 persons at RM168nett. Advance reservation is required.
Chinese New Year "Prosperity Rock Platter" at Hard Rock Cafe
6 January 2020 until 3 February 2020 | 12.00pm-10.30pm
RM168nett for 2 persons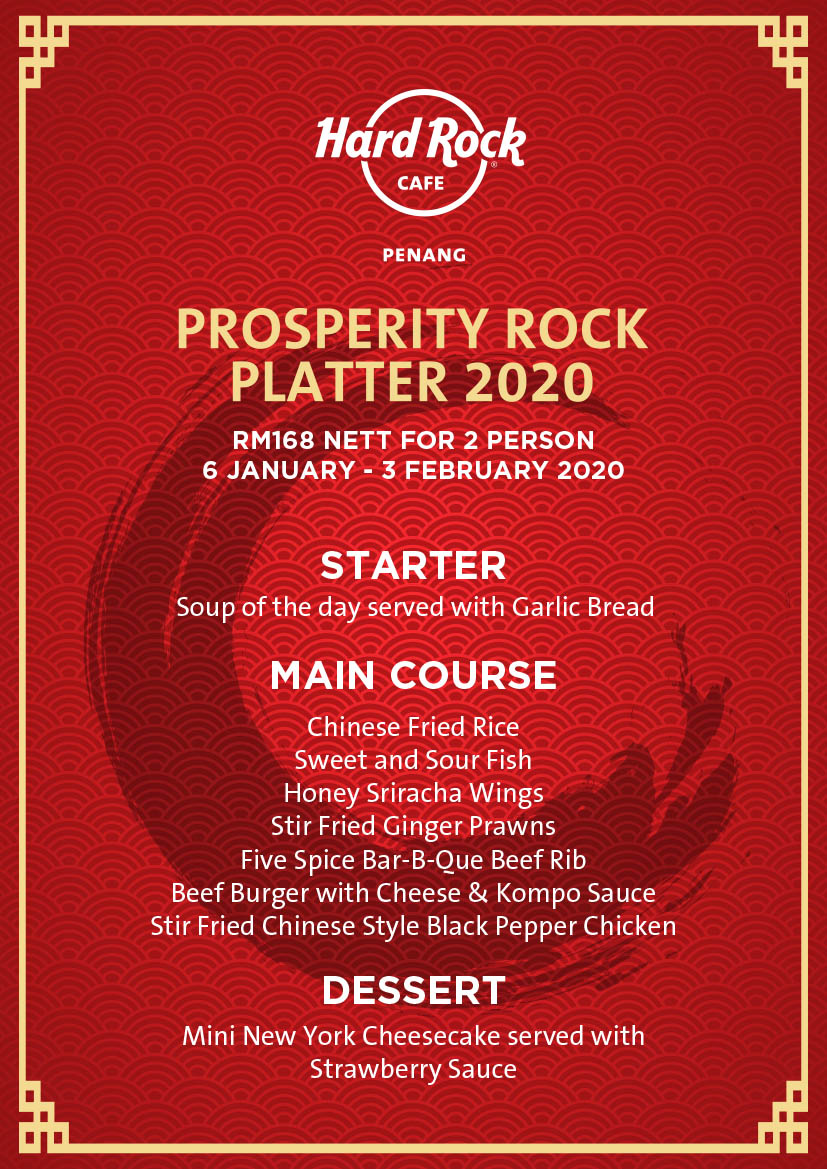 This Chinese New Year, the hotel will be decked in auspicious colors of red, gold and pink, with cherry blossom fixtures at the lobby and giant eye-catching Chinese lanterns embellishing the entrance to welcome all guests to a year of good luck, prosperity and all things auspicious. In celebration of the significant Chinese festival, a vibrant lion dance performance will take over the lobby on the first day of Chinese New Year, 25 January 2020. Hard Rock Hotel Penang has also lined-up a series of fun-filled activities for its in-house guests on the eve of Chinese New Year and the first day of Chinese New Year including family lantern making, sumo wrestling by the poolside, a pillow fight and canoe challenge in the swimming pool, vibe dances with the hotel's Vibe Team and more.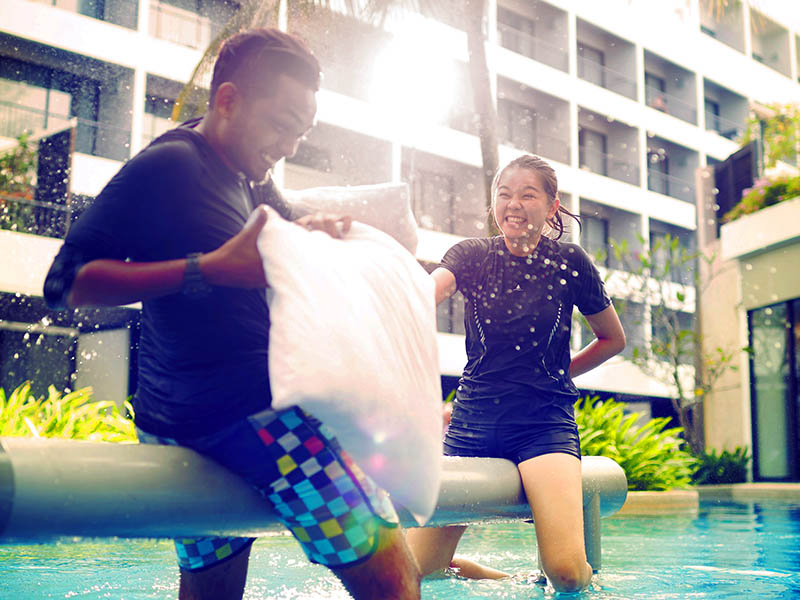 It's not hard to locate Hard Rock Hotel Penang as it's located along the beach of Batu Ferringhi. Just drive all the way from Jalan Tanjung Tokong for around 30minutes and you would see the hotel on your right.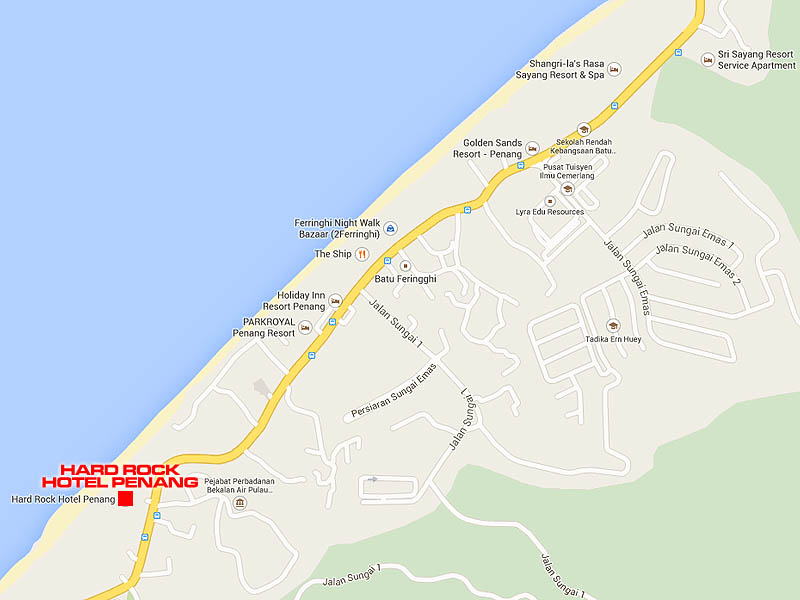 Name: HARD ROCK HOTEL PENANG
Address: Batu Ferringhi Beach, 11100 Penang, Malaysia.
Contact: 604-881 1711
GPS: 5.467568, 100.241382
RESERVATIONS:
Starz Diner/Pizzeria: Call +604-886 6057 or email fb.penang@hardrockhotels.net.
Hard Rock Café Penang: Call +604-886 8050 or email hrc.admin@hardrockhotels.net.
More information: Hard Rock Hotel Penang's F&B Promotions
Hard Rock Hotel Penang

: Located at the famous Batu Ferringhi Beach in Penang, Hard Rock Hotel Penang is a trendy hotel that sets itself apart from the conventional beach resort; blending rich music culture, contemporary design, and family-friendly facilities. The hotel boasts 250-rooms and suites, most of which feature beach frontage. The modern structure is completed with tastefully furnished bedrooms and modern in-room amenities. All rooms are equipped with DVD/CD players, 50-inch LED screen TVs, BOSE Sound Systems, free Internet Access, free HD Blockbuster Movies on Demand and interactive IPTV system. Hard Rock Hotel Penang features the largest free-form pool in Penang. With a large play area, the pool is a hit with children. We provide facilities for everyone and a plethora of fun activities and entertainment all day.
Hard Rock International

: With venues in 75 countries spanning 259 locations that include owned/licensed or managed Hotels, Casinos, Rock Shops® and Cafes – Hard Rock International (HRI) is one of the most globally recognized companies. Beginning with an Eric Clapton guitar, Hard Rock owns the world's most valuable collection of music memorabilia at more than 83,000 pieces, which are displayed at its locations around the globe. In 2018, Hard Rock International was recognized as a Forbes Magazine Top Employer for Women and Land Operator of the Year at the Global Gaming Awards. In 2019, Hard Rock International was honored as one of Forbes Magazine's America's Best Large Employers, Forbes Magazine's Top Employers for Women and No. 1 in J.D. Power's 2019 North America Hotel Guest Satisfaction Study among Upper Upscale Hotel Chains. Hard Rock destinations are located in the world's greatest international gateway cities, including its two most successful flagship properties in Florida and home to the world's first Guitar Hotel® in South Florida, where its headquarters are located. The brand is owned by HRI parent entity The Seminole Tribe of Florida. For more information on Hard Rock International, visit www.hardrock.com or shop.hardrock.com.