GREAT PROMOTIONS (1-3 JULY 2015): 100 boxes of the newly launched "Uji Matcha Pineapple Cakes" will be up for grab at RM1nett/box on 1 July 2015. The offer is only available for walk-in customers. Pay in the morning and collect after 1.00pm. Limited to one box per customer. If you miss this opportunity, you can also get the BUY ONE FREE ONE deal on 2 July 2015 and 3 July 2015. Due to overwhelming responses, the offer has been extended until 5 July 2015. Other products are given 15% discount until further notice. Cash Terms Apply.
From a humble set up in Penang barely 3 years ago, Gartien(小田佳園) now has expanded from a young player in the local confectionery industry to an experienced establishment with the state-of-the-art innovation to cater to the demands of its increasing clientele. This coming 20 June 2015, customers would get to experience a new flavor – Uji Matcha Pineapple Cakes. The newly launched product would incorporate Japan's finest matcha (green tea) from the city of Uji in the Kyoto Prefecture, Japan. It's also known as the Capital Tea City of Japan, a city that produces superior quality tea due to its unique soil composition. With the usage of such superior quality matcha, you can be assured of consuming quality Uji Matcha Pineapple Cakes, free from any preservative, artificial coloring or flavoring.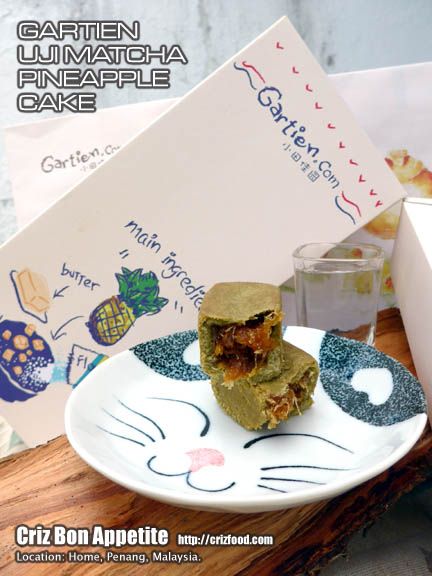 The selling price per box with 6 pieces of Uji Matcha Pineapple Cakes is at RM36nett (self collect only). A fix courier charge of RM10 & RM40 will be applicable to all deliveries within Peninsular Malaysia & East Malaysia respectively.
What makes Gartien's Uji Matcha Pineapple Cakes so unique? Other than having freshly cooked Penang homegrown pineapple cubes minus the preservative and artificial coloring or flavoring, the crumbly shortbread pastry has added finest quality uji matcha powder and silky smooth soft butter. With the Malaysian humid weather, it's advisable to keep them chilled to avoid the quality butter from becoming overly moist. As for the taste for the new flavor of Uji Matcha Pineapple Cakes, I would say that it has a unique flavor that many would be at a loss to describe in words. It's just not like the usual grassy bitterness you would get from any other matcha products out there. It has that natural excitatory neuro-transmitted flavor I would call "umami", a fifth savory taste from your normal sweetness, saltiness, sourness and bitterness. The "umami" taste is really a jigsaw in our gastronomic evolution, with us unknowingly loving our regionally made belacan, nampla, garum, spag bol, marmite, meat stocks and more, with parmesan cheese being the most Western known "umami" product. You may call this product the love-hate relationship but I did find it to be real addictive. Instead of killing the natural taste of the Uji Matcha Pineapple Cake by washing it down with a cup tea, it's best to enjoy the delicacy over a glass of plain warm water. You would experience an almost cheese-like buttery and yet salty flavor with a hint of bitterness, followed by a mild burst of natural sweetness and sourness from the pineapple filling. This is truly a unique product with 5 flavors coming from a single product and I'm proud that it came from my hometown of Penang~ 🙂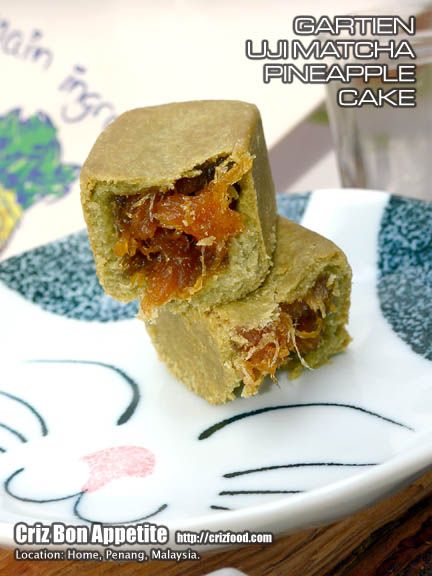 By the way, are you aware that matcha is great for your health? Not only is it a natural antioxidant and packed with epigallocatechin gallate (EGCg), it also enhances calmness, boosts the memory and concentration, plus increases the energy levels and endurances. So, when you are feeling stressed out and in need of something to liven up your day, try slowly nimble your way through a piece of Gartien's Uji Matcha Pineapple Cake~ 🙂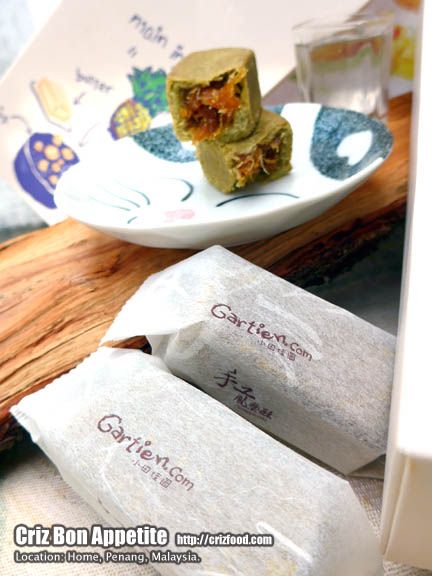 Finding the bakery won't be hard as it is situated right in the heart of George Town, Penang. If you are coming from KOMTAR along Jalan Penang via Jalan Magazine, you would see the outlet just next to the famous Kek Seng Coffee Shop (格成茶室). Parking can be quite limited since it's a main road. However, the good news is that Gartien had recently worked out a deal with the management of Hotel Central. You can now park your car at their car park via Lorong Bertam and Gartien can stamp your parking ticket for free parking. How convenient it is now, right? 🙂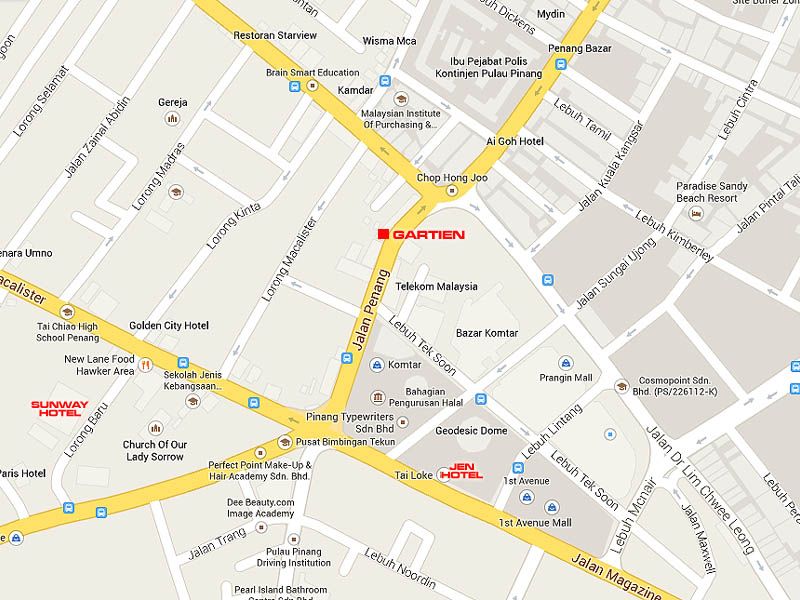 Name: GARTIEN @ 小田佳園
Address: 380, Jalan Penang, 10000 Penang, Malaysia.
Contact: 604-229 0068
Website: www.gartien.com
Email: info@gartien.com
FaceBook: www.fb.gartien.com/
Business Hours: 9.00am-6.00pm
GPS: 5.416298, 100.329380
RATING:
Ambience: 8/10 (1-4 cheap, 5-7 average, 8-10 classy)
Food Choices: 5/10 (1-4 limited, 5-7 average, 8-10 many choices)
Taste: 8/10 (1-4 tasteless, 5-7 average, 8-10 excellent)
Pricing: 7.5/10 (1-4 cheap, 5-7 average, 8-10 expensive)
Service: 9/10 (1-4 bad, 5-7 average, 8-10 excellent)