To welcome in the 2020 Year of the White Yang Metal Rat, Swez Brasserie @ Eastin Hotel, Penang, with its Executive Chef, Chef Alex Leong, and his skillful culinary team would be crafting a delectable array of sumptuously delicious Chinese New Year menu, guaranteed to whet your appetite. Do check out the Family Reunion Buffet Package on 24 January 2020 at RM138nett per person and Chinese New Year Day 1 & 2 Buffet Lunch & Dinner at RM98nett and RM118nett respectively. Senior citizens aged above 60 years old would get a special 25% off, while children aged 6-12 years old would get a 50% off from the published price. For more information and reservations, contact Eastin Hotel Penang at +604-612 1111 or you can also email at info.pg@eastin.com or log in to the website www.eastin.com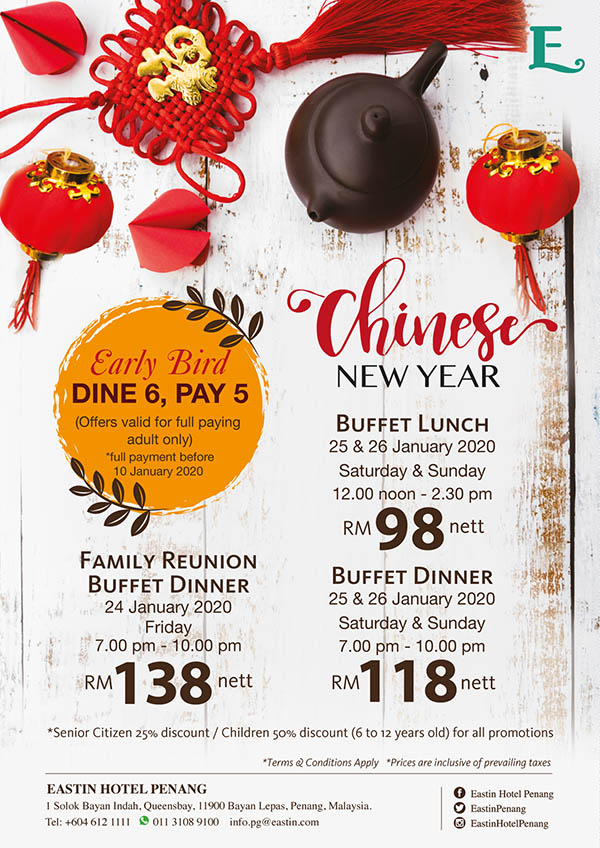 No reunion dinner is complete without some Fortune Yee Sang with condiments and dressing, topped with freshly cut salmon sashimi. You could also dine majestically with their specially concocted Emperors Twin Dome (Poon Choi and Yook Poon), follows by palate cleansing appetizers such as Baby Octopus Salad with Spicy Jellyfish or perhaps some White Tuna Tataki with Citrus Dressing, while there would be more seafood-on-ice offerings such as Tiger Prawns, Scallops, N.Z Half Shell Mussel or Half Shell Oyster with condiments. Even their creamy bowl of Pumpkin Cream Soup infused with Lemongrass or a piping hot bowl of Szechuan Seafood Soup, would boost up your appetite to even feast more. Some of the highlights would include Roasted Lamb Leg with Parmesan Herb Crust and Mongolian Sauce, Rock Salt Baked Seabass infused with Traditional Chinese Herbs, Green Tea Dan Dan Noodles with Chicken Ragout with a local twist inspired by Penang's very own famous Hokkien Mee broth, Mung Bean Jelly with Szechuan Pepper Sesame Sauce, Peking Duck Roll and more.
To finish off your imperial feasting, do check out Chef Alex Leong's famous Japanese Cheese Cake that would melt in your mouth. There would also be some traditional classic desserts such as Sesame Ball, Tao Fu Fa with Brown Sugar, Mochi, and Double Boil Peach Gum with Red Dates.
There would also be a Chinese New Year Bazaar on 19 January 2020, from 9.30am until 3.30pm for you to grab some of your festive necessities. Do check out their 15% off code for their Sunday Brunch too.
On top of that, do visit them on 5 February 2020, 8.00am to experience the extraordinary Lion Dance Performance by an award-winning troupe.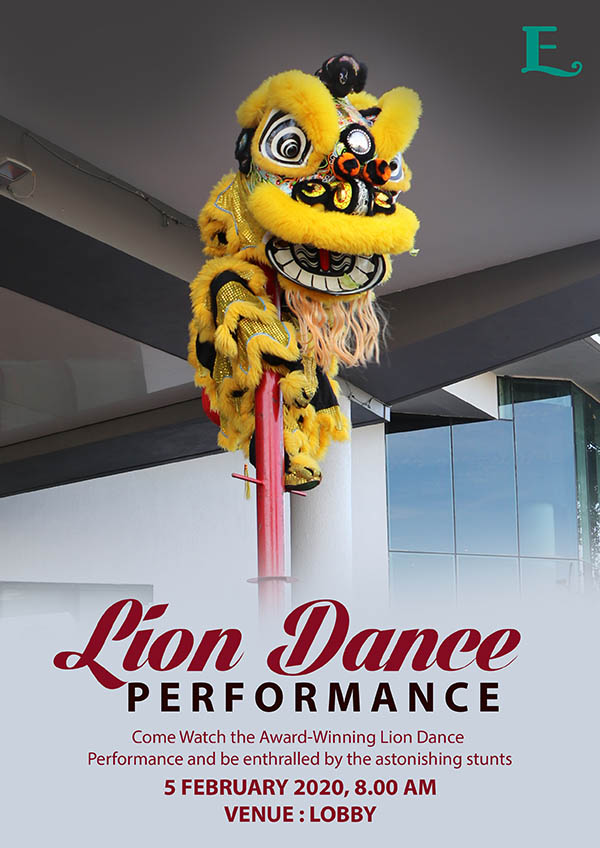 Other ongoing promotions are as shown below.
Thanks to the management of Eastin Hotel Penang for inviting us to the CNY preview. Heng ar! Ong ar! Huat ar!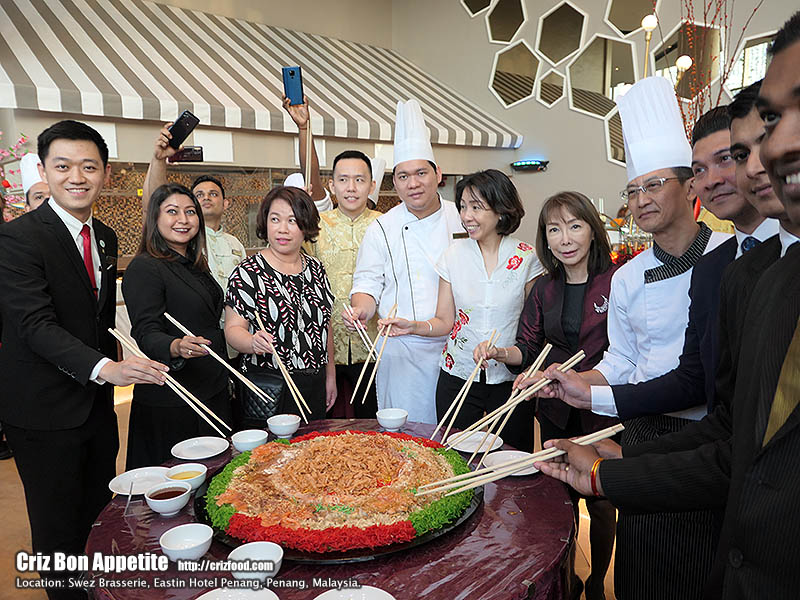 The Swez Brasserie is located at the ring wing of Eastin Hotel, Penang (next to Queensbay Mall). If you are coming from Georgetown towards Bayan Lepas Free Trade Zone via Bayan Lepas Expressway, do watch out for the Pulau Jerejak signboard (leading to Pulau Jerejak jetty). Ignore the turning and drive on to the next left junction. Turn left into Jalan Aziz Ibrahim and drive on until you reach a roundabout. Drive on until you see a big Eastin Hotel signboard at the first right junction. Turn right and drive on. Park your car at the basement car park. Take a lift to the first floor of the lobby and you would see the restaurant there.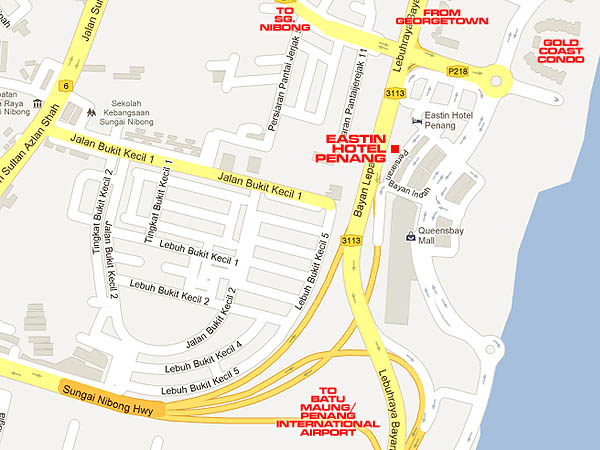 Name: SWEZ BRASSERIE @ EASTIN HOTEL
Address: 1 Solok Bayan Indah, Queens Bay, 11900 Bayan Lepas, Penang, Malaysia.
Contact: 604-612 1128
Business Hours: 12.00pm-2.30pm (Lunch), 6.30pm-10.00pm (Dinner)
GPS: 5.33643, 100.306345
RATING:
Ambience: 8/10 (1-4 cheap, 5-7 average, 8-10 classy)
Food Choices: 8/10 (1-4 limited, 5-7 average, 8-10 many choices)
Taste: 7.5/10 (1-4 tasteless, 5-7 average, 8-10 excellent)
Pricing: 8/10 (1-4 cheap, 5-7 average, 8-10 expensive)
Service: 8/10 (1-4 bad, 5-7 average, 8-10 excellent)
About Eastin Hotel Penang

: Eastin Hotel Penang is a contemporary International business class hotel. Strategically located within the integrated waterfront development of Queensbay, Eastin Penang is adjacent to Queensbay Mall. Its superb location is minutes' drive away from the Penang International Airport and the iconic Penang Bridge as well as within the vicinity of the Bayan Lepas Free Industrial Zone. It features 328 meticulously decorated guest rooms and suites, facing the shimmering blue sea and the verdant green hills of Pulau Jerejak, home to tropical rainforest that is over 130 million years old. For more information, please visit www.eastin.com