Within the buffer zone of the George Town UNESCO World Heritage Site lies one of the oldest surviving intact buildings in the historic enclave of Chulia Street, Penang. Originally built in the 1800's as a private residence to Shaik Eusoffe bin Shaik Latiff, an Indian Muslim family, the unique Anglo Indian bungalow had gone through many hands, such as the trustees of the Cantonese Club 'Yin Han Pit Shu' and the Straits Chinese British Association, before being leased out to Yeng Keng Hotel in the early 1900's. One main feature that remained distinctive from the rest of the buildings along Chulia Street (Lebuh Chulia) today is the unique Chinese architectural gate entrance and the many artistic murals scattered all over the premises. Some of the artifacts dated as far back as tens of decades ago can still be found here in the mini museum set up by the present establishment.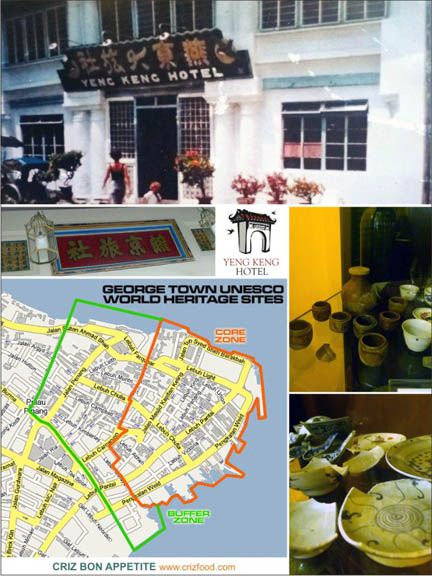 With the conservation and upgrading efforts by the present owner, Hoo Kim Properties Sdn. Bhd. since 2009, the new Yeng Keng Hotel was completely refurbished in mid 2010. The new establishment has a mix of the past and present state-of-the-art facelift, with heritage accommodations, swimming pool and an al fresco area for dine and wine. The hotel is now managed by Mr. Jacky Chung, Hotel Manager and Mr. Tan Jie Yong, a seasoned chef who had traveled throughout a few Asian countries, cooking as well as lecturing Hainanese cuisine, as its Executive Chef.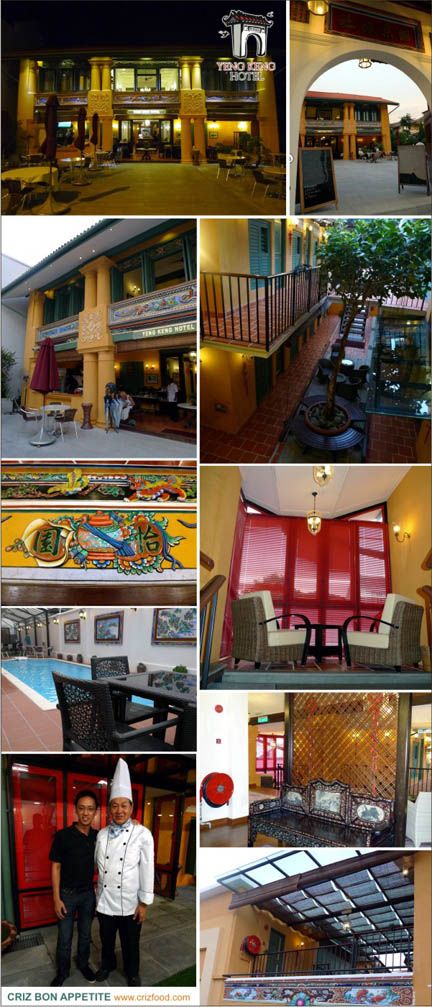 There are 20 rooms in this heritage hotel. The suite of all suites would be the Yeng Keng Suite (RM600+, Present Promotion RM500+). There are also 2 units of the Chulia Suite (RM500+, Present Promotion RM400+), 2 units of Family Triple (RM440+, Present Promotion RM380+), a unit of Garden Suite (RM440+, Present Promotion RM350+) and 14 units of others such as the Courtyard Doubles, Mansion Doubles and Courtyard Twins (RM380+, Present Promotion RM300+). A 10% service charge would be applicable to all check-ins which would include a quantity of American Breakfasts set by the management. Check in would be from 2.00pm while check out would be at 12.00pm. Just call in to check out on their ongoing promotions.
As for food, there would be a mix of Western and Hainanese cuisine served here, with a note that some of the Hainanese dishes might need to be preordered earlier. Breakfast would be served from 8.00am until 10.30am. Lunch and dinner would be from the ala carte menu as early as 11.00am until 10.00pm. Presently, there's the Hi-Tea Promotion at only RM7.00+. You get to have free flow of coffee or tea with a cake-of-the-day (eg, Apple Strudel, etc). The bar would open all day long until late.
Here's a peek at what are the dishes available in this hotel. Firstly, there's the Hainanese Spring Rolls (RM12.00+ for 2pcs or RM24.00+ for 4pcs). Each piece of the spring roll has stir fried cabbages, carrots, onions, mushrooms, chicken meat and crab meat. Although the rolls tasted nice, it came in a form rather moist compared to the ones I have tasted elsewhere. This could be due to the fact the vegetables were cut in strips as in Cuttle Fish Strips Stir Fry Vegetables (Jiu Hoo Char) instead of being cubed as in Sole Fish Stir Fry Vegetables (Phnee Hoo Char). A bit of diced water chestnuts added in would also be great for that extra crunchiness. These rolls were served with a condiment of a mixture of tomato ketchup, LP Sauce, sliced onions and chilies, a combination more suitable for Western diners. I would prefer mine to be served in the traditional way of herbed soy sauce, mustard paste (somewhat like LP sauce) and sliced chilies. The Hainanese Mushroom Soup (RM10.00+ per pax or RM45.00+ for 10 pax) was something quite similar to the Japanese Miso Soup with the usage of some blended fermented black beans. Instead of using cubed tofu, the Hainanese version has sliced button mushrooms, glass noodles, chicken meat and chicken gizzards. This dish would be suitable for those who love internal organs in a much clearer soup.
The Yeng Keng Chicken Chop (RM15.00+ per pax or RM30.00+ for 10 pax) was presented with crispy boneless chicken on a bed of shoestring chips and topped with mixed vegetables, cubed onions and sliced button mushrooms in some tomato base gravy. It tasted not bad but a bit too salty for my liking due to the over salty marinates. Moreover, frozen mixed vegetables were not my preferences due to the fact that they lacked the natural taste of fresh vegetables. The Grilled Fish with Butter Sauce (RM18.00+ per pax or RM36.00+ for 10 pax) was rather unique and tasty except it had a bit of marinate problem. Since it was served with salted caper pickles and butter sauce, the fish fillet should not have been marinated in salt. The outer batter coated part was fine except for the a bit salty fillet within. Maybe it was the hotel's way of cost effectiveness, but I don't quite fancy dory being used for this dish as it would not provide the juiciness as in other fishes such as the barramundi, mari mari or grouper. It would be great if the hotel would opt for these fishes (with different price tag of course). The sautéed sliced potatoes with onions went great with this dish. This is the type of originality that I love most when dining outside.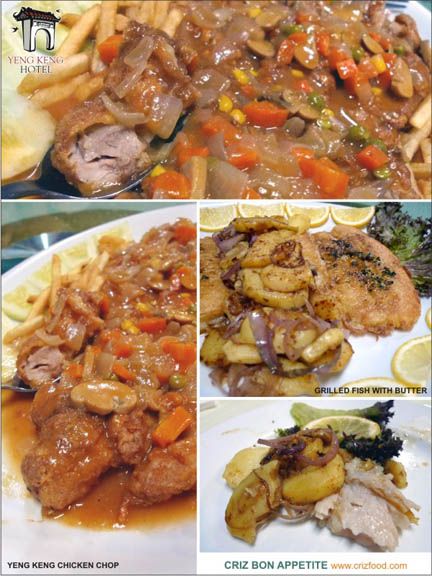 The Braised Lamb Shank (RM35.00+ per pax or RM70.00+ for 10 pax) served with spaghetti, roasted potatoes and blanched vegetables was a great recommendation. The meat was tender and has the right ingredients used while braising. If only I could get them to add in a bit of red wine during the braising process for that extra flavor. 😛 There was also the Hainanese Style Chicken Pie (RM25.00+ for 3-5 pax or RM35.00+ for 10 pax with extra filling) which would require a pre-order of 24 hours. I always love dishes with butter brushed pastry. It had small chopped chicken pieces stewed with onions and shitake mushrooms (instead of button mushrooms), topped with mixed vegetables (again? sweat~) plus cut hardboiled eggs, prior to being laced with puffy pie pastry and baked to perfection. The dish was slightly different compared to the one I had in another Hainanese restaurant as it lacked the creaminess from some sliced potatoes and the sweetness from fresh carrots. The next dish was the Inchi Kabin (RM10.00+ per quarter chicken, RM16.00+ per half chicken or RM30.00+ per whole chicken), a common Hainanese household fried chicken served with crackers. Although the dish tasted not bad, it could be due to my spoiled habit of having mostly drumsticks in my meal as I found the chicken pieces a bit too dry for my liking. We were also served with Curry Tumis Tau Teh Fish (RM100.00 – RM120.00 based on market price). The Chinese Pomfret or commonly known locally as Tau Teh is one of the most expensive species in the pomfret family as it has thick, smooth and juicy flesh. The fish dish was nice but it was in a drier version due to the likings of the hotel's guests in dipping with bread or served with rice. Unfortunately, it spoiled the quality of such an expensive fish as there were not enough liquid in the gravy to be absorbed into the fish. The flesh ended up a bit too dry. It would be better if black pomfret or even stingray (which can be arranged) be used for a lower price. This dish came with sliced lady's fingers and tomatoes. The next dish which was the Braised Duck with Yam (Ar Or – RM50.00+ per half duck or RM85.00+ per whole duck) also came in thick gravy compared to norm. It has a strong taste of sliced ginger. As for this dry version, it would be ideal to be taken with rice. Normally, most Hainanese would have this dish as a sort of soup dish.
On top of the above few dishes for a larger group of people, you could always order other individual dishes such as noodles and rice from their ala carte menu. Their Hainan Mee (RM10.00+) was quite big a portion and tasty. Somehow, it looked darker just like the local Hokkien Char with the usage of dark soy sauce. I wondered if the chef got it right as the gravy should be quite similar to that of the more pale looking Fried Oyster Yellow Noodles. The next noodle dish consisted of another version of flat rice was the wet Beef Hor Fun (RM15+). It was also big and delicious. I loved the well marinated beef slices as well as the beaten egg enhanced flavorful gravy.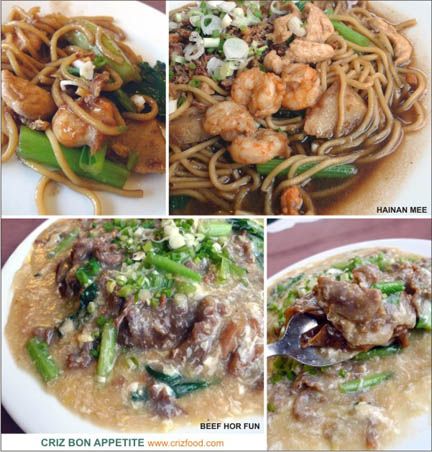 As for dessert, they have some simple ice cream desserts but I went for something that has been quite rare in the dessert scene nowadays – the Bomb Alaska (RM20.00+). The dessert has 4 scoops of vanilla ice cream topped with some mixed fruit cocktail and wrapped in a layer of butter cake slices. This wrapped cake would then be sprinkled with some rum and covered with a layer of airy and slightly sweet meringue. The following process would be to burn some brandy over the meringue to create the lightly burnt taste. I found the dessert to be delicious if I leave it a bit longer for the ice cream to moist the cake well. If you consume the cake immediately after the fire is out, you might find the cake to be a bit too dry. As an option, it would be better for the chef to firstly moist the cake with a mixture of the fruit cocktail juice and rum or just add some soda (such as 7-up or Sprite just as how you would do it for the base of a truffle) with rum. At least this would have a consistent moist for the whole dessert.
Unless you are there just for the Bomb Alaska, I would advise you to get at least 3-4 diners to share out this big dessert. Here's the burning process video of the dessert.
Overall, Yeng Keng Hotel is a nice place for couples and families. Not only are the rooms modernly equipped with state-of-the-art facilities, it also offers great heritage living experiences in a romantic and tranquil environment. Let's hope the new restaurant would be constructed fast enough to draw in more crowds, thus having more choices as well as a higher standard in food quality.
Finding the hotel won't be hard as it's the only hotel along Chulia Street with a beautifully constructed Chinese arch right at the entrance. If you are coming down from Cititel along Penang Road, just turn into the second lane on your left which is Chulia Street. Drive further for another 300m and you would see the hotel entrance on your left. Next to it is a guard house where you can get permission to park your car at the back of the hotel. There are limited parking spaces here. If you can't get any car park within the hotel, just drive a bit further up and you would see a no through road next to Sky Hotel. You might find some parking spaces here.
Name: YENG KENG HOTEL
Address: 362 Chulia Street, World Heritage City of Georgetown, 10200 Penang, Malaysia
Contact: 604-262 2177
Business Hours: 8.00am-10.30am (breakfast), 11.00am-10.00pm (lunch & dinner)
GPS: 5.419162, 100.334959
RATING:
Ambience: 9/10 (1-4 cheap, 5-7 average, 8-10 classy)
Food Choices: 7.5/10 (1-4 limited, 5-7 average, 8-10 many choices)
Taste: 7.5/10 (1-4 tasteless, 5-7 average, 8-10 excellent)
Pricing: 8.5/10 (1-4 cheap, 5-7 average, 8-10 expensive)
Service: 9/10 (1-4 bad, 5-7 average, 8-10 excellent)