After a disastrous meal at Bahtera Santai Seafood & Ikan Bakar, finally there's a nice and cozy Malay restaurant with some heritage feels down in the heart of George Town. At least I can have a proper venue to enjoy authentic Malay flavors in a more comfortable environment without the disturbance from some pesky insects. D'Dapor Express is a sophisticated Malay restaurant, located within one of the shop lots in the newly restored 140 years old pre-war building named Logan Building, along the banking district of Lebuh Pantai. Today, the building has been renamed as Logan Heritage and housed an arcade of food & beverage outlets and other retail outlets.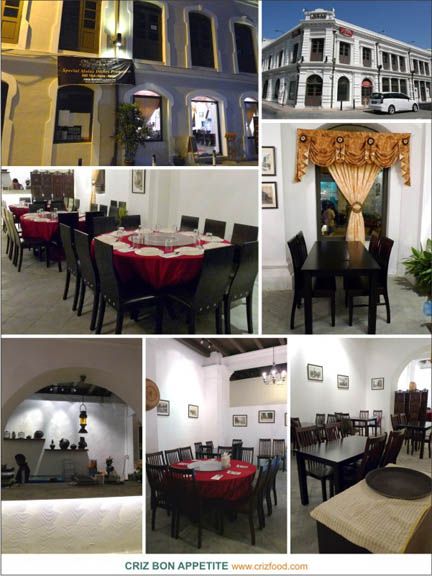 Presently, D'Dapor Express is promoting its Set Lunch and Set Dinner with Kari Kepala Ikan D'Dapor (D'Dapor Curry Fish Head), Taugeh Tumis Ikan Masin Salted Fish Bean Sprouts), Telur Bawang (Onion Omelette), Ulam-ulaman (Raw Herbs with Sambal) and steamed rice at RM39.90++ (for 2-3 pax) or Kari Kepala Ikan D'Dapor (D'Dapor Curry Fish Head), Ayam Kelasan Malindo (Indonesian Fried Chicken), Taugeh Tumis Ikan Masin (Salted Fish Bean Sprouts), Telur Bawang (Onion Omelette), Ulam-ulaman (Raw Herbs with Sambal) and steamed rice at RM65.90++ (for 4-6 pax).
One of the new sets (RM39.90++ per set) we had tried out inclusive the Kari Kepala Ikan D'Dapor (D'Dapor Curry Fish Head – normal price at RM38++), an all-time favorite amongst the locals. A freshly chosen fish head was carefully prepared with curry spices, chilies, onions, tamarind juice with some dashes of coconut milk, served with sliced eggplants, ladies fingers and tomatoes, with some touches of spring onions and fresh mint leaves as garnishes. This dish was quite similar to the Nyonya style fish curry, without the strong traces of sweet basil (daun kesum) but with the usage of coconut milk. This was quite a reasonably good dish, especially when the dish was served piping hot. Well, the Telur Bawang (Onion Omelette – normal price at RM6.50++) and Kailan Masak Cendawan (Stir Fry Kailan with Mushrooms – normal price at RM8.80++/RM19.80++) were two common dishes you would get anywhere.
The next new set inclusive the Udang Buluh Perindu (Spicy Prawns served in bamboo which in this case it came on a plate – normal price at RM18++/RM27++). The dish came with four juicy prawns cooked in sweet and spicy gravy. The gravy tasted like the Oriental style sweet and sour crab minus the presence of vinegar. There was a strong hint of chili sauce being used in the dish. The Ayam Pandan Berbungkus (Screw Pine Leaves Wrapped Chicken – normal price at RM12.80++/RM22.80++) had some Thai influence with the usage of turmeric powder, ginger, onions and garlic as marinates to the chicken meat chunks, prior to being wrapped in pandan leaves and deep fried. Unfortunately, the marinate time was not enough to let the flavors seeped into the meat. Moreover, the size was rather small for reasonable bites. The Kari Ketam (Flower Crab Curry – normal price at RM25++) was a new addon in the menu. The cooking style again was so much like the Nyonya Masak Lemak Nenas, a spicy and pineapple fruity sweetness curry where seafood such as either some prawns, fish or squids were used as the main ingredient. This dish was rather tasty, considering that the sweetness from the crab has gone right into the gravy.
Instead of going for the set meals, you can also try out some of the items in their ala carte menu. The Kari Ayam Kampung Melayu (Traditional Malay Chicken Curry – RM12.80++/RM22.80++) was quite tasty. The dish has thick gravy somewhat like the Nyonya Curry Kapitan Chicken minus the strong taste of Kaffir lime leaves. Another dish that would be quite a good appetizer would be the Kerabu Mempelam Tiga Serantai (Mango Salad Trio – RM8.80++/16.50++). The dish used finely sliced raw mango, onions, lemon grass and chilies with a light squeeze of lime juice to pep up the taste. It has a generous amount of crispy satay ikan bilis (deep fried spicy anchovies) and bunga kantan (ginger flower bulb) as garnishes.
On top of this, there would also be a Buffet High Tea available on weekdays (Monday thru Friday from 3.00pm to 6.00pm). All you need to do is to indulge in any beverages more than RM5+ and you would get to enjoy a free flow of local delicacies. There would also be some quick set lunches on weekdays (with drink) as per shown below:
Monday (RM9.90++):
Set Kari Ayam / Set Ikan Berlada (Fillet) / Set Sotong Kapitan
Tuesday (RM11.90++):
Set Udang Berlada / Set Ikan Berkicap (Fillet) / Set Ikan Asam Pedas
Wednesday (RM12.90++):
Set Ikan Masak Lemak / Set Nasi Lemak D'Dapor / Set Seafood Kapitan
Thursday (RM13.90++):
Set Kari Ketam / Set Sapi Rendang / Set Ayam Berkicap
Friday (RM13.90++):
Set Briyani with Ayam Masak Merah / Ayam Rendang
To get there, just drive all the way along Lebuh Light until you see a roundabout where you would see an stainless steel betel nut structure being displayed there (or Queen Victoria Memorial Clock Tower) and turn 3'o clock into Lebuh Pantai. Just a few meters away, you would see the Standard Chartered Bank on your right. Turn right into Lebuh Union and you would see the restaurant on your left, right before Maybank Union Street Branch. Unfortunately, they do not have a prominent signage on their entrance yet but you won't miss it. Parking spaces would be quite ample during off-peak period. If not, you can park in the multi-storey car park after Maybank or the Sri Weld Food Court car park (slightly after Hongkong Bank) along Lebuh Pantai during lunch hours.
Name: D'DAPOR EXPRESS @ LOGAN HERITAGE BUILDING
Address: 7 Lebuh Union, 10200 Penang, Malaysia.
Contact: 604-262 9323
Business Hours:
12.00noon – 3.00pm (Lunch)
3.00pm – 6.00pm (Buffet Hi-Tea on weekdays)
6.00pm -10.00pm (Dinner)
GPS: 5.418615, 100.342871
RATING:
Ambience: 7.5/10 (1-4 cheap, 5-7 average, 8-10 classy)
Food Choices: 7.5/10 (1-4 limited, 5-7 average, 8-10 many choices)
Taste: 7/10 (1-4 tasteless, 5-7 average, 8-10 excellent)
Pricing: 7.5/10 (1-4 cheap, 5-7 average, 8-10 expensive)
Service: 8/10 (1-4 bad, 5-7 average, 8-10 excellent)