Recently, more and more restaurants and cafes had opened up in Penang with bombastic names that would attract the curiosities of diners. One such restaurant would be the Hao Shiang – House of Nasi Lemak in the vicinity of Green Lane, Penang. Sophisticated as the name may suggest, it was just another restaurant that is targeting the school children opposite its shop. The menu was simple with not only nasi lemak being served but other breakfast meals.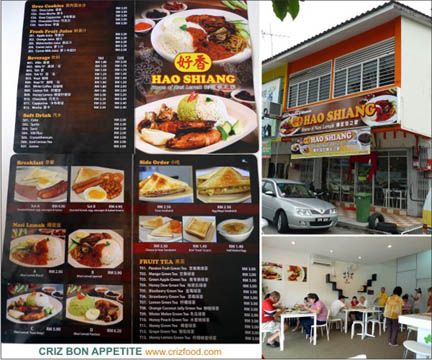 To show the Nasi Lemak options available here, I went for a Basic Nasi Lemak Set A (RM2.90). The dish came with a bowl of rice, topped with two spicy sauces, some deep fried anchovies, halved hard boiled egg, pieces of deep fried sardine fish and a slice of cucumber. The rice came cold when I expected it to be at least warm, coming from a shop rather than a roadside stall with prepacked ones. Taste wise, it was rather hard and did not have those fragrant flavors from the usage of coconut milk with some help from some bunches of pandan (screwpine) leaves. The anchovies were barely cleaned well with a strong fishy taste. Moreover, they were rather hard for those with dentures. The halved hard boiled egg was like it was prepared too early as it was rather tough. Though the spicy sauces were reasonably prepared, they did not have that properly sauteed fragrance.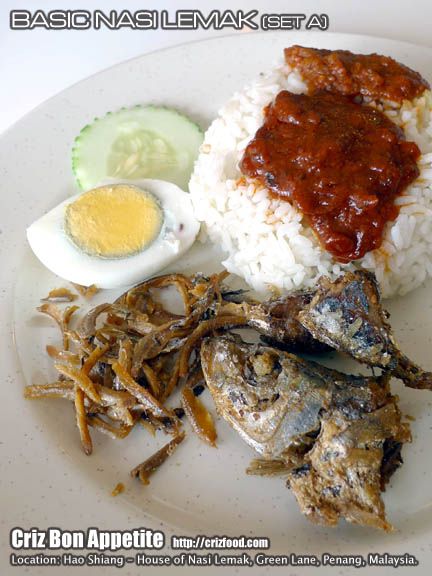 There was also an addon of Dry Chicken Curry (RM2.50) available of which was not stated in the menu or I being informed by the waitress. It was not bad and the price was reasonable for such a huge piece. There was an offer of RM4.80 for this piece of chicken combined with the Basic Nasi Lemak Set A, a saving of RM0.60.
Another set named Nasi Lemak "Yuan Yang" (RM5.90), came with a combination two types of flavored coconut milk infused rice. One would be the plain one and the other would be infused with pandan extracts. This set has a different side sides which consisted of some deep fried anchovies, a whole deep fried sardine fish, 2 large tamarind prawns, halved hard boiled egg and 2 slices of cucumber. Again, both there rice were rather cold and hard plus did not have the fragrance required for nasi lemak. The same problem with the hard deep fried anchovies, the fish tasted like salted fish with that overpowering saltiness. The tamarind prawns were fresh but were like marinated in soy sauce and sugar only. The egg was like overnight egg texture. Another failed nasi lemak to me.
Other than just nasi lemak as the name suggested, they do have breakfast sets to cater to the school children. One such set would be their Breakfast Set B (RM4.90). It came with a set of buttered toasted bread, an omelette, a ham, two sausages and some gigantic baked beans. The only thing I enjoyed here was the baked beans which were superb. The sausages were rather tough to my liking and were not even pan grilled properly.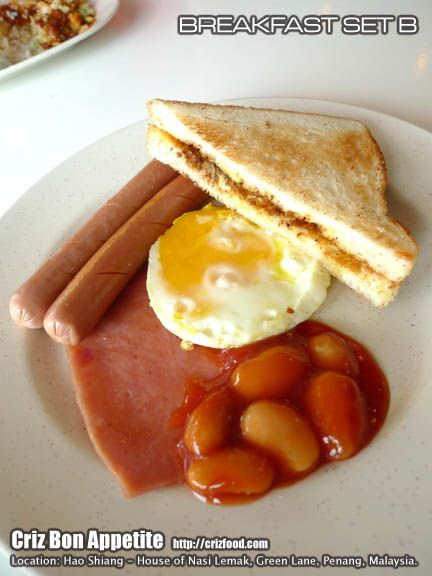 You would know how experienced the chef is by just trying out how they prepare their Half Boiled Eggs (RM1.40). The yolk was overcooked and barely oozy as it should be. It should be called three quarter done egg instead.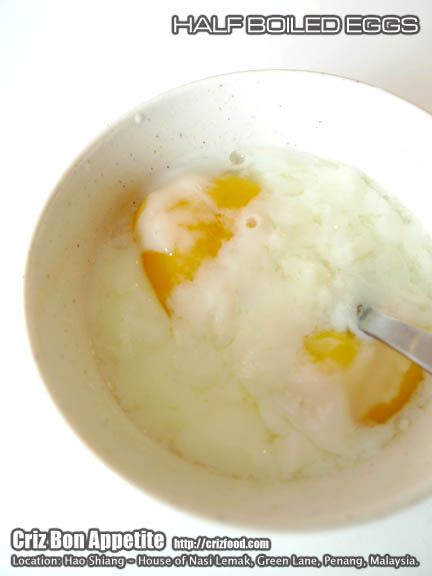 There are many selections of hot and cold beverages available here. I managed to try out 2 of the most unique ones in the menu. One of it was the Iced Blended Yam Oreo (RM3.50). Cheap as it may sound, it was definitely not my type of flavors. Combination wise was rather bland with chunks of ice not properly blended. On the other hand, the Iced Orange Coconut Jelly Green Tea (RM3.00) was also quite disappointing. It would be great for kids to quench their thirst with a small amount of coconut jelly but the taste just did not appeal to my liking as it was rather diluted.
Overall, the food here can be quite mediocre. The food served here would suit school children and elderly more than diners who are looking for a nice hot steaming plate of meal. Though they have been in operation for barely a week, the quality of service could be rather bad, considering that mostly elderly people are handling the kitchen while the waitress barely have knowledge of entertaining all sorts of diners. Please ensure that they repeat what you have ordered as I had my orders missed twice in one dining. All prices are nett here.
Hao Shiang – House of Nasi Lemak is located at a corner unit of a row of shop houses just opposite SMJK Chung Hwa Confucian School along Tingkat Tembaga. You won't miss it but parking can be quite limited during school/work days.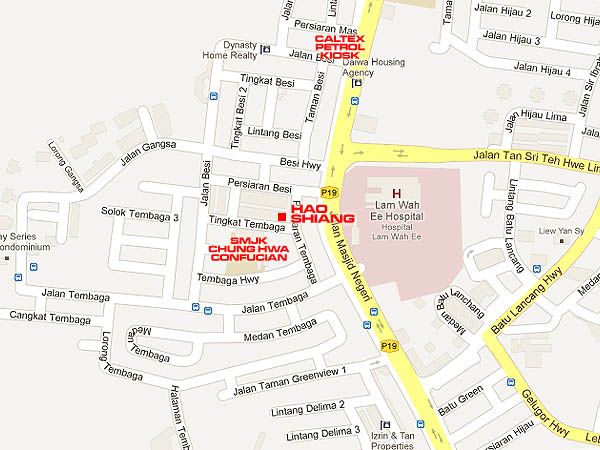 Name: HAO SHIANG – HOUSE OF NASI LEMAK
Address: 2 Tingkat Tembaga, 11600 Penang, Malaysia.
Contact: 016-491 2820, 017-771 4218 (Irene Lee)
Business Hours: 6.30am-4.00pm (Closed Sunday)
GPS: 5.391164, 100.301431
RATING:
Ambience: 6/10 (1-4 cheap, 5-7 average, 8-10 classy)
Food Choices: 6/10 (1-4 limited, 5-7 average, 8-10 many choices)
Taste: 5/10 (1-4 tasteless, 5-7 average, 8-10 excellent)
Pricing: 6/10 (1-4 cheap, 5-7 average, 8-10 expensive)
Service: 4/10 (1-4 bad, 5-7 average, 8-10 excellent)