In conjunction with the Chinese New Year 2020, the year of the Yang Metal Rat, Lexis Suites Penang, would be providing guests with a few options for buffet dinner & lunch, set lunch & dinner and Salmon Yee Sang Platter. Please check out the posters below for more information. Prices stated are all in net. Executive Chef, Johnno Fong and his culinary team have prepared a grand reunion buffet dinner on 24 January 2020 (6.30pm-10.30pm), a sumptuous buffet lunch on 25 & 26 January 2020 (12.00pm-3.00pm), set lunch & dinner from 24 January until 8 February 2020 (lunch & dinner time) and Salmon Yee Sang Platter from 20 January – 8 February 2020 (11.00am – 10.00pm). For more details and reservations, please call +604-628 2888 or email to reservations@lexissuitespenang.com today.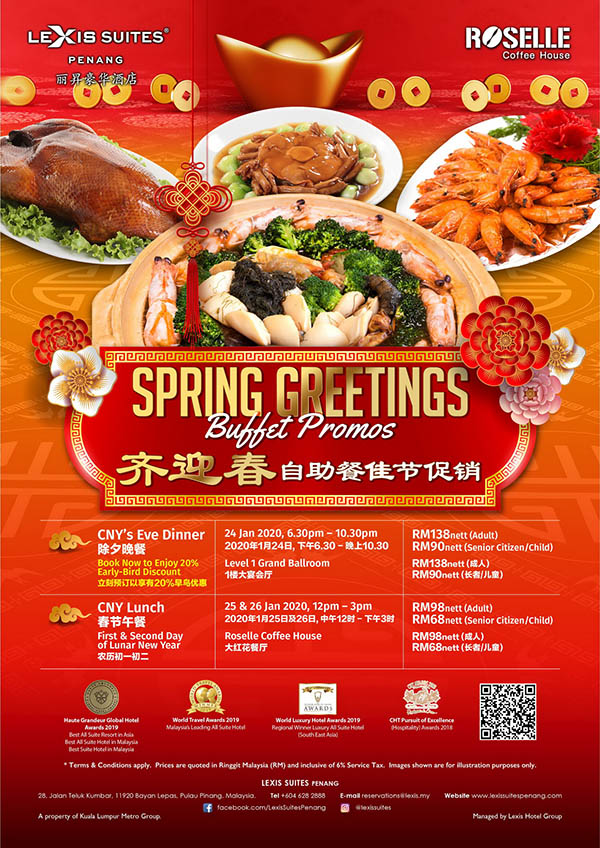 The best part is that there are quite a number of activities during the Chinese New Year Eve's buffet dinner, such as Dou Mask Changing Performance, God of Prosperity/Fortune walkabout, live band performance, and you could walk away with attractive lucky draw prizes. Moreover, the buffet is reasonably priced at RM138 for adult and RM90 for senior citizen/child. Early bird discount of 20% will be given to the adult published price rate of RM138 for those who make their booking from now until 20 January 2020. You can obtain the early bird discount by scanning the QR code below and key in the promo code of LSPCNY20. Terms and conditions apply.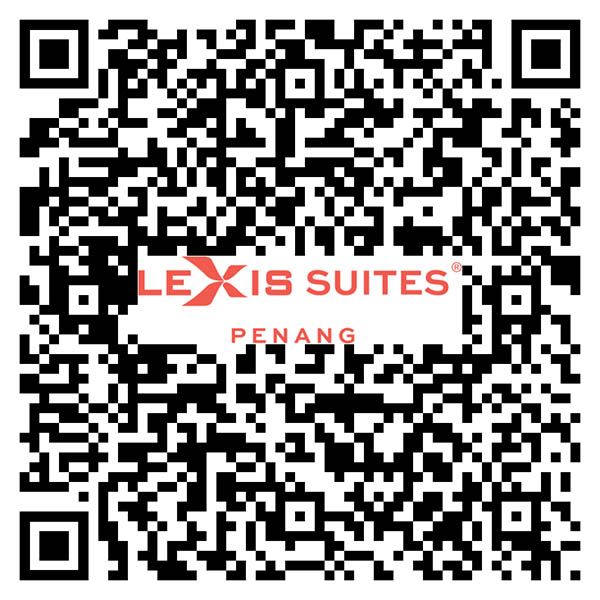 The buffet spread would comprise of many different sections, ranging from salads, cold items, soup, hot dishes, seafood on ice, action counter, fried corner and desserts culminating in an amazing gastronomical journey of food adventure. You could start off the culinary adventure with refreshing greens or savory little bites with assorted dressings and condiments that will get the appetite going. To sooth down the throat, we have piping hot Chinese Emperor Seafood Chowder & Double Boiled Chicken Herbal Soup accompanied by fresh baked bread rolls and butter. You could also enjoy a variety of seafood items on ice before proceeding to the mains. As for the mains, diners will find many signature Oriental style dishes such as Sea Moss Bamboo Pith with Mixed Vegetables, Fatt Choi Seafood and Smoked Chicken Noodles, Braised Bailing Mushroom with Sea Cucumber, Lexis Style Spicy Prawns, Ostrich with Spring Onion, Ginger and Chestnuts, Braised Herbal Duck with Wolfberry among others. A variety of deep-fried items such as Fish Crackers, Tempura Squid & Pumpkin Fritter spices up the mix, and for a different filing, try out the action counters consist of Roasted Whole Smoked Chicken Block with Condiments, Black Pepper and BBQ sauce, Baked Whole Fish with Mai Lai King Sauce, Lexis Style Lobster Wok, classic Steamed Dim Sum's and Man Tou. Diners will also get to indulge in one the main highlighted items in the buffet which is the "Emperors Twin Dome" consists of Poon Choi and Yook Chin that will ensure the taste buds are tingling in all senses.
Desserts are abundance with Mini French Pastries, Chocolate Fountain with Rock Condiments and Dried Longan Peach Gum with Wolfberry Soup. Of course, you cannot end a Chinese New Year buffet without some succulent Mandarin Oranges, Fortune Cookies, assorted Chinese Cookies and Pandan Tau Fu Fa with Brown Sugar.
There are also some splendid set lunch and dinner promotions. There are three set options to choose from and are reasonably priced at RM988, RM1188 and RM1388 respectively for a table of 10pax. Depending on which you go for, you might get to enjoy signature dishes like Steamed Seabass with Supreme Soya Sauce and Roasted Garlic, Chef's Special Fried Rice with Diced Chicken and Dried Shrimps wrapped in Lotus Leaf, Steamed Grouper with Emperor Sauce and Chicken Essence, and Double Boiled Exclusive Dried Longan, Lotus Seed with Ginseng Root and Sea Bird Nest. All set lunch and dinner would come with a complimentary Salmon Yee Sang platter for each table.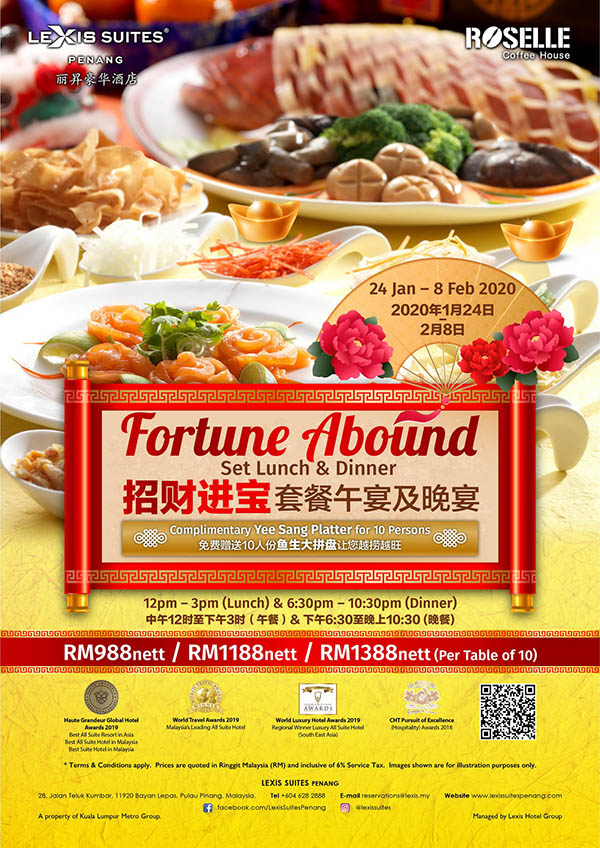 Here are the 3 set selections.
Here's a peep at how a RM1188 set package would look like.
For those who just want to indulge in our Salmon Yee Sang platter, they can also purchase one at RM108 per set for 10pax. It is available for dine-in or takeaway.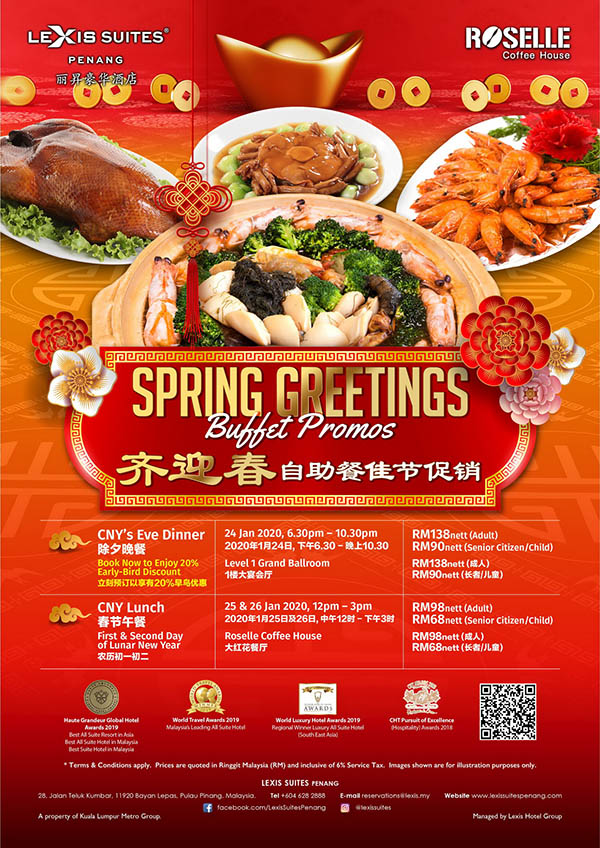 Thanks to the management of Lexis Suites Penang for having us over for an exciting Chinese New Year preview.
Lexis Suites Penang is located right at the end of Teluk Kumbar before the main road into Gertak Sanggul. In fact, it's located just next to the Hao You Teluk Kumbar Seafood (公巴好友海鲜). The Roselle Coffee House is located at level 1 of Lexis Suites Penang. Just walk into the main lobby of the resort and move towards the right side of the lobby and you will see the elevator there. Take the lift to the first floor and you would see the restaurant there.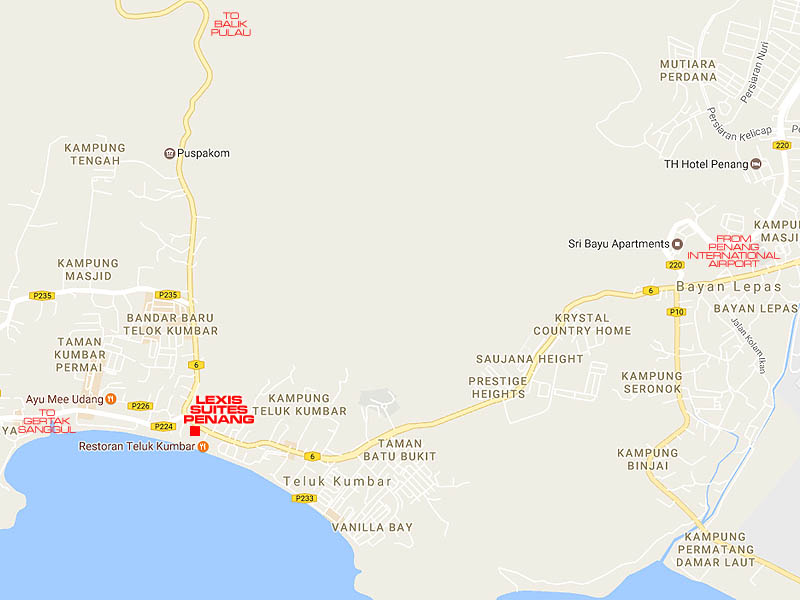 Name: ROSELLE COFFEE HOUSE @ LEXIS SUITES PENANG
Address: 28, Jalan Teluk Kumbar, 11920 Bayan Lepas, Penang, Malaysia.
Contact: 604-628 2888
Business Hours:
Breakfast: 6.30am-10.30am
All Day Menu: 11.30am-10.30pm
Buffet Menu: 6.30pm-10.30pm
Room Service: 24 hours
GPS: 5.287210, 100.232760
RATING:
Ambience: 8/10 (1-4 cheap, 5-7 average, 8-10 classy)
Food Choices: 8/10 (1-4 limited, 5-7 average, 8-10 many choices)
Taste: 8/10 (1-4 tasteless, 5-7 average, 8-10 excellent)
Pricing: 7/10 (1-4 cheap, 5-7 average, 8-10 expensive)
Service: 8/10 (1-4 bad, 5-7 average, 8-10 excellent)
About Lexis Hotel Group

: Lexis Hotel Group provides discerning leisure and business guests with practical and luxurious accommodations across various properties in Malaysia. It is steadfast in offering professional management services for hotels and resorts, and has successfully built a strong, profitable and visible premier niche brand in the hospitality industry especially in managing award-winning unique water chalets as well as pool villas. The brand currently manages four properties, namely Lexis, Grand Lexis and Lexis Hibiscus, all located in Port Dickson, as well as Lexis Suites Penang, situated at the Pearl of the Orient.
About Lexis Suites Penang

: A luxurious resort by the beachfront that stands out as the only hotel on the island which offer guests the luxury of an individual private pool and steam room in every one of its 222 suites. Located at the idyllic Teluk Kumbar, Lexis Suites Penang is about ten minutes' drive from Penang International Airport. The guestrooms feature two king-sized beds and a host of practical amenities in a spacious enclave, with an awesome view of the sea.